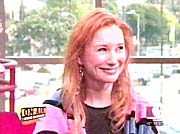 Tori appeared on the syndicated U.S. TV show "On-Air with Ryan Seacrest" on Monday, April 5, 2004. Tori performed Silent All These Years live on this show. Since the show is syndicated, the broadcast times varied for the program. I have just uploaded some screen shots from the show, and thanks to Toriphile Ellen, I have a complete transcript of the show as well! I also have 6 wonderful photos taken at a meet and greet after the show. (I meant to have the photos up around 1:00AM, but my cable modem died for a few hours!) Ryan did mention that Tori's Welcome To Sunny Florida would be released in the U.S. on May 18, 2004, which further confirms the delay in the release date I reported earlier.

More Details
Photos/Screen Shots
Click to see any photo larger. You can also see photos in the Gallery/Photos section of ryanonair.com under Week 13.
Below you can see a photo taken by Sarah Beakes, who was in the audience during the live broadcast.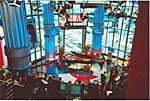 Below you can see some photos of Tori at a meet and greet after the show. Thanks to Dana for sending us the photos. The bottom right photo shows Tori posing with EWF Danny & Ellen.
Transcript
Many thanks to Ellen for typing up this transcript for us so quickly!
And the Backstreet fans aren't the only ones celebrating. The passionate fans of Tori Amos (crowd cheers) are all fired up for her upcoming release. "Welcome to Sunny Florida" is a live concert DVD featuring 18 classic hits plus there is a bonus CD with six new tracks. Tori's sound, by the way, is influenced by her past, by her passions, and also by her private life. I've had the opportunity to get to know her over the past few years. She is a beautiful woman. Take a look at Tori Amos.
(Video montage of her music videos with sound bites from various tunes, mostly from TOAL, it seemed)
Musician. Poet. Mother. They all describe Tori Amos. This preacher's daughter exploded onto the scene in 1992 with Little Earthquakes. Her raw and emotional lyrics helped sell over two million copies & took Tori to the Top 40, followed up by her next album, Under the Pink, which earned this former choirgirl her first Grammy nomination. Since then, Tori's accomplishments include a worldwide fan base, seven albums, eight Grammy nominations, and a three year old girl, bringing out her softer side. Softer, maybe, but trust us, she's not slowing down.
R: Alright now, there's a little Tori background for you. When we get back, she's going to perform and you are picking the song either online or via text message. Here are the choices: A. Leather B. Silent C. Winter D. Crucify. Not gonna reveal your choice yet, but let's narrow it down to two. We have leather (excerpt played) and also SATY (excerpt played).
R: Welcome back, guys. Seacrest live & on air in Hollywood. You Flooded Ryanonair.com with votes for your favorite Tori songs. And in just a few minutes she is going to perform the song that you as the voting public have chosen. But first, let's get to know her a little bit. The very talented, multi-platinum, singer-songwriter, Tori Amos, ladies & gentlemen!
(ASF plays, Tori enters, kisses Ryan on both cheeks, and gets a standing ovation with lots of applause)
R: I'm telling you, they've been waiting a long time to see you. You do, it's no secret, you do have an amazing fan base.
T: I'm blessed.
R: You really are.
T: Yes.
R: I mean, they know so much about you & they connect with you in a very profound way, which is fantastic. And you know I've had a chance to get to know you over the last few years. Tori is a very smart cookie, ladies & gentleman. (whoo-hoos from the audience) She often in interview will actually-like, the first time I interviewed her-remember this? I asked you a question or two & she answers sometimes in a way that you have to be really listening otherwise she's saying something that completely didn't really correspond with your question. And unless you catch her-then-you know, what I'm talking about (Tori makes rabbit ears, audience laughs). I'm not really articulating it well.
Anyway, I heard you-did you live back there (turns to windows behind them)
T: Well, if you can see the church
R: I can see the church.
T: Are you sure b/c there is a very big billboard (audience laughs) but there is a church.
(Tori pats him on his cheek)
R: Trust me, I was not trying to over shadow the United Methodist Church, back there.
T: Well, behind that there's this little apartment, there were three, and an old house, and I lived in the back one. And that is where I wrote Little Earthquakes, right behind that church.
(Woo hoos from audience)
R: Star billboards, screwing everything up, huh? Now how is your daughter?
T: She's heaven, but she's been "a bit naughty" (said with English accent)
R: "Naughty" (same way)? What is she, three?
T: She's three and I was just in London recently & the phone rings & then it stops. Three minutes later, it rings again & I say "Hello". Answers, "This is Room Service, excuse me, but a young girl just called & ordered champagne." (Audience laughs) I said, "Hold on a minute, please." I said, "Excuse me, Tash, did you just order some champagne?" She says, "Yes, I love it, Mummy!" (Dramatic, arms wide open gesture, audience laughs) I said, "How do you? What do you know about this!?" And she said, "When you go away sometimes, Daddy falls asleep..."
R: NO!!! And she's been tipping' the cups?!
T: I said you are THREE! And her father says, you know, she can bartend to pay her private schooling. But honestly, her champagne-what she doesn't understand is that I said to the room service guys that you do Cranbury/Raspberry with a bit of Sprite.
R: Is she playing the piano? I mean, you started when you were what? Like, Two, Two and a half?
T: two and a half
R: Yeah, two and a half years old.
T: The thing is, she sings every morning. I mean, she'll walk into Chelsea's office & say "Hellooo, I'm Here!!!" (again dramatic arms wide open gesture). And you know everything is about a song. And she said, I want to learn to play the piano, Mommy. And so I said, Well, okay. And I try to find her a piano teacher. I said, I am Not teaching b/c that is not good. So I couldn't find one that would teach a three year old, so I put on this hat & became Mrs. Paris. And so, she goes to lessons with Mrs. Paris.
R: That's great! So she doesn't realize that it's you?
T: Well, (Tori pauses and looks away, audience laughs) do you know what she said to Mrs. Paris?
R: I have no idea
T: Because I put my hair up & have the hat on and everything,
R: of course
T: I said, do butterfly on the piano-that is how you start with animals on the piano, so they can make a relationship with the bosendorfer. She is so big.
R: And then you essentially, as mom become Snufalufagus, b/c you're not-you're never there at the same time, right?
T: Well, and until she said,
R: uh-oh
T: Mrs. Paris, could you teach my mom how to play the piano?
(Laughter)
R: Here in lies a problem. Let's go outside to Rosie with your fans waiting for a while, waiting to see Tori.
Ro: "Hellooooo, I'm here!!" (sung Tash-style) with Mindy, who's got a question for you.
M: Hi, Tori, I love you very much. I really just wanted to know how you put your daughter to bed when you're on the road; do you sing to her, do you read her a story...what do you do?
T: Well, when we're on the road, I'm on stage, so she usually puts the nanny to bed (laughter). But, when we're at home, we have story time every night & she has her-she gets to pick which stories I read to her.
R: And then you read them to her & she falls asleep.
T: I do & it is very....& then she wakes up & sings songs like, "What is that light in my fa-ah-ah-ace!?" & I will say, "It is the su-uh-uh-uh-un" & she will say, "Turn it oh-oh-oh-off"
R: very shy young girl, isn't she?
T: she's shy, but, you know, lucky she's British b/c never suns there, so she never sees it, so its a you know, strange for us.
R: Drinking champagne, checking out the sun. Alright, thanks, Rosie. Why don't you bring up some of those folks to see Tori Amos when we get back?
Ro: I think that'll be a great idea. What do you think? (Fans cheer)
R: Back with SATY, Tori Amos, performing live, when we come back.
R: BTW, I just found out this piano is worth $100,000...huh? No, I'm not gonna touch it! I'm gonna let her tickle right now. Alright, we gave you all the power & you decided you wanted to hear Tori's hit song, & you went with, as a nation, you know what it is? SATY-30% of the vote...so give it up to Tori Amos!!
(Tori plays SATY, very emotional with the backing vocals during the bridge)
R: TORI AMOS! (He goes up to her, she stands, hugs him, & whispers something)
She wrote that song right behind us! The new live concert DVD, "Welcome to Sunny Florida" drops May 18th. We'll be right back.
(Pan of audience giving a standing ovation as they go to break)
R: Welcome back, an amazing performance moments ago from Tori Amos.... (Goes on to talk about upcoming guests)
Other Details and Commentary
You can see Tori listed as a guest at ryanonair.com.
Toriphile Kristy reports:
I just wanted to comment on the Ryan Seacrest show. Tori was just enchanting the entire way through. The interview was just adorable...lots of stories about Tash...and informative...Tori showed everyone that she used to live right behind the Methodist church that is directly behind the studio and she wrote Little Earthquakes there. Tori looked very pretty wearing her capri pants and a pink, yellow and black wrap around thing. She was very calm and confident throughout the entire interview and performance, and seemed to really be at ease while on the show. I know she gets nervous sometimes, but she didn't sound or look nervous at all. And I was very pleased with her performance of Silent All These Years. Although it was edited for time, Tori still made it quite dramatic and beautiful. She really opened up to the audience. At the end of the performance she looked like she was a bit emotional and teary eyed. Then Ryan came up to her and kissed her and she whispered in his ear that she wrote that song right behind the church. I think it was like a coming full circle type thing for her, you know like she started out in that apartment behind the church poor and with nothing and then became this respected and talented musician who has sold millions of records and had millions of fans worldwide. She should be very proud! So overall, I think this is one of the best interviews I have seen her do. She was very natural and charming and played beautifully. I am very pleased with her performance and she looked fantastic!
Several radio stations had contests earlier in 2004 where the winners won access to the taping and a private meet and greet with Tori and Ryan. Radio stations with such contests included Star 101.3 in San Francisco, CA, WPLJ 95.5 in New York City, KZZO 100.5 The Zone in Sacramento, CA and Star 98.7 FM in Los Angeles, CA.