Tori's set list for Nashville included Amber Waves, God, Somewhere Over The Rainbow, Your Cloud, Virginia and Mrs. Jesus. I have added my personal review of the show to the reviews page as well as the full set list. If you were at the Nashville show, please email me with your reviews and/or set list or post your review or comments in the Dent's Concert Reviews forum. (You can post under any name without registering, so it is quick!)
More Details
Tori performed in Nashville, TN on Sunday, February 23, 2003 at the Ryman Auditorium. The opening act was Jeffrey Gaines.


Set List
I was at this show and recorded the following set list:
Wampum Prayer
a sorta fairytale
Take To The Sky
Sweet Sangria
Cornflake Girl
Amber Waves
Crucify
God
Wednesday
Band Leaves
Leather
Cooling
Somewhere Over The Rainbow
Band returns
Your Cloud
Concertina
Virginia
In The Springtime Of His Voodoo
Hotel
I Can't See New York
Iieee
1st Encore
Talula
Mrs. Jesus
2nd Encore
Pancake
Playboy Mommy
Reviews
The latest reviews are at the bottom of this page. For more reviews, please check out the
Dent's Tour Reviews Forum
. Please post your own review if you were at this show!
From
Mikewhy
: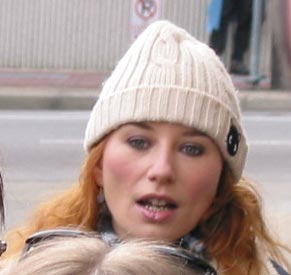 First of all, I was in the back of the meet and greet earlier that afternoon. The crowd was larger than in Birmingham. I did manage to get one decent photo of Tori which you can see to the right.
I was extremely fortunate to be in the front row for the Nashville show. I must admit, it is difficult to objectively describe a concert when you are that close. Even songs you have heard many times take on a new feel when you can see every facial expression Tori makes.
I really enjoyed this show. Being Tori's 4th concert in a row, I worried that she would be tired. If Tori was worn out tonight, she certainly did not show it. She smiled a lot, and really seemed to be into her performance. It is always so much fun to watch how she would smile in the middle of a song, or look toward the ceiling with her eyes almost twinkling. The little looks and communication that she does with Matt and Jon are great as well. These are things that you do not always see unless you are really close.
After Sweet Sangria, Tori spoke to the audience for the first time. She said "hi" and then talked about the Ryman Auditorium, which used to be the Grand Ole Opry. Tori said that "it was important to be here". She talked about all the "great ladies" who performed before her. Her speech went roughly like this about these women, "They might have been frying chicken before hand, some might have been beat up before the show, their tears were in the wood in the floor, and then they made it home to take care of their babies."
I really loved Amber Waves tonight. It is perhaps my least favorite song from Scarlet's Walk, but it sounds terrific live. I was very much pleasantly surprised by God tonight. Tori had the lyrics to God on her piano, which she later tossed on the floor when she needed to play her synthesizer which sits on top of the Bosey waiting for Iieee. It sounded really powerful. Matt's drums were quite intense here and throughout the evening.
Before secret time, Tori did a little improv about her Roadside Cafe sign which descended and lit up at this time. It was actually quite long and humorous, but also sounded really soft and sweet for some reason. Cooling was even better than usual tonight. It is hard for me to describe why, but it sounded so beautiful that it was the best version of Cooling that I have heard live. The same thing applies to Somewhere Over The Rainbow, which was breathtaking. I was sad that right at the end of this beauiful quiet song, some Neanderthal in the audience screamed something out loud, breaking the spell cast by the song.
The beginning of Concertina was a lot of fun, with Tori dancing around a little bit and giving fun looks to the band. This song was also accompanied by massive amounts of drool, which as always is an amazing, and for some unsettling, sight! That song was followed by a really effective and enjoyable version of Virginia, perhaps my favorite song of the night.
Mrs Jesus was the highlight of the encores for me. It sounded so good!
One thing however that did not sound so good were a few key members of the audience who seemed to enjoy shrieking at maximum volume in the middle of most of the songs. I had dear friends in the audience who were sitting by some of these people, and they tell me that many of them were drunk, fighting during the show, and ruining the concert for those around them. I was not affected by them, but many were. One lady in particular was so drunk that she ruined the show for all those around her by being incredibly obnoxious. She was still so drunk after the show that I saw her stumbling up the aisle after the concert as everyone was filing out. At one point I directly saw her fall and slam her head extremely hard on the edge of the hard wooden pew, giving her a black eye. All the people who had to suffer through her drunken state felt she was paying the price for making so many other innocent fans suffer. It was really a pathetic thing to witness.
But for people not around such nonsense, the show was really satisfying. Some interesting details about the set up tonight. The top of the Bosey was totally removed from the piano (I think) and the road signs that you normally see along the back of the stage seemed to be missing. Perhaps the unique layout of the Ryman called for these changes.
Finally, I just want to remark how self-assured and professional Tori appears on stage. She seems totally in command of what is going on. It is a true joy to sit back and watch such a talented musician who is in such top form and confident in front of the crowd. It all reminds me why I see so many shows and why I continue to run this web site.
From
Kaycee
:
I was lucky enough to be on the floor of the Nashville show- and sat around some respectful people- so I had a wonderful time. I could not believe how beautiful Tori's voice seemed last night- and the band was fab. The SW songs are amazing live, and I enjoyed all of them (surprise to me bc I Mrs. Jesus is my least fave from the album but I really liked it tonight.) The highlight of my evening was Crucify. Tori's "i have crawled my way back" towards the end of the song was so intense it seemed to speak to every cell in my body. The improv for secret time was great- I wrote down some of the lyrics and this is what I got-
"I have a little sign and it comes out sometimes and lights up on cue oh my light man always knows what to do . It tells me its time to say goodbye it tells me when to go Sometimes I see things It doesn't want me to know ... where I probably shouldn't be sometimes there we sing, there we find the things that keep us alive."
Secret time made me cry. Leather was melancholy fun, cooling- breathtaking, Over the rainbow- incredible. The rest of the set was great as well... Unfortunately right before New York some fans almost got into a fight (one shouted something like- more crystal meth- and another guy stood up - thinking he was defending Tori I think- to threaten the other guy) that kinda ruined the mood a bit- but besides that I was pleased with the crowd-- (especially compared to the show at the grand ole opry in 98)
From were I sat- I was close enough to see Tori smile at times- and she really seemed to be enjoying herself- I couldn't see Matt much, but it seemed like Jon grinned a lot. I cannot get over how graceful and beautiful Tori is...I also loved the boots she had on!
After the show- tried wait outside but the security people told us Tori wasn't coming out- which was understandable bc it was so cold and rainy- I was disapointed because my friend Rachel and I couldn't come to the meet and greet before due to our horrible colds- (perhaps a good thing though bc I was in bed sick all day today- Im sure standing outside for a long time wouldn't have helped...)
Overall- This show was a wonderful time- and I cannot get over how blessed we all are to have someone like Tori come and sing for us.
From
toriMODE/ Ron
:
The Grand Ole Opry--Tear in the wood at the Ryman Theater
I have heard only the best of things from other Ears with Feet about shows at the Ryman Theater so I was excited about seeing Tori Amos there in Nashville. I knew that in 2001 she performed there during the Strange Little Tour, and that she had played God, and so I was expecting that along with ohter religious type songs such as Amazing Grace & Beulah Land.
I woke up at 11 a.m., exhausted from the previous night's show in Birmingham, yet still on a Tori high. I picked up Kelly and her boyfriend Tim and we headed Up North On (The Ventura) Interstate 65 to Nashville. We made good time. Got there in 3 hours. Found the Ryman Theater immediately. We walked up to it, and I saw Mikewhy, Amanda, and Carolyn. Said hey to them, and then went inside to use the loo. Came back out (noticeable temperature change from Birmingham--so cold!!), and went to the side of the Ryman for the Meet and Greet. It was around 3:45 or 4 o'clock at this point. I noticed a good size crowd behind a barricade. This is the weird bit. There was this other property adjacent to where the M&G was being held. Like a little patio with black iron fencing post around it. There were tables. We walked into that area, and I noticed we were right up front next to the Meet and Greeters. So I talk with Spinnyboy/Jason a bit. Saw Phil and saw his set list and photograph he had taken with Tori the day before in Birmingham, and before I know it Phil is yelling to give his photograph back, because Tori Amos was coming out. So I did. She walked right up to where I was and said hey to me and everyone sitting on the patio!!! She looked cute as ever, and I took some pictures. She finally moved along. A girl asked her about if she had something kinda negative, and Tori told her that she would never say that, and that things get confused in the translation. The girl felt better. I think the same girl requested Virginia. Saying that she hasn't heard it Live and she's been to several shows, so Tori said "we'll see what she's doing.", and then she moved to the next person. I stood on the table at this point, and took pictures of Tori and the M&G-ers. Then people started handing me their cameras (the cameras are rolling......it's easy just like 1-2-3!!!!!!!) So I was God for a few minutes; had everyone being gracious towards me for taking pics of Tori for them with their cameras. A nice feeling to be helpful to the Tori community. So I saw someone hand Tori a Y Kant Tori Read vinyl to autograph. I saw the two rebel guys that don't do the numbering system at the front again just like in Birmingham, and in a matter of minutes the Meet and Greet was over. Tori said bye to everyone and ran off. Another good Meet and Greet experience, especially since I had just waited maybe 10 minutes and was that close to seeing her! So after the M&G, we scattered off to Bailey's Pub & Grille around the corner and proceeded to waste the afternoon away by drinking, smoking, and talking about all sorts of things. Then we went to Merchant's and had a bite to eat before the show. Then at 7:30 we went to my car and put our things away and went to the line to go inside. I got in and heard Jeffrey Gaines over the speakers inside the restroom. Finally made it to our wood seats (pew), and I was on the edge. I saw Mikewhy, Amanda, and Carolyn on front row. Originally they were to sit next to us, but I guess they got to upgrade. We caught the last couple of songs of Jeffrey Gaines, and then intermission happened. Luke came over and chatted for a few, and then left. The venue was very nice, but very tight and small. The show started much earlier than the night before. I'm just going to highlight the songs I feel that were worth mentioning--
Tori gave us a little history about the Ryman Theater. I knew it had been the original Grand Ole Opry. Tori talked about the women that had graced the stage previously and that their tears were in the wood of the stage. It was a nice introduction for the show that night.
Amber Waves
I had no clue what song this was going to be. Nice introduction/improv, and my first time hearing this song Live. It's not a favorite from the album, but it was great Live. Tori was really into it. It seemed like a natural song for Tori to do; like she had performed it for 10 years.
God
Predictable and grateful that this song debuted on this Scarlet's Walk tour at a converted church-turned-theater. This version was much like the 5.5 Weeks 1999 Tour's version, except there isn't the God Sometimes repetitive introduction to the song. I was hating that my boyfriend Jon didn't get to hear this one Live the night before, but also happy that it came out, especially since it was so fitting for the venue.
Band Leaves
*Roadside Cafe sign lowers down and lights up*
Leather
Thought I had gotten rid of Leather for good from the night before. I've heard Leather the most of any song Live. Six out of Seven shows. I was cussing Kelly's boyfriend Tim out for bringing Leather on that night. He was all about wanting to hear it. Kelly and I were laughing yet moaning at the same time during the song. Ugh!!!! Anti-Leather/Pro-Suede!
Cooling
I called this one a month before the shows. I told Luke that she'd play this in Birmingham or Nashville, so when she started into it at Nashville, I had a rather large smirk on my face. It was a really beautiful version of the song, and my first time to hear it Live. Brought back a lot of personal memories for me.
Somewhere Over The Rainbow
This was the 3rd time I've heard this cover/b-side. I was hoping for a song I hadn't heard before like Raining Blood (which I had requested at the Birmingham Meet and Greet), but it was still enjoyable to hear.
Band returns
Your Cloud
First time to hear this Scarlet song Live. I prefer it Live with the band than studio. Nice cloud lighting during the song!
Virginia
Wow!!!!!! Definitely one of the 2 major highlights for me during the show. This is my 2nd favorite song from Scarlet's Walk, so naturally when Tori started into it, I was in Ecstasy. Probably the best version I've heard of the song besides the studio version. It was so powerful!
In The Springtime Of His Voodoo
Not much to say about this one, other than that Tori seemed to be really into it. At this point in the show, I believe Tash was on the left part of the stage, because when Tori was playing the keyboards/Rhodes, I noticed Tori smiling really big towards that side of the stage. I imagine Tash was watching Mommy play her music gig.
Hotel
THE Highlight of the show for me!!!!!!!! I have always loved Hotel. It's from my favorite album. It's so dark, electronic, and powerful! Give me MORE! Give me MORE! The purple and lime lights were all over the venue moving frantically, and the performance was fucking fantastic! A dream come true hearing this choirgirl Live! Exit 75, I'm still alive, I'm still alive!!!!!
I Can't See New York
Love this song Live. My 3rd time to hear it Live, and I looked forward to it everytime. Wasn't as magical as the Birmingham show's performance of it was for me, but haunting nonetheless!!!
Iieee
Another fierce and energetic song from the night. Had people getting up to dance during it. My favorite part is when she goes into "JUST SAY YES, YOU LITTLE ARSONIST", because the lights just go spastic! At the end of the song, it turns to just white lights and dark shadows. Dramatic!
1st Encore
Talula
Only comment I want to make on the encore songs is that the girls standing during Talula looked ridiculous dancing to it by themselves. They were rude and I didn't care for this audience in particular anyway.
All in all a good show, but nothing in comparison to the Birmingham show the night before. I was very grateful to hear God, Cooling, Virginia, and Hotel!!
Thank you Tori for a great show and I hope to see you at the Ryman again someday!
From
tracy scott
:
what can i say about that woman except that she is brilliant. this was only my third time seeing her live, but i do believe it was the best. i was in the 8th row, right in her direct line of vision. i saw her smiling at someone frequently during the show. i'm assuming it was matt, because i couldn't see him very well, but the thought that it might have been natashya crossed my mind. my favorite for the evening was definitely "somewhere over the rainbow." i have never seen her perform that song, but i cried from the first to last note. right when tori was reaching a climactic point where i was truly feeling her words, some horrible creature ruined it for me by interrupting tori with shouts of nonsense. i do like to thank tori for her music, but please people, do it at an appropriate time! for her encore, i rushed to the stage and was touching that floor that had been stained by the tears of women who had performed there in the past. i took some fabulous pictures. the second time she left the stage, she looked directly at my camera. during "playboy mommy" i also cried from beginning to end. i have never seen her perform this song live; it was touching. i saw other people leaving envelopes on stage, so quickly jotted "thank you for your beautiful music" on a piece of paper and left it there. i think that is all you really can say to someone as amazing as she is. i saw her perform at the ryman in 2001. it was my first show ever. i was lucky enough to meet her brother, and this time i took a picture with him. unfortunately.... i entrusted walmart with the most important photos of my life, and they were RUINED. they exposed my film to light, and i only have 2 from the show. i just guess i'll have to see her again to get better ones :o) seeing her at the ryman was a spiritual experience, and i hope she plays there again soon.
From
Amanda Morris
:
It was so so wonderful to be up front row in the pit for this concert. I just couldn't believe I was up there and so close to Tori. I had tons of leg room in front of me and I was almost touching the stage from in my seat when I stretched out my legs. When Tori came out, we all stood up and clapped as she made her way to the piano. I was a little to the right so when she played her piano is when she would look in my direction sometimes and those moments when it feels like she is staring right into my eyes are so amazing.
It was so fascinating to watch Tori's facial expressions as she was performing the concert. It was also fascinating to see how much effort she was putting forth to give us a show. I had no idea she gave out so much energy and power. I always felt it in the music and her voice, but I had never seen her body take that much effort to give us a show. I could even see the beads of sweat over her face as she sang out the words, and she would fling her head in one direction and her hair would sometimes get stuck on the sweat on her face, and she had to wait for a pause in her piano playing to reach up and move the hair out of her way.
I didn't see new songs at this show, but her energy level combined with being so close to her really really made this one incredible show for me. In fact, the Crucify from this show was one of the most energized I had seen and I got really into that one, much more so than I usually do. I also noticed toward the end that she said "crucify my land." She also did God, which I was kind of expecting as she did that one at the Ryman Auditorium in Nashville in 2001 for her only performance of that song that tour. I throughly enjoyed it....it sounded somewhat similar to when she performed it in 1999 but without the guitar.
The Cooling/Somewhere Over the Rainbow back to back was really really full of emotion in the lyrics and her power in singing it. In fact, that was probably the best Cooling I have ever seen, and I have seen that song performed quite a number of times. The power in her voice and the words really gave that song something extra special. Somewhere Over the Rainbow to follow that just spun the wheel of emotion even further.
At one point during the show, in between songs, I saw Tori take a drink from her water and spit it right back out. I had no idea that she did that. I had never seen it before. I guess it makes sense, though...it is hard to exert so much effort with a lump of water weighing down the stomach, but she does need to wet her mouth every once in a while.
Concertina was great fun to watch. When she was on the keyboard, I could see the side of her face very clearly. She was moving her body a lot and really bringing power out in her voice. I suddenly saw some dribbling from her mouth. She just ignored it and kept right on singing. I then saw a huge string of drool hanging all the way from her mouth down to her microphone and on to her keyboard. I kenw she drooled, and I had seen it a little bit, but never never that much!
Virginia was really really beautiful and her energy and power in her voice that night made it one of my absolute favorite moments of the night. She seemed really really into this song, and I am so glad I was up front to see and hear this one. I was really into this song.
Throughout the concert there were many people who had been screaming out things a lot during the songs. I was so close that I barely noticed it, and those people around me were behaving really really well. I did feel bad for those who were around those screamers though. As soon as the encores began, people did rush the stage as usual. I got right up front and put my arms right up on the stage. The people behind me, unfortunately, were screaming girls. They only screamed in between songs, so it was okay, but they were really really really loud and their screams were right in my ears. But since I was so close to Tori, I was able to easily tolerate them for the last four songs.
When Tori finished Playboy Mommy, she came over to the edge of the stage. The girls behind me immediately put their hands up. I hesitated a bit too late on that, and Tori grabbed their hands. I did however get the experience of looking up and seeing Tori hovering mere inches above my head.
My combination with being so close up front and for the most part sitting beside wonderful people and Tori's power and energy really really made this a great great concert for me, and I will always remember the details of it.
On thing that I found kind of humorous was on the walk out of the venue. That girl that was being very disruptive to everyone around her and pretty much ruined the show for them, was really really really drunk. I heard the sound of bone slamming against wood followed by a chorus of people saying, "ooooooo." I saw the disruptive drunk girl stumbling around in the aisle with her eyes rolling back in her head a lot. She had apparently stumbled and smacked her head on the edge of the wood pew. She choose to get drunk and she ruined the show for a lot of people and in my opinion, she deserved that.
I left the venue in great spirits at being in the front row and seeing such a powerful show. All that gave me the strength to stay awake for the three hour drive back home. It was one of my most favorite weekends.