During this fascinating show, Tori performed Here, There and Everywhere (solo), Honey, Rattlesnakes, and a little of Sweet Home Alabama. I have added my personal review of the show to the reviews page as well as the full set list. If you were at the Birmingham show, please email me with your reviews and/or set list or post your review or comments in the Dent's Concert Reviews forum. (You can post under any name without registering, so it is quick!)
More Details
Tori performed in Birmingham, AL on Saturday, February 22, 2003 at the BJCC Concert Hall. The opening act was Jeffrey Gaines.


Set List
I was at this show and recorded the following set list:
Wampum Prayer
a sorta fairytale
Little Amsterdam
Pancake
Sweet Home Alabama
Cornflake Girl
Honey
Sweet Sangria
Lust
Wednesday
Band Leaves
Merman
Here, There and Everywhere
Josephine
Band returns
Horses
Rattlesnakes
Space Dog
Juarez
Take To The Sky
I Can't See New York
Iieee
1st Encore
Talula
Tear In Your Hand
2nd Encore
Crucify
Playboy Mommy
Reviews
The latest reviews are at the bottom of this page. For more reviews, please check out the
Dent's Tour Reviews Forum
. Please post your own review if you were at this show!
From
Mikewhy
:
The dilemma in writing these reviews is the fact that I am always dead tired and in desparate need of sleep when I write them. So forgive me if this does not do the show justice!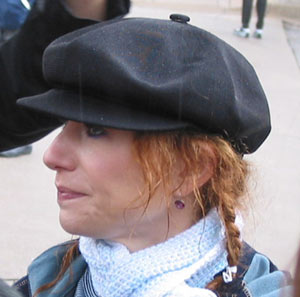 We drove 6.5 hours to Birmingham and were there for the meet & greet. I did not meet Tori, but I was able to snap a few photos and I share one with you to the right. I love the hat!
The show itself was extremely interesting. It started out very mellow and sad. Tori did not even seem to crack a smile for the first few songs. Among the earliest songs, Cornflake Girl seemed out a place because of all the slower, sad songs surrounding it. Her version of Honey tonight was leisurely and gorgeous, one of my all time favorite live versions of the song.
After Pancake, Tori said "How's it going" and the crowd reacted so favorably that Tori remarked, "Wow" and then did a slow and sweet version of Sweet Home Alabama. (I think it was just a portion of the song.) She then introduced the band.
Tori's solo songs during the Roadside Cafe were especially powerful tonight. Merman fit in perfectly with the sad nature of the early part of the show. My girlfriend Amanda seemed to think that Tori was especially clear and crisp in her enunciation of the words tonight. Tori then told us that "5 years ago today, I danced with someone to this song.." and then she played the cover Here, There, and Everywhere. Tori was obviously referring to her wedding anniversary here. Her cover of the song was unbelievably beautiful. I think this was the turning point of the show where Tori started to transition from being mellow, sad, and low-energy, to happier and more energetic.
Horses sounded great tonight, but from my vantage point in the lower balcony, I found some of the lighting to be incredibly bright and difficult to look at. Then we were all pleasantly surprised by Rattlesnakes, which sounds really wonderful with the band. During part of the song you could see the shadow of Tori playing the keyboards on the back wall, which looked amazing! Tori then launched into Space Dog, which really pushed the show into high-energy territory!
This was my first time hearing Iieee on this tour, and I really loved it. One thing that I did not mention during the European tour was the fact that Tori now has a synthesizer-type keyboard on the top of her Bosey that she plays during Iieee. So Tori is now surrounded by 4 different keyboards.
The end of Crucify seemed rather long and complex tonight. It made me think of The Waitress for some reason...
Tori of course ended the show with Playboy Mommy, and the crowd erupted into cheers when she did the "From here to Birmingham, I've got a few friends." She certainly does!
A glance at the official written set list shows that Tori did not deviate from it at all. In the spot where she did Here, There and Everywhere, Tori had listed "Tori's Choice" on the written set list.
The crowd remained seated during the main part of the show, and the folks on the floor only stood during the encores. I was quite pleased to see that.
Overall, I found this to be an interesting, complex, and wonderful show with a unusual mix of emotions. It was a nice start to my concerts this year. We are now off to Nashville, TN!
From
Marjorie Bounds
:
I was so excited to see Tori tonight. I have seen her the last 2 times she was in Birmingham and always had really terrible seats, but THIS time I had 5th row! Let me tell you, being up close makes all the difference.†I'm not reviewing all the songs, just some as I'm very tired :)
Wampum prayer -- You know, it is SO hard to sing acapella and Tori did it right on pitch.
A sorta fairytale -- This is one of my all time favorite Tori songs, it was energetic and wonderful
Little Amsterdam -- I thought this was an especially appropriate song being in the south. Haunting!
Sweet Home Alabama -- I seriously despise this song, being from Alabama and hearing it all the time, but when Tori did it was so beautiful. It was a great surprise and a wonderful treat for us folks! (I had heard her sing this for a radio station once, jokingly, but her arrangement was different for the concert. Very mellow and beautiful).
Honey -- I missed the guitar, but it was still wonderful! She once said this was one of her favorite songs, and after hearing it live for the second time, it has become one of mine too.
Mermann - here's where I started to cry. This is my all time favorite song, not just of Tori's but of any artist. Her husband must have been listening, she got very emotional at the end. This is just the most beautiful song I can think of, and I'm so happy that she played it tonight.
Here, There, and Everywhere -- I was so surprised to hear this song! I didn't know what it was until after the concert, and owning all b-sides I was especially excited to hear something fresh and new. The arrangement was wonderful, I think we got another special treat :)
Take to the Sky -- Love this b-side, and everyone clapped along it was great. On a side note, the audience was very well behaved the entire show....we participated but there weren't a lot of crazy screams or dancing, which was very nice.
Playboy Mommy -- Well of course, being from Birmingham, it's always nice to hear that song! She did it last time she came through, with rousing accolades at the mention of our small city. This time was no different either!
In general the sound was awesome, and I've really come to respect Matt Chamberland's (spelling, please fix that if it's wrong hehe) drumming.†He could just play along in 4/4 time, but he puts some really interesting beats to the songs and puts new twists on them, like Tori does, and I think that's a sign of an intelligent drummer. The bass was sometimes overpowering, making the floor rattle and what not, but still very good. All in all, this was the best Tori experience I've ever had!
From
Anna Steiner
:
First, I have to say that this was the best set list I've personally seen. She played a lot of my favs, Honey, Merman, Here There & Everywhere, and Rattlesnakes topping the list of high points in the show. Tori seemed in a very mellow mood from the beginning... maybe the weather??? Birmingham was cold and rainy. The short version of Sweet Home Alabama was appropriate, and from there the show seemed to take off. I liked hearing Cornflake Girl for the first time. And Honey was indeed a pleasant surprise. I didn't expect to hear that at all. The solo songs tonight were very emotional. Merman was beautiful, and Here There & Everywhere was even more beautiful. I don't know if I was crying because of the song itself, or because of the way Tori was singing it. You could definately tell that it means something special to her.. she was very involved in that song. The version of Horses tonight was gorgeous. It had a sorta gothic feel to it. Much darker than the album versions or other live versions. Rattlesnakes was another pleasant surprise. She hasn't played much from SLG on this tour, so it was nice to hear this. Space Dog had a good energy to it. Another that I've never seen, so again, I was happy. And of course, Juarez... one of my favorites from TVAB and I was so glad she played this... I was curious to see how she'd do this one with only the bass and drums, but those three are amazing together...(Tori, Matt and Jon.) It sounded wonderful. I was waiting to hear iieee, but I knew it marked the ending of the show, so it was bittersweet. I LOVE that song though, so it was worth it. Talula again had her "tell me who the fucking father is" line in it. Another first for me. All through the show I had a funny feeling she would play Playboy Mommy, and she did. I love this song so so much, and it sounded excellent tonight. In all, the show was incredible. She played a great set list... lots of songs that were on my wish list I got to hear, which is always nice. And the show had a great energy... Wonderful.
From
Julia Lewis
:
Tori's show in Birmingham was excellent. She had more energy and the band was so much tighter than the Atlanta show. Tori seemed in a great mood, and was so comfortable. I thought the crowd was very kind and considerate. (No one screamed out in the wrong places.)
Also, the scent wafting into the crowd before the show smelled like burning rosemary. Was it for Tori's throat or something???
This is a synopsis of how I felt about the show:
Wampum Prayer: I looked to the right of the stage where Tori would enter as soon as she passed by I saw a little Tash in what I think was a pink flowy dress. She was holding someone's hand and then walked away.
a sorta fairytale: I thought Tori sounded great on this song. She didn't strain like she had been in all the TV appearances with this one.
Little Amsterdam: I LOVE this one. She also played it in Atlanta; I think this set a precedent for the rest of the show.
I felt that the set list had been accurately targeted to a southern audience.
Pancake: This song is one of my favorites on Scarlet's Walk and was very happy to hear it.
Sweet Home Alabama: This was nice and slow and SWEET for her to do.
Cornflake Girl: I had a floor seat and I cold see Tori fairly well. I watched her hands on this one, incredible those things are!
Honey: I LOVED this one. Jon had a standup cello or bass (not sure) and it was so beautiful!!!
Sweet Sangria: I also really like this one from Scarlet. It has a nice tempo and is so energetic live.
Lust: This one was a surprise to me. I love the electronic drum sounds on this one. I could really here the piano base of this song.
Wednesday: This one is just fun for Tori, Jon, and Matt. They seem happy playing it. I love the contrast between the fast and slow parts.
Band Leaves
Merman: This was so pretty and I could understand all the lyrics. She changed keys during this song, not sure if it was intentional?
Here, There and Everywhere: My goodness, I was extremely moved with this one. Tori's love seemed to beam out.
Josephine: I liked this one without drums, so pretty with just Tori and the piano.
Band returns
Horses: I really like this song. The band was tight.Rattlesnakes: Wow, this is my favorite from Strange Little Girls! I was so happy to hear it!
Space Dog: (We are on a roll here) This is my favorite from UTP!
Juarez: I had no clue was this was at first, then she began to sing the lyrics and I was happy with the version.
Take To The Sky: I like the band on this one. It makes it all the more fun and intense.
I Can't See New York: I was moved as were others around me. I heard sniffles.
Iieee: This takes the cake! She even had the track of "Iiiieeee, Iiiieeee" which she pressed on the little keyboard on top of the piano!
1st Encore
From where I was it seemed that everyone stood for the rest of the show. Some people (including me) moved their hips with the rest of the show. I saw a few people off stage come out and watch the crowd; I think they were amazed that everyone was standing.
Talula: I couldn?t believe how nice her voice was after all of the above.
Tear In Your Hand: Good one from the old days. I noticed that she sang all the song's with "Neil" in them.
2nd Encore
Crucify: This was a cool version. She was looking at the crowd in an intense way. I reinterpreted this song for myself.
Playboy Mommy: Of course she played this one. When she made the B'ham reference the crowd cheered and she gave us a wide full tooth smile.
From
Cyndi S. Crawford
(Posted to the Precious Things mailing list):
I am *extremely* exhausted as I write this.. it's been a very long day full of emotional highs.. and plus it's 3 in the morning right now.
We got at the venue at around 1:00 central time.. we circled around to check and see where the meet-and-greet people were gonna be, found 'em, my mom dropped me off, and then found a really good parking place.. so I hung around with the crowd, chatting and talking with everybody, etc.. killed a few hours without realizing where all the time had gone.. and we got rained on a little bit too--which kinda kept Tori from standing outside with everybody for longer than she did..
Well anyway, at around 3:30 or 4:00, Tori came out. I made a copy of my Hey Jupiter video (using footage from the orig. video as well as other footage of her that I've got..) to give to her--and stuck my letter in an envelope with the tape in its own box the night before.. Anyway, Tori came out and said hello to everybody.. She got to me and I handed her the box and explained that it was a music video that I made for her.. *SHE* took it from me, not her bodyguard.. and then while I could, I asked her if she could play part of Datura for me (she didn't--I'm fine with it.) and she nodded (not a "yeah. I'll play it" nod, but a "I heard you and I'll at least consider it" nod.) and then she asked me if this was my only show and I told her that I'd seen her in Atlanta and told her about how I felt when she played Hey Jupiter at the end of the show.. and then somewhere in between that, I told her that when she smiles, she reminded me of my mother (and I made sure to say to her that THAT was indeed, a Good Thing.).. and she smiled and told me thanks..
I took LOTS of pictures of all this btw.. (I'll get them developed VERY soon) and then she was kinda moving to other ppl sorta.. and I asked her how her daughter was doing and she smiled real big again and said "She's doing fine" and thanked me for asking.. I took more pictures, told her she looked great (actually, that was the first thing I said.), told her good luck, told her we all loved her, etc.. and then she left and I went "Bye, Tori!" and she said bye to us all too.
Oh... it was.. I still can't get over it. I knew to expect it because I've read things from so many other people who've met her saying the same thing, BUT.. when you're talking to her.. she doesn't just nod and go "uh huh" while signing other autographs and basically just ignoring you.. she stares right into your eyes and PAYS ATTENTION.. and it totally makes you feel like the most important person in her world at that moment--as if she thought you were giving her some crucial life-or-death information. Just her looking straight at me and not just putzing around with other crap while I was talking to her, that was enough to make me ecstatic.
I wasn't close enough for a hug or a picture together or an autograph, but she got my video and she listened to me tell her stuff and she heard my request for a song (movement 2 of Datura).. and.. I told my mom about it and she was as happy as I was about it. It was bloody amazing!
In between all that, I made a couple of friends who had an extra ticket (which was LOTS better in terms of seating arrangement..) and they gave it to me--for free.. so I gave my craptastic seat to my mother.. (she was willing to go see Tori) and.. that's as important to me as meeting Tori was.. because I wanted my mom to see Tori's performance for herself.. AND SHE DID! She had bad seats, but she got to see Tori.. and she didn't much care for all of the music (too many minor chords she said..) but she got to see just how talented Tori was and she told me that she LOVES Tori's voice.. she said Tori's got a BEAUTIFUL voice.. and she also thought that she had a really cute personality about her.. and that she loved how Tori would be dancing all over her seat and then she'd cross her leg while she played, etc.. it was really awesome..
The show itself was really REALLY good.. The highlight of it (for me) was when she sang Crucify.. it was truly beautiful. She closed the show with Playboy Mommy (because we were in Birmingham and she mentions Birmingham--altho she means Birm. England so I understand..) and we were all walking out of it more or less awestruck.
I can't say the same for the opening act.. It wasn't Howie Day this time. :( It was some other guy.. I've forgotten his name already. He had a pretty good singing voice, but.. all of his songs sounded the same to me--and if *I* say that about somebody, then you know that's a pretty bad thing since I tend to have an ear for little easily-overlooked qualities in a song that makes it different. I was actually kinda disappointed in him and wished that it'd been Howie--so that my mom coulda seen just how good he (Howie of course) is.
ANYWAY.. that more or less sums up my day. It was a BLAST! I would do it again in a second. It was incredible. ABSOLUTELY incredible.. but now I must go to bed. I can't keep my eyes open for much longer.
From
toriMODE/ Ron
:
4.5 Years Later--Coming Full Circle On Scarlet's Walk
My first Tori Amos show was in Birmingham at the BJCC on August 14, 1998. Four and a half years later I see Tori again at the same exact venue. I felt like Tori was returning home to "Sweet Home Alabama." I've been expecting for Tori to come back on the past couple of tours but she never did. So you can imagine how excited I was to hear the Birmingham date announced a month before this show.
I woke up Saturday morning at 8 a.m., the day of the Tori show with "Horses" in my head. It kind of set the vibe for the rest of the day. I had a long day ahead of me. I got my things together and headed downtown for the Birmingham Jefferson Civic Center. I paid $6 to park. Apparently there was a Gun Show or Hunters Convention going on. A Girl needs a gun these days on account of those "Rattlesnakes." I passed by what I thought was the beginnings of a Meet & Greet. I saw a guy sitting in a chair, and later a girl sitting next to him. I would come to meet them and share many things with them. I walked up to Jason and Angel, and introduced myself. We started the numbering system, which I'm grateful for. I was #3. People started walking up during the day, and we'd give them a number, and we went through many extremes of weather. First it was overly warm, then it was so fucking windy, and then it started to rain. We made it through it. Steve set up the barricades at 3 p.m., and we got behind them. I was all the way up the front; no one in front of me. My friend Luke had just gotten there from the Jacksonville show. He came up to say hey and handed me a cd of covers he did of Tori, to give to her. At around 4:15 I looked to the side and I saw camera flashes going off, so I realized that Tori Amos must be walking our way. She was and she was adorable. She had on a cute scarf and a cute black hat, and her earrings. She was so adorable. She came up directly to my left to speak with a few people, and by this time it was raining a little again, and so Steve was holding the umbrella over her as she signed people's things. She finally got to me, and made direct eye contact. I smiled really big, and said hey to her, and gave her Luke's covers cd first, told her that my friend Luke had covered her songs (playing the piano/keyboards and sang), and then handed her my letter and some recent poetry. She took them one by one and said "ok....ok," and then I asked her to sign my 5.5 Weeks To Venus and Back Tour Book (the limo picture that is my signature picture on the forumz), and she asked my name and I told her Ron, and she began signing it, and I asked if she could write "From here to Birmingham, I got a few friends," and she started to, but the rain started again and so she was like I'm just going to sign it. She made her little heart symbol, and signed her name, and handed it back to me. I then asked for a picture with her, and that was the happiest time (even if the pictures don't come out well). I put my arm around her, and pressed my left side of my head against hers, and leaned back, and camera flashes went off like crazy. I felt so content for those few seconds. Feeling Tori's warmth next to me, and having a moment of fruition in the making, is beyond words. I seriously felt my life was complete after the picture was taken. The Meet & Greet progressed. I requested "Raining Blood" and Tori said "we'll see." I heard request for Carbon and bits of Datura. I took pictures for my friends Oola, Jason, Shannon, and Angel. In a matter of 10-12 minutes the M&G was over, and Tori was walking away and looking back. I yelled "we love you Tori," and then she was gone. After the M&G, I had some group photos taken with my M&G pals, and then I gave directions to Mikewhy, Amanda, and Carolyn to Silvertron's, and then I went home. On my way home I was a crying mess. I think everything finally somewhat hit me on the ride home from the M&G. The surreal world met the world of reality, and I was freaking out in the process. *sighs*
I went to dinner at Silvetron with about 10 people, and then went to the show. We got to the venue right at 7:30 p.m., and the doors to the concert hall were closed. So everyone was standing in the lobby. Finally we got in at 7:45 or so. We found our seats, which I have to say I was very pleased. Jeffrey Gaines came out later than was expected. He started playing his set. Everyone was going on about how they loved Howie Day much more, but I enjoyed Mr. Gaines. His cover of In Your Eyes is great. My bestfriend Kelly and I kept doing the back up singing parts "your eyesssssssss." Which was fun. My boyfriend Jon bought me and Kelly a Scarlet's Walk poster. We talked with a few people we knew from past shows, and then the lights went down, and the show began--
Wampum Prayer
Knowing beforehand that this song is recorded and not Tori actually singing it from backstage, kinda diminishes the experience, but I love this as an opener nonetheless.
A Sorta Fairytale
Kelly, Jon, and I were making dirty jokes about "pulling back the hood", so during the song, we were all smiles. Hearing Tori perform this again was great, and she has finally mastered it Live I believe. I realize now why it's doing so well in the charts.
Little Amsterdam
A southern song for a southern town. When she started with Little Amsterdam, Kelly and I kinda grumbled under our breath, because Tori always seems to play this in the south. It was a good performance.
Pancake
This is my 3rd favorite from Scarlet's Walk, and I think this is one of the sexier songs Tori has ever performed. Good stuff!
Sweet Home Alabama
Tori started playing a lil' intro and then started into Sweet Home Alabama. Made me reflect back on the radio performance mp3 that I downloaded probably 4 years previously. Hearing her version made me feel proud to live in Alabama, and it kind of made me feel like Tori felt comfortable in my state. This was the beginning of what made the Birmingham so special to me and for everyone else.
Cornflake Girl
I heard the first few sounds of this song and knew immediately it was Cornflake Girl. I was relieved, because I knew that my boyfriend Jon wanted to hear this Live for his first time, really badly. The pink and yellow circular lights reminded me of the merry-go-rounds of the Cornflake Girl video. The higher note sounds on the Bosendorfer sounded different than they ever had before. It sounded off in sound, but Tori still played her heart out and made the crowd very happy.
Honey
Yum. One of my favorite b-sides. Going every few days to the Hereinmyhead.com's website and hearing "Honey" as the introduction to the website, is what I thought of when Tori began this song. This was my 2nd time to hear this song Live, and I was excited to hear it with the band. Jon Evans was on an upright stringed instrument, and it made the song so beautiful. Definitely a highlight for me at the show.
Sweet Sangria
Who can not love the dark grooves of this song. I think it's one of those songs that everyone loves. Ms. Popularity if you will. Sounded great as always. Tori seems to really get down with Sangria.
Lust
You know you'll drink her. My favorite song from To Venus and Back. Made sense to start a trio of songs that would commemorate her 5 year anniversary with Mark Hawley. Lust in the marriage bed. Remember Remember Remember. The song was probably the best version I've heard (this was the 3rd time hearing it Live). She totally went off towards the end. The louded version of Lust ever. It was fucking awesome!
Wednesday
Yellow backdrop of light, during the happy-go-lucky song. Definitely a crowd favorite every night on Scarlet's Walk. Very up-lifting and wonderful.
Band Leaves
*Roadside Cafe sign comes down and lights up*
Merman
Oh my God! She finally played the gem for me Live. Ever since watching the Pay Per View Las Vegas Show from 1999, I've always loved Merman! After the first few notes, Kelly turned to me and said MERMAN! I was so happy! Probably the highlight of the show for me. Kelly and I were in tears, especially during the "who could say you're not simply wonderful." Wow, it was just so emotional!
Here, There and Everywhere
I had no fucking clue what this song was. But Tori introduced the song saying that her and someone special had danced to this song 5 years before. I thought it was really beautiful. I kept looking at Tori with the binoculars to get all of her facial expressions. I expected to see tears running from her face, but she kept scrunching her face with smiles, and singing. It was cute, sad, and sweet all at the same time. Later found out it was a Beattles cover.
Josephine
Tori did a long introduction/improv to this song, which I didn't recognize. My immediate thought was that this would become Crazy. But it turned out to be something so much better--Josephine! I finally became de-virginized to this song, so I was ever so grateful! Beautiful version!
Band returns
Horses
Kelly and I had hoped to hear this song again Live. I really really love this 2002/2003 version of the song. It has a lot of meaning to Kelly and me. We'll make mother well. Another crying song for us.
Rattlesnakes
I immediately thought of a girl from the M&G earlier that day named Jodi who was talking about Rattlesnakes, and so when I heard the song I thougt of her. But later found out it was Spinnyboy who had requested it. I knew everyone who was not at the show were going to be jealous that we got to hear Rattlesnakes with the band. The 2nd song from Strange Little Girls to come out on Scarlet's Walk. There are always needles in the hey. hayyyyyyyyyyyyyyy!
Space Dog
Talk about a freak-out moment. This was it. I use to be a huge fan of Space Dog on Under the Pink. It was my favorite song forever. I turned Kelly onto the song, and so when Tori started this (which I thought was Doughnut Song), we were fucking ecstatic!!!! We really enjoyed ourselves during the song. I was thinking of Mark Hawley during the song though, because I know that this is one of his favorite Tori songs (hence why we have it on TVAB Still Orbiting).
Juarez
You don't know how long I've wanted to hear this Live. I finally got it! I became spoiled during this show with all of these great songs. This song was everything I imagined it to be, and beyond.
Take To The Sky
Clap along and have fun. That's what this song is all about. I love the "Take Toooooooooo" part at the end.
I Can't See New York
What can I say. Ever since the Atlanta show in November 2002, I had been looking forward to recreating the experience of seeing ICSNY Live again. It was the most magical experience during the show. I had 2 beams of lights right at me. I felt lost in the clouds in the plan. The performance was another highlight for me of the night. I had a lot of morbid thoughts about the passengers on the plane during the 9-11 events, but I enjoyed it so much!!!
Iieee
Thank God Tori is doing this Live! The "Just say yes, you little arsonist" part is the highest voltage of energy during the whole show. The lights go crazy and it's just so in your face. I loved it!!!
1st Encore
Talula
Don't want to lose her. I recognized the introduction to the song right off. It was my first time hearing Talula Live, but I wasn't very impressed. I told Kelly that Tori would do either Tear in your Hand or Taxi Ride next, because I've noticed a pattern of keeping Letter's Together on set list, and sure enough, she goes into Tear in your Hand.
Tear In Your Hand
Another one of those Little Amsterdam moments when we were kinda rolling our eyes, and regretting that Tori didn't play some other great song. It was a good performance. Tori did a little wave during the "goodbye" part. It was cute.
2nd Encore
Crucify
The start of the song I recognized but I couldn't remember what it was. I am like "it's a sexy song, what is it?" Then finally I recognized. Very spicey and sexy. It's a great Live song. I love the cross formation Tori does with her arms during the song. Very effective!
Playboy Mommy
I expected this song. Kinda predictable. I heard it 4.5 years before at the same venue. Everyone screamed just like they had then during the "from here to Birmingham I got a few friends" part, and it was the perfect closer of the wonderful night. Tori made her arm motions during the "in my armmmmmmsss" part. It was emotional and beautiful.
I'd probably rank this as my favorite Tori Amos concert ever. The set list was AMAZING! The sound was great! Having the show in my home city meant a lot to me. Everything seemed to come full circle and blossom. I'll never forget this day. I love you Tori!

From Jason (spinnyboy@aol.com):

I haven't done a concert review for TheDent since 1996, which is long
overdue in my opinion. This is my review for Birmingham. My boyfriend and
I left Knoxville at 11am and got to Birmingham at 2:00pm. Thanks be to the
time gods for allowing us an extra hour for crossing the time zone. We got
to the venue at about 2:15pm and there were a handful of people there. Not
even 30 seconds after arriving, a guy by the name of Jason comes up to us
and introduces himself. He asked for my hand and proceeded to write the
number 39 on my hand and number 40 on Robbie's hand (my b'friend). I knew
immediately they were doing the whole numbering system thing and I did feel
compelled to mention to this guy that they typically don't work out this
way. He was confident in letting me know "Well, it's going to work this
time." (Needless to say it didn't work, but more power to him!) Shortly
thereafter, I saw Mikewhy and Amanda and spoke with them for a short time as
we waited for the barricade madness to begin. People slowly trickled in.
Steve set up the barricades, and of course, only a small number of people
who were numbered 1 - 5 were up at the front (I think ToriMODE and his
bfriend were within the top 5, as well as that guy Jason.) Either way, I
was able to request Rattlesnakes briefly, and lo and behold she played it!
Woohoo!!!!

After meet and greet, Robbie and I checked into our hotel room, grabbed a
bite to eat, then headed back to the venue. There, we met up with Maria
(toriphilemaria) who is one of the coolest people you'd want to meet. She
was with David (Dmaster0) and Paul (Paul K. from tori-boot). Our seats were
in Row 6 (FF) and we were pretty much center. It was a fantastic venue as
far as seating went. Very close to the stage, even in 6th row. This show
was filled with a lot of personal irony, as you'll see below.

*Wampum Prayer/A Sorta Fairytale*
Traiditional. Was able to see Tori and Tash dancing when Wampum Prayer went
off and the band began to play. Tash was wearing the cutest white/silver
dress. Reminded me of a little wedding dress or fairytale-like dress. Tori
then picked Tash up, handed her to someone, then came out on stage. She was
wearing a multi-colored top (earth colors) with tattered jeans and boots.

*Little Amsterdam*
Heard it in Atlanta, but was also glad to hear it again in B'ham.

*Pancake*
I love the opening chords on the wurly!

*Intro/Sweet Home Alabama*
She did a couple of verses of this classic tune. This is the first of many
ironic things that occur during the show on a personal level. When I was
pulling out of my driveway in Knoxville, I turned on the radio and Sweet
Home Alabama was playing. I looked at Robbie and said "Wouldn't it be cool
if she actually did a cover of this song?" Well, there we had it!

*Cornflake Girl*
Nothing to say about this. Classic song with classic expectations.

*Honey*
Very happy to hear this one! It seemed a little bit more toned down and a
little slower than usual.

*Sweet Sangria*
Another tour classic.

*Lust*
The arrangement has changes a little since seeing in in November.

*Wednesday*
For some reason, I never grow tired of this song.

*Merman*
Irony #2. This song makes me think of my grandmother who passed away in the
summer of '98. I heard Tori do this twice before, but tonight it stood out.
I teared up a little and felt a sense of well being when the song ended.

*Here, There, and Everywhere*
At first, I didn't recognize this song. Tori prefaced this song by saying
that five years ago to the day she played this song for someone special. I
am guessing Mark. Very beautiful song.

*Josephine*
Irony #3. Robbie had a good friend whose name was Josephine who died in an
accident. I didn't think she'd play it since she did it in Boca. Well, she
played it, and now two of the three solo songs brought the dead back to our
minds, but in a positive way.

*Horses*
Robbie really liked this one. I hadn't heard it in person yet on the tour,
so I was happy to hear it.

*Rattlesnakes*
Irony #4. The fact that she actually played it blew me away!! I was so
happy because I wanted to hear it soooo bad to the point of asking for it!
I felt alone when she played the opening chords of it with the band. I
hooped and hollered so if anyone ever gets a boot of this (and I know they
will, trust me) you'll hear me I'm sure.

*Spacedog*
Yummy to hear with the band. The crowd seemed to like this one a lot.

*Juarez*
First time hearing this song in person. I love it!

*Take to The Sky*
*I Can't See New York*
*iieee*

These three fit well together tonight. First time since 98 seeing iieee
live. I love that song!!!

*Talula*
Very long introduction. Almost a blend between the 98 version of Talula and
the 01 version of Talula. Nice!

*Tear In Your Hand*
A traditional Encore One (or Two) classic.

*Crucify*
I thought we escaped this song for the night, but it creeped out during
Encore Two.

*Playboy Mommy*
"From here to Birmingham I've got a few friends." Of COURSE this would be
played tonight, and only made sense to close the show with it.

All in all was a great show. Was able to hang out with Maria, David and
Paul (they almost sound biblical when said together, don't they?) and I had
a blast! It was cool meeting and seeing everyone as well.


From Josh:

I have to say that this is the most amazing Tori show i've been to yet. It's my second from this tour, and i wouldn't have missed it for the world. After the Atlanta show, i couldn't see anything topping that one. At first however, i was a little apprehensive about even going to the meet-and-greet. The one in Atlanta was a nightmare, and i just didn't want to waste my time. But i decided to go anyway. I got to the Concert Hall at around 12:30, and there was already a small group. I walked up, and recognized a few people from the Atlanta show, as well as TORI MODE/Ron. I stood around for a few minutes, then my cell phone went dead. A guy named Jason walked up to me and introduced himself, and told me about the numbering system. We chatted for a few minutes, and then he gave me my number, which was 17. If everything went smoothly, i could almost definately meet Tori. So anyway, my friend Natalie showed up a little later, so i went to meet her by the fountain. (the guy i'm dating wouldn't come with me) :( we got back, and by that time, they were already in the 30's. We all filed in a line, and Natalie and I ended up standing next to a really cool couple, Faith and Andy. We chatted for quite a while, then it began to rain. We noticed that two funeral processions went by within a 20 minute period, which was odd. So finally Steve came out and told us the rules, and we all pretty much crowded up by the barriers. I still got fairly close to them; i was only 3 or so people back, so even if i couldn't meet Tori, i'd get a good look at her, and some good pictures. HOWEVER, someone, who shall remain nameless(unless you were around me, then you *definately* know who i'm talking about) began to slowly push me down and out of the way, till i was about 5 or 6 people back. Tori finally came out, and she was simply beautiful. I had never seen her up close, and i was stunned. I got 2 or 3 really good pictures of her. However, she looked in my direction some as i was being pushed out of the way. (I think Joel and Steve noticed this too.) About 10 or 15 minutes later, Tori left, and me, Natalie, Faith and Andy all went to find somewhere to eat. We walked a good bit, before it started to pour rain, and we just went back to the Sheraton to eat at the Sports Grill. We had a really good Tori conversation, about our favourite songs, and songs we hoped she'd play at the show...even about the possibilities on why Tori and Caton don't play together anymore. (It's amazing the range of conversations about Tori you can have, lol.) We walked back to the BJCC, and they were letting people in. We all went in, and me and Natalie split with Faith and Andy so that i could buy some merchandise. I bought 2 shirts, a poster, and a necklace. So we went back and sat with Faith and Andy for a while, and then they began to let people in. Faith and Andy left, while me and Natalie stayed in the lobby to talk. We had gone to see our seats (Orchestra, Row D seats 110-111), so we knew we had a really good view of the stage. We were sitting by the door, and one of Tori's staff came up to us. His name was Pat, and it seemed like he was just starting conversation. He asked us about our merchandise, and then about our tickets. Stupid me, i said "Oh, we've got great seats...a really good view." Then i noticed he had tickts in his hand and i thought "FUCK!" He said "Oh, well i guess you don't need these then..." and showed us the tickets: Continental Section, Row AA, seats 9-10...FRONT ROW CENTER!! I was like "Oh my god!" He said "This is a gift from Tori...we saw what happened earlier." He took our other tickets from us, and gave us the new ones. I was in shock! I had front row tickets to Tori! I was still kinda confused about what he meant...i could only think of the meet-and-greet. I don't know, but that's the only logical thing. So me and Natalie called our friends to tell them, then went inside to our seats, right as Jefferey Gaines was leaving. We had the best fucking seats in the venue! Right in the center. So we sat down, and recognized some of the people from the meet-and-greet and chatted with them until the show started. I began to smell sage burning, and knew it was starting soon. I jumped up to go find Faith and Andy to tell them about what happened. I did, and they were happy for us! I got back to my seat, and just as i sat down, it started...

[wampum prayer] i could tell she sang this one offstage this time...and right as it was ending, me and the guy next to me saw Tash running backstage, and someone grabbed her hand and they walked off - she's adorable!

[a sorta fairytale] this was a stronger performance of the song...i enjoyed it a lot more than in Atlanta. During this song i had some eye contact with Tori, which is always good :)

[little amsterdam] this one was inevitable...she plays this at all of the shows in the south, so i knew she would here too. She would grab the microphone during the "which side you're on" line, which was cute...It was good nevertheless - one of my favourite from Pele

[pancake] i've grown terribly fond of this song, and i was thrilled to hear it for a second time. She danced on the piano bench before she began to play, which was great...the crowd went wild during the "like a flag on a popstar on a Benzodiazapene" line. After the song, she said "Hey everbody, how's it goin?" and waved. The crowd erupted, and she said "Well!..." and went into

[sweet home alabama] she did this one solo, and she only played a portion of the song. However, it was very good, and she played it well. After she was through, she introduced the band, then went into

[cornflake girl] i was so excited to hear this one. This is one of my favourite Tori songs, and i love the live version of it. Natalie had been wanting to hear it too, so we were psyched :) When Tori did the 'purr' at the end of the song, she looked down at mine and Natalie's direction :)

[honey] i'm not too familiar with this song, so i had trouble recognizing it at first. The guy next to me must have noticed i didn't know what it was, and he leaned over and said "Honey." I looked at him and said "What?" then realized what he meant, and said "Oh, thanks." Needless to say i was somewhat embarrassed, lol. It was beautiful anyhow, especially with the band. Looked down in my direction during the first "you're just too used to my honey" line

[sweet sangria] this is one of my faves live, and Natalie's favourite from 'Scarlet's Walk.' I had a lot of eye contact with Tori during this song, which was really cool...i loved watching her whip back and forth between the Wurly and the Bose at the chorus of the song, as she also did during "Little Amsterdam"

[lust] i like the new version of this, and the background vocals and sound effects make it even cooler

[wednesday] i absolutely adore this song, and Tori made eye contact with me as i was singing along with it, and she kinda grinned. I noticed there was some eye contact between Tori and Matt during this one as well.

*Roadside Cafe*
[merman] this was absolutely beautiful. i started to tear up, and i looked up at Tori, and she was crying as well! It was definately a highlight for me. It was even better to see her after the song was over, wiping her eyes. She then said "Sooo, five years ago today, i was doing something a little different. Well, not really different. I was dancing with a man, and we danced to this song..."

[here, there, and everywhere] i had no idea what this was...it sounded so familiar, but i couldn't put my finger on it. I looked at the guy next to me, and he just shrugged his shoulders. Nevertheless, it was the perfect song for her and her husband, and seeing her smile with content as she sang it made it even better. She whispered some of the lyrics, adding to the effect of the song.

[josephine] she did an improv before this one that i had never heard, so i began to think it was another cover, but then she began to sing Josephine, and i was thrilled - i had never heard this one live, so i was happy

*band returns*
[horses] oh my God, i almost died when i realized what this was. Horses is one of my very favourites, and Natalie had been saying all night that she hoped Tori would play it. It was stunning...i've never heard it played more beautifully. We had some eye contact during the "off with superfly" line...

[rattlesnakes] it took me a second to realize what this one was, but after i did i freaked out. I had heard someone request this at the M&G. This is one of my faves from SLG, and i realized this was only the second time she'd done a song from SLG on this tour...the first time that one of them was plugged, for that matter. The funny thing is, me and Faith had had a conversation earlier about the fact that she'd only played "enjoy the silence", so this was cool

[space dog] yet again, i completely spazzed out when i heard this one. This is one of my favourites, and i was so glad that she played it. It's a great song to jam to, and the band does it *very* well. It was especially good to hear her slap the piano after the first "he's our commander still space dog" line (i had always wondered what that cracking noise was when listening to 'Venus')...she also saluted after this line

[juarez] i was so fucking psyched to *finally* hear this live. i had downloaded a few of the '99 versions, as well as one from earlier on this tour, and they're both amazing, but this one was awesome. It was so cool to see her gyrate the piano during this one, and she had some amazing facial expressions...this song was full of sexual energy, which is kinda funny, considering what the song is actually about, lol

[take to the sky] i've grown especially fond of this since hearing it plugged in Atlanta, but i have to say this one was better. The end was especially good, hearing her practially groan "take it, boys" was great :)

[i can't see new york] i liked this in Atlanta, and it's one of my faves from "Scarlet," but tonight it was even better than before. I think being front row center, RIGHT THERE in front of her, totally changed my point of view on all the songs. I could actually *feel* the emotions and the songs, whereas in Atlanta, i just kinda listened

[i i e e e] i'd been wanting to hear this one for so long, and i was practially jumping up and down when i heard the drums begin, and then the bass. The guy next to me was getting into it as well, so i didn't feel so odd. I especially loved the "just say yes" part - the lights went crazy! All the instruments were so loud, and Tori sang it so well...i loved every minute of it, although i would have also loved to hear the long version, with the piano solo and the imrov at the end. but it was still great :)

*ENORE 1*
[talula] i've always been really attached to this song, but it took me a minute to figure out what it was. The guy next to me leaned over and said "Talula" and then i began to hear it. She came onstage, danced around a bit, and then began to play...AMAZING. I liked the "iyiyi" parts inbetween couplets, and when she altered the lines was even better. At one point she sang "What you want GEORGE is in the blood of senators", which drew a laugh, and then, of course, she sang "honey that it's in God's hands/tell me now who the fucking father is."

[tear in your hand] my fave from Earthquakes, as well as the Atlanta show, and at first i was beginning to get a little disappointed that she may not play it now, but she didn't disappoint. And the best part - after the second "time to wave goodbye" part where she pauses, she glanced in my direction. I waved at her and raised up my camera, and she smiled, as if for the camera, and i took the picture! So now i have a pic of Tori smiling at me onstage :)

*ENCORE 2*
[crucify] for whatever reason, i didn't really get into this one at Atlanta, but like i said, being right there WITH Tori changes your perspective. I also think that Tori was more into it...the improv at the end was fucking amazing...it somewhat reminded me of a mix between the plugged versions of "Waitress" and "Blood Roses" - it was great

[playboy mommy] this was also inevitable...i'd only heard this one once before, so it was good to hear it again...the crowd went crazy at the "from here to birmingham/i got a few friends" line, proving that line to be true. This drew a smile from Tori... I also happened to noctice that Tori had stuff written on her left hand, probably the setlist

And with the line "i'll be home/to take you in my arms," it was over. Tori jumped up, joined Matt and Jon, and quickly left the stage. I was so in awe...i just stood the for several minutes, and Natalie hugged me. I truly experienced a fabulous show, and would not have given ANY of it up for the world. I met some great people, saw a great show, Tori gave me front row seats, and smiled for my camera. I've got so many good pictures, and i'll send them in soon. I don't think any of the other shows can top this one - it was truly magical, and meant the world to me...she always gives Birmingham a good show, and didn't fail this time either :) Thanks to Faith, Andy, Mikewhy, Amanda, and a few others for chatting with me and Natalie at the meet-and-greet - this one was a lot better than in Atlanta. I'm looking forward to seeing another show soon...if anyone from the show wants to chat, my email address is hereinmyhead15@hotmail.com - i'd love to talk anytime!



From Amanda Morris:


Everyone seemed to have the same feeling of Tori being sad at the beginning of the show. I honestly did not notice this all that much at first. My being so jittery from caffeine pills and just being happy to be there, I think, did not allow that to shine through so much. I just was so happy to see Tori perform again that I just don't think I noticed all that much. Though, if I do think more about it now after the shows end, I can recall that there was a difference in her performance between the first and second half of the show as her energy seemed to kick in higher later on.

I sometimes tend to forget what state I am seeing Tori in while she is performing. I have been able to make it to quite a few lately and the states all blur together when I am sitting there watching the show. So when she started singing Sweet Home Alabama I was a bit suprised, then I reflected on my location and smiled at how special that must feel for those who live there seeing Tori in their home state. Even though it was only a part of the song, it was very sweet.

Honey was one that I always love, and I even really really love it with the band which I am suprised at. I love solo songs, but this one really fits well with the band joining in and I really love Jon playing the upright bass and the feeling that adds to the song. It all fits right in together. Combining in with Tori's seemingly sad mood, Honey took on the same feeling, and really put a sense of extra emotion into it.

After Merman, she started singing a song I did not recognize at all. I did not know if it was an improv or a cover. I debated on whether I should write down some lyrics for later purposes, but I was so caught up in the beauty of the song that I did not write down anything, which is unusual for me to do. It was such a sweet and romantic song. Carolyn finally leaned over to me and whispered that it was "Here, There, and Everywhere" I had heard of this one before, and I was really suprised that I got to see Tori perform it. I later saw the official writen set list where "Tori's Choice" had been written in this song's place. I am assuming this song was kind of a suprise for Mark for their 5 year anniversary. Maybe that was the saddness that had crept into the performance. I am not so sure I would want to perform on my 5 year wedding anniversary. But this song seemed to really give Tori some energy and the rest of the show really came into an upswing.

Horses is always one of my favorites no matter how many times I see it live. I love it, and I even love it with the band. I thought that the first song after the solo songs was a perfect spot for this one to appear. One thing though, from my position, the lights during this song would sometimes come right up to us and be in our eyes for about 30 seconds at a time. Michael, Carolyn and I even had to put our hands up because it got so blinding after a while. But it did not last long.

Rattlesnakes was a big surpise. Even though I had heard the request at the meet and greet, Tori did not appear to acknowledge much that she had heard it from where I could see of her. But either someone else requested it as well, or she did hear it, or both. It was done all on the keyboard, and I did not really recognize it at first at all until she said "Jodie wears a hat." It was much different than during the 2001 tour when she did this solo. This time, Rattlesnakes was with the band, and from what I remember, she did not play the piano on this one at all. It was thoroughly enjoyable.

My first listen of Iieee and Talula on this tour and I really liked them very much. Iieee was very good, though much like she had done it before with the band on previous tours but without the guitar. There is one really fast, loud point in the song when the lights flash really really fast, almost stobe light-like. Talula was good...it is one of my favorites to hear live, especially since the birth of her daughter, the song really seemed to take more emotion and more shape. I do prefer the Talula from the 2001 tour, but this version is a close second.

Playboy Mommy closed out the show and I was expecting this one before I even left the house for the 6 hours drive down. Of course, at the mention of "Birmingham" the audience cheered like crazy.

Overall, a very very enjoyable show with some suprises and a variety of emotion in it. I am so glad I make the 6 hour drive to be there.



Read a review of Tori's Birmingham, AL concert from the Birmingham News