Here is a general information page about Tori's 2003 release Tales Of A Librarian. I have descriptions of the release, its packaging, and so on. I also have several scans from the album booklet and the bonus DVD.
More Details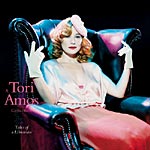 You will find here general descriptive comments about Tori's new 2003 album, "Tales Of A Librarian: A Tori Amos Collection". Look below for scans from the CD booklet and front and back of the album, as well as several scans from the Bonus DVD, comments from people who already have the album, and general information like release dates and track listings.
General Info about Tales Of A Librarian
Here are the release dates of the album:
The Netherlands/Belgium - Fri, November 14, 2003
U.K. / South Africa - Mon, November 17, 2003
U.S. / Canada - Tue, November 18, 2003
Germany - Mon, November 24, 2003
Australia - Mon, December 1, 2003
France - Tue, December 2, 2003
The album will be available in two versions in the U.K. and Australia. One includes the Bonus DVD and one does not. It looks like only the version with the DVD will be released in the U.S.
There has been some confusion as to the release dates in the U.K. Details are here.
At one time we thought the cover would look different. Check out what the other cover looked like.
Here is the track listing for the music CD part of Tales Of A Librarian:
Precious Things
Angels
Silent All These Years
Cornflake Girl
Mary
God
Winter
Spark
Way Down
Professional Widow
Mr. Zebra
Crucify
Me and A Gun
Bliss
Playboy Mommy
Baker Baker
Tear in Your Hand
Sweet Dreams
Jackie's Strength
Snow Cherries From France
Here is the track listing for the Bonus DVD part of Tales Of A Librarian:
Live Video Tracks
1. Pretty Good Year
2. Northern Lad
3. Honey
Remixed 5.1 Audio Tracks
4. Putting The Damage On
5. Mr. Zebra
Extras
6. Extensive Photo Gallery
You can read more about the track listing here.
Tales Of A Librarian Chart Summary
U.S.
Tales Of A Librarian has debuted on The Billboard 200 album chart at #40 for the week of December 6, 2003. (Thanks Rodney Douglas.) Casey Stratton that says final Soundscan figures for the album's first week sales say that 46,893 copies of TOAL sold during its first week, but I have another report that says that 56,506 copies sold in the U.S. I am not sure which figure is correct, but it is safe to say that Tori sold about 50,000 copies during the first week.
Canada
I have reports from Peter Starski and Rodney Douglas that Tales Of A Librarian debuted at #86 on the Canadian Album Sales Chart for the week ending November 23, 2003 as revealed by Nielsen Soundscan. The chart is posted at www.canoe.ca.
U.K.
You can see the U.K. Top 75 Albums Chart listed at dotmusic.com. Tori's new album Tales Of A Librarian debuted at #74 for the week of November 23, 2003. Thanks to the many people who emailed me about this. This is sadly one of the worst debuts for a Tori album in the U.K...
Poland
Michal Zaczynski reports on how Tales Of A Librarian is doing in Poland. The album debuted on official Polish Top 50 Bestsellers chart at #27. Michal also reports that Angels has risen to #24 on the Polish Radio 3 chart. (It debuted at #30 the week before.)
Scans of the Tales Of A Librarian album booklet
Many thanks to Martijn for making these scans. Thanks also to Garry for also sending me some scans. One scan includes the lyrics to Angels while another has the lyrics to Snow Cherries From France.
Feel free to save these photos, but please do not post these photos elsewhere pointing to my server and using my bandwidth. Thanks!
Scans from the Tales Of A Librarian Bonus DVD
Many thanks to Martijn for making these scans.
Comments and descriptions from Toriphiles with the album
From Tori Mazur:
Tales of a Librarian arrived on my desk today. It's beautifull. Double cardboard sleeve opens like a book. The track listing has each song cross-referenced with the Dewey Decimal System.
Inside left leaf is a photo of Tori in her librarian gear. To her right is a summary of the Ten Main Classes and a paragraph on the history of the Dewey Decimal System.
The tray next to it includes The CD.
The tray next to that is the DVD.
The right leaf hold the booklet with the lyrics and photo shoot. Amazing!
Beautiful pink touches everywhere!
From Martijn:
The package is nice. No slip case or anything,the paper is nice quality (not glossy) and the booklet is very thick.
The new audio mixes are interesting. It works *really* well for Precious Things, and not so well for Crufiy (it's a lot less haunting now, and a little more middle of the road). Way Down is longer (the choir sings on a bit), Jackie's Strength has backing vocals, similar to her live rendition, making it a lot more beautiful. Playboy Mommy is even more sad than it was. I don't remember there being strings on Baker Baker. Maybe there were, but I've never heard them played so beautifully before.
Even Spark and Bliss, which were done fairly recently, sound different. Not neccesarily *better*, but definitely different. People will have to make their own minds up.
The sound check songs are beautiful. I'll have to get back to you on details about the 5.1 surround mix; I don't know if it's been done well.
There are 3 nice picture galleries; 2 play during Mr. Zebra and Putting The Damage on, one plays during an Instrumental version of Putting The Damage on.
All in all I'm pretty happy with the package and the live DVD they are releasing will be quite a treat.
Putting The Damage on is beautiful in 5.1 surround sound. It was mixed very well. It can also be played in Dolby Digital 2.0, which is rather pointless since virtually all DVD players can downmix Dolby Digital 5.1 audio to stereo. But oh well.
Maybe I have a misprint, but Mr. Zebra is NOT in 5.1 surround sound. It's in Dolby Digital 2.0 and Linear PCM.
The surround mix on the live tracks is done fairly well. As in; if you'd only listen to the 'center' speaker, you'd have an acappella version. Which is cool. The subwoofer channel is used intensively. Somebody obviously knew what he or she was doing when they did the mix. Which is good.
From Arjan:
I am the lucky person also living in the Netherlands and I picket up my copy today of TOAL. It is important to realize the American one comes in a cardboard package and the European in a jewel case. This is similar to TVAB.
I love the way the Dewey Decimal system was used and the way the lyrics are printed. It does her music and lyrics so much justice.
Here is a list of the Dewey Decimal System (if you could not see clearly on the scans yet); the songs are on the cd is a different order...
110 Metaphysics
110.113 Cosmology
Tear In Your Hand
120 Epistemology
129 Origin and Destiny of Individual Souls
Bliss
150 Psychology
154 Subconciousness and Altered States
Way Down
170 Ethics
177 Ethics of Social Relations (Betrayal)
Cornflake Girl
230 Christianity and Christian Theory
231 God
God
320 Political Science
324 The Political Process
Angels
360 Social Problems and Social Services
362.8 Act of Rape
Me and a Gun
220 The Bible
226 Mary Magdalene
Mary
390 Customs, Etiquette and Folklore
398 Folklore
Snow Cherries from France
410 Linguistics
414 Phonology
Silent All These Years
500 Natural Sciences
501 Philosophy and Theory
Spark
520 Astronomy
525 Seasons
Winter
520 Astronomy
525 Calendar
Pretty Good Year (on dvd)
610 Medicine and Health
618 Miscarriage
Playboy Mommy
630 Agriculture
639 Insect Culture Honey (on dvd)

640 Home and Family Management
641 Food and Drink
Baker Baker
700 The Arts
704 Special Topics in Art
704.0397 Native American
Mr Zebra (on cd & dvd)
720 Architecture
Putting the Damage On (on dvd)
790 Recreational and Performing Arts
795 Games of Chance
Northern Lad (on dvd)
920 Collective Biography
Precious Things
970 History of North America
973 United States History
973.922 Early 1960's
Jackie's Strength
970 History of North America
972.928 Politics of Illusion
Sweet Dreams
Click here for more reviews/opinions of the Tales Of A Librarian from other Toriphiles!