We first heard about Tori appearing in the Revolution Studios/Columbia Pictures film "Mona Lisa Smile" in an article in the December 4, 2002 edition of the Milford Mirror. The articles revealed that Tori was filmed performing in a wedding scene in the film. Click to read this article at zwire.com.
The movie Mona Lisa Smile debuted in U.S. theatres on December 19, 2003. The movie stars Julia Roberts, Julia Stiles and Kirsten Dunst. Read more about the film at Yahoo! Movies and the Internet Movie Database. (Thanks to Elisabeth, Katherine, Linda M. Jose, and Cady for the details.)
Tori has 2 songs the Soundrack to Mona Lisa Smile. Those songs are You Belong To Me and Murder, He Says. The Soundtrack was released in the U.S. on November 25, 2003. The Soundtrack was released in Canada on December 9, 2003.

March 25, 2004 Update:
Mona Lisa Smile was released on DVD in the U.S. and likely elsewhere on March 9, 2004. You can order the DVD online from Amazon.com. (If you order it using any Amazon.com link on The Dent, you will also be helping to support this web site.)

January 16, 2004 Update:
ign.com is reporting that Mona Lisa Smile will be released on DVD by Columbia TriStar Home Entertainment on March 9, 2004. I guess the movie did not do too well, so they are rushing it out to the home video market. Here are the details that IGN gives about what is on the DVD:

- English and French Dolby Digital 5.1 audio
- What Women Wanted 1953 featurette
- Art Forum featurette
- College Then and Now featurette
- Elton John music video for "The Heart of Every Girl."
- Cast & Crew filmographies



January 4, 2004 Update:
The movie Mona Lisa Smile is set to be released in U.K. theatres on March 11, 2004. Thanks to Barbara for this information! You can see the release schedule for this film in most countries at the Internet Movie Database. (Thanks Tessa.)
DMC saw a sneak peak of the movie Mona Lisa Smile on November 12, 2003 and gives this report:
The movie was pretty good--a well-acted "chick flick" about life at Wellsley College in 1954-55. It focuses very heavily on women's liberation, and freedom of choice regardless of what the choice is. It's easy to see why Tori was invited to be on the soundtrack.

But here's the part you'll want to know: The movie does indeed have a wedding scene at which Tori appears as a wedding singer. We see the girls socializing in the ballroom at the wedding reception, and there's big bang music playing. One of the characters repeatedly comments on the good band. Shortly thereafter, we hear "Murder, He Says" partway through, then cut to a close-up shot of Tori singing onstage. She sways seductively, and kind of bobs her shoulder and head toward the microphone in that way she does. Tori is standing, not playing a piano, and wearing a royal blue dress that is pulled back behind her neck. (I don't know what that style is called.) The song ends, and as Maggie Gyllanhall's character begins to dance with a teacher who she has slept with (that's not ruining any of the plot, so no attacks about the lack of a spoiler!), we hear "da ba ba da-ba doo wee doo wee/da ba ba do-wee do-wee do-wee/see the pyramids along the Nile...," and for a good minute or so of the scene, the two characters slow dance to the music, but are parted right down the middle to reveal Tori from a distance on stage in full focus! It's actually kind of surprising to me how carefully the shot seems to have been composed to make room for Tori in the romantic context.

Again, the movie was good--better than "cute," but it probably won't be mentioned at the Oscars. Unless it wins best soundtrack...
Christine saw a sneak peak of the movie Mona Lisa Smile on November 25, 2003. She says the following about Tori's part in the film:
Tori was in two shots and the background for about 3-5 minutes but you could hear her before and after she was actually on the screen. But she looked great and they did one close up of her that was really beautiful and it was funny how the audience reacted when they recognized her- I heard a few gasps. The music was really lovely as well and she sang in a much deeper, smokier style then she usually uses. In all it was a very nice cameo. And the movie was fabulous as well- I would recommend it not only to see Tori but also to see an amazing cast.


You can find an Interactive Quiz involving the movie Mona Lisa Smile at eonline.com. One of the questions shows a photo of Tori from the movie and mentions that she was once one of People Magazine's 50 Most Beautiful People! (This took place in May 1996.) Thanks to Jessica for alerting me to that.

November 25, 2003 Update: Contests & Commerical
There are currently 2 contests to give fans the opportunity to win tickets to the primiere of Mona Lisa Smile as well as receive the soundtrack. Here are the details for these contests (Thanks to [b]Meg[/b] for telling me about them.):

1) ETonline, Sony Music, and Orbitz are offering you the chance to win a trip to New York Site to see the premiere:One (1) Grand Prize Winner and a guest will receive roundtrip airfare and two nights at a New York City Hotel. The winner and a guest will attend the premiere and afterparty and take home the "Mona Lisa Smile" Soundtrack.

Ten (10) First Prize winners will receive the "Mona Lisa Smile" Soundtrack.

(Click here for more details and the entry form at Yahoo! Entertainment.)
2) ComingSoon.net and Columbia Pictures have teamed up to give away passes (each good for 2 people) for advanced screenings of Mona Lisa Smile , opening December 19 and starring Julia Roberts, Kirsten Dunst, Julia Stiles, Maggie Gyllenhaal and Marcia Gay Harden. The screenings are scheduled for Thursday, December 4 in Austin and Houston and on Wednesday, December 10 in San Antonio, Texas.

Residents of those cities can sign up at comingsoon.net. (It looks like you can no longer sign up for this contest, as all the pases have been given out!)



In other news, there is a commercial for the soundtrack that actually shows Tori singing from the film! It is being shown on various U.S. TV stations.


November 24, 2003 Update: You can read a press release about the Mona Lisa Smile soundtrack from Epic Records.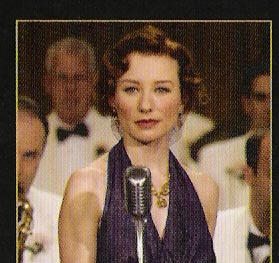 November 22, 2003 Update: You can see a scan of the album booklet from the Mona Lisa Smile soundtrack to the right. It shows Tori as she looks in her cameo in the movie! Many thanks to Beth Nac mac Feegle for the scan.

We were told that the official release date for the Mona Lisa Smile soundtrack was Tuesday, November 25, 2003. However, I have received several reports that the album was released, at least in some locations, on Friday, November 21, 2003 instead! Amazon.com changed the release date to November 21st, and now says the album is available and ships within 24 hours. I also have a report of the album being available at Barnes & Noble. While it seems odd for albums to be released in the U.S. on a Friday, they could be releasing it early because of the Thankgiving holiday nexy week. In any case, you might go looking for the album now if you really want it!

November 8, 2003 Update: An article about the Mona Lisa Smile Soundtrack was posted at Billboard.com on November 8, 2003.

November 5, 2003 Update: Rabih informs us that the listing for this soundtrack at Amazon.com now includes the official track listing, and it indeed confirms that the two Tori songs on the soundtrack are You Belong To Me and Murder, He Says. Here is the track listing as well as the cover to the Soundtrack:

1. Mona Lisa Smile - Seal
2. You Belong To Me - Tori Amos
3. Bewitched Bothered and Bewildered - Celine Dion
4. The Heart Of Every Girl - Elton John
5. Santa Baby - Macy Gray
6. Murder, He Says - Tori Amos
7. Beseme Mucho - Chris Isaak
8. Secret Love - Mandy Moore
9. What'll I Do - Alison Krauss
10. Istanbul (Not Constantinople) - Trevor Horn Orchestra
11. Sh Boom - Trevor Horn Orchestra
12. I'm Beginning To See The Light - Kelly Rowland
13. I've Got The World On A String - Lisa Stansfield
14. Smile - Barbra Streisand
Tarik tells me you can now see the official web site for Mona Lisa Smile at Sonypictures.com. There is currently no mention of Tori on the site.
October 28, 2003 Update: Tarik tells me that you can now pre-order the Soundtrack to Mona Lisa Smile at Amazon.com. The album is due to be released on November 25, 2003.

October 13, 2003 Update: We now know that there will be a soundtrack released for this film on Epic/Sony Music Soundtrax on November 25, 2003. (This is a U.S. release date. I am not sure if or when it will appear internationally yet.) Tori will have two songs on the Soundtrack to Mona Lisa Smile: "You Belong To Me" and "Murder, He Says". (Thanks to eef who heard You Belong To Me on a Sony Music Advance Sampler and to another anonymous source from a film distribution company who told me about Murder, He Says.) My sources also reveal that other artists on the soundtrack include Seal, Macy Gray, Celine Dion, Chris Isaak and Barbara Streisand. The soundtrack consists of new recordings of songs from the time period by contemporary artists. (The film takes place in the 50's.) Tori's vocals on the soundtrack are reportedly husky and very different from anything she's ever done. The Bridge Entertainment Group, an artist development company that began in late 2003 and took Tori as their first client, mentioned in their initial press release that Tori contributed to the Soundtrack and Billboard.com first revealed the November 25, 2003 release date.

August 8, 2003 Update: I have a report below from Glo who saw a special preview of Mona Lisa Smile in early August 2003 and reports on Tori's part in the film:
They had a preview for Mona Lisa's Smile at the Block in Orange, CA. they said we were the first to see the movie. The writers and the directors were there. It was an ok chick flick...but when tori was SINGING at the wedding, i nearly lost it. Someone said earlier that she would be playing piano...but she wasn't.

The movie took place in 1954 with Julia Roberts, Julia Stiles, Kristen Dunst, etc...she was standing UP singing at the wedding reception in a classy blue sparkly dress with her hair up (i think it was up) with an orchestra behind her. she looked soooo classy.

The first song was kind of a ragtime/swing song. the second song was slow and beautiful...i think they were old songs. God she looked HOT! they showed her a couple times real good. I loved it soo much because i've ALWAYS wanted to see tori standing up at a mic and singing. her poor hands didn't know what to do. it was heaven.

So when they showed her, i got up and started shouting and clapping (you know me)! haha. The director came up to me afterwards and said he liked my reaction to tori. I asked him why he picked tori...he said she just had that 50's classy look.

I also wanted to share with you this poster from the film, even though it does not show Tori of course. Thanks to Amy Fruit for sending it to me.
July 11, 2003 Update: You can now view a Quicktime trailer of the Mona Lisa Smile at Apple.com. This Quicktime trailer does NOT show Tori, but gives you a glance at the movie. In other news on this film, there is an entry for Mona Lisa Smile at IMDB.com now, and they not only mention Tori but if you check out the Tori Amos page at IMDB.com, you will find some nice photos of Tori from her appearance on the VH1 Big In 2002 Awards show .
June 9, 2003 Update: The web site Ain't It Cool News has posted a spoiler review of the film, and they even mention Tori. They do not say wonderful things about her performance however. Thanks to John Higdon for telling me about this. Here is the part of the article that mentions Tori. (We will see for ourselves if they are true or not when we see it ourselves...)
Who was even MORE out of place than Julia? Tori Amos as the singer of a big band. That was weird. Talk about uncomfortable looking.


Tori was asked about her contribution to this film at the Wolverhampton, U.K. meet & greet on January 14, 2003 by Alison Zemell and Tori revealed that she was filmed singing two 40's style songs! Keep in mind that just because Tori was filmed doing two songs, that does not always mean the footage will remain once the film is edited. I hope it does!
Tori also mentioned filming a scene in a movie where she performed to various people backstage during the first leg of her On Scarlet's Walk tour in late 2002. Here are some accounts from various Toriphiles:
From Shea O'Neill Gray:
ohhhh Tori. I went backstage and when I was talking with her I jokingly asked 'how much do you charge to play a wedding?' and she said 'funny you should mention it...I might be appearing in a movie in around six months or so'


From Maryam (littlebluegrl):
I was waiting for when this one would leak out ;)

Tori mentioned doing this backstage at the Camden, NJ meet n greet to us girrrls who were there for the RAINN meet n greet.
I had mentioned something to Tori about her doing parties since she is like a human jukebox with the piano, and she smiled at me and said, 'You're Funny.' :)
Then she mentioned to Chelsea and the rest of us that she was going to be doing a movie performing in a wedding and would have to be dressed like retro from the 20s or so.
So just a bit of info to help confirm this ;)