Tori is included several times in the latest book from makeup artist Kevyn Aucoin called "Face Forward". (Released September 2000). Thanks to Toriphile Kelly for being the first to tell me about this book. You can see the book's cover to the right. Tori has 2 feature photos in the book, and numerous small ones as well. You can see scans of the larger photos and some of the smaller ones below.
You can find and order this book from Amazon.com.
This book was mentioned and Tori as Mary Queen of Scots was shown on VH1 in the U.S. on a program called VH1 All Access, which debuted on Tuesday, December 19, 2000. Find out more about that in my TV/Radio archive.
Thanks to Ms. Sparkle (Devan), who provided scans from this book to the Dent. The first 2 scans below are the larger feature photos, and the rest are some of the smaller photos in the book.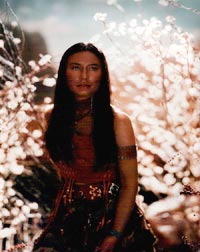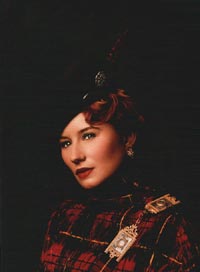 Click on either of these photos to see them larger. The one of the left is Tori as Ton'ingina and the one on the right shows Tori as Mary queen of scots.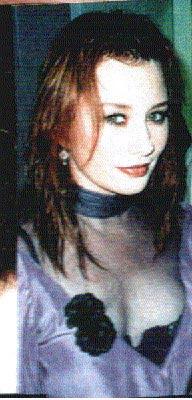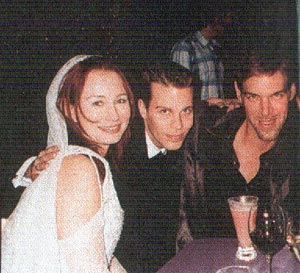 Here is a full report on the book from Kelly:
Kevyn Aucoin has a new book out called Face Forward (ISBN#0316286443) which retails for $32.95. When you first open the book there is collage of pictures on the upper right hand corner there is one of Tori and Kevyn's mom.

There are two feature photos of Tori the first one is on page 85 under Mary queen of scots. There is a beautiful picture of her dressed up as Mary. The description reads,

"This reference to the Scots side of her ancestry is the first of two visual explorations into Tori Amos's diverse cultural past. As is the case for many of us, Tori's ancestry is a mix of races and religions, philosophies and professions, fortunes and foibles. What to some may seem like a family tree grown wild and untamed is actually a mighty oak that has weathered life's many storms and can still put out a rare and beautiful blosson like Tori."

Then the second picture on page 89 is called Ton'ingina. Tori is posing as a cherokee indian with tan skin and long brown hair!

"As I mentioned in my introduction, Face Forward gave me the opportunity to explore a wide range of looks not possible in the expected book on makeup. It also gave my collaborators the chance to explore a bit of themselves. When Tori Amos and I first spoke of this project, we immediately decided that her two portraits would focus attention on her multi-ethnic background. The first, which you saw just a couple pages earlier, shed a spotlight on her Scottish ancestry. This second photo is an homage to her Cherokee Indian lineage."

The Cherokee are a proud people with a proud past, and though they shared their abundance and culture with white settlers, this was not held sacred by the white man. Surprise. In one act of unfathomable cruelty, many thousands of Cherokee were driven from their homes in the Southeast to reservations a thousand miles to the west. This exodus was called the Trail of Tears because many of those forced to undertake the journey never finished it. Many starved along the way, many grieved for the loss of the land of their ancestors and their loved ones. Brokenhearted, many chose to end their suffering rather than allow themselves to endure the degradation and the rape of their way of life.

"Many generations later we find Tori Amos. There is an education to be found in any one line of Tori's music. Her lyrics read like lessons in life. But her gifts range far beyond vocal and songwriting skills. As one of the most compassionate people I have ever known, she has a magical, near mystic presence that deeply affects everyone she touches. Tori's mother's paternal and maternal ancestors are registered on the eastern Cherokee tribal rolls and fled into the Smoky Mountains to rebel against the Tail of Tears. With Tori, it's not hard to see the bloodlines. I've renamed Tori Ton'ingina (from the Omaha Tribe, Inshta'cunda clan), which translates into "new moon coming." Tori, in you the new moon comes and the warm sun rises."

On the last two pages there are more small pictures. Tori is in three of them. One is Tori with Kevyn and another man at what looks like her wedding reception sitting at a table drinking wine. The second one is Tori backstage at her Hard Rock Live performance. The third one is Wiona Ryder, Tori, Kevyn and his boyfriend huddling in a circle together.

Here is another report on the book from Jamie/Pele the Siren:
Just a note about some remarks Kevyn Aucoin made about Tori in his new book, Face Forward. It is really a wonderful book and Kevyn once said that he seems brainwashed by Tori :) Here goes:

When Kevyn wrote about Jewel, he comments on Tori. "It seemed the door that was opened by songstress Tori Amos and her piano would be knocked off its hinges by this girl and her guitar."

He also talks about his encounter with singer Monica, and their discussion of Tori. "...About a year later, I was in Los Angeles mixing business with pleasure. Tori Amos five star Venus cd had just been released and I was in town working with her for some television appearances... she asked me what I was doing in town and I told her I was working with Tori. When she told me how much she loved Tori's music and that I should say hello for her, it instantly sealed our friendship (If you want to become an instant friend of mine, knowing and loving Tori's music is sort of a prerequisite.)"

Tori was also part of Aucoin's previous books, "Making Faces" & "The Art of Makeup".