Making Faces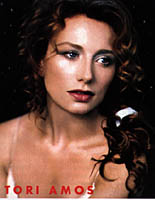 There's a book called Making Faces by makeup artist Kevyn Aucoin that came out in the latter part of 1997, and in it Kevyn discusses the look of various & sundry people, how they achieve their look, etc. Tori is one of the people he features! You should be able to find this book in most bookstores now. I have reports about this book from a couple Toriphiles below. The photo you see to the right was also featured in the October 1997 issue of Allure Magazine in the U.S., in an article that previews this book by Kevyn Aucoin. You can find out more about that in my Articles Section.
The photo to the right is also featured in the 1999 Making Faces calendar, which is based on the book "Making Faces."

Here is a report on the book by Ears With Feet Kim H.:
I was at the mall and i saw that Kevin Aucoin's book is out... of course i looked thru it !!

The stars aren't listed by name, rather there are sections in the book (three, i think) and one whole section is 'real people' of all shapes and sizes who he spotted and gave a new look to... that was very refreshing and a good balance against all the celebs and supermodels...

There is a Polaroid of Tori mixed in with a lot of others, on the inside of the first page in the book... you know, like an inside page kind of thing...

Then Tori's pages (she has two) are in the last section of the book (pages 106-7). She is the first in that section and her page is entitled, "The Innocent" (in that section different makeup looks are given names like "The Starlet" "The Vamp" etc...

Tori's is called "The Innocent" and the text says something about "Tori's timeless, Botticelli-esque beauty" and that she looks like she just stepped out of a fabulous oil painting ! Also something neat about how this makeup type defies the types people tend to stereotype women in especially in past eras (schoolgirl vs. tramp etc.). "The Innocent" according to this book is above all of that !

So it's kind of appropriate for Tori cos she does defy categorization!

The book is large and hardcover and is $29.95. Across from each beautiful photo of the end results of each makeover, are instructions on how to duplicate it. Also in the book are basics of makeup.

The book is pretty kewl you might wanna check it out !

The photo of Tori, except the small Polaroid on the inside cover, is the same one that was in ALLURE.

Here is another report on the book by Ears With Feet Kelly M. Stitzel: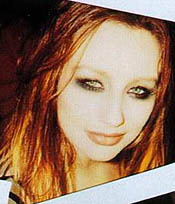 Mike, I wanted to let you know that the polaroids that appear in the beginning of the Making Faces book by Kevyn Aucoin are from the following: one is from the Hey Jupiter video and Aucoin says "genius Tori Amos from her Hey Jupiter video" and the other is one of Tori with Aucoin's godchild Samantha (judging by the outfit Tori is wearing it was taken at the Unplugged concert).

On the back of the book, along with quotes from clients of Aucoin's such as Winona Ryder, Julia Roberts, and Tina Turner, our Tori says of Aucoin: "Kevyn could make a potato look glamorous! He is a master sculptor and not just of the face. My heart is seven times bigger after he's given me an eyebrow."

Here is a quote from the book by Ears With Feet Amy Nielsen:
Her section is called, "the Innocent". The paragraph reads:

"At the turn-of-the-century, rouge and lipstick were the emblems of "ladies of the night" and raodshow actresses, both been at the same time as women of ill-repute. Virtuous females, however, may have affected az "rosy glow," but never of the intensity of their sullied sisters. The aptly names, the Innocent, transcends this shameless moralizing with Tori Amos's timeless, modern-day "Botticelli-esque" beauty. The faraway dreaminess is played up with the soft, slighty, shimmery makeup, and looks as though she has just stepped out of a beautiful oil painting . There are no definite lines (not even on the lips), just creamy accentuation."

The Art Of Make-Up

Devan Jones was the first to tell me that Tori also appears in Kevyn Aucoin's earlier book called "THE ART OF MAKE-UP".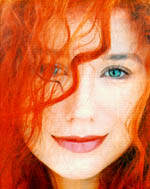 Alvin Alcid informed me that the Tori photo that appears in this book is the one where her eyes look like raindrops and which has been published before in Rolling Stone (The photo is shown here to the right.) He also says that The Art Of Makeup is a VERY big book... pages measure something like 12x16 inches.
Kelly Stitzel gives me this report on this first book:
I just wanted to let you know that I got Kevyn Aucoin's first book "The Art of Makeup" for Christmas and Tori is in it. There is a gorgeous photo of Tori that was taken by Raymond Meier for Rolling Stone and a paragraph Kevyn wrote about Tori. Here's what it says:

"Tori Amos possesses a beauty of a very unconventional sort. Her curled, vivid-red hair, darkened and contrasting eyebrows framing such penetrating blue, blue eyes, and Chesire cat grin are highly unusual features. Tori definitely deviates from what is ordinarily considered to be beautiful. She reminds me of a cross between Andie MacDowell, Demi Moore, and Fievel the Mouse. But her looks are only part of what I find compelling about Tori. You need only listen to her music once or glance at her videos to realize that she stretches the boundaries. Her quirkiness (a quality I admire!) and what some might consider shocking lyrics are definitely meant to challenge pop culture's mainstream.

I wanted to keep Tori as fresh and natural as possible. I liked the contrast between the color of her hair and that of her eyebrows, so I left them alone. I used a small amount of light foundation followed by loose powder. On her eyes, I used only mascara and on her lips, a very sheer pinky lip gloss."

The rest of the book is really great, although not as much fun as the new book, Making Faces.