Check Out The Reviews And Set Lists Page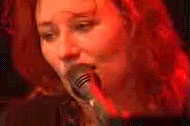 Tori performed at the Pinkpop Festival in The Netherlands on June 1, 1998 during the European leg of her Plugged '98 tour. Tori's performance started at 16:20 CET. The photo to the right comes from a webcast of Tori's Pinkpop performance, which was sent to me by Toriphile Fonty. All the photos below are from Fonty and that Pinkpop webcast.
Denniz81 has placed on his web site, Little Amsterdam, some audio files from Pinkpop! He currently has:
Raspberry Swirl (Live at 98, kicks ass)
Horses (live at Pinkpop 98)
The Waitress (Live at Pinkpop 98)
Short radio interview with Tori after the performance.
cornflake girl (live at pinkpop 98)
precious things (live at pinkpop 98)
tear in your hand (live at pinkpop 98)
spark (live at pinkpop 98)
TV interview *before* the performance
To hear these files, go to the audio section of the Little Amsterdam web site

.

Set List
Omri Walzer was the first to email me this set list.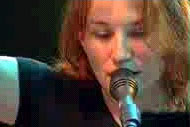 Black-Dove (January)
Cornflake Girl
Precious Things
iieee
Tear in Your Hand
Spark
Cruel
Horses
Raspberry Swirl
The Waitress
No Encores


Reviews & Photos
From Theo van Dijk
December 10, 1999 - This is ridiculous, but I was checking your excellent review page and discovered that I forgot to send in one review, namely the one from Pinkpop 1998 (holland, 1 june ), so there it goes!
As usual, Pinkpop was really messy and really wet, so I was glad Tori was going to perform in the tent, instead of on the open air stage! Me and a friend of mine spend three hours on the front row to make sure we were going to be there when Tori played as well. And it payed off, I was so in front that Tori saw me a couple of times and smiled at me during Precious Things and waved during Horses.
It was my first show with the band, so I had no idea what to expect but I have to say that Tori does manage to pull it off! Precious Things and The Waitress have really improved and Cruel,iieee and Raspberry Swirl simply kick ass. However, for Horses I prefer the Dew Drop Inn version of it, this was such an intimate song and she kind of made it into something that looks like your ordinary remix. Maybe some people like it, but I don't.... Tear in Your Hand was also great, this song is one of many that are just as fantastich Plugged as Unplugged. Really love this one!!!!
The Waitress was funny because not even did she sing her usual "I believe that she's the devil BITCH!!!" part, she also sang the last part of the "Hang Ten"-piece like this: "Hang ten hang ten honey gonna get me one and then I kick you ass!!!!!!!" really powerull!!! I love it.
When Tori was gone, I felt like going home cause I thought that the rest of the festival couldn't be nearly as great as Tori was, but I have to say that Garbage did a god job. Still, no-one will ever top Tori!!!

From Dutch Magazine OOR (June 13, 1998)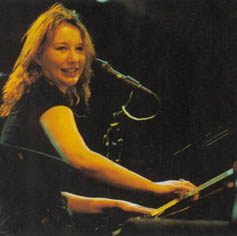 July 15, 1998 - Erik van Broekhoven sent me a short review of Pinkpop that appeared in the June 13, 1998 issue of the Dutch music magazine OOR. The photo you see below was printed with the review and shows Tori at the Pinkpop Festival:
Who were the big ones on Monday? The big ones of Pinkpop? The fact that Tori Amos was excellent -inspite all bombast- was obvious. Her band, bassist, guitarist and a heroic drummer, they were very professional and as long as Tori concentrated herself on her piano, she surely impressed everyone. Sometimes however, her grilly ballads became pompous symfo-rock in slow motion. Especially her most recent material was a little bit heavy. But for singing, playing piano, gymnastic and making other noises she just deserved A's.

From Uli (posted to rec.music.tori-amos newsgroup)
June 4, 1998 - I just came back from the PinkPop festival in the Netherlands. It was my first concert since the DDI tour and as u all know some things have changed. What really stroke me was seeing and feeling her doing this energy dance. She came on stage waving her hands, got down infront of the audiance reached her hands towards the crowd as if she wanted to charge her hands with the crowd's energy.
During the CFG song she did some movements similiar to the cornflake girl dance described by others. I think it is an energy dance...she uses a virtual rope making us drawing energy from above and pulling it towards her..then again she blocks it by pointing her palms towards the crowd. She obviously IS a vampire ;-) (j/k)...the giving and taking wheel process of a concert is being accelerated and increaced, she needs and wants more on a diffrent level compared to previous concerts to give it back to us.
Unfortunately I don't remember all her movements and the order she did them in...can anyone else say more about her dance? Any concrete interpretations?
I hope she managed to take alot of energy from the PinkPop crowd with her to kick some boring asses at the London gigs ;-)

From Pieter B. Dijkstra
June 3, 1998 - So four a clock... after having seen one pleasant surprise(Imani Copolla), a whooping failure (Anouk) and one highlight (Faithless) I was ready for the acts for which I came... Off Course Tori was one of those acts ( the others were K's Choice and the Smashing Pumpkins). Lesson One when you go to a festival... The audience is different..., so being in front is not a good idea, you'll end up being crushed, being banged around or being simply pushed aside.. (Unfortunately this is the practice at almost every popfestival I know, but reading Omris review on this page I gather a lot of you Tori Philes weren't prepared for that)
The best place to watch and appreciate a concert like this is two or three metres in front of the PA.
Lesson number two: Tori was part of a festival, so her performance time was very limited.
So there I was. Dolf Jansen (an otherwise very funny stand-up comedian) made some very corny jokes, announced the band as if it was some kind of obscure rockband.. And then Tori came on..
The crowd cheered but didn't go nuts..
So you gather: "What the hell did she play and was it any good ?"
Set list:
1. Black Dove (January), the song was well played by both Tori and her band.. A nice start of her set if you ask me. Although it didn't quite catch on with the crowd.
2. Cornflake Girl: Oh boy, play a song which has a moderate hit status and the crowd goes nuts. Because of the band the song sounded very much like it does on UTP. Again good but not perfect.
3. Precious Things: Wham Bam.. Thank you mam..., so far the highlight of Toris set. Did this sound good ? It was excellent....., the band really added something to the live version of this song. Especially the drummer and Steve were in top form on this song.
4.Iieee: I didn't really get this song when I played FTCGH the first few times. But after hearing it live, I really, really am beginning to like this song. It just shows how variable Mira Ellen has gotten over the years.
5. Tear in your hand : So Tori needed two songs to really get it going on. I always liked this song very much, and her performance hasn't changed that.. A great song, which though I must say neither lost something with the band, nor gained anything with the band.
6. Spark: And the crowd went nuts again, or in other words: "None Tori Philes heard a familiar song again". The song was played in a very standard manner, nothing special.
7. Cruel: I was really hoping Tori was going to play this song in the same way she played it on Jools Holland. Unfortunately she played the song more in the style of the album (to speak with Jerry Seinfeld: Not that there is anything wrong with that ;-))
8. Horses: "What the hell is this" I thought, a cover ? No.... a B-side ? No... a YTKR track ? No.... wait a minute ..... It's Horses... Totally unrecognizable but great nevertheless... In the manner it was played, it was very melancholic. I still like the BFP version better but this version was very special.
9. Raspberry Swirl: WOW...!!! I already loved this song on FTCGH, but the live version was great too.. Tori played both her Bosey and her synth. at the same time... and it was really a treat to see her punch the keys of her synth. and create that hunting woo-woo sound. (well, eeehh... you get the idea :-))
10. The Waitress: Again very different than on the album, but it developed very well in a solid band song and in a very aggressive song.
Over all:
Mmmm a good show, Tori passed the Festival exam with flying colours. But... it wasn't her finest show ever... whether she didn't feel comfortable with the crowd I don't know but I felt there could have been more to her performance. One of the things which bugged me (not just with Tori though) was the fact that the second open air podium (every year since 1994 there have been two open air stages at Pinkpop) was replaced with a podium in a tent. I think that if Tori had played on a open air stage (Preferably the main stage) her performance would have been far more impressive. Three years ago Bj–rk gave a wonderful performance on the main stage and she managed to impress all 70,000 (compare that to the just 50,000 of this year) people and shut them up. A feat which Tori was certainly also capable of, had she been allowed to play the main stage... Nevertheless, a good show, which I think will be at its best (her festival gigs) at Torhout/Werchter I gather...

From Wybe Magermans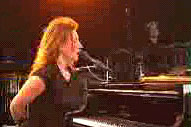 June 3, 1998 - i give you my review of Tori's performance at the Pinkpopfestival '98. At least a part of it. Because of personal circumstances i couldn't go to the festival. And how do i regret that now!!!
I've just seen four songs and a interview of Tori on the dutch televisioncompany; VPRO. Tori played at 4.20pm till 5.20pm in the Roskilde-tent. You must know that the Pinkpop-festival has three stages. One mainstage (where this year Smashing Pumpkins, The Verve, The Deftones, ect. will play), one small tent (3000 people can get in) and the Roskilde-tent. That's the biggest tent in Europe. 16.000 people can get in. By the way at the festival there are around 70.000 people. Okay this was a little background information of this festival in The Netherlands which takes plays for three days.
The three parts of interview were shown between the songs. The four songs they broadcast of Tori were:
Cornflake Girl,
Precious Things,
Tear in my Hand and
Spark.
I can only compare this live stuff from this tour, with the things she played at the Jools Holland show. I will first give a review on these songs. Than i'll give the full interview. Which by the way turned out to be a really nice and friedly interview.
*Cornflake Girl: Well i must say, although this is the biggest hit of Tori i still like this song. And also the crowd. The tent was loaded so i quess there were around 16.000 people. Tori hasn't played for so many people in Holland before.
It was a very emotional version of Cornflake. It lasted more than 6 minutes. Lots of improvisation on the high notes of the piano.
*Precious things: The best song i saw this afternoon. I only have seen this song performed by Tori on her solo tours. So this with band, live was more than i could handle. The "girrrrrrrrl"-part was really coming from way deep. My skin crawled and Tori give the crowd waves and very loaded screaming and singing. The way she looked in the camera for a minute (or maybe longer, i was completely swept of the earth by that look) was very powerfull. Tori seemed very happy with this open air stage performance.
*Tear in my Hand: I have heard better versions of this song. But this wasn't bad at all. You could really see that Tori enjoyed playing with the band on this festival. The crowd went nuts on this song. Don't know why but they did.
*Spark: The version she did on Jools Holland show was much better. Now there was no improvisation. Only the permenent smile on her face. Which is of course the best smile around! If one thing was clear in these four songs, it was that she really had fun and really could give a lot to a public. A crowd that i think most part of them didn't come for especially Tori.
For the ones interested. Tori was dressed in dark blue jeans. A black shirt and no make-up!
The interview:
Part One
Q: You have worked with a band on this record and also on stage today.
Tori: Oh yeah!
Q: Does that changed the way play the piano?
Tori: Oh yeah, yeah you can't just go off half-cocked on your own. And say: "Thinking i'm gonna make up 24 bars here or whatever cuz i can't breath." So ehm, the audience doesn't have know that hey i'm ready to have a cardiac. And now i can't really do that, again we back to where it's not about me anymore. I have to be aware of where it's going and ehmm you have to work as a team. Again it's not them supporting me, but it's very much about a converstation between four people.
Q: Why did you chose to bring in the band?
Tori: I think i was lonely. I think i did the world tour by myself for so long. I mean i've done it. I've taken the piano, ehmm all over the place. Together we made a pact when i was a little girl, and i honored that pact. And now as a musician i really needed to grow, and play with other people.
Q: In the past you talked about your relationship you have with your piano, and now you say it's a pact. Did that relationship or that pact change because of working with the band?
Tori: It's changing, i mean i think she feeling and i more comfortable about our relationship. You know, we trust that it will be okay. I think we maybe were afraid of intimacy with other players. I don't know, but that's changed.
Part Two
Tori: At the end of the last tour i was pregnant and it was a surprise. We were overjoyed when it happened.
I got really, i felt very connected to the spirit that was coming in. Three months later i miscarriaged and it was right at Christmas 1996. I think, that time, there was nothing that was within my power to make it okay. One minute you hold life and the next minute it's just completely gone. I found myself in a noman's land, cuz you can't go back to being the woman you was before you had life and you're not mother either, but you are still connected to something, a being that is in the physical. The songs started to come soon after that, i was trying to pick myself up.
Q: Did the songs just come like that?
Tori: They do. They tend to show up when ehmm. I can't contrive them coming. You know, all of a sudden i'm walking down greengrocer's and putting things in my little basket and they hiding behind the bananas, i can't force them to come.
I think that this experience shook me to the core. Because it wasn't just about me. I know that sounds very selfish. When it does involve another being and another life. I just started to think ehmmm. You know i saw sorrow in a different way, i spent a lot of time with her. And as i started to learn about sorrow, the energy-force, i found she goes to raves, she has a fantastic shoe collection, ehmmm she loves margaritas and very good red wine. And she tells really dirty jokes. As i really open myself up to sorrow, i didn't drown in it as i have in the past. Before been defeated by her. I found her so multi-dimensional. That it wasn't just like; "oh we lost a baby and we shall never speak of this again." It had to be, us going thru, diving underneath that wave. Once that happened there were other gifts that began to come out of it, like the songs.
Part Three
Q: Can you tell me about the title of the album "From The Choirgirl Hotel", what's the Choirgirl Hotel for a place?
Tori: Well, having been a choirgirl since i was this big, tiny, tiny, tiny. I really saw these girls in a place that was their own. Where they could have room service or could have a disco by reception or what ever they wanted to do.
Q: Why the girls?
Tori: I see the songs very much as a singing group. This album is different than the last one. That was sort of a journey, and they were very interconnected. And this one i saw very much like a singing troup. And they hang out together, but they have there own worlds, seperate from each other. They know each other very well. So i put them in a hotel.
Q: And what's your relationship with those girls?
Tori: I'm just learning them. Like when i'm on tour, cuz i'm beginning to play them. Sometimes they are very open to me. And sometimes i don't think i'm invited at all to the hotel. It's like; "See ya Tori, no access!"
Q: So all the songs have different characters?
Tori: Oh yeah, different characters even within them. They are not just, you know a lot of people come in and out of each song.
Q: So what character would spark have?
Tori: There're a few that live in that song. More than anything, that girl is having a really bad day. She doesn't know how or if she's gonna see the end of that day. But there is this sort of action girl that comes out of her, refusing to not strive and stay on the planet. She realises that she really doesn't want to leave the planet. That she will take her problems with her if she leaves this planet.

From Erik van Broekhoven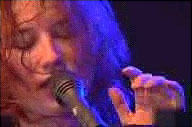 June 3, 1998 - I've seen her, finally! I've seen her on the PINKPOP festival in Holland. There were 3 stages and a lot of artists performing. We arrived around noon. Tori would perform at 17.20 hours, so we had some warming up: we saw some really hot gigs from Grandaddy and 16Horsepower.
Tori played in the Roskilde tent, which has a capacity of 18.000 people. 20 minutes before the gig we entered the tent, there were already many people present. I was amazed that most of them were very young. When it al started, there were about 20.000 people in the tent. I was lucky, I stood about 30 yards from the stage and was able to see everything very well.
Her entrance was received with an enormous applause. She started with 'Black-Dove`, everybody was enthusiastic immediately. The second one was 'Cornflake Girl', which caused an almost hysterical reaction of the public. Other old songs were 'Tear in your hand', 'The Waitress' and the slow version of 'Horses'.
From her new album she did 'Cruel', 'Spark', 'Iieee', 'Nothern Lad' and 'Raspberry Swirl'. Maybe I'm forgetting some songs.
Everybody was swinging along with the music and the performance was definitely one of the best ones of the festival. Her band (3 man) and the lights completed the show. It was not just fantastic, but it was one 100 % Tori; she played the piano wonderful and sung very clear, and she managed through the whole performance to keep contact with the audience. She got a huge applause when she left the stage.
The songs that really did rock were 'Cornflake Girl','The Waitress' and 'Raspberry swirl'. My favorite was 'Nothern Lad', it was beautiful sung!
After this experience we saw Garbage in the same tent with a splendid show and the last band was The Verve on the big stage outside!
This is a day I will remenber for a very long time!

From Denniz81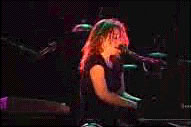 June 2, 1998 - A few hours ago' Dutch TV and radio broadcast a part of Tori's appearance at Pinkpop festival in Landgraaf' Limburg. The TV and radio broadcasts were completely different! Fortunately I was able to tape them both entirely. Here are the songs they showed us: TV: Cornflake Girl' Precious Things' Tear in Your Hand' Spark and a few interview segments.
Radio: Tear in Your Hand' Cruel (only partially' due to commmercial break)' Horses' Raspberry Swirl' The Waitress.
Tori performed in the Roskilde Tent' which has a capacity of 16'000 people and was packed full. From what I've heard' the temperature was _very_ high which caused Tori to sweat her butt off. Her hair got all sticky and she looked like a dripping mango. But very cute though. The performance was outstanding. The public really loved her and started clapping in their hands during Cornflake Girl' probably the only song most of them knew. Sometimes you saw a person singing along. In my opinion' the best performances were Tear in Your hand and Raspberry swirl.

From Fonty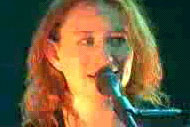 June 3, 1998 - This is what I saw of the webcast, which started around 16:30 CET (4:30pm) and lastet for about 50 minutes. Then right at the beginning of a new song they switched to another band. The whole webcast was in RealVideo and I got some screenshots from that as well. The songs that she played during the webcast:
cornflake girl
precious things
iieee
(She did a little dance before that song and afterwards,
she introduced her brothers, the band)
tear in your hand
spark
cruel
horses
(which sounded very different but great :)
raspberry swirl

Than they switched. :(
What I saw of the concert was really great, a lot of energy in the performance of both Tori and the band. Now, I'm looking forward to her concert in Frankfurt next week with even greater excitement. :)
All the photos on this page are screenshots sent to me by Fonty from the webcast of this concert.

From Omri Walzer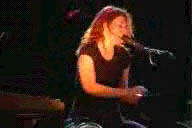 June 2, 1998 -OKay, first the setlist and then the overly verbose monologue-
Black Dove (January)
Cornflake Girl
Precious Things
iieee
Tear in Your Hand
Spark
Cruel
Horses
Raspberry Swirl
the Waitress
There were NO encores. At first it seemed like the crowd would start chanting for Tori and she would come back out, but then people came and moved the Boesey, so that was the end of that. The set started at about 16:25 and was over by 17:26.
OK, now the review.
To the best of my knowledge, I have just had the dubious honor of being at Tori's first ever arena/festival concert. I can now settle the debates over whether the Tori atmosphere will be lost, and the answer is YES.
Me and two fellow Tori fans, both whom I personally converted to Tori worship (with some help from Ruth- hey Ruth) got to the stage where Tori would be preforming two hours before it started; in fact the end of the last concert was still going on, so there was a great big crowd of people jumping. Then we slowly made our way to second row, which was as far as we got; I had a really good, unobstructed view in front of the piano. We met some really nice Dutch EWF who helped us solve our debate over whether to request Blood Roses or Flying Dutchman (we settled for Roses). We also met some very not nice Dutch non-EWF, who insisted on smoking cigarette after cigarette until we were almost choking to death.
Anyway, after awhile, roadies started swarming over the stage, setting up Caton's racks over guitars and soundchecking. Then J.W. Tori's tour manager came out to inspect the stage/crowd and went back inside, and lights came on, at which point things got really tense.
Then the musicians came out and took their places, followed by one little Tori. She did her double hand wave thing, then went right up to the front of the stage and knelt there and sort of swivled her hips and waved, then walked to the piano, and launched right into Black Dove (I was surprised to see her playing it on the Kurtz, not the Boesendorfer.). I got several poor-to-fair pictures (which I'll develop and scan next week), and then all Hell broke loose.
After a few minutes of Black Dove, people started pushing violently in all directions. We could barely move or breathe, and were being shoved >from everyside. There were people jumping and crowdsurfing, and I got kicked in the head no less than three times. It absolutely spoiled the concert for me; here I was, having come hundreds of miles to see Tori all the way from Germany, and I could only see her two out of five seconds during the times when I was coming up for air. It was really bad. People in the first few rows (us) were getting really crushed, and several people had hysterical fits because they couldn't breathe/see/move and had to be pulled over. I was very saddened to see one of the nice EWF we had talked to before pulled over the fence crying after she had stood there hours waiting, simply because some big Dutch guys who had just arrived (and were obviously not Tori fans) were shoving her around. It was really unfair.
Just to give an idea of how bad things were at Pinkpop, at one of the shows (I don't think it was Tori, though it might have been) a guy's arm got broken so badly the bone was STICKING OUT of his flesh. Yuck. And in that kind of violence people are expected to watch a Tori show....
Anyway, enough about how horrible the crowd was, let's talk about Tori.
One thing I CAN say is, she seemed as excited about playing at a festival we were; she was really energetic, shaking her head alot, standing up, and her voice was just beautiful; she was really belting out the lyrics, and during the loud parts of Black Dove she was really attacking the piano.
Then as soon as B-D was done, Caton launched right into the guitar intro to Cf. Girl, and Tori just launched into it, she was improvising a bit on the piano, replacing all the rests with improvised fills, and one nice thing was, the whole crowd was siging with her, especially on the "watchword" parts, because that's when the band got quiet. Since we could still hear her really well, the sing-along didn't bother me. The two piano solos on the song were really strong, Tori kept rising up off the piano stool and then sitting and then half-standing again like she couldn't control it.
After that came a bit of a drum thing that I at first didn't recognize, but then the piano started and "Precious Things". This was the most emotional song of the show, Tori yelled out the vocals and really attacked the piano keys, she was shaking her head really violently, throwing her hair back and forth.

After that came a bit of a breather- "iieee". I expect the pushing to calm down (during all this the violence was still going on) but, no. One interesting thing, during the middle of the song there was a really long bridge with lyrics that are definitely NOT on the album. I don't know if they played that during the club tour.

After that started one of my favorite songs- Tear In Your Hand. Unfortunately, by this point I simply could not take being crushed anymore, so I went over the railing and the guards led me to the exit; there was no way in Hell I could have gotten back out THROUGH the crowd, it was so packed. Anyway, I missed all of Tear, because I had to circle all the way around the stage to come back in from the other side. However, the good news was that I managed to find a good, calm, clear vantage point; even though I wasn't right up near Tori anymore, I figured a good clear view was better than getting killed.

From this point on I can't give too many details, because I couldn't see that clearly. As soon as I came back in Spark started, and the bridge was really nice on that too, she repeated the "ballerinas/you thought you were the bomb" part three or four times. Then came a nice slow Cruel.

After that came a nice Horses, during which Tori was sitting in between the Kurz and piano and playing both. It was really different from the album version, of course, and I don't like it as much.

After that came the best part of the show- a really long, strong Swirl. Tori was really going crazy, adding lots of "yeah" and "uh-huh" and "uh-uh-let's go" in the middle, and at one point the was playing the Kurz and piano at the same time AND bending over backwards between them, leaning really far out and still playing, it was really cool. At the end she stopped playing and grabbed the mike with both hands and just started hyperventilating, moaning really fast.

Finally, the Waitress.

I won't bother anyone with further tales of adventures in Pinkpop; anyone who wants to hear the long long story of how I got the autographs of D'Arcy and Billy from the Smashing Pumpkins can e-mail me.

Omri Walzer
MexicanSeafood@compuserve.com

From Christoph Viethen
June 2, 1998 - so here comes the setlist of the Pinkpop webcast. Not sure, whether this is all she played or whether there was more (encores, or whatever) which possibly wasn't webcasted. [Note from Mikewhy: This IS all she played.]

Black Dove (January)
Cornflake Girl
Precious Things
iieee
Tear In Your Hand
Spark
Cruel
Horses
Rasperry Swirl
The Waitress