The September 2001 issue of Elle Magazine includes an article on Tori and a new photo of her as one of her "Strange Little Girls" characters. The article does not tell us which character this photo is for, but I have been told from a reliable source that this is Tori's character for the song "Real Men". Read the Elle article and see the photo below. A HUGE thanks to silverflux who typed the article and scanned the photo for us!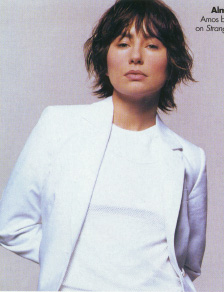 The photo has the caption, "Stories For Girls: It's a man's world--until Tori Amos gets through with it. There is also a small blurb of text near the photo that reads, "Almost Amos: Amos bends gender on Strange Little Girls."
The title of Tori Amos's 1994 album Under the Pink succinctly sums up her songwriting. Amos goes deep, exploring the tender flesh of emotion beneath the skin; her dramatic vocals and piano resonate with the paradoxes and pleasures of human existence. Her latest, Strange Little Girls, follows form, except that for the first time, Amos--whose fans examine her every syllable for personal revelation--isn't singing her own material. Instead, Girls is a rogues' gallery of cover songs written by men about women--from the Beatles' "Happiness Is a Warm Gun" to Eminem's "'97 Bonnie and Clyde," in which the rapper describes killing his wife to his baby daughter. "The view changes depending on where you're standing," Amos says. "I had the opportunity to flip the script."
Indeed, Amos brilliantly rewires the originals--10cc's soft-rock classic "I'm Not in Love" becomes a torchy trip-hop voyage a la Massive Attack--resulting in her most adventurous release yet. To explore the songs even further, she enlisted photographer Thomas Schenk and makeup artist Kevyn Aucoin to help her morph into characters that represent each track's reincarnation, which will be part of the album's artwork. For the Boomtown Rats' "I Don't Like Mondays," for example, Amos re-created herself as a Charlie's Angels-esque Texas ranger, replete with big hair, frosted lipstick, and an ironic BABE pendant; for Lloyd Cole's "Rattlesnakes," she donned a KISS leather jacket. "I'm not these people, but I can find each one inside," she says. "I'm not the mother of these songs--the men who wrote them are--but I became a sort of foster mom."
Motherhood, as it were, played a key role in the conception of Girls, the thirty-eight-year-old Amos's first effort since giving birth last year to a daughter, a time when she began to dwell on male discourse and its ramifications for women. "I don't know what my daughter's choices will be in twenty years--any of our daughters could be these strange little girls," she says. "I didn't know that these words from men would take hold of me. I thought I'd find out something about them. Instead, I found something out about myself."
-- Matt Diehl