There are three 1999 calendars that are available that feature Tori. The 1999 U.K. Tori Amos Calendar, the 1999 Spin Calendar, and the 1999 Making Faces Calendar featuring the skills of make-up artist Kevyn Aucoin. They are all described below:
The 1999 U.K. Tori Amos Calendar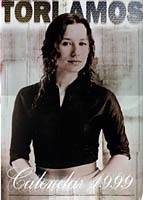 The first is a 1999 Tori Amos Calendar, made in the U.K. from Oliver Books which feature photos of Tori for all 12 months. The cover of this calendar is pictured to the right. The calendars cost around $8 to $10 U.S. dollars (5.99 UK Pounds) and you can buy it from several stores and vendors, including E.Q.S. Music

, and Music Machine

. I have also seen this calendar for sale at the Oliver Books web site

in the U.K. in the music section. Thanks to the many Toriphiles who told me about this product. Below you can see a few scans from the calendar sent to me by Toriphile Susanne.
Here is a report on the calendar posted by JB Bridge to the rec.music.tori-amos newsgroup:
I ordered my 1999 Tori Calendar from EQS on friday and got it today. same format as the 98 calendar and just as nice. there are a few pics i've never seen before. here's my attempt of a rundown of pics on the calendar....

JAN - from US God single cover (UK Cornflake Girl single)
FEB - Tori wearing white tank top w/ blue roses - at the piano
MAR - close up face shot. very nice! haven't seen this one before.
looks like a recent photo.
APR - white bikini top (Rakin photo)
MAY - outdoor close up portrait - another one i've not seen before.
JUNE - Tori performing - circa "Boys For Pele"
JULY - back cover of Cornflake Girl book
AUG - very nice shot of Tori at piano - circa "Little Earthquakes"
SEPT - outdoor shot - Tori in red sweater and miniskirt w/ hair up
bending to the ground. from the Cornflake Girl book.
OCT - wearing same clothes as FEB - performing.
NOV - Atlantic Promo picture circa "Under The Pink" - Tori standing in
front of piano keyboard.
DEC - "Tea With The Waitress" interview CD cover.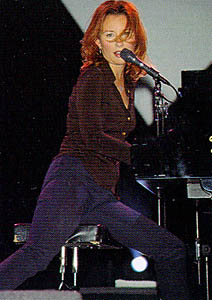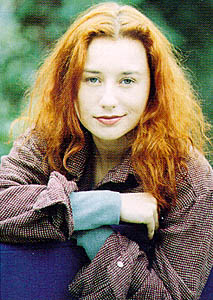 The 1999 Spin Calendar
The second calendar which is available through various stores (like Barnes & Noble) and Spin Magazine is the 1999 Calendar from Spin Magazine. Tori's photo can be seen for the month of April. The photo was printed previously in the April 1997 issue of Spin Magazine. (Click here to see it.)

The 1999 "Making Faces" Calendar
The third calendar which should be available at various stores and online vendors is the 1999 "Making Faces" Calendar featuring the skills of make-up artist Kevyn Aucoin. This calendar is based on Aucoin's book of the same name that was published in 1997. (Go here to read more about the book Making Faces, and see the photo that is also part of the calendar.)
Toriphile Jason Edds describes and comments on this calendar:
The large, very beautiful picture of Tori featured in Kevin Aucoin's book, Making Faces, also appears as one of the 12 main photos in his 1999 calendar (of the same title).

I've seen it in many bookstores here in Dallas and found it also for sale at amazon.com. I think that it has been published by St. Martin's Press. The ISBN is as follows: 0789302179. The list price is $13.95, but amazon.com has it for sale for $11.16.

Although some Toriphiles may not want to buy it just to have this one Tori picture alone, it is certainly a cheaper way to obtain a copy of this photo than buying the book--it is certainly a more logical choice to cut apart in order to hang the picture on a wall--and there will likely be many people who will enjoy the rest of the calendar as well.