After the San Francisco club show on May 5, 1998, Tori made an appearance at a gay bar in San Francisco called The Cafe. They were having a Tori album release party at the time. I have a report on this from Mark Folkman and a photo of Tori at the club that was sent to me by a Toriphile named I Heart 59.
Here is the photo from I Heart 59. "Attached is a picture of Tori and my friend Jax at The Cafe in San Francisco, following her club show."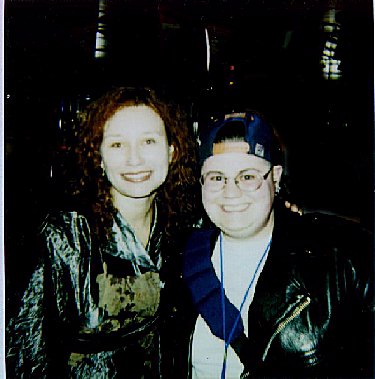 Here is a report onTori's appearance at the club from Mark Folkman:
I didn't see you mention it on your site so i thought I'd email you to let you know that after her 5/5 show at the Fillmore --- Tori showed up at a San Francisco (gay) bar called the Cafe where they were having a Tori Album release party. My best friend actually won us a pair of VIP passes to meet her. Basically we headed for the bar after the concert and about 15-20 of us with VIP passes got to go to a section of the bar that was closed off and wait for tori. Atlantic people were there and gave us goodies such as a choirgirl booklet, and various promo cd's and samplers. We got there right after the show at 10:30 --- but Tori did not show up till around midnight, I think. Basically the atlantic people lined us 20 people up and she came in with her bodyguard (his name is joel, right???) and talked to each person and signed whatever. The thing that we thought sucked is that my best friend and I were the only ones who were die hard tori fans who had been to the concert --- we were talking to the other winners and most were just random people who happened to win a pass. Some were completely ignorant of tori and her music. Whatever. So most people just sort of said "HI" and got their free pamphlet they had just got signed. But my best friend and I were freaking out!!!!! We had all our tori collectible stuff there that she signed and we had a camera and got 2 pictures with her and we gave her a little present which she seemed really excited to get.

I'd met her before (in LA and UTAH) so I already knew what a sweet and fun person she is up close but she seemed to have extra energy that night!!!! My best friend and I got all dressed up to see her so the first thing she said was "You guys look soooo cute!!!!" and when we gave her her gift she started like jumping up and down --- it was SOOO ADORABLE. I thanked her for playing upside down and honey and she said something like "I'm so happy you got to hear them" -- and she sounded like totally genuine. After our pictures she told us again how great we looked and she gave us BOTH kisses. (she instigated them!) it was sooo GREAT!!! She had on this CUTE kimono type thing -- she looked totally relaxed and happy.

Anyway --- didn't mean to babble on but I thought you might like to know about that Tori appearence, since I didn't see you mention it.