Tori's UK Television Appearance with Zig and Zag
Zig is the yellow furred, rather bashful, puppet on the right, Zag (his brother) is the cultured, green and purple smoothy on the left.
These scans are taken from Tori's guest appearance on "The Crunch", part of Channel 4's "Big Breakfast" show. Zig is demonstrating his psycic powers by trying to guess the answers Tori gave to a number of questions, but he fails. "What is Tori's worst habit?" "Shouting at cutlery!" Zig then becomes entangled in his head phones and was helped out of them by Tori.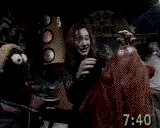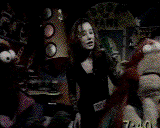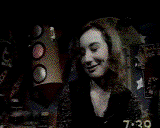 ---
Please give me feedback, comments, or suggestions about my site.
Email me (Michael Whitehead) at: mikewhy@iglou.com