VH1 Women First
August 20, 1999

Tori Amos and Alanis Morissette were featured on VH1 Women First on Friday, August 20, 1999 and again on Monday, August 30, 1999. VH1 was at the opening concert of the 5 1/2 Weeks Tour in Ft. Lauderdale on September 18, 1999, and that is where all their footage came from. The show included interview footage with Tori and the Bliss video. If anyone can type a transcript of the show for me that would be great. For now you can read more details about the show and see various screenshots sent to me by dink. (Thank you so much! The live shots are of Tori performing Sugar in Ft. Lauderdale.) The host of VH1 Women First was seen talking to various fans outside and inside the venue that evening. I have some reports about the show below the photos: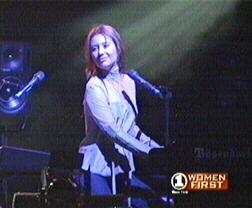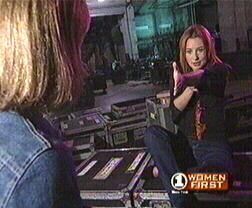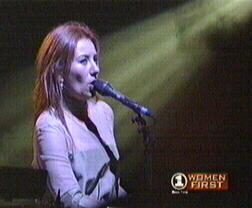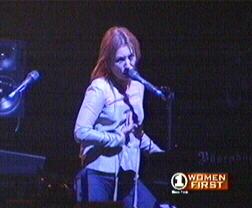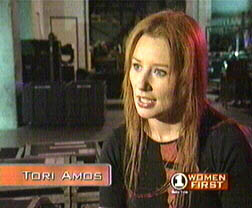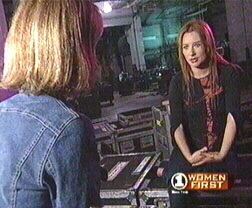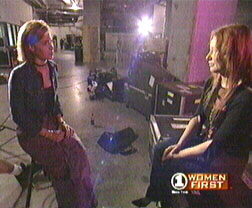 From Kimberly B Littlejohn:
Tori and Alanis were featured today [Friday] on VH1's Women First - They showed live clips of the Ft. Lauderdale show of both Tori and Alanis - Tori's live clips included God, Bliss and Sugar - They both were interviewed as well - the video for Bliss was shown at the end of the show too - the host showed some of the merchandise that was being sold, t-shirts, necklaces etc...
From Kelli:
they showed tori and alanis on vh1 today. it was a special on their tour. i don't know if that is what your site was talking though, because i can't remember. but they interviewed tori. i didn't get to see it all though. i'm gonna try to tell you exactly what was asked and stuff. they asked tori about what she likes to do as a spare time thing or to get away from her life as a musician and she said that she likes to go on adventures. then she started talking about how her songs come out in different forms. like not all of her songs come out straight. some come in squares and other shapes (according to how "she," the song, wants to be). they showed her performing with band, playing sugar and bliss. they ended the show with the video bliss.



Please give me feedback, comments, or suggestions about my site. Email me (Michael Whitehead) at mikewhy@iglou.com