Toriphile Jackie from Holland sent me a scan from an issue of the Dutch Television Magazine 'Veronica'. It is from an issue that featured the music festival known as Pinkpop. The article says something like, 'How to dress like Tori'. You can see a scan of it below. Ruud van Melick reports that the issue of Veronica where this appeared was May 23-29, 1998. (It is a weekly TV magazine.) Tori performed at the Pinkpop festival on June 1, 1998.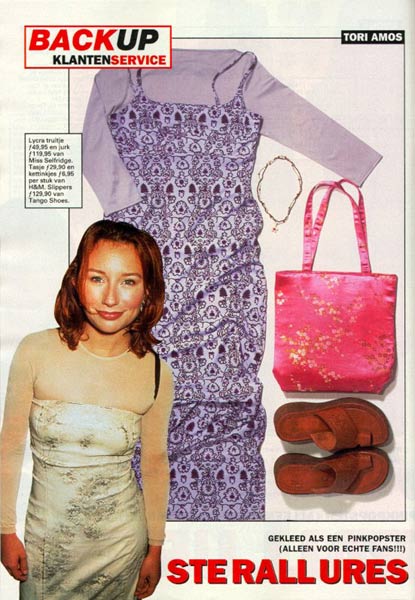 Here is more information on this issue of Veronica from Ruud van Melick:
Cover: ..."Pinkpop hero's. Do you want to wear their clothes?"...

Backup - Festival fever
Looking like a pinkpop hero.

(page 126): the image you have [above]

[left top]
Backup Klantenservice
Translation: "Backup" customer service
"Backup" is an extra section in the tv-guide with info about
fashion trends, interviews with musicians... etc.

[left, one third from above]
Lycra truitje fl.49.95 en jurk fl.119.95 van Miss Selfridge.
Tasje fl.29.90 en kettinkjes fl.6.95 per stuk van H&M.
Slippers fl.129.90 van Tango Shoes.
Translation:
Lycra shirt, $19.83, from Miss Selfridge
Dress, $47.63, also from Miss Selfridge
Handbag, $11.87, from H&M
Bracelet/Chains, $2.76 each, also from H&M
Slippers, $51.85, from Tango Shoes
(Miss Selfridge, H&M and Tango Shoes are clothing/shoe shops)

[right bottom]
Gekleed als een Pinkpopster
(alleen voor echte fans!!!)
Sterallures
Translation:
Dressed like a Pinkpop star
(only for real fans!!!)
Starlike airs

Other artists (and their clothing) listed in this article:
Moby, Sarah Bettens (K's Choice), Anouk (female dutch singer),
Richard Ashcroft (the Verve), Billy Corgan (Smashing Pumpkins), Eagle
Eye Cherry and Shirley Manson (Garbage)