Track Listing From The Album
venus orbiting - disc 1 (new studio material - Disc is 47:50 in length)
Bliss (3:42)
Juárez (3:48)
concertina (3:56)
glory of the 80's (4:03)
Lust (3:53)
suede (4:58)
Josephine (2:29)
riot poof (3:38)
Datura (8:25)
spring haze (4:44)
1000 oceans (4:19)
venus live still orbiting - disc 2 (live material - Disc is 75:31 in length)
precious things (7:37)
cruel (6:47)
Cornflake Girl (6:31)
bells for her (5:42)
Girl (4:15)
cooling (5:09)
mr. zebra (1:17)
cloud on my tongue (4:58)
sugar (5:10)
little earthquakes (7:37)
space dog (5:46)
Waitress (10:24)
Purple People (4:11)

Tori featured at the TL Audio web site!
Added June 28, 2002: If you go to www.tlaudio.co.uk, which is the web site for TL Audio, a company that specializes in valve equipment. As their web site claims, "Engineers the world over have turned to TL Audio products to bring something to their recordings that they just can't achieve with solid state technology - warmth." In the archive section of their news page, they have a little photo of Tori in her studio with Mark Hawley and Marcel van Limbeek and some quotes from Mark as to why they used TL Audio's valve technology for To Venus And Back. Good stuff! Thanks to Felicity Edwards aka Storiesfrompele for telling me about this.
Venus Orbiting Promo CD from Australia
May 9, 2001 - Kevin made me aware of a promo CD from Australia called Venus Orbiting. The item has catalogue number TOAM3 and you can see a scan of the CD below.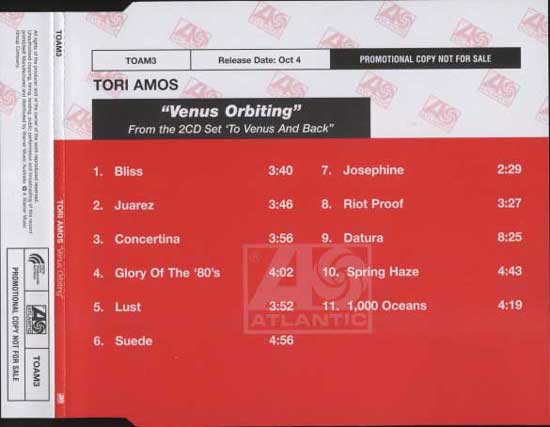 U.K. Gay.com interview with chef Darren Staats, the guy Tori wrote Riot Poof about!
January 9, 2001 - Chef Darren Staats has toured with Tori, and is the person Tori wrote the song Riot Poof about. Find out more about this in an interview he did for the U.K. version of Gay.com.

"Selections from Venus" promo sheet music
November 8, 2000 - I received this report from Suede Oceans (Karen Green). If anyone has additional details about this item please email the Dent and let me know.
I found this interesting sheetmusic folio at this store Redger's, a small-time record store in central New Jersey.

On the cover is a close-up of Tori from the "venus" CD and says in purple lettering (Shoestring, from the CD) "Selections from Venus". On the back there are two pictures: one of the CD with "featuring 'Glory of the 80's', '1000 Oceans', 'Concertina', and 'Bliss'" and one of the normal "venus" sheet music book "featuring all the songs from 'to venus and back'" on it. In the background, behind these pictures is a faded image of the cover image. On the bottom, in small letters is "Promotional Copy; Not for Resale". Above that was the store's price- $12.99 retail.

Inside, there are 5 sheet music selections- "Bliss", "1000 Oceans", "Lust", "Concertina", and "Suede" (in that order). There are no pictures and only the inside cover has the phrase "All music and lyrics by Tori Amos".

Loren Haynes' Web Site
July 24, 2000 - Loren Haynes shot the photos for the "to venus and back" album and also shot, directed and produced the Bliss video. Find out more about his official web site. His site includes an incredible Tori section!

Washington Post Article About Juarez, Mexico
June 26, 2000 - Richard Handal was the first to tell me about a major article that appeared on the front page of the Washington Post on June 25,2000 about the killings in Juarez, Mexico. As you may know, the song "Juarez" on "to venus and back" was written by Tori in response to this situation. The article was the first of two, and you can read it complete with photos on the Washington Post web site. It is a very insightful article, but also incredibly disturbing and sad.

Gear Magazine Looks At Loren Haynes
May 31, 2000 - Metrojoe tells me that the June 2000 issue of Gear Magazine includes a photo and short profile on Loren Haynes who shot the cover art for "to venus and Back." It says the following on Page 10 in the "Contributors" section:
Loren Haynes recently shot the album cover and music for Tori Amos' "To Venus and Back." Currently directing his first feature film, "Hearts of Desire," his video for "Bliss" was nominated for Best Video by the Music Video Producers Association. He photographed former LAPD officer Norman Nelson ("Cop, Killer," page 56).
Metrojoe goes on to report:
One photo he took for that spread kind of reminds me of the cover for "Venus." It has the officer in the middle of the page and then there's kind of a fuzzed out background of a window and a reflection, its pretty cool. Then there's one of the officer kind of looking down in a cowboy hat and he's standing alone. It reminds me of the photo of Tori leaning against the truck, and sort of like the one with Tori's arms spread out by each Venus disc. Pretty cool, huh?

Sheet Music For Lust
May 25, 2000 - Michelle reports that following about some sheet music she saw for the "to venus and back" song "Lust." Does that mean this was considered as a single at one point?
On Friday, [May 12, 2000] i saw the new sheet music (as usual, a Music Sales publication) for LUST. the photo of tori on the cover is the TVAB photo of her in front of the wash basin. i was surprised that a sheet is out on this song.

Suede - The Dance Remix Will Likely Not Happen...
Updated April 27, 2000 - The January 26, 2000 edition of The Arizona Republic newspaper reported that there will be a dance remix of Suede created by Deejay Markus Schulz. This was seen in the Backstage Pass section. (Thanks to Rob (Creighton) for telling me about this.) Here is what they reported:
Deejay Markus Schulz, king of the Valley's electronic music scene, is in Cannes, France, right now for Midem 2000, a schmooze-fest for musicians from around the world. He'll return next week to start work on a dance remix of Tori Amos' song Suede from her recent To Venus and Back album.

Sweet gig, but Schulz isn't likely to be star-struck. In addition to remixing tracks by various dance music luminaries, he has electrified tunes by Madonna, Bette Midler, Everything But the Girl, Grace Jones and the B-52s.
AaRoN Schlosser informs me that Marcus started working on the song in February 2000 and that the remix was initially planned for release around June 2000 in the U.S. However, I have the following report from Toriphile Chrissie D'Alexander that seems to indicate that plans for a remix of Suede are off. Which is kind of a shame, since I was interested in how it would sound.
I went to Plastik Records today in Tempe AZ to talk to Marcus Schultz about the Suede Remix (he owns the store). He told me that Atlantic Records will not be putting out the remix due to Tori's involvement with the Mission Impossible 2 cd. I guess for some reason she can't do two things at once? He said that all of the mixing has come to a hault and he was very dissappointed because he loved Suede. However; for any Moby fans out there, he is mixing one of his songs soon... So again; there won't be a Suede Remix :(

TVAB Imported Box Set
Updated April 25, 2000 - Joanna pointed out to me an item at Barnes & Noble called the To Venus and Back [Import Box Set] which retails for $170! I have no idea what this might be, and I warn all Toriphiles to be very careful about this item. Unless you find out exactly what it is, I would not purchase it. There have been special Box sets released for past Tori albums. Some have been great, like the one for Little Earthquakes, and some, like the one released for "from the choirgirl hotel," really cheap and low quality. So please resist buying this unless you know more. Toriphile Michelle emailed me about a TVAB Box set last Fall. She said that EQS Music told her that only 250 of these sets would be made and that it will be in a wooden box with brass fittings and is a U.K. Import that was released sometime in October 1999. (There is no listing for this item now at EQS.) Can anyone else shed additional light on this release?
Karen Kulp adds, "i have seen the tvab boxset at a cd/record fair near my house. it's a dark wooden box with and image of tori lasered on the top. inside are the 2 cd's with the booklet. it's really no big deal. the box looks elegant and the laser sketching is pretty but it's not worth $170. only for the tori fan who must have everything."
Blackdove80 adds, "The limited edition boxed set is very nice. I work at a cd store and ordered one. it took me a month to get it and my # is 101. Anyways, it comes in a flat wooden box and bas a picture to Tori['s face etched or burnt into the lid. It has a hinged lid with gold hook on the front. I know amazon.com has it for sale for 141.97 I think along with a picture of the lid."
Meredith S found a description of this item at the Mass Music web site. There it retailed for almost $98 and had this description:
Catalog#: P0551782

Tori's 1999 outing in a special, limited edition box set made of walnut & featuring felted feet and wells for CDs, plus a brass plaque. The hinged lid has a realistic wood-carved picture of the hit vocalist. The wooden box is 6.5 inches x 12 inches in size, just like 1998's Sarah McLachlan wooden box set. Only 250 copies are being pressed! 24 tracks, including 'Glory Of The '80s' and 'Bliss'. "

Where Were The Live Songs On Venus Recorded?
March 25, 2000 - One question I get asked constantly is. "Where were the live songs on 'to venus and back' recorded?" As we know, they were all recorded during the Plugged '98 Tour, but the album does not tell us where. Iciclespark has started a web page to track and organize the efforts of Toriphiles figuring out where each of the live songs were recorded. They have reached a conclusion about 5 of the songs, and need your help in determining where the rest were recorded. So check out the Live Songs From Venus web page and help if you can!

Another Promo Called "Tracks from To Venus and Back"
March 20, 2000 -Here is yet another promo item for this album. Lisa tells me about an 8-track U.S. promo CD called "Tracks from To Venus and Back" (Atlantic #9091) It includes Bliss, 1000 Oceans, Concertina, Glory Of The 80s, Cornflake Girl (live), Space Dog (live), Sugar (live), and Precious Things (live). The CD itself is just silver with black lettering and the back insert is similar, just black lettering on a white background (not even the TVAB font...) Lisa purchased this item from a used CD store, and her CD did not include a front insert, but according to Toriphile Danny, this promo did have a cover that was simply the same as the regular TVAB cover. Danny also says that lyrics are printed inside, but he is not sure if the lyrics are just for the songs on the promo or all the new songs from Venus. A few other sources say their copy did not have a cover.

"to venus and back" Songbook; Sheet Music For 1000 Oceans
March 20, 2000 - Find out about the "to venus and back" Songbook/Folio here.
Andy tells me that you can also find sheet music for 1000 Oceans in some stores. It features glossyish paper on the front & back cover and regular paper stock on the inside. (It's put together like a portfolio.)

Live 4-track "to venus and back" Promo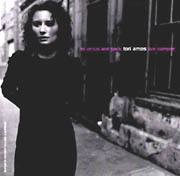 March 13, 2000 - I have been told about an Atlantic promotional CD called "Live tracks from To Venus and Back" (Atlantic PRCD 9142). The track listing is:
1. precious things (live EDITED VERSION - 3:59)
2. sugar (live EDITED VERSION - 4:00)
3. cornflake girl (live EDITED VERSION - 4:00)
4. waitress (live EDITED VERSION - 5:01)
The live songs are indeed edited from what is on the album. Karac sent me a scan of this CD, which you can see to the left. Click on it to see it larger. This item has been available for some time.

"to venus and back" Picture Disc Vinyl LP
March 13, 2000 - Mike tells me he found a vinyl LP of "to venus and back". Here is his desription of it:
I just bought a Promotional L.P. of TVAB!!! It is only one L.P. unlike Choirgirl. Side A has bliss, juarez, concertina, glory of the '80's, and lust. Side b has suede, josephine, riot poof, spring haze, and 1,000 oceans. The A side is the same as the cd front and is void of any wording except for, "to venus and back tori amos," the b side has the picture of Tori with her arms out to the sides. The track listings are on the b side along with this "to venus and back tori amos exceptions from orbiting" It is a promotional and says "all tracks from the forthcoming double C.D. album 'to venus and back'". the Copywrite is 1999. On the b side there is also the picture from the Bliss single, but it has been cut into four pieces with the lower right side lower down on the lp. I don't know if anyone else has told you about this or not, but it is definitely a real promo. The barcode number is 5 009513 832420, I thought that promos did not have barcodes? there is also this number " PRLP 9513- 83242" I wish that I could have scanned the LP for you, but I don't have a scanner. Great work on the Dent! Oh, also there is one for auction on ebay, the Auctioneer is Rock Island, bidding starts at $30. I bought mine for $50. It is a beautiful picture LP, really worth the arm and leg I paid for it!
There was some question as to the legitimacy of this item. This item, which is a vinyl picture disc LP, turns out to possibly be a Mexican import. (I still have to wonder if it is a bootleg or a legit release however....) Here are what other people have reported about this item: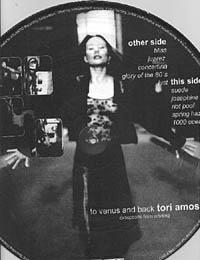 From Jennie:
I got the vinyl for the To Venus and Back and it does say that it's for "Promotional use only" ... as you can see from the picture that i sent you of it. (See Jennie's scan of the picture disc to the right. Click on it to see it larger.) I got this one through the AB-CD music source. This is interesting because it's missing the song Datura. The record just goes from Riot Poof to Spring Haze.

Below is a scan of the other side of the picture disc from Toriphile Raswirl615: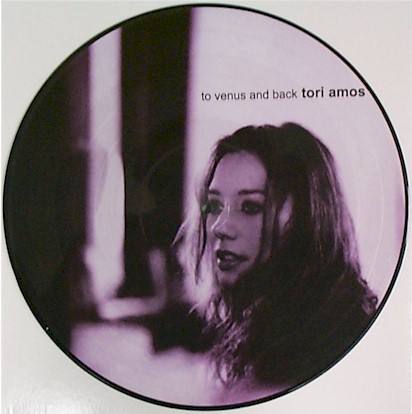 From kevin:
sounds like that person who got the tvab vinyl bought a picture disc version.i have seen this at ebay.if it has a barcode on it it is definately NOT a promo, as promo items never have bar codes on them as not being for sale they don't need them.also being a picture disc i would say its not official either as there is no other vinyl for tvab unlike all her other albums, and if it was official i imagine they would have released a tvab vinyl for general sale. my two cents worth
From Bev and Remo Luca:
i received this email from eqs a few weeks ago:

We are now taking pre-orders on a new Tori item. This is the 12" Picture Disc LP of To Venus and Back. This will be a one record set with selected track from the album. The picture will be the album cover. This is a Mexican 12" release. The item number for ordering is 9150. The release date is December 27th. If released on time, this will come in the first week of January. There are a limited number of these available. The price is 31.99.
From Josh:
ab-cd.com is taking pre-orders for the To Venus and Back picture disc vinyl for $33.97! [Look under New Releases: Import Vinyl Albums] They aren't listing it as a promo, but as an import! Here is the catalog number they have listed: (TORITOPICQ) Maybe it is an import bootleg.
From Shannon Gray:
ok i didn't know if n-e-one noticed this, but i thought that the to venus and back picture disk vinal came from mexico. i was looking at mine last night and noticed that it clearly states that it was made in england and in the USA. i know this sounds crazy, but i'm going to type what it says.

(c) 1999 ATLANTIC Recording Corporation for the United States and WEA International Inc. for the world outside the United States. All Rights reserved. (R) Original Sound Recordings made by ATLANTIC Recording Corporation / Warning: Unauthorized copying, hiring, lending, public performance and broadcasting of this record is prohibited! - All tracks taken from the Fourthcoming DoubleCD Album "to venus and back". Made in the United States for Promotional Use only /PRLP 9513 - 83242

then there is a sticker on it that says MADE IN ENGLAND

WHAT IS GOING ON I JUST WANT TO KNOW IF THERE IS MORE THAN ONE COUNTRY THAT THIS IS COMMING FROM.

Concertina (The Single Mix) Appears On Atlantic Promo Called "Alternative & Rock/2000"
February 29, 2000 - Remo Luca found an Atlantic promo CD called "Alternative & Rock/2000" which includes the single mix of Concertina. Below you can see a scan of this promo CD: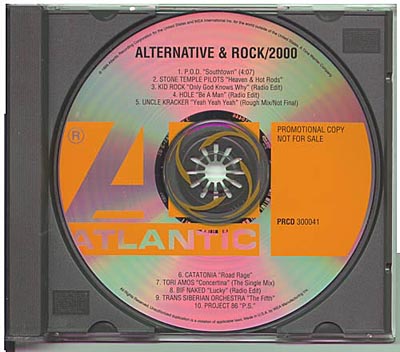 The CD has the number PRCD 300041. Here is the track listing:
1. P.O.D. "Southtown" (4:07)
2. STONE TEMPLE PILOTS "Heaven & Hot Rods"
3. KID ROCK "Only God Knows Why" (Radio Edit)
4. HOLE "Be A Man" (Radio Edit)
5. UNCLE KRACKER "Yeah Yeah Yeah" (Rough Mix/Not Final)
6. CATATONIA "Road Rage"
7. TORI AMOS "Concertina" (The Single Mix)
8. BIF NAKED "Lucky" (Radio Edit)
9. TRANS SIBERIAN ORCHESTRA "The Fifth"
10. PROJECT 86 "P.S."
For more details about the single mix of Concerina, go to my Concertina Page.

Tori Nominated Twice For The 42nd Annual GRAMMY Awards!
February 24, 2000 - Grammy Award nominations were announced on January 4, 2000, and Tori was nominated twice. She is nominated in the Best Female Rock Vocal Performance and Best Alternative Music Performance categories. Tori lost in the Best Female Rock Vocal Performance category to Sheryl Crow and lost the Best Alternative Music Performance category to Beck. Neither of these awards were given during the televised broadcast on February 23, 2000, but were given earlier in the day. Tori was not at the event. I am sad that she did not win, but I am not surprised. For full details about who was nominated in each category, see below.
Best Female Rock Vocal Performance
Bliss - Tori Amos - Track from: To Venus And Back
Sweet Child O' Mine - Sheryl Crow - Track from: Big Daddy - Music From The Motion Picture
Jukebox - Ani Difranco - Track from: Up Up Up Up Up Up
Angels Would Fall - Melissa Etheridge - Track from: Breakdown
Possession (Live) - Sarah McLachlan - Track from: Mirrorball
Best Alternative Music Performance - Albums Only Award
To Venus And Back - Tori Amos
Mutations - Beck
You've Come A Long Way, Baby - Fatboy Slim
Play - Moby
The Fragile - Nine Inch Nails

Concertina Released Commercially As A Single In The U.S. In February 2000; The U.S. Concertina Promo Single
February 8, 2000 - Concertina was released as a single commercially in the U.S. on February 8, 2000. A Promotional single for Concertina was sent to U.S. radio stations in late December 1999 and January 2000. Find out all the details on the commercial single and the promotional disk on my Concertina Page.

Australian & European 1000 Oceans Singles
January 14, 2000 - Check out details on the 1000 Oceans singles that were released in early 2000 in Australia and in Germany, Sweden, and throughout Europe.

"to venus and back" Certified Both Gold and Platinum!
November 11, 1999 - Tom Enroth tells me that on November 10, 1999, "to venus and back" was certified both Gold and Platinum by the by the Record Industry Association of America. Gold means that 500,000 copies were sold and Platinum means a million copies. Since this was a double album, I am assuming that each album sold counted as 2 discs, but I am not sure about that. In any case, congratulations to Tori! You can see this on the Billboard Web Site.

Glory Of The 80s First U.K., European, and Australian Single
October 1, 1999 - "Glory of The 80's" is the first venus single in the U.K. , as well as the rest of Europe and Australia. To find out all about this single, including a big fiasco involving the U.K. version, go to my Glory Of The 80's Page.

Important Comments On "to venus and back"
September 24, 1999 - I got a lot of questions about Tori's new album, and I thought I would answer two of them here. The first is, "Do you know where all the live songs on disc 2 were recorded?" The answer is no. We know that they were recorded during the Plugged '98 tour, and we also know that each song is in fact one live performance (they did not join pieces from different performances into one song.) I can say that "Cooling" is from East Lansing on December 3, 1998. I was there and vividly remember that little speech she gave before the song. [As time passed, people started to figure out where some of the other songs were recorded. Go to this Live Sources For Venus web page for more information.]
Secondly, people were at first confused by the URL included in the lyric/CD booklet. It said toriamos.com, and at the time Venus was released, that URL did not work. Later of course, Tori's new official site was launched at that address.
Reliable sources (including Matt Presidente) report that there were 2 songs that were planned for "to venus and back" but did not make it. The first is "Snow Cherries From France," a song Tori has mentioned before. The other is a song called "Zero Point". Zero Point is mentioned in the Venus liner notes. (Tori writes, "Zero Point - your time is coming"). She also mentions this song in the November 1999 Pulse article I posted on the Dent recently. She says, "There is a line in 'Zero Point,' where I sing, 'Take off, lift off, creaming Jesus still.'" I look forward to hearing these songs one day!

Scans & Descriptions Of The Album
September 21, 1999 - I got the album at Midnight at Underground Sounds in Louisville, KY and made some scans from the album artwork and the lyric booklet. The album is packaged in a cardboard-like digipak and has the purplish photogaphy throughout. The cover image and all photographs were done by Loren Haynes. Artwork credits go to Brenda Rotheiser and Richard Bates. The Venus image is credited to Rob van Tuln.
The album folds out into 3 parts. The left side contains a slit at the top where disc 1, the new disc, resides. The CD/Lyric booklet is contained in the middle, which slides in a pocket that's open on both sides. The right side also has a slit at the top where disc 2, the live disc, resides. Both the left and right sides contain an image of the planet venus and the middle image shows Tori and is the same as from the 1999 concert program. You can see scans of the entire lyric booklet below, as well as the album artwork. The new disc is pale purple and the live one is sort of grey and the disc titles circle the rim of the CDs in tiny lettering. Thanks to Michael Stafford who first described the album packaging to me.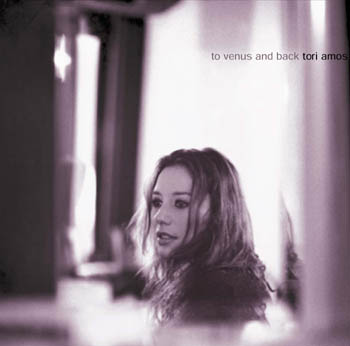 The album cover
I have placed the official lyrics to all the new songs on a special "to venus and back" Lyrics Page.
Here are the Credits from the album. Thanks to Mairie:
Credits
Recorded and Mixed by:
Mark Hawley & Marcel Van Limbeek
Assisted by: Rob van Tuin
at Martian Engineering,
Cornwall England
Written and Produced by: tori amos
Published by: Sword & Stone
Live Tracks recorded during
the Plugged Tour 98
Sugar - Purple People -
recorded during soundcheck
Musicians >> >> >>
Drums/Percussion:
Matt "the human loop" Chamberlain
Bass: Jon Evans
Guitars: Steve Caton
Bosendorfer, synths, vocals:
Tori Amos
Programming with additional drum
programming on Suede, Riot Poof
and Datura: Andy Gray
Project Manager >> >> >>
US: John Witherspoon
UK: Natalie Caplan
Mastered by Jon Astley
Management: Arthur Spivak -
Spivak Entertainment
Cover image and all photographs:
Loren Haynes
Artwork: Brenda Rotheiser and
Richard Bates
Venus Image: Rob van Tuin
Glumpuss assistance "Hair &
Makeup": Berta Camal
References of Hot: Karen Binns
*next column*
Duncan Pickford: chef
Trevor Lowe: Piano tech
space cakes - faerie
Daz - Riot Poof
Cody - Little Sister
Beene - Beene
Lee Ellen - not goodbye
Nat Nat - Studio Goddess
Neil - send the Baku not the
Nephilem
Zero Point - your time is coming
John Hawley - inspiration
The Live Crew >> >> >>
Tour Manager: John Witherspoon
Assistant: Natalie Caplan
Production Manager: Andy Solomon
Assistant: Geno Byrnes
F.O.H. Sound: Mark Hawley
Tori Monitors: Marcel van Limbeek
Band Monitors: Rob van Tuin
Monitor Tech: Chris Gilpin
PR Systems Tech: Mike Rose - Andy
Yates
Stage Manager: Mike Pugh
Piano Tech: Trevor Lowe
Guitar Tech: Zach Saville
Drum Tech: Keith (Sarge) Lamphier
Lighting Director: Dan Boland
Wardrobe and Vibe: Tamsin Manvell
Chefs: Darren Staats - Michael Glazer
and The BR crew
Security: Joel Hopkins - Steve
Sanchez
Merchandise: Kelly McDonald
*next page*
Thank You's
The Musicians: Jon, Matt & Caton
Mom & Dad
Irene
Arthur
Phil Holthouse
Cindy Cooper
John Branca
Jamie Young
Mike Weaver
Jaime Feldman
Mary Koetting
Carole Kinzel @ CAR
Steve Seidel
Mike Dewdney @ITB
Pat Savage @ O.J. Kilkenny & Co
Bill Vuylsteke @ Provident Financial
Gina De Marla
Bruce Fingeret @ FER
Marta Ferguson@ Linden Travel
Dave Brock @ Rima Travel
Wendy Ashley
Beene
Lloraine Neitherdt
Lesley Chilkes
Kevyn Aucoin
Jimo Saleko
Dr. Marlow
Dr. Rita
Eric Rosse
Mike & Debbie
Wes, Phil and Kelly
Marie
Cody, Casey Kit, Kelsey, Corey
Stacy & George at The Tea Garden
Ward & Armenda
Meg - don't get out of my garden
All at Atlantic Records
All at East West London & Warner UK
*next column*
Bosendorfer - Colin Taylor
TL Audio - Tony Larkin
HHB - Tim Shaxson
SSE = John and Heather Penn and
all...
John Gardner
All at Vanstone - "snuggles"
Mick & Pearl
Helen
All at the Ferrari PR Dept.
As always, Van Nelle
Neil at NEVE
Benny
For information go to:
toriamos.com

Order "to venus and back" Online Or Purchase At A Local Store And Get A Poster
September 21, 1999 - You should be able to find the album at all decent record stores. Many are giving away free posters or lithographs when you get the CD, so be on the lookout for that! (Though they will run out of posters quickly I am sure.) You can also order it online from several vendors.

Atlantic Press Release On "to venus and back"
September 24, 1999 - You can read a press release from Atlantic Records on Tori's new album, "to venus and back." It is available in my Article Archives.

What Do You Think Of The New Album?
September 21, 1999 - So now that it is out, what do you think of Tori's new album? If you want to send me a formal review, please email it to me and I will add it to my "to venus and back" Reviews Page.

Official "to venus and back" Lyrics
September 19, 1999 - I have placed the official lyrics to all the new songs on the new album on a special "to venus and back" Lyrics Page. Special thanks to Michael Stafford and Nick for sending me these lyrics from the CD booklet and to another anonymous source who gave me a copy of the CD booklet as well.

Album Sound Clips & Review At Amazon.com
September 19, 1999 - You can now hear RealAudio sound clips from the album at amazon.com. They have clips from both the new disc and the live disc. This page also contains a review of the album.
Listen To Sound Clips At Amazon.com.

"Sugar" & "Purple People" Were Recorded During Soundcheck
September 19, 1999 - I first heard from Erin O'Neill that the live version of "Purple People" that appears on the live disc of "to venus and back" is actually from a soundcheck and not from any Tori concert! We know know that both that song and "Sugar" are from soundchecks. At this time I don't know if they are from the same soundcheck or different ones, or the date of the soundcheck(s).

Special "to venus and back" Preview At "this swirling sphere"
September 7, 1999 - An izine called "this swirling sphere"

contains an exclusive preview of "to venus and back" by Mike Gee that is very interesting. They describe each song really well and review it very positively. Check it out!


Record Collector Mentions A 6 Track Pre Master CD-R Of Venus
September 3, 1999 - Lucy Bennett tells me that the September 1999 issue of Record Collector Magazine has a short piece about a 6 track pre master CD-R of "to venus and back" circulating in the U.K. There's a picture of the promo sleeve (just a shot of Martian 'studios') which is also autographed by Tori to the guy who wrote the article. Anyway, the promo is number one in the chart of the most expensive promos, being valued at 150 pounds! Read more about this in my Article Archives.

To Venus And Back 7-Track Promo Sampler From The UK
August 27, 1999 - I have received reports that there is a 7-track sampler item circulating in the U.K. for "to venus and back." I have no idea if the original sampler was on CD or cassette, but I have a report on the sampler from Mike Gray. You can read his thoughts on the songs on my Toriphile Reviews page for "to venus and back." It is not clear to me if there is a relationship between this item and the 6-track CD-R mentioned above. The songs on the 7-track sampler are:
Bliss
Juarez
Concertina
Glory Of The 80s
Suede
1,000 Oceans
Datura

To Venus And Back 4-Track Promo Sampler
August 27, 1999 - Kris tells me about a 4-track promo sampler CD that he received lately. I think it is from the U.S. This sampler apparently contains pre-mastered versions of the 4 songs, which are:
Bliss
Glory Of The 80s
Suede
1,000 Oceans

The Cover & Track Listing For "to venus and back"
August 15, 1999 - The Ear X-Tacy web site

, a local record store in my hometown of Louisville, KY, is also selling "Bliss" as a digital download and includes on their page a larger photo of the "to venus and back" cover. (Thank you Lyra for telling me about this.) You can see it below: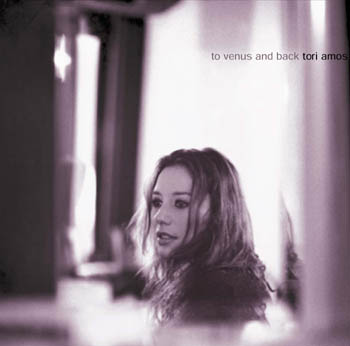 The Atlantic Web Site has added to their Tori section

the "to venus and back" album cover and the exact track listing for the disc of new material, as well as some new black & white photos! Click on Discography to see the album cover and track listing, and click on Biography to see the photos. A big thank you to Alex Pearlman for telling me about it. The new disc will have 11 tracks.
Bliss
Juárez
concertina
glory of the 80's
Lust
suede
Josephine
riot poof
Datura
spring haze
1000 oceans

1,000 Oceans Page
August 15, 1999 - I have added a "1,000 Oceans" page with details about single from "to venus and back." This song will be sent to Pop, Hot AC and Modern AC radio in the U.S. in late September and may be released commercially in the U.S. on September 7, 1999. On the 1,000 Oceans Page, you will read all we currently know about the track from official sources and from people who have managed to hear it on the radio already. You can read lyrics guesses that are very close to the real lyrics.

The Bliss Page
August 15, 1999 - Check out the "Bliss" Section Of The Venus Pages for the latest details on the first single from "to venus and back." It includes the track listing of the commercial singles, and a link to a page with commentary from Toriphiles on the song and guesses as to the lyrics! "Bliss" made it to some radio stations as early as July 30, 1999. You can also find out how to pre-order the U.S. Bliss single, see the cover to the single, and read the official lyrics.

Music365 Web Site First To Give Tentative Track Listing For "to venus and back"
August 2, 1999 - Adam Whitehurst and Markus Musielak alerted me to a news item that appeared on the Music365 Web Site

. The article provided details about the new album and was the first to tell us what the track listing was, though it was missing one song. Here is part of the article:
They include a touch of nostalgia in 'Glory Of The 80s', about Amos's experiences when she first left home to live in LA, and an achingly beautiful piano ballad called '1,000 Oceans'.

Several of the songs reflect her more contended state of mind since marrying her sound engineer Mark Hawley last year. Lust was written when they were forced to spend two weeks apart. Another song deals with the death of one of Hawley's parents. 'Bliss', the opening track, is more conventional Amos territory about a difficult relationship between a father and daughter.
Here are 10 of the new songs on the album:
Bliss
Juarez
Concertina
Glory of the 80s
Lust
Suede
Riot Poof
Datura
Spring Haze
1,000 Oceans

September 1999 Alternative Press Contains More New Album Info & Says One New Song Is Called "Lust"
July 28, 1999 - The September 1999 issue of Alternative Press Magazine (#134), with Trent Reznor on the cover, contains a brief article about Tori's new album, "to venus and back," on page 57 along with a photo. You can read it in my Article Archives. The article mentions 2 new song titles, "Glory Of The '80s" and one we have not heard before, "Lust." The article also tells how Tori came up with the album's title.

Atlantic Press Release About "to venus and back" - First Singles To Radio Will Be "Bliss" and "1,000 Oceans"
July 21, 1999 - A Press Release from Atlantic Records, distributed by Business Wire on July 20, 1999, revealed additional details about Tori's new double album, "to venus and back" and also about the RAINN shoe promotion with Steve Madden. You can read it in my Article Archives. There is also an article at the SonicNet Music News Of The World site

which mentions details from this release as well. Special thanks to Henry Ho, Dink and Tripp Gwyn for telling me. Here are the important new details:
The album is set to be released on September 21 in North America.
2 tracks from the new album are going to radio soon. "Bliss" is being sent to alternative radio on August 6 and a new song called "1,000 Oceans" goes to Pop, Hot AC, and Modern AC radio in late September. What is not clear from this is when a commercial single will be released and what song the commercial single will contain.
The article mentions that Tori has been nominated for a Grammy 4 times
The release says the disc of new material will contain 12 songs. Tori mentioned in her Yahoo chat that the disc would have 11 newly written songs. This discrepancy has led some people to think that the 12th song might be an older song that In reality, we now know there are only 11 tracks on the new disc.
The album was recorded with Tori's band from the last tour (Steve Caton, Matt Chamberlain, and Jon Evans), and with programmer Andy Gray.
As for the RAINN shoe promotion with Steve Madden, the article said that "Atlantic Records and Steve Madden are also sponsoring a summer-long Tori Amos contest. The Grand Prize winner will receive tickets to the final concert of the Tori/Alanis tour in Los Angeles, as well as an opportunity to meet Tori after the show. Fans can submit entries by placing postcards in special ballot boxes found at all Steve Madden outlets."

Tori Verifies Album Title & Release Date On July 19 KROQ Phone Interview
July 19, 1999 - Tori called into the Kevin & Bean morning show on radio station KROQ in Los Angeles, CA on Monday morning, July 19 around 8:30AM PT. KROQ had been announcing for the prior few days that a second Tori & Alanis show was being added in Irvine/LA at the Irvine Meadows Amphitheater for September 26. Tori called into the station in part to promote that fact. She said they finished mastering the new disc and are mixing the live one. She confirmed the new records title, "to venus and back" and said it would be released on September 21. Tori also verified that she would do a few solo concerts after the 5 1/2 weeks tour "like in Texas or someplace." They then talked about the JFK Jr. tragedy for a while. Tori also said her songs are like children to her "and i always like the freckly fat one. Like, Cartman's my favorite...But, there's nothing on my record called 'fat'." For a full report on the interview, go to my TV & Radio Archives.

Article About Tori's New Album At LiveDaily
July 19, 1999 - On July 19, 1999, LiveDaily

posted an article about Tori's new album. It simply reinterates what Billboard and Atlantic have already told us, but is still worth mentioning!

Tori & Steve Madden Chat On Yahoo
July 15, 1999 - A chat with Tori and Steve Madden took place on Wednesday, July 14 at Yahoo. The chat lasted for roughly an hour and about 27 questions were asked. Most of them focused on the Tori Amos shoe that Steve designed for RAINN and RAINN itself. I was not surprised by this because the chat did include Steve and I thought it was important to talk about the shoe because it is for a vital cause. You can read a full transcript of the chat on the Dent. Here are the highlights of the chat that concerned the new album:
Tori verified that her new album is called "to venus and back" and that she and her crew will begin mastering the new record/disc Wednesday (July 15.) They will also start mixing the live disc after they master the new one.
Tori says about the disc with new material, "As of now, there are 11 new tracks that no one has heard before. Meaning they weren't written for other records. They were all just written...quite rapidly. There are quite a few sound experimentations happening. Mainly because my character on this album is forming and reforming like particles shifting. That will make more sense when you hear it. The guys I was on tour with played on the record. It was very much an insular project."
Each disc of the double album has its own name. "The studio album will be called Venus. Orbiting. and the concert CD will be called Venus. Live. Still Orbiting. However, the entire album is still called "to venus and back".

Atlantic Web Site Says New Album Will Be Released September 21 & Will Contain "Bliss" & "Glory Of The '80s"
July 13, 1999 - A small news item at the Atlantic Records web site

agrees with the info reported last week at Billboard Online

. It says that Tori's new double album, "to venus and back," will be released in the U.S. on September 21, 1999. It also verifies that "among the new songs are "Bliss," which explores father-and-daughter ties, and "Glory Of The '80s" about Amos' time as a working musician in Reagan-era Los Angeles."

Billboard Online & Billboard Magazine Had Exclusive Special Report On Tori's New Album
July 9, 1999 - Billboard Online

posted a special report on Tori's new album "to venus and back." Special thanks to Karen Jaffe for telling me about this! They include the small photo you see to the right. This same article was also on the front page of the July 17, 1999 issue of Billboard Magazine. You can read the article in my Article Archives. Here is a summary of the report:
They say the album will be released September 21, which conflicts with earlier reports that say September 28. (September 21 is correct.)
"to venus and back" will be previewed with an as-yet-undetermined track [This turned out to be "Bliss"] to hit radio Aug. 6, with a commercial single likely to follow.

There is a fairly long interiew with Tori where she talks about the new album.

"I hope to get 11 or 12 songs on the album, but 'Waitress' is 9 1/2 minutes long, and 'Precious' is seven minutes long. We'll have to see which ones make the semifinals."

"Themes on "venus" range from a troubling anthem about unavoidable father and daughter ties on "Bliss" to a whirlwind Los Angeles-based fantasy about the decade past in "Glory Of The '80s," from which the album title is derived."

"Instrumental sounds are even more experimental than with previous efforts, bordering on industrial in some cases, alongside the traditional mass of sometimes joyous, often deliberately chaotic, vocal layers that define Amos."

Tori says about Alanis, "I've never done a tour like this before -- with somebody. It was actually [Morissette's] idea. She had come to see me at Jones Beach [in Long Island, N.Y.], and we had a cup of tea and a giggle and got along really well. We share a lot of the same philosophies of putting on a show, which is important. I'm talking about the semantics of it, not just the music. Having all of these people on the road together is like a little town on the road, where you're all part of the same tribe. People do it differently, and it's difficult to pull it off with someone who doesn't hold the same priorities. I do think we're going to draw people that want an exciting evening."
Heather Howell reports that the July 17, 1999 issue of Billboard Magazine has the same article about Tori's new album on the front page. The article has the title, "Tori Amos Unveils "Venus": Exclusive: Singer Details Atlantic Live/Studio Set."

Tori Mentions New Album During May 1999 KROQ Phone Interview
May 14, 1999 - On Thursday morning, May 13, Tori did a phone interview with radio station KROQ in Los Angeles, CA with DJs Kevin & Bean. Tori talked about Alanis Morissette, the 5 1/2 Weeks tour, and the mp3 format among other things. Tori was calling from Cornwall, England. She said she was in the studio mixing her new record. Kevin & Bean said they did not know Tori was working on a new record, and Tori jokingly replied, "Yeah, I didn't either." She said there was a computer near the piano and she just started writing this new stuff. Her crew encouraged her to go ahead and make a new record. Kevin & Bean said that Tori must have been taken over by the songwriting process and Tori said, "You're making me sound like Linda Blair." She said her new album would involve a lot of computer and piano, that they would be "sorta married together." To read more details about the interview, go to my TV/Radio Archive.

Goldmine Magazine Article
April 26, 1999 - Francesine Hiltz and Rob F. reported that Tori has an article in the May 7, 1999 issue of Goldmine Magazine. (Vol. 25, No. 10, Issue 490). On the cover of this issue there is a small photo of Tori and the headline "Tori Amos Hard to Peg." The article is on pp. 14-15 and is titled "Talk Talk" with the subheading "Tori Amos and the evolving on her songs." Both Francesine and Rob sent me the text of this article and you can read it in my Articles Archive.

This article includes comments from Tori on her upcoming live album, although as we now know there will be more than just a "couple" of new things on the album and that the b-sides disc has been replaced with a disc of all new material.
There will be a couple of new things. I don't know how many at this point in time. There's a B-side record, and there will be some new stuff on that, and on the live record there might be some new stuff we've been working out in soundchecks.

Rolling Stone: Tori Will Tour With Alanis & New Album Details
April 17, 1999 - In the May 13,1999 issue of Rolling Stone magazine (Issue #812 with Kurt Cobain on the cover), you will find a small article about Tori on page 27. This has so far been reported to me by Sean (JohnnyFashion) , Stacy Morehead and Joe Punicki. The article has the heading, "AMOS TO RELEASE THREE-CD SET" and says:
"Tori Amos is checking back into the choirgirl hotel: The singer plans to release a three-CD set in early fall. The as-yet-untitled project will include two discs of live material culled from Amos' 1998 US tour and a disc of all-new material, which Amos is currently recording near her home in Cornwall, England. Amos' 1998 tour was her first with a backing band. Her manager, Arthur Spivak, says Amos was so pleased with the results that she decided to document them. 'It was a special tour, and she taped the show every night', he says. 'Plus there are hundreds of bootlegs out there, so she decided to give something back to the fans, instead of watching them ripped off'. Of the new songs, Spivak says, 'She got on a roll in the studio, and the songs just fit with the live material'. Amos plans to release a single from the collection in mid-August, prior to pairing with Alanis Morissette for a five week US tour. Spivak would not confirm the dates, saying only that they 'looked likely', but promoters and agents contacted said the tour is a done deal" - Matt Hendrickson.
If you look above you will see that the release is now going to be 2 CDs and will consists of one live disc and one disc of all new material!

DVD Video Project Mentioned At Audio Revolution Web Site
March 29, 1999 - Ever since the end of the Plugged '98 tour, we have heard about some kind of DVD project that was due out at the end of 1999. At this point we still don't know much about this project, other than the fact that it should contain live footage that was shot during Tori's final 2 concerts of the tour and may be in some way connected with the live album due out around the same time. Sendu Bala found a mention of this DVD project on The Audio Revolution web site

. In an article called The DVD Audio Standard

, they include this paragraph, which appears to be the first official mention of Tori's DVD project:
Most major record companies don't even know the standard has been ratified, let alone have a plan to release their vast catalogues. Warner Music Group (Warner Bros. Atlantic and Electra) have a group looking into the technology; most labels are just getting up to speed releasing DVD-Video titles like the upcoming releases from Tori Amos (Atlantic) and Daft Punk (Virgin).

1999 AOL Chat
January 20, 1999 - Tori had an online chat on America Online on Wednesday night, January 20, 1999. This was the launch of a series of chats to celebrate the fact that People Magazine was coming to AOL. I am sad to report that the chat was less than spectacular. In fact, it was the worst Tori chat I have attended. Some of the questions were so bad that at one point Tori herself criticized one as being "so boring." The chat was 30 minutes in length and Tori responded to only 15 questions in all. There were a few interesting quotes (one of which involved mosquitos), and Tori did reveal that she is entering the studio in February 1999 to begin work on what she called a "double box set" of live material and b-sides, including hard to find and new material. Tori said, "It includes B sides and some others you can't get anymore. There'll be songs that I kept, that I wasn't ready to finish. It's got a lot of different things on it, it'll be out Christmas 99. I haven't decided what to call it yet."
Read a transcript of the chat.

WRRV Radio Interview
December 16, 1998 - Toriphile Marc (the remix kid) sent me a transcript of an interview that he heard on the show The Edge on the radio station 92.7 , 96.9 WRRV based in NYC on Sunday, December 13, 1998. The interview was over the phone and they played various Tori songs as well. Read the transcript in my TV/Radio Archives. Tori mentioned working on the live/b-sides album and talks about her recently completed tour.

A New Tori Video/DVD For 1999? B-Sides Being Remastered
December 14, 1998 - I am getting alot of questions about the supposed video or DVD that Tori may be releasing in 1999. At the present time, we know very little about this project. It is true that some people were filming the final 2 shows in Michigan during the Plugged '98 tour. In Grand Rapids, Tori told the audience they were making "a home movie." The filming did not seem extensive enough to make a complete live performance video, but would be perfect if they were gathering footage for some kind of documentary or enhanced CD. Several people in the audience at the Michigan shows asked the main camera man what was going on and he said something about a DVD video release for 1999, perhaps in October. He also had some Toriphiles sign release forms, because in addition to the concerts, he filmed these Toriphiles in the audience and at the post-show meet and greets. Since Tori is putting out a live album next year, it certainly makes sense that she would want real concert footage to use for whatever reason.
We also heard that Tori is remastering or remixing some of the songs that will appear on the b-sides part of the album. Exactly what this means we will have to wait and see, but it seems Tori was not completely satisfied with how some of the b-sides were originally recorded and is redoing some of them. I don't think this involves new vocals, but you never know. [Of course we now know that the B-Sides project was scrapped. I do wonder though if we will ever hear the remastered b-sides?]

Allstar Daily News Article
November 19, 1998 - The Allstar Daily News

web site posted an article about the live/b-sides album on November 18, 1998. Tori states that we should see a couple of new things on this compilation, "There's a B-side record, and there will be some new stuff on that, and on the live record there might be some new stuff we've been working out in sound checks."

Wall Of Sound Article
November 19, 1998 - The Wall Of Sound web site

posted an article on November 17, 1998 called "Tori Amos Considers B-Sides Album" In that article Tori basically says she wants to release this project to give herself a little time to step back and figure out what her next musical step should be. (Thanks to Jeff Przylucki, Joey and Marinus de Goederen for telling me about this.)

Photos For New Album Shot In Pittsburgh
November 7, 1998 - Tori performed in Pittsburgh, PA on November 6, 1998 during the Plugged '98 tour. If you read some of the reviews for this show, you will see that Tori's record company was taking photos there for her new album to be released the following year!

San Jose Mercury News Article
September 16, 1998 - A very interesting article on Tori appeared in the September 9, 1998 edition of the San Jose Mercury News. In it, Tori talks about her belief that she is at her peak right now, and says that the next album could be a double CD, with one disc of concert highlights and a second of B-side favorites. "I want to make a live album before I need an oxygen machine next to the piano."

CNN Web Site Article
August 28, 1998 - There is an article at the CNN website

called "Tori Amos: Clearly In The Right Band" that was posted on August 27, 1998. It includes some recent photos and quotes from Tori. One thing she said that was really interesting was the fact that she is "drained" creativity and "I think I'm going to do a live record next. After 'From the Choir Girl Hotel' I'm not really in a place to pillage myself again. I've done that now and you just can't keep doing that without the circumstances to do that. I'm sort of a dry well right now."