rea nolan informs me that Tori is in the November 2000 issue of Vanity Fair magazine in the U.S. It includes the first public photo of Tori when she was pregnant. William Fuentes kindly scanned the photo for me, and you can see it below, along with the scan of the paragraph printed with the photo. Elysia also told me that there was a little story abut the guy who photographed Tori, Sam Jones. I have included it below because it mentions how much of an honor it was for him to meet her.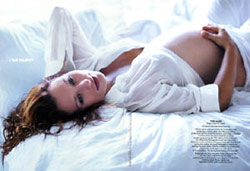 Click to see much larger! The photo was taken on July 7, 2000 and Tori's baby was born September 5, 2000.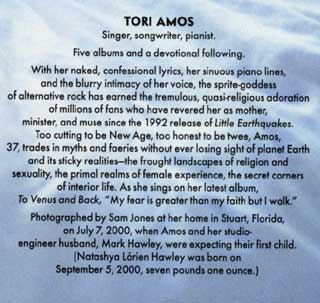 Here is the text that was printed near the photo.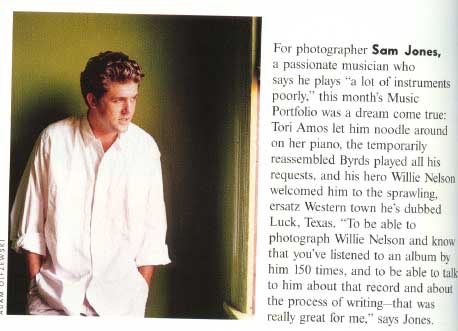 Click here for more details about the birth of Tori's first baby, Natashya Lórien Hawley.
Here is a report on this Vanity Fair issue from rea nolan:
there is a GORGEOUS photo of a full-bellied tori in the new vanity fair "music issue" with bj–rk and alot of other musicians on the cover. it's the first picture of her i've seen of her in full pregnancy.... lying on a white bed in a cute white crop-top. GORGEOUS i say, GORGEOUS.

the picture appears in the november 2000 issue of vanity fair, the cover is a three page pull-out with bjork, u2, fiona apple, faith hill, patti smith and others featured. tori is featrued in the section called "the musicians" about 2/3 into the magazine. her picture is over two pages with a blurb at the bottom. she is referred to as "the tempest", sorry i don't remember the page number. (pj harvey is featured too, called "the power-house" as well as sinead o'connor as "the priestess").