This press release came to me directly from Tori's management!
TORI AMOS ANNOUNCES LONG-AWAITED NEW RELEASE: A BABY GIRL!
Atlantic recording artist Tori Amos and her husband, recording engineer Mark Hawley, are pleased to announce the birth of their daughter. Born on September 5th [2000], the baby weighed 7-pounds, 1-ounce and measured 21 inches at birth. This is the first child for both Amos and Hawley, and all three are doing very well. Upon feeding her daughter for the first time, Tori noted that "an ounce of breast milk is even more potent than the finest tequila."
Tori is doing really well, her and Mark are really excited about their latest production!

I have been informed by Tori's management that the name of her daughter is Natashya Lórien. Congratulations again to Tori! (Special thanks to Maria who also told me this name via a press release she got from Atlantic Records.) Entertainment Weekly said the child was named Natashya Lórien Hawley.

I assure you this is 100% true, and I ended my little vacation from the Dent on September 6 to report on it. The Dent is so very happy for Tori and Mark. This is wonderful news and means that those pregnancy rumors floating around were true! Several people have asked me what the baby's last name will be, how to pronounce her first and middle names, and the location of her birth. Entertainment Weekly magazine and Vanity Fair said her last name was Hawley, and a report below about Neil Gaiman writing a poem for the child includes how to pronounce her name. The location of the birth might not be revealed for privacy reasons, which is very understandable.

Neil talks about Tori's baby at The Well
Added February 14, 2001: If you check out one of the Neil Gaiman topics at The Well that is posted on the web at inkwell.vue, you will see several comments from Neil where he mentions Tori and her daughter (as well as Tori next album!) I am not going to post his comments here, but you can go to inkwell.vue and read them for yourself. Look for Neil's posts on Monday, December 18, 2000 (#1470), Tuesday, December 19, 2000 (#1480) and Friday December 22, 2000 (#1492).

ArtistDirect tells why Tori and Mark gave their daughter the middle name of "Lorien"
On February 2, 2001, ArtistDirect sent out an email newsletter to Toriphiles telling them about the latest merchandise available for sale at toriamosdirect.com. It also included information about Tori's daughter. Here is what they said:
When Tori was pregnant, she would read to the baby. Among her choices was Tolkien's 'Lord of the Rings.' The book made a strong impression on Tori (and the baby, as you'll see!). From 'Lord of the Rings,' Book 2, Chapter 6:

"'There lie the woods of Lothlorien!,' said Legolas. 'That is the fairest of all the dwellings of my people. There are no trees like the trees of that land. For in the autumn their leaves fall not, but turn to gold. Not till the spring comes and the new green opens do they fall, and then the boughs are laden with yellow flowers; and the floor of the wood is golden, and golden is the roof, and its pillars are of silver, for the bark of the trees is smooth and grey."

In choosing the middle name for the baby, Tori and her husband Mark decided on "Lorien," short for "Lothlorien" which as you'll see from the above quote, is "the fairest" of woods and always alive with color.

Vanity Fair
The November 2000 issue of Vanity Fair magazine in the U.S. includes a beautiful photo for Tori showing her 7 months pregnant. You can see the photo below. Check out the Dent's Article archive for more details about this issue of Vanity Fair.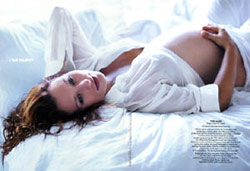 Click to see much larger! The photo was taken on July 7, 2000 and Tori's baby was born September 5, 2000.

Neil Gaiman and the baby
During October 2000, Neil Gaiman was doing his last Guardian Angel Tour, where he shared poems and stories with audiences and raised money for the Comic Book Legal Defense Fund. On October 16, 2000, Neil did a reading in Chicago, IL at The Vic Theatre. While there, he talked a little about Tori's new baby Natashya and read a poem that he wrote for her! Find out details about this magical evening on this special page dedicated to the Chicago Angel Show Reading.
The people listening to Neil also found out exactly how to pronounce Natashya's name! Neil pronounced the baby's name as Nah-tah-sha (same as other spellings such as Natasia) Low-reh-in (accent on first syllable).

Author Neil Gaiman, who has been a friend of Tori's for a long time, has posted about Tori's baby at The Dreaming web site. He even mentions The Dent and calls himself "a proud fairygodfather." Thanks to William for telling me about this!

Reports about the baby (online and in print)
yCraze reports on Tori's baby
Nothing really new there, but they use the headline "To the Uterus and Back" which is kind of humorous! Thanks to Susan (aka Delyrium) for telling me about it.

Here are some other places you can read about Tori's baby on the internet. They all mostly say the same thing as the official press release above, although some add interesting comments or background info, and a few have some humorous mistakes! The newest links are at the bottom of the list. Thanks to ALL of you for sharing the latest links with me.
Yahoo! web site press release (Entertainment Wire)
tori.com
New York Post web site
CDNOW's Allstar Daily Music News
Launch.com
radioundercover.com (link expired)
Spin web site
Wall Of Sound web site
Rolling Stone web site
Billboard Online
ABCNEWS (Mr. Showbiz)
MSNBC web site (link expired)
E! Online News
MTV web site
VH1.com
Q Magazine web site
Philadelphia Daily News
Kansas City Star
Bigmouth (U.K. web site) (link expired)
Montreal Gazette
Salt Lake Tribune (link expired)
Radio station WVOD in Manteo, NC
Radio Station KIIS in LA
Radio Station KROQ in LA (Tori no longer there.)
Salon.com
The Dreaming web site
toriamos.com
AmuZnet
yCraze
Breastfeed.com


Keyboard Magazine
According to rauck, the December 2000 issue of Keyboard Magazine includes a small photo of Tori and a blurb about her being a new mom.

Alternative Press
According to Brandon Sink, the December 2000 issue (#149) of Alternative Press magazine mentions Tori's famous baby quote. It reports:
"An ounce of breast milk is even more potent than the finest tequila." -TORI AMOS explains the procedure for preparing her new baby daughter to face life on the road.

Entertainment Weekly
According to Micah Westfall, the September 22, 2000 issue (#560) of Entertainment Weekly magazine mentions Tori's baby. It reports:
On Sept. 5 [2000], flame-haired chanteuse Tori Amos, 37, and hubby, recording engineer Mark Hawley, 36, welcomed their first child, 7-pund 1-ounce Natashya Lorien Hawley.

People Magazine
Raspberry Swirl Girl tells me that on page 111 of the September 25, 2000 issue of People Magazine, there is a small blurb under the Births section that reads:
"Classical music prodigy turned pop princess, Tori Amos, 37, and her husband, Mark Hawley, 36, a sound engineer, welcomed their first child Natashya Lorien (7 lb. 1 oz) on September 5th."

US Weekly Magazine
Traitorsofkind tells me that on page 46 of the September 25, 2000 (#201) issue of US Weekly Magazine, there is a mention of Tori's baby:
"The Record"

Born
Rock singer Tori Amos, 37, and her husband, recording engineer Mark Hawley, welcomed a seven pound, one-once girl on September 5. At press time, the baby had not yet been named.

The Seattle Times
I also have a report from Neile Graham who spotted a small paragraph about Tori's baby in the September 13, 2000 edition of the Seattle Times in the "Seen Heard Said" Section: on page E8. The blurb has a fairly recent closeup photo of Tori (about .75" wide x 1" high). It says Tori was married in a castle when it was actually a church! It reads:
Tori Amos is a mom.
She and recording engineer/hubby Mark Hawley have a baby girl, born last week. Tori and Mark were married in 1998 at a medieval castle in Britain. That doesn't really have anything to do with their having a baby. We just thought it was cool.

--Janine Dallas Steffan

Star Magazine
Rose tells me that Tori's baby was mention in the September 26, 2000 edition of Star magazine. (Yes, the tabloid paper in the U.S.) It reads:
Alternative songbird Tori Amos' newest production is a baby daughter! Amos gave birth to her 7-pound, 1-ounce bundle of joy Sept. 5. She and her husband Mark Hawley are naming their first child Natashya Lorien.

Heat Magazine (U.K.)
Danny.Weddup reported to the Precious Things mailing list that the September 23-29, 2000 issue of Heat magazine (U.K. celebrity news/gossip mag) reported on Tori's quote about feeding her baby in the "Say What?" Section. Tori's quote was, "an ounce of breast milk is even more potent than the finest tequila." The magazine then said:
New mum Tori Amos plans to give her baby the good stuff.

Daily Mail newspaper (U.K.)
James tells me that the Daily Mail newspaper in the U.K. included a small article about Tori's baby in their September 28, 2000 edition in the part of the paper called the "Diary." It was written by Nigel Dempster and said:
ECCENTRIC American singer Tori Amos and her recording engineer husband Mark Hawley, who wed in church in West Wycombe, Bucks, two years ago, are celebrating their latest production - a baby daughter.

Baltimore-born Tori, 37, best known for her chart-topping Cornflake Girl and Professional Widow, is delighted at the arrival of 7 lb 1 oz Natashya Lorien.

Says a friend: 'Tori suffered a miscarriage three years ago - and wrote a bitter album based on the experience. Tori and Mark had been trying for another baby ever since, so this is wonderful news.' Flame-haired Tori, a child music prodigy, moved to Britain nine years ago and lives near Bude in Cornwall.

She is the daughter of a retired Methodist minister and has famously raged against organised religion in her various albums.

Other News Sources
The news about Tori's baby was heard on VH1 in the U.S. during some of their news segments, and on many different radio stations across the U.S and Europe.