The following was sent to me by JP. On October 9, 2000, the Dutch newspaper "Trouw" included a full page article about women in rock that included Tori. The article is entiteld: "Vrouwenrock - woede, seks en dood", which means in English: "Women's rock - rage, sex and death". A philosopher and literature researcher named Stine Jensen (28 y/o) choose Tori Amos, PJ Harvey and Ani DiFranco for her study about "women's lyrics in pop music". You can see the photo of Tori published with the article and the article itself below. Click on the article scan to read it. It is in Dutch however! Thanks to JP for the scans.
purple has read the article and has more details about it below:
I just read the dutch article from the newspaper 'Trouw' on your website. You asked for a translation. The thing is that it doesn't really mention Tori Amos. It's a article about the young philosopher Stine Jensen who has done research about Woman in music.

She wrote a whole book about PJ Harvey, Ani DiFranco and Tori Amos.

In the book they say, she will analyze their music, lyrics and videos. (the book, in Dutch, will be out in January) The article is an interview with the writer. she talks about her motivations for writing the book. she says that the woman singers she choose seem very good rolmodels to her. "They are 'real' woman. They have an important role as rolmodel for young women who are looking for their own identity"

And she talks about the whole girlpower thing: "they seem to have everything under control, know exactly what they want" (..) "None of my woman friends can identify with that stereotype of a girl.

The little piece that mentions Tori: "if women have problems with their loyalties towards other woman, they can listen to Tori Amos, she sings with a sweet voice: 'so i want to kill this waitress, i can't believe this violence in mind'"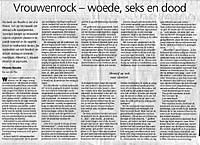 Click to see the article and read it. (It is in Dutch!)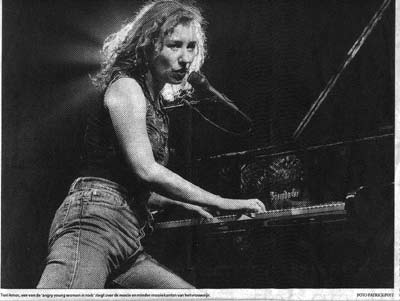 Here is the Tori photo published with this article.