Tori Blurb In March 1997 Spin

Updated February 7, 1997

Nithya Rajendran emailed me with these details from Spin Magazine and Chantel sent me the photo from Spin. (Thank you!) I must also thank Neshah for even more detials!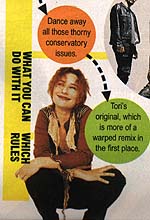 I just got my new SPIN with U2 on the cover (March 1997) and on page 30 there's a little thing with Tori. It's a chart of all these regular songs from various artists, including Tori, that have been remixed, a la techno and dance.
Headline : Thump 'n' Grind.
Sub Headline: Alt rockers remix their way into the rhythm nation.
"Pop music now suffers from a serious case of dance fever. As a result, even chest-thumping guitar men and mystical piano girls have turned into remix disciples, overnighting their tracks to sonic specialists with the know how and technology to remold vocals, fool with rythms, and get nearly any song into the groove. But do these things rock? Below, a guide to the latest alt-rock remixes."
[Four other artistes are mentioned (White Zombie, Smashing Pumpkins, Garbage, Metallica) but I'll only type out the one that concerns this particular list.]
Tori Amos - Professional Widow
Sounds Like - Futuristic chamber piece played by a demented harpsichordist locked in an aviary.
Remix - Armand's Star Trunk Funkin' Mix.
Mix Master - Armand Van Helden, East Coast remix honcho.
Now Sounds Like - Sexed-up groove (interrupted by a snatch of Tori Unplugged) fashioned out of a hot-doggin' bass line flashing through outer space.
What You Can Do With It - Dance away all those thorny conservatory issues.
Which Rules - Tori's original, which is more of a warped remix in the first place.


Please give me feedback, comments, or suggestions about my site. Email me (Michael Whitehead) at mikewhy@iglou.com