Tori Voted One Of The 40 Most Vital Artists In Music Today By Spin

Updated September 21, 1998

Tori was voted one of the 40 most vital artists in music today by Spin Magazine in the April 1997 12th Anniversary issue. Photos were scanned by me (Mikewhy) and provided to me by my wonderful friend Stacey Russell! The photo immediately below was also part of Spin's 1999 Calendar which came out later.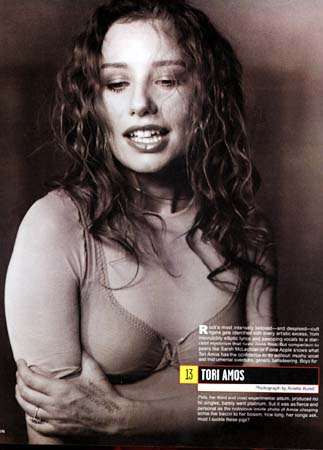 Here is a report from Toriphile Tina:
"Tori is in the Anniversary issue of Spin which I just got in the mail about 3 mins ago. She is number 13 in the Spin top 40. The's a really GREAT picture that takes the entire page on page 92. It says:

Rock's most intensely beloved--and despised--cult figure gets indentified with every artistic excess, from inscrutably elliptic lyrics and swooping vocals to a star-child mysticism that rivals Anne Rice. But comparison to peers like Sarah McLachan or Fiona Apple shows what Tori Amos has the confidence to do without: mushy vocals and instrumental overdubs, generic balladeering. Boys for Pele, her 3rd and most experimental album, produced no hit singles, barely went platinum. But it was as fierce and personal as the notorious inside photo of Amos clasping some live bacon to her boson: how long, her songs ask, must I suckle these pigs?

Also, on page 62 there is another picture that is small, but beautiful. . .(both pics are new). . .she's smiling beautifully and below the picture reads:

Tool frontman Maynard James Keenan joined cult diva Tori Amos at MSG in Jan. for a RAINN benefit. Amos, who wrote the song "Me and a Gun" about her own rape, says RAINN was inspired by the many female fans who have stopped her after shows to relay similar experiences. 'We were tired of feeling helpless," Amos says. The concert raised more than $250,000.

There is a beautiful pic of Trent Reznor on the cover. . .pics of PJ Harvey, NIN, Smashing Pumpkins, Ani DiFranco. . .and other wonderful artists who deserve recognition, too. Look for it on the stands soon! *SMILE*

The pics of TORI are SOOOOOOO amazing. . ."
Here is another report from Marci Stevens:
"Tori is in the April issue of SPIN Magazine. It is the new one with Trent Reznor on the cover. Anyway, the SPIN writers decided their 40 Most Influential People in Music Today. I do not have this issue yet but was able to find out that Tori is number 13. There is a rather nice new looking picture of her and it is a full page story. "

The top 20:
Nine Inch Nails

The Smashing Pumpkins

Wu-Tang Clan

Beck

U2

Oasis

Pearl Jam

Hole

The Fugees

PJ Harvey

Alanis Morissette

Beastie Boys

Tori Amos

Rage Against the Machine

Babyface
R.E.M
Garbage
The Chemical Brothers
Bjork
Tricky
Here is yet more from Kim Johnson:
"In the new Apr. '97 issue of Spin magazine they have listed the top 40 most vital artists in music today. Our precious Tori is number 13 on the list. (13 must be her lucky number as far a Spin is concerned) There is a full page picture of Tori wearing a bra on the outside of her shirt and a brief synopsis of why she is a vital artist in music today. There is also another mention of her in the Soundbites section about the RAINN benefit and it mentions the duet with Maynard."
Melody and Julia made me aware of more about Tori in this issue of Spin:
"There is also a small paragraph on page 22 in the Talespinners section. It says: 'Tori Amos is sick of always being portrayed as some kind of Botticelli Venus or angel', says Anette Aurell, who photographed the red-haired diva for the 'SPIN Top 40' package. 'In reality, she has a raunchy sense of humor. She's a woman, not some dumb young girl.'"




Please give me feedback, comments, or suggestions about my site. Email me (Michael Whitehead) at mikewhy@iglou.com