Spin Magazine
May 1998

Added April 8, 1998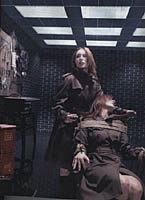 Tori In The May 1998 Issue Of Spin
Lizzy'In'Da'Bronx was the first to tell me that Tori appears in the May 1998 issue of Spin Magazine. This issue contains the "SPIN Top 40," a photographic portfolio of the most vital artists in music today. Tori is 17th on the list. There is a very intriguing photo of one Tori trying to free another Tori who is tied to a chair on page 96. The photo can be seen on the right and comes from Toriphile Nicole. Click on it to see a new larger version beatifully scanned by Richard Handal.

Toriphile John and Melissa sent me a new story about this issue that they found on AOL which reveals the top 20 from the issue:
Beck
Radiohead
Missy "Misdemeanor" Elliott
Nine Inch Nails
Puff Daddy
Hole
Prodigy
The Fugees
Ani DiFranco
Marilyn Manson
Pearl Jam
Cornershop
Beastie Boys
PJ Harvey
The Chemical Brothers
Wu-Tang Clan
Tori Amos
Smashing Pumpkins
Tricky
Fiona Apple
There is also an important article that accompanies the photo. You can read a summary of the article now and later I will make the whole article available. Tori gives more details about her miscarriage and her upcoming new album.
Erin Dolll sent me this summary of the article:
I'm just going to highlight the article for you.

[talk about the long tour] Tori discovered she was going to have a baby. She was thrilled. Her plan was not to worry about recording another album for awhile, but to finish up the last shows, return to England, relax, and be a mom. "i played the KROQ acoustic christmas show three months pregnant and i was on cloud nine," she says. But back home, two days before Christmas, the cramping and bleeding started and Amos knew immediatley what was wrong. [aw.] "i was so freaked out that i didn't let my boyfriend drive me to the hospital," she says. "I drove, just because it was the only thing..." Long, long, really long pause. "You're just willing your body to keep this life, but its like, Tori, its over. You sit there and go, maybe it'll be okay. And you're one of those ones where it just wasn't okay."

In those horrible weeks after the miscarrige, the songs just started coming. "And they came from all corners," she says. "i'm calling this record From the Choir Girl Hotel becuase I felt like i didnt know if i was sending dispatches from it or if im a part of their troupe and they let me sing alto with them sometimes. But [the choir girls] were incredibly comforting to me." What they told her, she says, was "look, you can't be a mother right now, but you can be a woman. Not a little girl anymore, or an adolescent, or a girl on the verge of womanhood."

skin skip skip towards the end

For one thing, she wanted the album to shift the emphasis from the girl writhing away on the piano. "ive done that" she says, and then laughs. "I mean, i have wrung that one dry!"

skip a lil more..

"I wanted to have a marrige with the instruments in a way that i never really have," she says. She wasnt entirely sure she was up to the challenge. "I know i can sit down at a piano and do a bit of up and down and boogie to the left and boogie to the right," she remembers thinking, "but could i hold my own with the real players?"

There's also some interesting talk on the techniques of recording with matt chamberlian [the drummer] and looking at each other through monitors while they did it..but those, to me, are the important parts on the article.


Please give me feedback, comments, or suggestions about my site. Email me (Michael Whitehead) at mikewhy@iglou.com