NME Magazine (U.K.) - May 1998

Updated July 18, 2001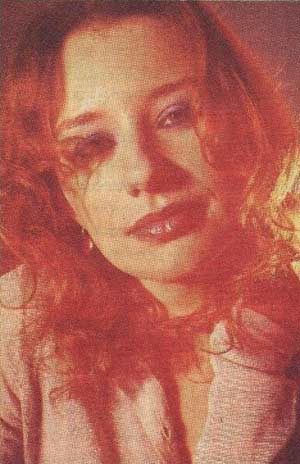 Several items on Tori appeared in NME magazine in the U.K. during May 1998. One was an interesting interview with Tori that included the photo you see to the right. Danny Weddup sent me the photo, and the interview that you can read below.

On The Couch : Tori Amos
What song describes you best?
"Family Affair by Sly and The Family Stone. It's the way my friends and I are when we're together."
What is heaven?
"Flat water in the early morning, driving my husband on my little boat."
What is hell?
"Rough water when I can't go out on my little boat. Driving my husband up the wall instead."
What is your earliest memory?
"My grandfather had a big old black 1952 Buick. I'd stand up in the back seatwearing my little hat and we'd go for a ride every day."
What's your greatest fear?
"Bad cappuccino."
Who is your all-time hero?
"Margaret Little. She was my great-great grandmother. She survived the Trail of Tears and the Civil War, and married a plantation owner where she was a surrogate slave."
What's the most trouble you've been in?
"I almost drowned during my synchronized swimming lesson this morning. Oh, and in 1991 we were pulled over by the German police on suspicion of drug smuggling. I didn't have any on me, but my friend did. They strip-searched us and everything. but I told them I knew Phil Collins, even though I didn't, and they let us off."
Who was the first love of your life?
"Jesus. But I got over when I first sawa picture of Robert Plant."
What's your greatest talent?
"Pretending to be kooky for the British."
Upon whom would you most like to exact revenge, how and why?
"On someone who has treated my sister really horribly. And I'm doing it now, with no fingerprints."
What's your most treasured possession?
"This is boring, but it's one of my pianos."
What have you most regretted doing while drunk?
"Talking to my manager and suggesting 200 shows."
What can you cook?
"Everything."
What's the best piece of advice you've received?
"It was from my tour manager, who told me never to drink cheap white wine."
If you were invisible for a day, what would you do?
"I would hang out in the Oval Office. I want to know if Clinton's actually Beavis."
What are your final three wishes?
"That my friends keep safe. That everybody in the world could have a bottle of Krug champagne. And that the whole planet could have time out for a whole week, when nobody has to work or worry about food or anything."
(Interview by April Long.)


There is also a Choirgirl album review in NME Magazine from 3rd May 1998. Thanks to Emma Taylor & Andy Tebbutt, David Brook, Andrew Rhodes, Stephen Pearce, StealthDragon and Julie for sending this to me.

TORI AMOS
Songs From The Choirgirl Hotel
(East West)

ANYONE WHO STILL TREASURES THE IDEA OF feminine mystique probably secretly regrets that the days of the ducking stool are long past. The whole concept is little more than a woolly softening of the mentality that, terrified of difference, went in for a bit of witch-burning on the village green. Nowadays, it's more socially acceptable to explain away any apparent oddity as being sweetly deranged, and, providing the person in question fits the bill, rather alluring. No wonder Tori Amos has enjoyed such great success - her eccentric mystique, together with that other supposedly female perennial, suffering, have made her a trauma poster girl, the screwed-up survivor with the sexy scars.
Sure, only a fiendishly callous misanthrope would dismiss the very real, very painful events endured by Amos - not least the recent miscarriage that inspired this record - but her luxuriant soul-baring and indulgent assumptions soon grate. "You're only popular with anorexia", she sighs on 'Jackie's Strength', instantly forcing a whole world of victimhood upon the listener. Yet for all the passion, all the intensity, there's something strangely inert about 'Songs From The Choirgirl Hotel', as if all the emotion were recorded in the dead air of a lightbulb, the audience looking in through the glass, asked to admire and sympathise entirely on her terms.
This is the infuriating indulgence that the confessional needs to avoid if it's not to make you take to the streets with a machete; the unbridgeable gap between Kurt Cobain and Eddie Vedder, Kristin Hersh and Alanis Morissette, between expecting applause for pulling out your heart and bleeding, and having the discipline to use a scalpel and a paintbrush.
All of which would make 'Songs From The Choirgirl Hotel' utterly intolerable, were it not for the fact that it's often musically intriguing, a conscious effort by Amos to move away from her pianocentric horizons. The opening 'Spark' rains down in a cloud of Cocteaus-esque gloom, while the crazed 'Raspberry Swirl' is genuinely sexy, Tori convulsively growling "let's go" over a rogue-robotic pulse. Even 'Jackie's Strength', despite bringing those Giants Of Rock Mark Cohn and 10,000 Maniacs to mind, manages to be prettily affecting. Yet Amos' creative use of unpredictable rhythms comes across not so much as a new language, but as the same old language spoken by someone with a lousy grasp of syntax. At its best - on 'Iieee' and 'Cruel' - she shows the ill logic of an organic Tricky, cracking open a chilled, Martina-cool groove. At its worst, it's the self as show-and-tell, the messy splatter of 'She's Your Cocaine' or 'Liquid Diamonds' as irritating as an acid bath on sunburn.
It would be easy to believe Tori, hanging from a heartstring, is just giving, giving, giving. In reality, all she does is demand. 6/10
Victoria Segal


Please give me feedback, comments, or suggestions about my site. Email me (Michael Whitehead) at mikewhy@iglou.com