A huge thank you to Janneke en Justin Beers for details of Tori's part in this program and the screen shots.
More Details
On Sunday, March 30, 2003 there was a programme on Dutch TV channel Nederland 3 about Bram van Splunteren,†who has made very intimate documentaries about several musicians including Tori. The name of the programme was Vrije Geluiden. They showed scenes from a 1992 documentary he did of Tori where she went to a piano shop and played various pianos while talking. Look below for screen shots and more details.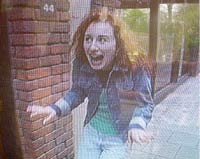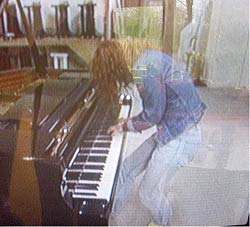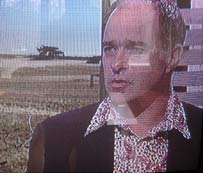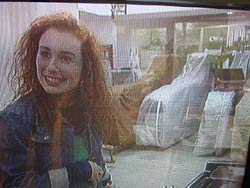 The guy shown is the Dutch documentary-maker Bram van Splunteren.
Here are details about the show from
Janneke en Justin Beers
:
Bram van Splunteren is a Dutch (music)documentary-maker who is asked to make a selection of his documentaries which have made a special impression on him. So we saw parts of documentaries from the late eighties and the early nineties of The Red Hot Chili Peppers, Lenny Kravitz, LL Cool J, Beck and ofcourse Tori!! Bram explains that he was impressed by Tori's music and personality. He told it was her idea to go to a Piano shop in London, like it's a Candyshop, and play some of them there during the interview. Bram wanted her to be filmed behind the piano because artists come alive near their instruments. It was a very spontanious act which was totally controlled by Tori, the camera just follows her. We could see Tori checking "newborn" piano's and starts playing on a newborn Grand Piano, she improvises a bit and then tells that they do not really click very well. She explains that there must be somekind of a relationship between her and the piano. She continues her route through the store and whispers: "let's go upstairs to the other piano's and play those" (sounded almost like a kid doing something naughty, very funny). Seated behind another piano she tells about why she didn't go classical (because everyone does it and if you do it, be the best). Also she does an improv with "holy lyrics" as an answer to the question to what music she was brought up with, this part was really funny.

The documentary was shot shortly after Little Earthquakes came out, I have the complete documentary on video somewhere and it's true, we see a real impressive and spontanious Tori. Duration of the Tori-item was about 7 minutes.