On February 22, 2005, Tori appeared on Live With Regis and Kelly on ABC TV in th U.S. She performed Sleeps With Butterflies solo at the piano. I did not get to see this yet, but you can find details about the show, photos from the taping and some screen shots from the broadcast at yessaid.com. You can also find photos at mollyknight.com. Finally, I have an account by someone who was there. Click to read that.
More Details
First of all, here is a photo from Tori's performance on Live With Regis and Kelly. This is one of many photos seen much larger at mollyknight.com. Thanks to Nicole for taking the photo.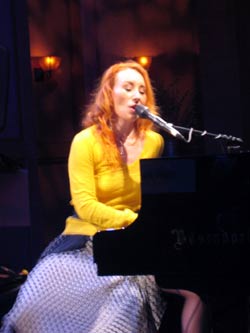 Here is account of attending the taping of the show from
Angela/ Shiseido
:
The pics I took can be found here, thanks to Jason:
http://www.yessaid.com/2002-02-22regis.html

There weren't that many Tori fans there that had tickets so our little group got to sit in the front row right in front of the Bosey about 6 feet from Tori! We were so excited when the techies pulled the piano out right in front of us and started cleaning it off! Mark tested out the Bosey for his wife, he sat down on it just like Tori does and adjusted her microphone. Aww. When Tori came out she saw us sitting there and did her wave and said hi! We said "HAPPY ANNIVERSARY TORI... AND MARK!" and she thanked us and gestured at her husband with a loving appreciation. During her performance, cameras were blocking her view of the rest of the audience so she pretty much played the song for us. It was so special. After the performance she looked very happy that we enjoyed the song, waved again, and said "Bye Guys" to us.

Regis came over to us after the performance and said something like "We've got a little Tori group over here..." haha.

Tori played SWB solo and I think it sounded just fine. I was very happy because she sang the "This Girl" line for the first time solo too and I LOVE that part of the song!

As you can see Tori was clad in a yellow and black "Bee" outfit! Her lipgloss was shining and her skirt was a mesh material that billowed out while she played. So pretty. Her hair is looking just gorgeous too, all glamourous curly and bright orange. Mark's got a new look now too! Shaggy hair with blonde highlights! After seeing Tori in person, I must say that this Botox crap has GOT to stop! She looks HOT, who cares whether or not she has had Botox. lol. She is a celebrity after all.

Seeing Tori this close was a first for me and it was blissful. Making eye contact with her was kind of weird... she didn't recognize me because I've never met her before, and I could tell she was scanning over the group looking for a familiar face. It's so great that she makes these connections with her fans. She looked genuinely happy that we were there to see her and that we enjoyed her song.

What a fantastic experience.