Tori appeared on The Late Show With David Letterman on Thursday, February 17, 2005 on CBS. She performed Sleeps With Butterflies with her band, Matt Chamberlain and Jon Evans. I have several screen shots from the show that were emailed to me, as well as 3 photos taken at a meet and greet after the taping of the show, and an account by someone at the taping. For people like me who missed it, you can go to hereinmyhead.com and download an mp3 of the performance!
More Details
This first batch of screen shots comes from Linda. Click any thumbnail to see larger.
Thanks to Phyllis L. Spiece for sending me the screen shot from the show you see below: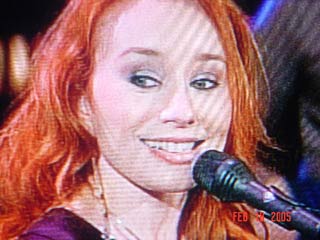 I would also like to thank Johnny Endicott who also sent me screen shots.
The 3 photos below from Dana show Tori at a meet and greet she did after the taping of this show in New York, NY: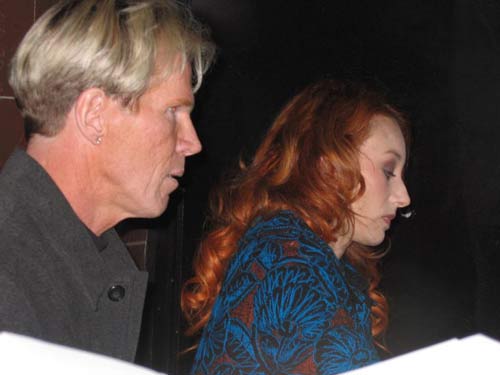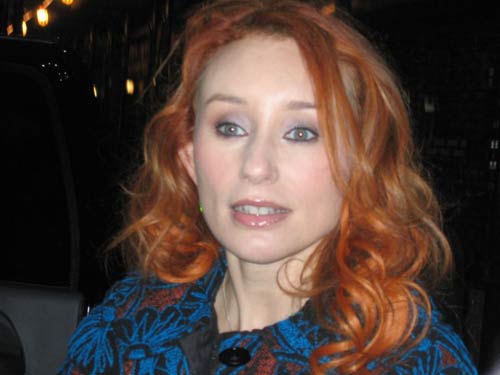 You can also find similar meet and greet photos at wireimage.com, although you will have to be a member of their service to see their photos full sized.
Meredith has this observation after watching the show:
I was watching my recording of Tori on the Late Show and I noticed that at the end of the song where she says "So go on and fly" she also whispered "Mike" right after. It's right before the very end of the song. I didn't notice it when I was watching it live, but when I watched it a second time I heard her say it. I thought it was a very touching gesture to her brother.
Here is an account of the taping of the show:
From franco franus:

after a pretty subdued show with charlie sheen and lots of stuff being thrown off of the roof of the Ed Sullivan Theater, it was time for the performance. Tori was with Matt and Jon and they played a very stripped down 'sleeps with butterflies'. it's hard to say what i really will think of this arrangement as the piano seemed incredibly low (in the mix) in the studio. it was almost as if it was vocals and drums only, but i'm hoping that with the broadcast tonight will come a more balanced mix. it seems like tori has to really hold on to keep metered with the chorus and lyrics, and by the last round she lets loose a bit more and breathes. it was breathtaking and surely you will hear me yell pretty damn loudly after dave's introduction.

after the show i waited along with about 50 others and i had my Piece by Piece book signed. Tori very graciously took her time and signed a lot of things for the crowd.

i got a copy of the script from the show and here's what is printed on the Music Guest page.

Late Show
Guest Music Production Details

Act: Tori Amos
Performance Date: Thursday 2/17
Air Date: same
Song: "Sleeps with Butterflies"
Contact: Andy Slolmen
Rental gear:
DW drum kit containing: 22" kick, 12 & 16" toms, 4 cymbal stands
SWR bass amp & speaker
Band:
Tori Amos-vocals, piano
Jon Evans-bass
Matt Chamberlain-drums
Crew:
Andy Solomen
Mark Hawley
John Witherspoon
Chelsea Laird
Joel Hopkins
Andy LaLa