I checked out the Quicktime section of Apple's web site and found the cute banner you see to the left and a link to a special page on toriamos.com that will serve as the official contest page for Tori's taxivision. The page has all the details, and also has a nice little Quicktime clip of Tori herself explaining the contest. Check it out.
More Details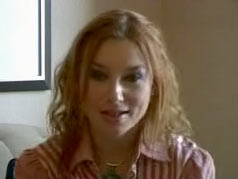 The photo you see to the right is a screen shot of the Quicktime clip of Tori explaining the Taxivision contest. To watch this video clip and find out all about the contest from Tori herself, check out the Taxivision contest page at ToriAmos.com.

Read the press release about this contest.

Remember that the contest begins April 4, 2003. All Entry Forms and Videos must be received by 11:59 PM EST, May 16, 2003.† There is only one Entry per person. After Tori selects her favorites, fans will be able to vote on these finalists from May 23 - May 30, 2003. The winner will be announced on June 2, 2003.