Before the show tonight, A Native American tribe presented Tori with some kind of an award in an amazing ceremony which featured two songs sung to her, one with drums and the other with a flute. They even placed Tori in a purple robe and presented the flute to her at the end. Back in 1979, Tori played at the University of North Dakota Indian Association's Wacipi Festival, and this ceremony recognized that. As for the show, Tori debuted a really intense version of Profession Widow. If you were at the Grand Forks, ND show, please email me with your reviews and/or set list or post your review or comments in the Dent's Concert Reviews forum. (You can post under any name without registering, so it is quick!)
More Details
Tori performed in Grand Forks, ND on Tuesday, April 1, 2003 at the Chester Fritz Auditorium. The opening act was Rhett Miller.


Set List
Many thanks to
Matt Page
and
John
who phoned me with the set list after the show.
Wampum Prayer
a sorta fairytale
Precious Things
Sweet Sangria
Cornflake Girl
Lust
God
Crucify
Wednesday
Band Leaves
Winter
Icicle
Cooling
Band returns
Strange
Virginia
TomBigBee
Father Lucifer
Professional Widow
I Can't See New York
Iieee
1st Encore
Taxi Ride
Past The Mission
2nd Encore
Spring Haze
Spark
Reviews
The latest reviews are at the bottom of this page. For more reviews, please check out the
Dent's Tour Reviews Forum
. Please post your own review if you were at this show!
Photo of the Native American ceremony before the show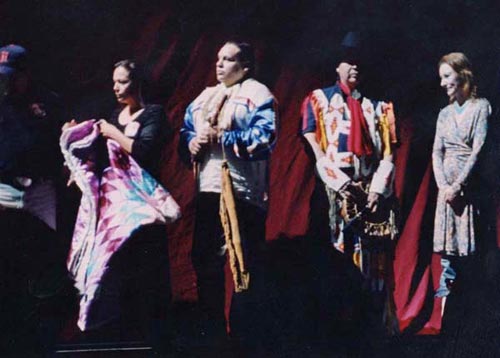 From
Matt Page
,
John
and
Elyse
:
Tonight's show had a great crowd, and once again Tori sounded wonderful. During Winter, Tori had to stop and told the audience she has a frog in her throat. She took a sip of water, and then did an improv about he frog in her throat which included a line about how the frog turned into a prince.
Tori debuted Professional Widow for the tour tonight, and it was totally intense. She was screaming at the end of the song, especially on the line "Peace, love and a hard cock".
Tori followed her written set list closely, but was supposed to perform Here. In My Head instead of Cooling.
After Rhett's opening performance but before Tori began her show, Tori came on stage for the Native American ceremony. It sounded like it was very powerful and emotional. Appearently Tori came to North Dakota back in 1979 when she was 16 years old to perform at the University of North Dakota Indian Association's Wacipi Festival. This festival takes place every year and is about to start this year. This ceremony in part at least remembered that event. Tori was presented with a thank you and an award during the ceremony, which included two songs performed for her. The first involved drums and the second used a flute. Tori was dressed in a purple blanket-like robe and then presented with the flute at the end. Tori was reportedly near tears during this amazing ceremony. I think the first song was written specifically for her. A Native American man on stage talked a little about Tori, saying how he had gotten to know her and was proud of her. It just sounded really amazing! If anyone has additional details, please send them to the Dent.
From
Daniel Lucy
:
It started with a special pre-concert "ceremony" of sorts, in which members of the UND Native American society presented Tori with gifts. They sang songs to her, and presented her with a quilt, and a flute which was to "protect her on her journey." It was very sweet, and she cried a little. You could really sense how honored she felt, and humbled. There is an event taking place in Grand Forks this week, I'm not sure of the name, but Tori took part in it 25 years ago, and this was the first time she's been back since then, so they decided to honor her. She was dressed casually for this, and then the lights came back on while they prepared backstage for the concert to begin. It started about ten minutes later.
Tori was wearing an aqua blue sheer and silk dress with feathers. It was very beautiful. She had jeans on underneath that, and suede(?) tan boots with beadwork, and a blue ribbon was wound in a lock of her hair, to match her dress.
Here's the setlist:
Wampum Prayer
A Sorta Fairytale
Precious Things
Sweet Sangria
Then she addressed the audience about how she'd not been to Grand Forks in 25 years, so tonite was special. She said "It's snowing. Heaven! It's too god damned hot in Florida."
Cornflake Girl
Lust
God
Crucify (one of the jazziest versions I've ever heard. Was quite long, and she screamed "crawled my way back" a lot toward the end).
Wednesday
(Band Leaves)
Winter
----this was the best, she got a "frog in her throat half way through the song, and stopped singing to get a drink of water. Then she went into an improv song about the "frog in her throat" how he never was a prince, and she wanted the white horses to come back, referring to the white horses of "Winter." It was very cute, and the audience loved it.
Icicle
Cooling
(Band Returns)
Strange
West Virginia
Tom Bigbee
Father Lucifer (she flipped off the audience toward the end of this song)
Professional Widow (this was requested by a guy at the meet/greet and he was sitting in front of me. He turned around and was elated, and I gave him a little thumbs up :) It was quite exciting for him)
I can't See New York
Iieee
First Encore:
Taxi Ride
Past The Mission
Second Encore:
Spring Haze
Spark
Great concert. Sorry about lack of review, I have a horrible sore throat. I stood in 20 degree temperatures for about 4 hours to meet her. But I got an autograph, so this is worth it. And I had third row seats, so I am not complaining. I'll be better eventually :) Hopefully by the time I see her in Vail on Friday :)
From
Bjorn
:
This was my third time seeing Tori. I've seen her twice before both times being in the Twin Cities. When I heard she was coming to Grand Forks it kind of pissed me off because they don't even play her music in this state (I live in Fargo, ND btw....maybe they play it in Grand Forks I don't know). But....that's besides the point. The point is, I was really worried about how the show would be with a North Dakota crowd compared to the Cities crowd. Well, In all honesty, THIS concert was by far the best show I've seen out of the three. I was so impressed with the diverse set list and was glad to see her play a lot of songs from Choirgirl Hotel and Boys for Pele (Pro. Widow).
Tori was so on tonight and she couldn't of given us more. I was so happy with her selection and her energy.†
Icicle could not have been more beautiful.†
And it was probably the best i've ever heard her perform Winter also.
There are so many things i'm forgetting as I am still trying to take in magic that I witnessed.†
It was beyond words.
The best I've ever seen her!
From
Cara Lynn Gowryluk
:
Last night, I saw Tori in Grand Forks and the concert was amazing. It was my very first concert after being a Tori fan for over 9 years.
She had a meet & greet but I don't have any pictures for you. It was quite short (about 10 minutes) after we waited for so long. oh well. It was nice, she came out and the first thing she did was write a letter for a fan that was in the hospital and couldn't come to the concert.
The show began with a presentation. The native student group from the University of North Dakota presented Tori with a blanket and a native flute. They presented her with all this love because she had achieved greatness. It was really touching. Tori had been to Grand Forks 25 years ago so this was her journey full circle. They had a gentleman sing a song for her. Another gentleman played a song on a flute for her. As the gentleman sang the song, Tori was crying she was so moved. You could really see how much this presentation meant to her.
Ok, so by now I am sure you have the set list, so I won't bore you with it. BUT the REAL set list was interesting. She was supposed to play "SWEDE SANGRIA" so I don't know who types these things up! Also, Cooling was written in over "Here. in my head." That was a little dissapointing because that is my second favorite song.
BUT she played by FAVORITE ALL-TIME song. She played Winter which was the most entertaining song of the evening. During the first chorus, she stopped and said "Sorry, I have a frog in my throat" and proceeded to clear her throat with water. She came back to the microphone and sang an amazing improv "that frog is out of here... get back on the pony" it was so funny and cute and then she got right back into Winter.
She only spoke to us one other time. Just before Sweet Sangria (I think!) she introduced Jon & Matt and stated how touched she was to be here.
In general, the concert was beautiful. Tori was obviously happy to be in Grand Forks and it showed through her performance. She smiled a lot, she played with the songs a lot and really got into the songs. She danced so much and even performed Taxi Ride on her feet. She chose to play 2 types of songs, I think. 1. Songs that mean a lot to her (Icicle, I Can't See New York, Cooling) and 2. songs that turn her on (iieee, TomBigBee, Spark). This balance created an amazing show and I am floating on air this morning.
From
jessica bettenhausen
:
rhett miller was very good in his opening, love that he gets so into the music, at the end he said something to the effect that tori rules the world. then tori came out and received the flute and blanket. a break and then the show began. i think tori was wearing the same turquoise blue feathery top she had on at the oxygen concert. she ripped through ASF and Precious Things was other-worldly! she did the emphasized "GIRRRL" part which makes the song for me. lots of energy, dancing around. cornflake girl was wonderful. the part "where'd you put the keys girl" was especially poignant for me, since i locked my keys in the car before the concert. Lust was cool, very nice piano sound, it had an edge to it, don't know if that is an effect or what. God was awesome, haven't heard it in a while..crucify was a healing experience as always...lots of songs about God/spirituality tonight. Wednesday was good, yes the lighting is great on the eagle line. Her solo set was unforgettable. The frog improv was soo cute, she really got into it, and then back to Winter. She was very articulate on Icicle, was there a little bit of extra stuff in the piano part maybe?? cooling was exceptional, she stuck out a finger at us, not sure which one, at the "girls who eat and never gain weight" bit, haha. could have done without Strange and Virginia, Tombigbee was ok...then the funky new rhythmic version of Father Lucifer, note that she was on a rampage about religion. And then of course Professional Widow, which always makes me cringe, i hate to admit. lots of energy. I Can't See New York is great, but really didn't fit in here, i think, right after Widow. And IIeee, wonderful. Her encores were exceptionally high energy, i even thought she might come out for a third! tori was in top form, energetic and i think in tune with her audience. thank you tori! come back to ND again!!! maybe on a day when it doesn't snow and slow traffic to 30mph on the interstate.
From
Chelsea
:
First of all, there was a meet and greet. It ended up happening late in the day, say 5 pm so people had to stand around and wait for a while. But Tori came out in the cold and met fans.
The ceremony was after the opening act and before Tori took the stage. 2 Women came out (one carrying a purple patchwork silk blanket with feathers on it and some other Native American designs), 2 men came out dressed in traditional tribal attire, and 2 men came out dressed in regular clothing. Then Tori came out, she had a turqoise necklace on, a blue/brown/white wrap around dress, and moccassain type boots, very American Indian looking, very nice. One man introduced himself and said that Tori had performed at the Chester Fritz in Grand Forks about 25 years ago, he asked Tori if that was the right time, and she nodded and smiled. The man said he had befriended Tori's family after the show in 79 and that they had stayed in touch. He said he wanted to honor her for rising to great things in her life. Then he introduced another man who played a song on a drum, Tori smiled and seemed very into the beat. Then another man played a song on his flute. Tori closed her eyes for this piece and seemed entranced. During these pieces the women wrapped the quilt around her. She hold it shut tight and listened to the music. After the flute melody, the two men presented Tori with her own flute in a leather case. The spokesman wished Tori a pleasant Scarlet's Walk journey and they exchanged some hugs and words and left the stage.
When Tori came out, I could see her enter from stage left since I was seating on stage right. I saw Tash waiting right on the side of the stage. joel was holding her and she had a frilly dress on and had blonde pigtails. Tori hugged her immediately before going onstage.
The performance itself was full of energy. All of the songs had intensity. There were really no slow, more passive songs.. well cooling... but for the most part it was batta bing batta bong lots of power. It was amazing to me that she could play/sing so many intense songs all in row. She never let up and didn't take breaks to speak or anything. Though there were several sort of meditational hand gesture moments where she seemed to enter the realm of the song she was about to play. However, she really didn't seem to pause or intermix slower songs. The energy was endless.. Precious Things, God, Pro Widow, Spark, Spring Haze, Taxi Ride, Crucify, Past the Mission, Cornflake Girl, Tombigbee, iiee, Sweet Sangria, Virginia etc. These songs all require a lot of intensity and she went above and beyond the usual intensity of these songs (esp. crucify, there was a long i crawled my way back improv at the end that was powerful and gave me shivers).
Anyhow, She spoke to the audience towards the beginning and mentioned she had been to GF in 79. She said it was a very special memory for her and that this place was very special to her. She then mentioned that it was snowing outside and that it was heaven. She said that it gets to hot in Florida.
During Winter she stopped midway and said there was a frog in her throat. I was surprised shedidn't go into frog on my toe.She took several swigs of water, dramatically of course, and then begun a little frog in my throat improv, commenting that he wasn't a prince to her and that he was sitting in her throat watching DVDs. Then she went into an improv about frogs then horses being saddled and came back to where she had left of.
Other than that she was in the mode of playing I think and didn't talk directly to the audience. It wasn't a disconnected silence, I think she was just into the music. She danced quite a bit and had some great gestures. She did a sexy dance in the encore. She also flipped off girls that eat pizza and never gain weight again.
I was not surprised that she played Virginia, considering the Pocahontas connection and the previous Native American ceremony she had taken part in.
I thought the roadside cafe trio was clever as well and fitting for this part of the country. I've always felt a certain connection to those songs. January Girl would have been a nice addition... but ya can't get everything you want I suppose.
I'm not sure if there was a recording of this or not, or even pictures. Security was pretty tight. People at both doors patting down audience members and looking through bags/purses. There was a line for men and a line for women. Do they do this other places or is just the modest conservative nature of North Dakota? . I didn't see any flashes during the show but I was up in the pit so maybe I wouldn't have noticed.
Overall, it was a high-energy, enjoyable concert.
From
anonymous
:
The concert was great!! I saw Tori in Vancouver, BC in December and I was glad that she played different songs on this leg of the tour. The show wasn't sold out. I was surprised. I didn't get the set list, but it was similar to the rest of the previous dates. I wasn't very impressed by Rhett Miller.They had an Indian tribe come out before the concert and they sang a song that they had written especially for Tori. Then they played a flute song for her and gave her a special quilt that they had made in her honor. I was watching through binoculars, and I'm sure that she was teary eyed. I was glad to be a part of something so special to her heritage.