SonicNet Music News Of The World
April 10, 1998

Added April 10, 1998

There is a really interesting article at Sonicnet's Music News Of The World

for April 10, 1998. It has the headline, "Tori Amos Straddling Sound Spectrum On Upcoming LP: Piano crooner writes tunes ranging from her classic ballads to operatic style pieces." The article takes a detailed look at the content and lyrics of her new album. Thank you Erin Dolll for being the first to tell me about it.

Tori Amos Expands Sound On Upcoming Album
Ethereal singer's new album includes standard ballads as well as operatic style pieces.
Senior Writer Gil Kaufman reports: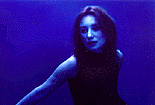 Quirky singer/songwriter Tori Amos offers no easy answers on her upcoming fourth album, from the choirgirl hotel (May 5).
But, then, fans of the redheaded pianist who's as famous for her obtuse, impressionistic lyrics as she is for her belief in fairies, spirits and musical gnomes don't typically look to the daughter of a North Carolina Methodist minister for cut-and-dried pop nuggets.
The 12-track album, written and produced by Amos, covers a broad range of musical territory, from the kind of lush piano ballads that Amos has made a career of to more aggressive electronic dance tracks and multi-part mini-symphonies that find Amos seemingly making use of every musical trick at her disposal to fill up the already dense tracks.
Although Amos has been more than willing to have her songs remixed for the dance floor in the past, choirgirl hotel reveals her astute understanding of big-beat culture. Rather than dabbling in electronica for the sake of bandwagoneering, Amos seamlessly integrates ambient and trip-hop influences into such songs as the dark, aggressively grinding song "iieee" and the pleading, sexy dance-funk tune "Liquid Diamonds" in a way that doesn't seem forced or awkward.
The album's first single, the impassioned, swaying piano ballad "Spark" (RealAudio excerpt), is packed with Amos' trademark cryptic lyrics, beginning with the opening mantra-like phrase, "She's addicted to nicotine patches." That segues into the truly baffling couplet, "If the divine master plan is perfection/ maybe next I'll give Judas a try/ trusting my soul to the ice cream assassin."
Amos, who has tackled gender and sexuality issues openly and honestly since her debut 1991 single, "Me and a Gun," a harrowing, autobiographical tale of rape, has her fun flipping and confusing traditional male/female roles throughout the album. In the tribal beat trip-hop-like "Cruel," Amos rap-sings the knife-twisting line, "Even the rain bows down let us pray as you cock-cock-cock your mane," and then warning, "For you I can be cruel." Equally confusing is the chaotic, electro-beat dance track "Raspberry Swirl," on which a hyperventilating Amos warns, "I am not your senorita/I am not from your tribe ... If you want insider her/ well,/ boy you better make her raspberry swirl."
Providing a bridge to her previous effort and her most recognizable forte, i.e., emotionally bare piano ballads, Amos calms down on the ethereal "Black-Dove (January)" and the lush, swelling ode to Jackie O., "Jackie's Strength."
The singer also offers what might be a thinly veiled glimpse at her feelings on marriage and motherhood in a number of the songs. Amos married her longtime engineer, Mark Hawley, during the recording of the album, which took place last year in a 200-year-old barn in Cornwall, England. While "Jackie's Strength" makes the only overt reference to marriage, a number of songs -- including "Spark" and the shuffling hymn "Playboy Mommy," a twisted tale of a glammy, promiscuous mother trying to make peace with her daughter -- show Amos wriggling into a maternal mode, if only for a few verses.
While no one would ever accuse her of playing it safe, Amos really cranks up the oddity factor on the pleading blues grind "She's Your Cocaine." The song, a sexy striptease funk tune, is a scramble of sexual ambiguity ("She's got you shaving your legs/ You can suck anything ... Put on your make-up boy"), voyeurism ("And we all like to watch") and playful S&M references ("She says control it/ Then she says don't control it/ Then she says you're controlling/ The way she makes you crawl") that further explores the singer's unique take on sexuality and relationships in the '90s.
Also included on the album are the operatic "Hotel" and "Pandora's Aquarium" and the baroque ballad "Northern Lad."


Please give me feedback, comments, or suggestions about my site. Email me (Michael Whitehead) at mikewhy@iglou.com