There is a terrific 2-page article about Tori's touring gear in the March 2000 issue of Mix Magazine. It describes the equipment her crew used during her 1999 shows, and includes quotes from Mark Hawley. (The article and photos were taken during Tori's stop in Seattle, WA on October 7, 1999, which they erroneously label as the final show of her tour.) It also includes a photo of Tori, several of her band, and several photos showing some of her equipment and the engineers that use it. It gets rather technical, but I still found it to be a fascinating read and it was great to learn what complex gear is behind Tori's live sound. I must thank Vanessa Laurin and Pete for first telling me about this article and Vanessa for sending me the text and scanning all the photos for us! Read the article and see the scans below. The article included 10 photos, and they are below. (Click on any photo to see it much larger!) Look at the text underneath the photo for a description of the picture.
This is not the first time that Mix Magazine has offered us an in-depth look at the equipment behind Tori's music. They did it before in their November 1996 issue.

ALL ACCESS - Tori Amos
Photos by Steve Jennings Text by Chris Michie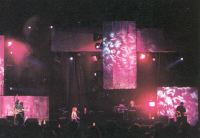 Click to see larger
Tori Amos was recently out on tour to promote her latest double CD, ToVenus and Back, which includes both new material and live recordings from her 1998 "Plugged" Tour. After co-headlining for a month and a half with Alanis Morissette, Amos and her band played two weeks of arena and shed dates. Mix caught the last show of the tour at the Key Arena in Seattle, Wash.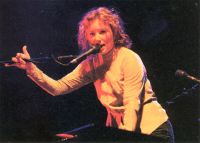 Click to see larger
Tori Amos sings into Neumann KMS140s, one at each keyboard position.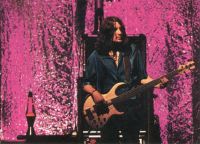 Click to see larger
Jon Evans' bass is split in stereo and taken DI through a Gas Cooker. FOH engineer Hawley uses a TL Audio EQ2 and an Amek 1998 compressor on the bass. "The bass sounds gorgeous," he notes.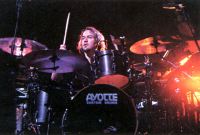 Click to see larger
Matt Chamberlain's drums are miked with a Shure Beta 52 on the kick, AKG 535EBs on snare top and bottom, a Shure SM81 on the hi-hat, Shure SM98s on rack and floor toms, and AKG 414s for overheads. A Shure Beta 57 covers the timpani, and a Sennheiser 541 picks up the Taos kick drum. BSS DIs are used for all of the V-Drums and loops, and D-drum and Fischman triggers open various gates.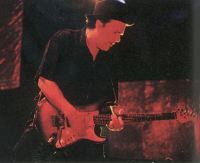 Click to see larger
Guitarist Steve Caton's channels are assigned a stereo Behringer compressor and two BSS 901s. The acoustic guitar gets a TL Audio EQ/compressor.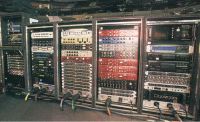 Click to see larger
FOH engineer Mark Hawley's outboard racks are loaded with "studio gear," the same signal processing equipment that he and monitor engineer Marcel van Limbeek used when mixing Amos' To Venus and Back. "The setup is very studio-based -- there's a lot of compression that goes on -- and this time out we're using more tube compressors," says Hawley. "You don't have time to set everything for each song like you do in the studio, and the valve compressors are much more forgiving. With solid-state, if something's over-compressing, it can easily go to rubbish."

This was the main part of the article below. The rest of the text was printed below the 10 photos that were published with the article.
Amos' two vocal mics are passed through identical signal chains, both at FOH (seen here) and at the monitor position. "I don't know many live engineers who use as much outboard gear as us," comments Hawley. In each of the four signal chains, a Focusrite Red 2 EQ is followed by a Tube-Tech LCA-2B compressor, a BSS 901 frequency conscious compressor and a dbx 900 series de-esser. Hawley uses the BSS 901 to control vocal at four frequencies, boosting at around 1 kHz -- "That's what she calls her 'growl,' and I boost it into it and just knock it back with a compressor," he explains. Other control frequencies are "around 2.5 to 3 kHz," 630 and 500 Hz.
Hawley also uses a stereo GML EQ and a Focusrite Red 3 compressor across the main stereo mix bus. Amos' piano gets a Focusrite Red 2 EQ and a Red 3 compressor. "The ratios on those bus compressors and the piano compressor are both very low, " notes Hawley. "The mix bus hardly ever shows more than 3 dB of compression, and that's on the lowest ratio."
Almost every channel gets some dynamic or EQ processing. "I've got an Amek 1998 compressor across the drum groups. Then they go into the SPL Tube Vitalizer, which just livens everything up, makes things a little crunchy and warm-sounding, " says Hawley. Other compressors in the racks include models by Behringer, Drawmer, Focusrite and Summit.
For reverb and treatments, Hawley is using a Yamaha SPX 990, an SPL Vitalizer and a Lexicon 480. Delay effects are created with Roland SDE-330 and SDE 3000 units. Also in the racks are an RTA 4000 analyser and a Klark Teknik 3600 stereo graphic for overall system EQ.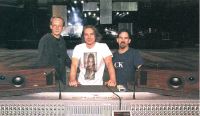 Click to see larger
SSE Hire of Birmingham, England, supplied a Nexo speaker system and all of the control equipment. Pictured at the 48-channel Midas XL4 FOH console are (left to right) system engineer Mike Rose, FOH engineer Mark Hawley and P.A. rigger Andy Yates.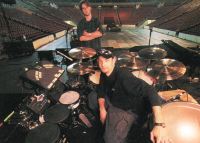 Click to see larger
Drum tech Keith "Sarge" Lamphier (foreground) and monitor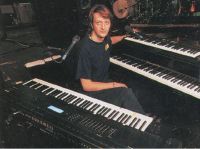 Click to see larger
"Tori's monitor setup is quite complicated," says FOH engineer Hawley. Each keyboard position has a pair of SSE 12PM wedges; plus, there is a pair of Genelec studio monitors upstage. The six speaker cabinets get three separate stereo mixes, which monitor engineer Marcel van Limbeek (above) creates on a Midas XL4 console.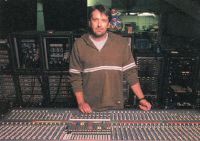 Click to see larger
Band monitor engineer Rob van Tuin at the Midas XL3. Van Tuin runs the monitors for guitarist Steve Caton, bassist Jon Evans and drummer Matt Chamberlain.

Here are the 2 pages of the article scanned as a whole. Click on either one to see larger.