Tori On Late Show With David Letterman
April 10, 1998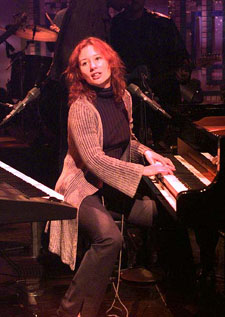 On Friday, April 10, 1998, Tori made her first TV appearance in over a year on the Late Show With David Letterman on CBS. During the show, which was actually taped on Thursday, April 9th, Tori performed "Spark" with the 3 members of her band. Steve Caton on guitar, Jon Evans on bass, and Matt Chamberlain on drums. Tori was in fine form, and she actually performed much of the song on a keyboard, and then switched to a baby-grand piano in the middle of the song (No Bosey!). I really loved the powerful performance, and it made me more eager to see her on the road this year. Below you will find photos from this TV appearance, followed by various reports from Toriphiles who were at the taping on April 9th. The photo to the right shows Tori rehearsing for this Letterman appearance and comes from the Atlantic web site.
Toriphile Oliver recorded the entire Letterman performance as a WAV file and you can go download it at this web page

.

Click on thumbnail to see a larger image.

These two images show people waiting in line to get standby tickets for the Letterman show on April 9th, or people with standbye tickets hoping to get in. These were sent to me by an anonymous source.
Click on thumbnail to see a larger image.

From johanna
letterman report
i got into manhattan from connecticut around 4 pm and met up with john--the smerfcrazy kid with insane pants :)--and his two friends who had standby tickets at 4:30 in front of the lovely ed sullivan theater. we were told to come back at 6:45 for the second taping (friday's show). after a yummie cafe latte and lots of walking around manhattan in the pouring freezing rain we got back to the theater around 6:20 or so and i saw camera flashes going off so we quickly ran over to the side of the theater and there was tori! with joel holding an umbrella over her head, of course. she was super sweet and talked to about 15 of us, signed autographs, took pictures, gave hugs, and was wonderful, as always. joel quickly said just a couple more minutes since it was raining and tori left waving and smiling.. (btw, if *anyone* has pictures of the meet and greet please let me know.. i forgot to get out my camera and give tori peeps) everyone seemed to be in a giddy daze afterwards and we went into the roselands to wait to get in line for the show. john and i met a couple of tori fans who had come from philly and had brought tori some chardonnay (hi jeff and matt :) we soon got in line and ended up in the third (?) row, stage left with a direct view of tori's piano/keyboard without any cameras in the way. there was a lot of cheering whenever tori's name came up during the show with some guys screaming out "my goddess" :) after the second guest left, david said that tori would be next and about 6 guys came out with tori's keyboard and baby piano and powdered it down and then played on it for what seemed like a long time. then the drum set came out and we saw caton playing a bit.. finally tori came out to a lot of screams and applause. then taping began and david introduced her and spark! the instrument setup was very reminiscent of caught a lite sneeze on saturday night live back in '96.. only the harpie was replaced by a little keyboard.. tori's voice was just so strong, i'm not sure if she's taken more voice lessons or if it's just because of more experience, but it seems like her voice is coming from a totally different place now. lots of pretty glitter makeup.. and great shoes. completely amazing encompassing performance. when she was done there was again a lot of screams and she kissed david and talked to him for a little bit and waved to us goodbye and that was it. from the monitor shots i caught, it's going to be beautiful on tv.
From John aka SmerfCrazy
i dont know if anyone has emailed you regarding toris performance last night, but if you need any info about it, im sure i can tell you. last night was incredible. all thanks to a great girl named johanna (jelybean@ix.netcom.com), i was able to get a ticket and see tori. i had standby tickets already, but from what i know, there was not a single standby ticket that was admitted into the show. she was outside before the show greeting everyone, thought there were only about 15 people there,many didnt even know she was out there. she talked and smiled and waved and signed and just kinda chilled for a while, but then she had to go inside cuz they didnt want her to get sick from the POURING rain!
anyway, back to the story. she was the last act on letterman and she played Spark and it was ABSOLUTELY INCREDIBLE!!!!!!!!!!!!! she had a keyboard and a piano (though it wasnt Bosey) and she went back and forth on it, playing most of the song on the keyboard, but switching to piano when she was siging "how many fates...." it was amazing. so much more powerful than the albumn version (which is hard to imagine considering how great the albumn version is!) she wore alot of green sparkly eye make-up and was wearing this button down shirt that was either black or dark dark green. she looked absolutley beautiful! after she played her song, she left immediately and we all waited out back for her to come out, but she was escorted from the door directly to her car because it was freezing and raining.
From jeff beiter
just came in from the taping of david letterman in NYC! i felt so lucky to be one of the first people to see tori's first performance in over a year! i just wanted to tell you that any doubts i had about how tori would sound with a band have been completely erased from my head! it was amazing! she began spark on a keyboard, then turned around and switched to the piano in the middle (very much like CALS live!). she didn't have her bosey with her, she played on a baby-grand instead. her voice sounded better than ever, and she looked beautiful. i was completely floored.....until security came over and demanded we give them the bottle of chardonay that we had brought for tori. :( after the show we waited by the stage door with some fellow EWF that were regulars on the dew drop inn tour! tori finally came out, stood there waving to us for about a minute, then ducked into her limo out of the rain.


Please give me feedback, comments, or suggestions about my site. Email me (Michael Whitehead) at mikewhy@iglou.com