| | |
| --- | --- |
| | Hollywood & Vinyl (VH1) |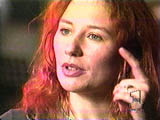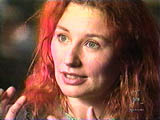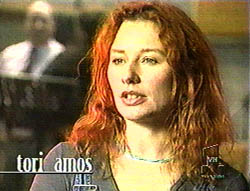 Tori was seen on the program Hollywood & Vinyl on U.S. cable channel VH1 on Friday, January 23 at 8:00PM ET and again on Saturday, January 24 at 10:00AM ET. This half hour show features soundtrack hits from movies. They showed some relatively recent interview clips with Tori talking about the movie Great Expectations and the soundtrack. They also showed the Silent All These Years video. (The photo to the right was taken from this program.)

Here is a report on the program from Toriphile Mary Riley which includes Tori's exact quotes from this broadcast:
Anyway, on VH1 hollywood & Vinyl, which is a half-hour show about movies & soundtracks, they featured great expectations for the whole half hour. It had a not-bad interview w/ ethan and gwyneth, who she called "gweneth," but overall it was kind of an annoying show...like whenever they mentioned tori they'd play SATY, and then when they'd mention the Dead they'd play "touch of grey," just in case some bonehead out there doesn't know who the dead are, or who tori is for that matter.
So, details about tori...sorry I don't have a frame grabber so I can't send a picture but here's how she looked: they showed her with headphones on recording finn(intro) while looking at the film with the director, and then they interviewed her in the same session. She was wearing overalls, a grey bodysuit-type shirt, her signature earrings and a turquoise blue necklace that was three strands of small beads twisted around each other. Her hair was very red and frizzy like we're used to, rather than that blow-dried straight auburn business she had going in a lot of the BFP-era photo sessions. She wasn't wearing any makeup that I could see and overall the impression was a little rumpled, working hard, feeling good, not worried about anything. I remember thinking how in all the pix from the UTP period she radiates such a sense of well-being and self-confidence and then with BFP she was much more in a mode of seeking an identity (in pictures anyway) and in interviews sometimes seemed kind of brittle and vulnerable. This interview was much more the old Tori--that sense of well-being and j oy seems to be returning. All strictly my impression of course!
So here's the actual quotes of what she said. They were playing SATY really loud over the first part... Oh, later when they played "siren" (FINALLY!) it was over a scene of Finn talking about leaving his childhood behind, he's out fishing, spearing a shark. But I don't take that to mean that's how it's used in the movie given the ubiquitous presence of non-movie-related music all over the place!

Three clips of Tori talking (these same interview bits were seen at the Atlantic web site in a RealVideo clip.):
"there's a romance that's happening between her voice and his character. um, a lot in this film I become the voice and...as he's a little boy I'm the voice in his head. And so as he gets older, I'm still the voice in his head. Kind of, um, reminding him what his feelings are."
"and I would have never written this piece had I not seen the picture"
"The pictures inspired me, this film inspired me in a huge way. I mean it gave me chills when I saw it. Real chills. And um, touched a place in my heart and I...I knew that I wanted to be a part of it."
This last bit is interesting that she used the word "chills" quite emphatically, maybe that's where "know the chill" comes from. Also, it occurred to me that Tori liked it that much seeing it without any music in it yet! So it should be great. It looks really good, there's a scene between Ann Bancroft's character and Ethan Hawke where she's really really old that I kept rewinding and rewatching even though it was just one little clip. Lots of symmetrical stuff in it too, from what I can tell, scenes in his childhood that repeat in some way when he's an adult. And hank azaria (her fiance) seems terrific too--he's best known as the voice of Apu on "the Simpsons" or as Helen Hunt's boyfriend, but he's been in Grosse Point Blank, Heat, and some other good stuff. I like him even though in this he's Ethan's rival.

Here is a report on the program from Toriphile Chris Barnes:
Hello...my friend just called to inform me that she spotted Tori today on VH1 on Hollywood and Vinyl giving an interview about Great Expectations - both the film and her job working on the soundtrack. I guess the interview was somewhat lengthy and after they talked with Tori they played three videos (one of which being Silent ALl These Years) I was not able to catch the interview, but my friend said that tori looked good and that the tips of her hair appeared "almost pink"


Please give me feedback, comments, or suggestions about my site. Email me (Michael Whitehead) at mikewhy@iglou.com