Tori Chooses Greatest Song Of All Time For Musician Magazine

Added March 30, 1997

The May 1997 issue of Musician Magazine Focuses on The Greatest Songs Of All Time, with top songwriter's choosing their favorites. In an article called Airs For The Ages, Tori chose A Day In The Life by John Lennon & Paul McCartney. The story is on page 28 and is by Robert L. Doerschuk.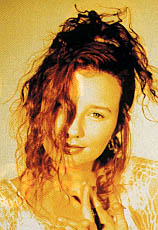 Tori Amos
"A Day In The Life"
By John Lennon & Paul McCartney

Lennon and McCartney were the greatest songwriters who ever lived, and you're just a ding-brain if you don't think so. There were so many great songs that it's hard to say, "Okay, where do we go?" But "A Day in the Life" stands out because it's a marriage of the two of them.


Where do you go from where Lennon went? How do you take that further? Well, ... you go to a collegiate boy who gets his books and eats his Wheaties. At a certain point, you've got to get off the battlefield. Where do you go from Belfast? You go to suburbia.


It's one of the few songs that is not just one experience. When I hear that song, I take an around-the-world trip. I don't just stop off in Bombay for a day, or under a bridge in San Francisco with a needle, or in the cotton fields in Georgia. It's not a one-culture experience. "A Day in the Life" draws from so many different music styles. It's an epic, but that's dangerous territory. There are so many epics where you go, "Uh, why didn't this get sunk with the Titanic?"


You know that saying, "As above, so below"? That song is completely an example of that, because of the whole drug thing of going on a journey, however it's induced. Yet at the same time, there's such a lullabye happening with that melody.It's quite classic, and that's why that song is so radical.


Please give me feedback, comments, or suggestions about my site. Email me (Michael Whitehead) at mikewhy@iglou.com