Tori On American Journal (AJ)
February 21, 1997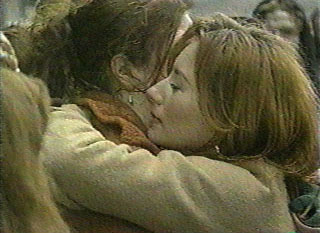 Tori was very briefly featured on American Journal on February 21, 1997. The focus was on RAINN. Despite the fact that AJ can be a tacky program, this 2 minute story was respectful (but way too short!) It was disappointing because the show gave us the expectation that the story would be something more substantial. As is often the case on this program, they took footage/interviews from a public event and showed it, rather than conduct an interview themselves. They gave the standard RAINN information (including the comment that RAINN has already helped 125,000 people during its first 2 years) , and showed interview clips from the CK/RAINN press conference from December 1996 in New York. They also showed Tori singing Me and a Gun at the RAINN benefit concert January 23, 1997, and some shots of her in a satin dress at the after-show party at the NY Academy of Art. They included a shot from the rare Past The Mission video as well. Finally, they did not show anything about the Tori-doll maker Pat as we were expecting. Karen Hagglund made me aware of the fact that they showed 2 clips of Tori meeting her Ears With Feet at the very beginning of the show (See these clips right here). Does anyone recognize the people Tori is hugging? One person has guessed that the first Toriphile is named Annie. Is this true?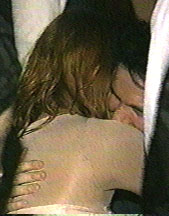 As mentioned above, some of the footage on AJ was from the RAINN after-show party. (See the photos below of Tori in the white satin dress against a RAINN backdrop.) Nicole Jurek was at this party and reports:
"On your website, there is a picture of Tori and you mentioned that you weren't sure where the picture was taken. The RAINN related even took place after the concert. It was a pretty exclusive event; Tori showed up with Maynard and Willie Porter. Calvin Klein came. Everybody else there were executives and reporters, probably from Spin. I was lucky enough to get a ticket to be invited to the party. Tori came about 2 hours after the concert, got pictures taken, talked to some cameras, talked to a few fans and left. She was probably there for a half hour to fourty-five minutes. Just thought I'd let you know."
Here are the Tori quotes from the interview clips:
"Me and a Gun is based on a personal experience. Me and a Gun is a song about a girl who's driving in a car, reliving what happened to her. It's a song about rape."
"I get so many letters, and visits from so many people, that had had their own experiences of rape, incest, abuse and uh, at a certain point, I was just up to my ears in How can we help?"

Click on thumbnail to see a larger image.


---
Please give me feedback, comments, or suggestions about my site.
Email me (Michael Whitehead) at: mikewhy@iglou.com