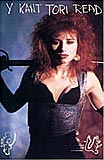 Tori first real album was as part of the band Y Kant Tori Read in 1988. The album was also called "Y Kant Tori Read". Read all about this interesting first attempt for Tori at the Y Kant Tori Read FAQ, where you can also see more of the artwork.

I wanted to spotlight some reviews for this album that I found on the web. First I want to highlight Billboard Magazine's review of Y Kant Tori Read that was published for the week ending June 11, 1988. Many articles and Tori herself have said that Billboard called her a "bimbo" in the review. A closer inspection of this review however reveals that the review was actually quite positive in many respects and the release was listed as "RECOMMENDED"! Here is the short review. It was the packaging of the album they did not care for:
Y Kant Tori Read
Producer(s): Joe Chiccarelli
Atlantic 81845
Genre: POP
RECOMMENDED

Classically trained pianist pounds the ivories on her pop-rock debut, belting out self-written material with a forceful, appealing voice. Unfortunately, provocative packaging sends the (inaccurate) message that this is just so much more bimbo music.

Next, I noticed this review around June 2000 at Rarebird's Rock And Roll Rarity Reviews. Here it is In case the link does not work:
Y Kant Tori Read "Y Kant Tori Read" (Atlantic 81845-2) 1988

A few years before her rebirth as an arty alt-rock demigoddess in 1992, Tori Amos recorded an album in 1988 called "Y Kant Tori Read". This evidently was also the name of the band; Ms. Amos is billed only as "Tori" in the credits. The title is reportedly a joking reference to the talented pianist's inability to read sheet music. Other musicians who participated in the recording include at least two of her future cohorts (guitarist Steve Caton and Brazilian percussionist Paulinho Da Costa) as well as Matt Sorum (then-drummer for the Cult and later for Guns N' Roses and its offshoots), Steve Farris (former Mr. Mister guitarist), jazz musicians Peter White and Tim Landers, and one Zobbin Rander (clearly a pseudonym for Cheap Trick vocalist Robin Zander). Amos has disowned the album, and Atlantic has kept it out of print reportedly at her request. That's a smart move for both parties. Although a reissue would surely be profitable, the album would disappoint her fans, and would be a too-visible embarrassment to her catalogue.

The music of Y Kant Tori Read bears little resemblance to anything that Amos has done since. Although her Kate Bush-like vocals are recognizable, the only songs that suggest her future piano-dominated style are "Fire On The Side" (a song about adultery), the opening seconds of "Heart Attack At 23", and bits and pieces of the "Etienne Trilogy" that closes the album. The rest of the songs are reminiscent of several '80's female pop-rock acts (i.e. Heart, Bonnie Tyler, Vixen) with a few borrowed stylings from Robert Plant's solo albums. There are occasional signs of Tori's future persona trying to break out, but too many of the clumsily overproduced tracks are bogged down in redundant synthesizer noise that is annoying and inappropriate. "Y Kant Tori Read" is a badly aged relic of the hair-band era; the cover art, in which the now-famous redhead is made up like a metal chick, is particularly embarrassing. The album was a commercial disaster even in its day, where it deserves to stay.

Track Listing:
The Big Picture
Cool On Your Island
Fayth
Fire On The Side
Pirates
Floating City
Heart Attack At 23
On The Boundary
You Go To My Head
Etienne Trilogy:
-- a. The Highlands
-- b. Etienne
-- c. Skyeboat Song

Read the official YKTR press release from Atlantic Records!
Read an article about YKTR from the June 22, 1998 edition of The Gazette newspaper in Montgomery County, Maryland