I found the above banner at the RAINN web site

in April 1999, so I suppose this item is still available!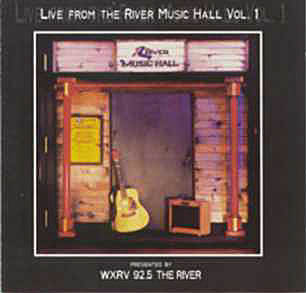 Radio station WXRV-FM (the River 92.5)

in Boston (I have heard this station is wonderful) and Eastern Front Records have produced "Live From The River Music Hall, Vol. 1", a collection of on-air performances by various artists, including Tori Amos, Ani DiFranco, Barenaked Ladies, Cowboy Junkies, Suzanne Vega, Willy Porter, Leah Andreone and Jonatha Brooke. 100% of the proceeds will go to the Rape, Abuse & Incest National Network (RAINN). Tori's track is a live recording of "Marianne". You can order the CD online through the Eastern Front Records web site

, where you can also get more information about the album and hear sound clips. You can also order the CD by calling 1-800-337-3747. With shipping and handling included the CD costs around $15.65. The CD is also available at record stores local to the Boston/New England area, such as Newbury Comics. Special thanks to Coral, Nithya Rajendran, Nick Prindle, Sarah, Laura Legere and Woj for telling me about it.

Toriphile Coral sent me the scan of the CD cover you see above on this page, as well as the following track listing and comment about Tori that appear in the Cd's liner notes:
The RAINN logo on the back caught my eye. The inside has a little paragragh with each artist and the song they performed.
The track list:
1.Tori Amos - "Marianne"
(paragraph inside CD) In many ways, this was when the River really came of age. We invested in a major studio upgrade to accommodate Tori, who charmed a capacity crowd with her set. This track first appeared on her CD "Boys For Pele." An overflow crowd met Tori outside the building and showered gifts and praise. A magical night. 1/30/96
2. Big Head Todd &The Monsters - "Please Don't Tell Her"
3. Cowboy Junkies - "Come Calling"
4. Bruce Cockburn - "Night Train"
5. Jonatha Brooke - "Crumbs"
6.Francis Dunnery - "Too Much Saturn"
7. Ani Deifranco - "In or Out"
8. Willy Porter - "Roadbone"
9. Suzanne Vega - "Stockings"
10. Matthew Sweet - "Where You Get Love"
11. Leah Andreone - "It's Alright, It's OK"
12. Peter Mulvey - "Grace"
13. Barenaked Ladies - "If I had $1,000,000"