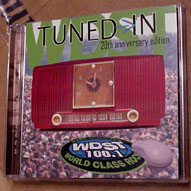 jonniebfive was the first to tell me about this. Tori is one of the artists featured on radio station WDST's 20th Anniversary CD. This is a charity CD with the title "Tuned In." You can read the details on the web site of radio station WDST 100.1 FM in Woodstock, NY. You can read what the web site says below as well.
Kris (Cornflakegirl79) informs me that the Tori song on this CD is a live version of "Cornflake Girl." Karen L. Sparks let me know that it was recorded live from the Paramount Theater in Peekskill, NY on June 8, 1994. As you may recall, when Tori did this song live during the 1994 Under The Pink tour, she used programmed music/drums in addition to her live vocal and piano. All of the shows on it are from very small audiences and the ambiance is reportedly quite good.
Karen also tells me that the album insert reads:
tori amos, cornflake girl
Just after releasing her second album, tori let us record her show at the paramount theater, with a fortyeight track mobile recording studio! She put on a fantastic show, had fans screaming, and soon had a number one hit with cornflake girl.

Here is what the WDST web site says about the album:
WDST puts on more live shows than any other radio station in the Hudson Valley! As part of our 20th Anniversary Celebration, WDST is proud to release "Tuned In," a charity CD containing live songs from the best of WDST's concert events. The CD includes cuts from The Push Stars, Del Amitri, Jewel, Sixpence None The Richer, Luna, Semisonic, Jeffrey Gaines, Rusted Root, Tori Amos, Graham Parker, and many others.

The CD is in limited supply and is available at Cinemaplex Video locations in Kingston, Saugerties, and Catskill; Rhino Records locations in New Paltz and Poughkeepsie, Woodstock Kitchen in Poughkeepsie, Handmade & More in New Paltz, Kingston Cyclery on Morton Blvd. in Kingston, Audio Motion in Marlboro, and in Woodstock at Milagro, Rhythms, Chez Grandmere, Overlook Mountain Bikes, Jean Turmo, Woodstock Trading Post, Woodstock Video and at all WDST live remotes and events. [See Events Page] It sells for $13, or we can ship your copy of the WDST limited edition compact disc directly to your door for an additional $2 (shipping/handeling). Just mail us a check or money order for $15 payable to: (Do not send cash)
WDST 20th Anniversary CD
PO Box 367
Woodstock, NY 12498
Credit card orders please call
(845)679-7266.
Visa and MasterCard Accepted
(WDST does not accept American Express)
WDST has a long history of donating the proceeds of 'DST concert events to local charities, and this CD is no exception. All proceeds from "Tuned In" will go to the Fern Feldman Anolick Breast Center at Benedictine Hospital in Kingston and to Family of Woodstock.