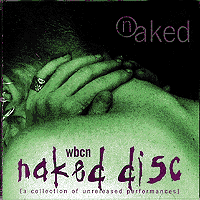 Linda emailed me to say that this compilation CD is available online at the Newbury Comics Interactive website!

Lisa Street and Steve Pielocik have informed me that radio station WBCN in Boston has released a CD called WBCN NAKED which contains unreleased performances from the WBCN studios. The album includes a live version of Losing My Religion. The album is a benefit for 'Stop Handgun Violence' and 'The Boston Institute For Arts Therapy.' WBCN has a web site

, but I did not see any details there on this CD when I last looked.
Here is Lisa's Report on the CD: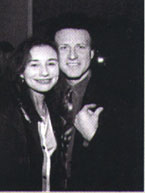 I found out late last night that today a local radio station in Boston - wbcn released a cd called 'naked' of unreleased in studio performances, and among the many is tori doing losing my religion. it's available at the tower records here, but i dunno how available it is outside of the city. I've included the photo of tori with one of the dj's (River Rave) that's on the inside cover. (The photo on the right.)

Inside the inlay card it says: "Sweeping into the WBCN studios for one of her three visits to the station, singer/songwriter Tori Amos held a small group of listeners and staffers in rapture as she spoke and played several songs. When the B flat key on her electric piano began to stick, she quickly searched for a song that would avoid the troublesome key. Her choice, and interpretation of R.E.M.'s 'Losing My Religion,' was as sensual and mysterious as Tori herself."

Steve Pielocik

adds:
tori has been released on YET ANOTHER compilation!!! this disc appears to be a boston-area-only thing, though if anyone is interested in picking up a disc, they can contact me via email and i can arrange to pick one up for them. the disc was released by boston radio station WBCN and is called WBCN NAKED DISC. (this station's version of an unplugged-like thing, i believe). anyway, the disc features u2, live, and beck, just to name a few, and track number 7 is tori performing "losing my religion" live at wbcn studios on january 30, 1996. i have no other real info on the album other than that i was just released last tuesday, and that the album is a benefit for 'stop handgun violence' and 'the boston institute for arts therapy.'