Most people are aware of the excellent artwork created by Toriphile Pauline Stuckey. Her work has been seen in numerous Tori-related publications, online, and in the Bee Sides Songbook. You can find out more about Pauline at her official web page. I adore Pauline's work and I urge you all to check out her site!

The Bee Sides Song book - My Personal Story
By Pauline Stuckey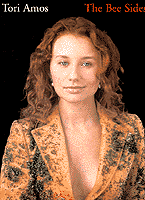 Quite a few of you have been asking me about 'The Bee Sides' song book gig. Well, I'd be happy to tell you a little about how it came to be.
I received a call from friends Missy and Richard from the RDT fanzine to let me know that Kalen Rogers (the woman who wrote 'All These Years) was going to call me about a Tori-related project.
How exciting!!!
When Kalen finally told me what the project was, I was blown away. How sweet and encouraging of Tori to have remembered the 'book of art' I gave her, by requesting that my work be used for her song book. I was nearly moved to tears!
I kept well in touch with Kalen Rogers during the song book's creative process. Kalen was such a pleasant soul to work with.
Whilst the design for 'The Bee Sides' song book was being established, it was Tori's dad, Dr. Amos, who had already selected several of my illustrations to accompany the songs in the book. He chose them from a 'book of art' I had given Tori while she was in Toronto some time around 1994.
As perceptive as Dr. Amos is, he cleverly chose "Monsters", for example, to compliment Tori's "Take to the Sky."
He chose "Bells for Anastasia" to match Tori's "Butterfly". There is more reason to that choice than the fact that there is a butterfly in the drawing. I was happy to see they'd want something serene to match a rather disturbing song. It kind of intensifies the variations of mood.
None of the pieces necessarily speak word for word of the songs. There are parts of the songs within, but in layers, with different faces; different planes.
Other examples: he matched my illustration "Angels and Wizards" to complement Tori's "Sister Janet"; he chose "Surprises" to go with Tori's "Black Swan"; and he selected all my Tori-toons to accompany Tori's zany "Humpty Dumpty."
My first thought: Hey - minister or not, this is a person who 'gets' it!
My second thought: Tori really does have a pretty cool dad, too.
When I last spoke with Tori after a show, we looked through the song book together. I reminded her that it was her dad who selected most of the drawings to accompany the songs. "He can be very sharp that way," said Tori, with that warm, well-known sparkle in her eye.
I'm totally honoured by the project and hope you all enjoy the selections. Tori continues to be a real inspiration in my life, and continues to spark my imagination.
May she spark that imagination in all of you as well!!!
Be aware of your talents.
Love and warmth -
xo Pauline Stuckey