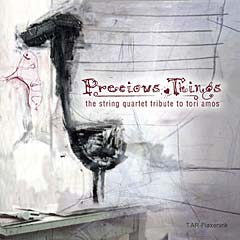 "Precious Things: The String Quartet Tribute to Tori Amos" is a Tori tribute album from Vitamin Records that features instrumental covers of Tori's work from a string quartet. This album will be released in the U.S. on Tuesday, September 11, 2001.
This item can be purchased online at the web site for this project, as well as CDNOW.com and Amazon.com. (Both CDNOW and Amazon.com still say it will come out September 25, 2001, but I think that is incorrect.)
I received an advanced copy of this album, and I really like it. It is very well done and sounds great. I wish I had time for a more detailed review, but I wanted to let you know that in my mind it is VERY much worth buying!
You can see the cover to the right and more artwork from the album below. The album features some of the dolls created by the talented Pat Kochie! At the bottom of this page, you can see a press release for this album that Sandee Curry of Vitamin Records emailed to me that tells more about the project.
You can now read and see more about this album on this new web page for the release. This web page includes a sound clip of Past The Mission from the CD.
Micah Westfall just sent me the track listing for this album!
Precious Things
Caught A Lite Sneeze
Cruel
Silent All These Years
Cornflake Girl
God
Pretty Good Year
Flying Dutchman
Girl
Crucify
Muhammad My Friend
Past The Mission
Precious Things (remix)

More artwork from the album
The doll was created by the talented Pat Kochie. The credits on the right hand photo give you more details about this project. There is at least one more photo of a Pat Kochie doll not pictured here.

Press Release For "Precious Things: The String Quartet Tribute to Tori Amos"
VITAMIN RECORDS
For Details Contact:
Sandee Curry
CMH/Vitamin Records
Email: sandeec@cmhrecords.com
String Quartet Tribute to Tori Amos Delivers Haunting Interpretations
Vitamin Records is proud to present Precious Things: The String Quartet Tribute to Tori Amos (VIT-8541) due September 11, 2001.
Precious Things: The String Quartet Tribute to Tori Amos is a transcendent suite of instrumental renditions, a sophisticated homage to an inspirational songwriter whose confessional and enrapturing songs have served as guideposts for many listeners.
Tori Amos is renowned as an eclectic and experimental artist whose music is imbued with her wide influences, merging her classical instincts with the pulse of rock music. She has often integrated string arrangements into her artful and melodic tunes, fusing their hypnotic ambience with her energetic piano virtuosity. Precious Things focuses on this atmospheric spirit of Amos' work, the vibrant timbre and evocative tones of violin, viola, and cello remixed with subtle electronic vibes and grooves. Precious Things includes a four-panel booklet with photographs of the beautifully crafted dolls of Pat Kochie, a devoted fan and artist who has been deeply inspired by Tori Amos. The complex string arrangements were performed by some of the finest players in the world and the addition of subtle electronic flourishes was provided by LA's Transient. Available in record stores, online, or by mail order at Vitamin Records, P. O. Box 39439, Los Angeles, CA, 90039-0439. The suggested list price is $16.98.