Tori performed in Milan, Italy on December 17, 2001 at the Teatro Orfeo during the 2001 StrangeLittleTour.

Set List

Thanks to Josh who called me on his cell phone and left the set list on my answering machine. I also want to thank Jason (SpinnyBoy), who talked on the phone with his friends Julia and Greg who were at the Milan show, and he was the first to email me with the set list.

'97 Bonnie & Clyde
Real Men
Little Amsterdam
Leather
Caught A Lite Sneeze
China
Suede
Beauty Queen
Horses
Take To The Sky
Spring Haze
New Age
Winter
Me and a Gun
Cooling
1st Encore:
Tear In Your Hand
Rattlesnakes
2nd Encore:
Mary
Have Yourself A Merry Little Christmas
Hey Jupiter

Soundcheck Photo
Here is a photo at her soundcheck in Milan which appeared in the December 18, 2001 edition of the CORRIERE DELLA SERA. Thanks to Gianni Spigno for sending me the scan!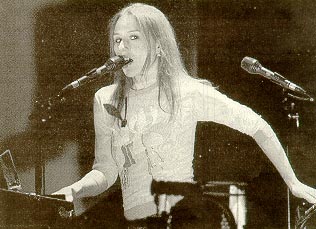 Reviews
Latest reviews are added to the bottom of the page.
Be sure to check the Tori Concert Reviews Forum for reviews as well!

From Josh
Added December 17, 2001 - Josh called me on his cell phone after the show and left the set list on my answering machine. (I was not home from work yet and could not answer the phone.) He said that the final show was pretty good but not spectacular. What Tori sang did vary somewhat from the official, written set list that she had with her on stage. On the written set list, Tori had Winter listed before New Age and had Icicle listed where Winter was. So she basically cut Icicle. Then she was supposed to perform Spark instead of Mary. That would have been really something since Tori had never performed Spark on this tour yet! But it was not meant to be. Tori mentioned earlier in the show that she dreamed of this night and that someone was there who doesn't always come, and that she would tell the audience at the end who she was. Many interpreted this to mean that she would perform a new song, and perhaps she did mean Spark when she said that. But Tori did Mary instead.

From spinnyboy (Posted to the Dent forum)
Added December 17, 2001 - more details as i am getting them:
no meet and greet before ... julia noticed a lot of Americans there
During intro, Tori mentioned that someone was there, but wasn't "there" and she'd get back to that later on. Julia thought it would be Marianne, but in fact, it was Mary.
Caught a Lite Sneeze was powerful. Very elaborated "builddddiiiiiiiiiiiiiiiinggggg....."
Before Spring Haze, Tori did a really cool improv.
and finally...
"Merry Little Xmas was sooooo beautiful"

From Geronimo
Added December 17, 2001 - Here some additional remarks on the show in Milan
- Suede was quite a special version!
- The whole show was beautiful, but the second halve was definitely better. I think Take to the sky was to me a bit of a turning point. The whole audience clapped. She gave sign to stop, only to build up tension, to work to a climax and then to give the sign for clapping again. It rocked. After the song she said that Italy was the only country where the audience knew how to clap in the right rythm. And if we were bored, she would give us tickets for the shows in America, so we could clapp there as well.
-Rattlesnakes and Mary both very powerful.
- In the introduction of New Age she talked again about the piano being from Woodstock etc. New Age was for me one of the nicest songs of the evening. Beautiful.
-Tori was elegantly dressed. And played in sweet way, if that makes sense.

From Gianni Spigno
Added December 18, 2001 - The show was very good, I loved particularly the versions of CAUGHT A LITE SNEEZE and SPRING HAZE, and compared to her other shows I attended in Italy, fans were extremely welcoming.

From Andrew Cotter
Added December 18, 2001 - This was my first ever Tori concert, so expectations were high, and boy, she didn't dissappoint. 'Bonnie and Clyde' was such an eerie opener, and the whole audience seemed to be on the edge of their seats waiting for Tori to appear. When the curtain fell, the crowd just went wild- the girl beside me just burst into tears. Tori bowed and waved, then went straight into Real Men, which was infinitely better than the album version- so much more powerful. The set-list, had i seen it beforehand, would probably have dissappinted me a bit. There was nothing from Y Kant Tori Read, as i hoped there would be, and also nothing from Under The Pink, which i thought was surpsiring. That said, Tori just performed so well- she turned songs that i'd never warmed to, like Suede, into classics, and she added so much depth to each song. The new album was well represented- Real Men, New Age on the wurly (fabulous- the 'hands of ivory' line just echoed in my head all night), Rattlesnakes, and of course, Bonnie. She played five songs from Little Earthquakes aswell- Leather, Winter, Me and a Gun, Tear in your hand, and China, my all-time favourite Tori song. Winter was great too, except the man behind me kept singing along in this horrible falsetto voice. That said, someone must have kicked him or something, cos he shut up pretty quickly. It's hard to pick out a highlight from the show, as all the songs seemed so amazing to me. Cooling was beautiful, and Mary was an unexpected surprise. That said, when Tori said at the start that she had a surprise for us, i was sure she was going to sing Baltimore. But alas, it was not to be. I wonder if she'll ever play that?
Caught a Lite Sneeze was fabulous- it sounded so different on the piano alone, but Tori was feeling it so well. Her fingers just seemed to fly over the keys. Take to the Sky was awesome too- she had the whole crowd clapping alog, then she'd stop them for the chorus. What an atmosphere!
I knew Tori was going to play Have Yourself..., and it was truly beautiful. By this stage everyone was crowded around the stage, and the rest of the crowd were on their feet. Bit of a couples moment!
I thought she'd end with that, but then she sang the most sublime version of Hey Jupiter. There was so much emotion in her voice at the end, i thought she'd cry. Hell, i almost was, and as for the girl beside me!!
Overall, it was one of the most memorable experinces of my life, and i'll never forget it. Perhaps Tori could have made more of the fact that this was her last show- it seemed to go by too quickly, and a song from Y Kant would have been perfect. That said, these are just quibbles, and take nothing away from the awesome performance that Tori put on.
Here's to the next tour, and please Tori, a stop-off in Ireland!!
Andrew Cotter.
Irish, but studying in Italy- lucky for me!!

From Silvia Buriani (China)
Added December 19, 2001 - First of all it was my first Tori show and it was­so amazing that at the beginning I had no words to describe it.
Let's try to make a little review.
97 Bonnie­& Clyde: haunting.All crowd just stared at the big pic waiting for her to appear.Then the curtain fell and we were all screaming.She was walking on stage.She sat on the piano bench and began hitting some very low notes that turned out to..
Real men: it was a powerful version,but was not one of my favourite of the show,probably because I was still in shock to see her that near.
She said : Hi there! she said she was glad to be in Milan ( she said actually Milano) and that we were the end of her tour.She announced that a very special lady would have been with us.She said we knew her well and that we would have found out at the end of the show.
Little Amsterdam: both on piano and rhodes.That was amazing.I was wishing to hear that song and she came.WOW!
Leather: as usual one of my favourite, the piano solo in particular.
Caught a Lite Sneeze: the best live version I've heard so far.The piano was great and her voice so powerful.
China: she was good,but this song didn't catch me tonight,I simply don't know why.
Suede: much better than the studio version.She was a surprise to me.
Beauty Queen / Horses: I was so glad to hear horses,cause this song helped me some times ago in a really bad period.It was very emotional.It seemed as the whole crowd was waiting for it.
Take to the sky: we were all clapping with her,it was a lot of fun and she seemed to enjoy our taking part.Later she said we are the only country that can clap right on tempo and that if we are bored and don't know what to do she will give us free tickets for the American shows to go there­clap in the right way... heh heh...
Spring Haze: that was a hundred times better than the studio version,the piano was amazing and her voice at the final part was awesome.
New Age: on the wurlitzer, she explained the story of it ( real woodstock etc...) this song came out in a simple and clean way.a pretty little song ideed.
Winter: winter is always winter...I've no words to add.
Me and a Gun: I was attached to my seat when she sang it.It was haunting and deeply touching.I almost held my breath.You cannot understand completely this song until you haven't heard­it live and see her face and voice expressions when she sing it.
Cooling: amazing.I can relate so much to this song.Her voice was perfect.
1st encore:
all people were standing up and some rushed to the stage.I saw someone shook hand with her and kissed her.But crowd was respectful of her and plenty of joy.Joel,who was standing on stage on the right had no problem with fans even if he kept paying attention to all of us. With all crowd standing up she bagan to play:
Tear in your Hand: cool
Rattlesnakes: both piano and rhodes in an amazing performance,I've heard a mp3 of this song­on the first London show in August,but this version was so much better.
2nd encore:
Mary: maybe she was the lady that she was referring to at the beginning.Anyway she said something I really didn't understand that well,maybe she said this song is a whore but that has come tonight and she started playing.It was maybe my favourite of the whole performance.
Have yourself a Merry Little Christmas: this was the song I wanted her to play tonight and she did it! I can't believe it. It was wonderful!
Hey Jupiter:I love the version of this tour,it's so beautiful ( both rhodes and piano) and her voice was perfect during this song.
After the show she did a really small M&G. She signed some autographs,but only a few of us were lucky enough to meet her.I didn't anyway.But I'm so happy for the show and I met some nice people too (italian and american EWF).

From alessio tescari (posted to the Precious Things mailing list)
Added December 19, 2001 - ...I've been at the last show in Milan yesterday. It was the fist Tori's live performance I have ever seen and I have to say it was something unique. 2 hours of breathless live performance. In Milan too, the show started with a "cold" version of '97 Bonnie & Clyde, I think something similar to the Berlin performance (as described by Eric on 16th december). I thought Tori was a little sick. Not at all! Then the torn curtain fell and her voice was beatiful, as always.
I appreciated the fact that she played above all her old songs (Winter, China, Leather, Me and a gun, Horses, Caught a lite sneeze, Hey Jupiter, Little Amsterdam, Take to the sky, Suede and others) instead of those of Strange little girls (which are, if I remember well, New age, Rattlesnakes and Real men). Also, she went behind the scenes and then returned to sing twice. At the end Tori played a special song for us, a promise she did at the beginning of the concert (my English is quite poor, so I didn't understand what song was and what she referred to). The best moment was the end of her performance: her version of "Merry little Christmas" (maybe this is not the right title of the song) and, above all, Hey Jupiter, with its final highs. Memorable and touching!. I adore the Tori old style, only her with her Bvse. She pull out of me the good part. I am atheist, but if believed in God, she would be my goddess. :-)

From Melanie/Purple Monkey and Jesse (posted to the Dent Forum)
Added December 19, 2001 - Okay we must be quick because Jesse and I are in a Milano hotel and need to leave in 10 minutes! We just want to say we had a WONDERFUL time at the Tori show. It was complete luck we even got here in the 1st place and then to get 4th row with a lot of help from our friend Silvia (a.k.a. China here on the forumz). We have many digital pictures and will post them as soon as we can. Our place where we are staying in Florence has no phone line, so we will get to an internet cafe as soon as we can. BTW, we met so many wonderful people, but I don't think they post here (Simone, Paola, Franscesca, Maria, Marco, Diana, Carlos, Tom, Patrick, Jack, and Mariah, and many others), but I want to say we think Silvia (China) is a beautiful person and if it weren't for HER we wouldn't have made it! Ti Amo Silvia!
We haven't read this whole thread, but I glanced over that someone said there was not a post-concert meet-and-greet, but there WAS! The Italian EWF were so polite and quiet and respectful. I think Tori spent more time at this meet-and-greet than the others I have been to.
The Teatro Orfeo was so cool. It was like a movie theatre! And we got to eat food in there. I mean they had a vendor guy in there selling popcorn and candy bars like a movie theatre! Cool!!
BTW the opening act, Van Christopher, did not play for some reason. I don't know why.
A highlight for me was when she did New Age and she was on the Wurly facing my way. It was like lightning shot through me. I couldn't believe how amazing Tori's voice and passion are in that song.
Also, when she did Have Yourself a Merry Little Christmas, it really moved us in particular because we are away from home from our families.
I cried when she did China because I was thinking she did that for China (Silvia). I know Silvia did a RAINN bash for Tori's birthday in Florence in August and I just wonder. I mean maybe she didn't do it for her in particular. I don't know, but I thought it that way.
I have to go now, but the whole show was incredible. I have been to many shows, but this was so special. Maybe it was because it was in Italy, maybe just because it was the last show of the tour, it doesn't matter. It was worth us coming all the way here.

From poetamaledetto
Added December 19, 2001 - Last night, at the Orfeo Teatre, Tori was extremly beautiful and magic. Great voice, and powerfull, so small near her big bosie. Good sound and people was in extasy... She was perfect in her performance, good version of Caught a lite sneeze, and personally I preferred her last song, in 2nd encore, an ipnotic version of Hey Jupiter.
Tori did some autographs out of teatre, then she's gone!!!!! Little and delicate in that big black car... Wanderfull, great concert, Precious little Tori!!!

From edoardo
Added December 21, 2001 - hi, i heard a lot of comments about the invisible person she mentioned at the beginning of the performance...
she was virgin mary? well i think, we are in italy, and we are catholics (protestant doesn't have the cult for her like a faith dogma..)
I think she reffering at her like a female divinity . a reference for girl different than jesus... may be??

From CHIARA ZANETTIN
Added December 21, 2001 - It was great! She was great. I saw her concert­in Milan at the­Teatro Orfeo. She was so beautiful and simply kindful. I like very much her interpretation of "Winter" and "Caught a lite sneeze",one of my preferite songs. But everything was magic and powerfull. Before the end of the concert some people went down the scene, and I also was there. I see some kind of serenity in her eyes. And I could listen at it, in her voice singing.
Just one thing: I'VE GOT NO PHOTOS BECAUSE I'VE GOT NO FLASH! COULD SOMEONE BE SO KIND TO SEND ME SOMETHING? IT WOULD­BE THE BEST GIFT OF THIS YEAR!
THANX EVERYONE and THANX TORI TO BE SO MAGIC TO US!!

The reviews below were taken from the concert reviews section of The Dent Forum and added here on January 7, 2002
Review by eleonora
Hi everybody,
I just want to say that tori has been wonderful last night!
it's been the first time for me to see tori live and I waited this moment for Years (very silent)
It's been nearly shocking : her boesie, her voice so warm and fairy smile!
Probably she played all the songs I like best, except for preacious thing, but Merry little Xmas has been a very kind gift and she sang Hey jupiter heavenly!
I've to wake up from this dream!!!
-------------------------------------------------------------------------------------------------------------
Review by FamBlueRaincoat
Hi everybody, this is my first time here, only to say that I was yesterday at Milan gig and it was soooooo cool!!
It was my fourth time to Tori concert and I think it has been the better one.
I don't know why but the atmosphere was beautiful
She seemed really happy and in the right mood.
I also had the chance to meet her on the back of the theatre, we waited more than an hour but she came out to make autographes and speak a little with us.
I didn't sleep last night.
I love Tori!
-------------------------------------------------------------------------------------------------------------
Review by guesswest
just a little note.........have read a couple of people posting on this thread, and met someone in the airport.......who wasn't happy with the setlist for this show.......don't know about the rest of you who made it to the orfeo......but that was like my ideal setlist.....mmmmmmm.........just wished i wasn't so tired for the show......woke up halfway through bonnie & clyde covered in my own drool like a startled hobo.......good times!
-------------------------------------------------------------------------------------------------------------
Review by CoolingboiMD
does anyone know where my spark is? I was so distraught that she skippped it for Mary.
I was really happy to hear Mary until i found out it was replacing SPARK.
i think iwould have had fun bymyselfhearing this song solo. oh well. if it didn't happen this tour it'll never happen
-------------------------------------------------------------------------------------------------------------