Tori performed in Amsterdam, The Netherlands on November 28, 2001 at Heineken Music Hall during the 2001 StrangeLittleTour.

Set List

Thanks to Matt Page, Stacy and Michael Cannon for being the first to email me with the set list, right after the show! I also would like to thank Awkward HUssy for being second.

'97 Bonnie and Clyde
Icicle
Rattlesnakes
Silent All These Years
Real Men
Merman
Spring Haze
Not The Red Baron
Flying Dutchman
Little Earthquakes
Bells For Her
Me And A Gun
1000 Oceans
1st Encore:
Tear In Your Hand
Hey Jupiter
2nd Encore:
Take To The Sky
Cooling
Pandora's Aquarium

Reviews
Latest reviews are added to the bottom of the page.
Be sure to check the Tori Concert Reviews Forum for reviews as well!

From Matt Page, Stacy and Michael Cannon
Added November 28, 2001 - The show was great, a little bit short though.
Matt Page and Mike and I are sitting here following the Amsterdam show! The shows have been amazing! I'm so lucky to be here! It has been a bit cold and Tori's mentioned the cold weather too! The meet and greets have been nice and small and the people and the shows are MUCH MORE MELLOW! Tori wore the cutest dog hat today at the meet and greet! By the way, she wore the most beautiful red satin outfit last night in Paris. Tonight she wore a plain white pant suit!

From Astrid
Added November 28, 2001 - The show was great, Tori looked really pretty and the acoustics at the Heineken music hall were amazing!! But... I have to admit I'm a bit dissapointed as well. She didn't play very long and the songs she did were really nice, though not spectacular. It was all a bit predictable and there were nog big up or downs, just a strong set of songs. Very little b-sides and boys for Pele, unfortunately. Not many words as well, except the Real men part (which was initiated by a dutch guy) and the freezing cold thing in Holland. My highlights were Flying Dutchman and Cooling, beautiful. Lets hope Brussel will bring some more action...

From Kirsten (J@ckie e e e)
Added November 29, 2001 - I attended two Meet and Greets yesterday (Before and after). We only got to talk to Tori for a short time. I'm gonna include a review of this to when I have more time.
For now, I just want to say that someone asked about Tori's mom (she knew him, he has been a fan for 10 years now). Tori was so happy he asked! She said she was doing fine and was fighting very hard now. She is just out of hospital after surgery. I didn't knew about that before.
Also, I was definitely sure about Tori being pregnant after seeing her perform. She really had this preggy stomach and because she was wearing this catsuit it was even more clear.
But, my friend Esther dared to ask Tori about this during the Meet and Great. Tori said: "NO" in a very funny way, like she had never heard of this rumor before. She was suprised and laughed while putting her jacket and shirt up so we could she her really thin and flat tummy. There is no baby there!!!! I know for sure now. She explained that this has to do with her singing technique and breathing. People who took sing classes know what I'm talking about.

From Awkward Hussy
Added November 29, 2001 - Tonight's show was very strong, and although the setlist did include songs I'm not that crazy about on CD, I was very pleased with the way she performed them in Amsterdam. With the songs I do love, she was fantastic such as Little Earthquakes and Cooling. On Flying Dutchman she was really belting it out. She spoke to the audience a couple of times and was very cute when she said "male-seed! Yum yum!" I have posted a more detailed review on the Dent forum but I'll say here that it was a great show, despite not may things from my "Live wishlist" being played. The meet&greet was good, I didn't get to speak to her personally which was disappointing but Steve knew I had a bag of goodies for her and took it from me to give to her later. I got some photos of the m&g too. I didn't want the night to stop so I'm very much looking forward to Brussels and sad that I won't see her again!

From Eric (with a 'c') Thelen
Added November 29, 2001 - There was a soccer match in the Amsterdam arena right next to the Heineken Music Hall - so the area was really crowded and parking was difficult. Mark (Tori's husband) was wearing the shirt from the player's uniform of the local soccer team.
Although I thought that the hall was not the most beautiful place to see a show, the acoustics were really really good - at least where I was sitting, way in the back just behind the sound board.
Tori said that it was good to be back in this magical freezing f***ing cold place and that it has been a long time. She also said that there had been Dutch people visiting them in the U.S. and bringing gifts...
Before Real Men, Tori mentioned that this song was brought to her by the Dutch men (most likely she was referring to the Dutch people on their team). Then she said that now nobody would know what song she would play now. She looked upwards and made a movement as if she were smoking. (At least that is what I thought from the distance where I was sitting.)
I enjoyed the setlist a lot. My impression was that Tori played slowly, taking time for the songs, allowing them to breathe. She seemed to feel comfortable.
In Silent All These Years, the 'years go by' part is different every night. During this show, it was special again.
I heard Real Men for the first time live and I thought it was even more powerful than on the CD. Tori's voice was deep and strong.
Merman was beautiful as always, slowly and expressive.
The combination of Not The Red Baron, Flying Dutchman (appropriate to be played in Amsterdam, of course) and Little Earthquakes was a surprising sequence of songs and the heart of the set.
Bells For Her was very plain and sharp, on the Wurly.
Before the encores, everyone in the audience stood up and many people rushed towards the stage. People remained standing and Tear In Your Hand was very warm and friendly.
Maybe Take To The Sky showed up since the audience was still standing. However, I did not think that it really worked the way it usually does last night.
Cooling is and will always be my favorite. Every show where it comes up will have a special place in my memories. I wish she would eventually play the 'full' version again with the 'women you got too many brambles' verse, as recorded on the Spark single. Yesterday's version was wonderful, as always. I thought the show would be over with Cooling, so the really impressive Pandora's Aquarium was a nice surprise to finish the night.
Greetings to everyone!

From Marije Pama
Added November 29, 2001 - Tori was ADORABLE!!!!!! OMG, at the firts meet & greet she looked a bit tired, but she was so sweet. She wore this absoluteley cute chococat hat, and I said something about that, and she just put her eyes up *looking at her hat*, and laughed. We were really being funny with Steve and Joel....GOD, they are funnY! We just teased Steve, and he just talked and laughed. Joel came later with tori , so we coudnt talk to him much.
She talked to me at first, whether I was ok, and if she could sign anything. (I was holding a picture and album cover). So I gave her the picture from her and me, taken in Hilversum, 1999 , she looked at it for a while ( I am sure she coudnt place it anymore..haha), and asked how you spelled my name. Well, she spelled it wrong ofcourse..(its marije, and she wote marige!)
Then she got other stuff, including the fanbook we made by a lot of people (people sent us letters from all over the world!) She looked at it, and said "is this from you?" pointing at us, and we just pointed at all the people who made it, and I think she really liked it. (We still believe she referred to the cover picture during her talk before Real Men!!) Anyway, then she went to the other people, and she was gone within 7 or 8 minutes...
Then the show!!!!! I was 23th row, but it was not too bad....Some people were really rude though! They were just smoking, drinking beer, and getting up to get some more beer! People were walking during the whole show!!! SO ANNOYING! The setlist could have been more exciting, it was almost like she "played safe", because she also did no 'weird' stuff", if you know what I mean... She talked about that st has been awhile since she was in Holland, and that it was good to be back, "because I always get a lot of nice presents, like Van Nelle and..(?). Then about "its fucking freezing cold here!" She talked about the album "I took men's seed , yummy yummy!" (people laugh!). What she really said before Real Man i am not sure, but can someone pleaseeee tell me, because she said something about this song originally made by dutchmen...(?) then she started playing a bit, stopped, looked at the audience and said. "You have NO idea what I am gonna play do you? (laughter!) And she leaned BACK, feet in the air, pretending she inhaled a big sigaret (gestures with hand) , and THAT was axactely what was in our cover drawing of the fanbook we gave her! (big Dutch fairy, sitting on the piano, feet a bit up, smoking this huge joint!, isnt that funny!)
When she came back for teh 1st encore, people didnt go back t their seats, and stayed up,. wich was very annoying (when you are siting 23th row!), after a few song people in front of me even got up ON their seats, wich was sooo incredebly rude, because I really coudnt see a fucking damn thing! And she was even playing Cooling, the song I just prayed she played tonight!
Anyway, when she was finished we went to the back of teh hall, and we were standing perfectly for the meet & greet!! She came out, looking so adorable again...GOd, she is cute! She signed and talked, and she was sooo relaxed! At the end she came to me, and I hugged her (*sigh*), and made a nice picture together! ( I am gonna devellop them today..I am soooo excited!)
People were nice, although after the concert a bit more puching. Joel helped me out one time, because I was being squashed, and he said that to the people behind me, then he gave me a 'pet' over my hair, like'your okay now', so cute!
We saw Mark, and he wore this very ugly shorts (soory mark), and a t'shirt from our footballclub Ajax! They were playing in the arena next door, so perhaps he could buy that t'shirt very cheap.Anyway, we said that is was too fucking cold for shorts, but he said he was ok!
Sooooo, this was my abolutely fabulous Tori day...I SAW HER TWICE!!! I just can rest for the rest of the year. Now, I have a hangover, because I came home aroud 03.30, and its now 9 , and I have 2 exams within 15 min! (I missed one exam yesterday because of tori)... THANK YOU ALL , the people who were there. I believe everyone was very gentle and sweet!

From Arno
Added November 29, 2001 - Tori was great. She did some fantastic songs and I heard my all time favorite Hey Jupiter! She tried to create a Tori-atmosphere and to connect to the Ears with feet by talking about the Dutch (she told she met some of them at the tour in The States and they gave her Van Nelle and other presents). She told the Dutch crew-members had asked her to put a special song on SLG. Than she began to play some strange intro, laughed and said : "you don't have any idea what i'm gonna play, he?": It was real men. She played Flying Dutchmen! She imitaded a smoking person by acting she was smoking a really huge sigaret (it was allowed to smoke during the concert). Did anyone mentioned the great light and decor?
The acoustics were great indeed, but the Heineken Music Hall was not suitable at all for such a intens concert like a Tori-concert. It is a huge hall, cold (Tori said a "fucking cold place", meaning the Hall, not the weather). People walked in and out, going to the toilets and orderering drinks at the bar. Even during me and a gun some people walked en talked. And because The Heineken Music Hall does a lot of comercials on the Dutch TV, all their concerts are very popular: some people order tickets, even when they don't know which artist is playing. Normally there are "dance concerts" in this hall (normally without seats), so people expected a concert where you have to stand-up , where you can walk, talk and standing around the bar. Those people who didn't know Tori's music at all, made it sometimes difficult for the Ears with Feet to concentrate and they influenced the atmosphere badly.
I had a great evening and more important i'm goining to see Tori in Brussels next Saturday......

From Justin en Janneke Beers
Added November 29, 2001 - I thought the show was just great!! The sound in the Heineken M.H. is just amazing. Me and my sister had balkonyseats (3rd row) and still we had a good view at the stage (I was kind of worried about that before the show).
Tori wasn't very talkative during the show, I was kind of dissapointed about that 'cause I always like her stories and comments about things a lot. She said something about the Netherlands being a F***ing Freezing Cold place and that the dutch fans are so dedicated overloading her with presents, letters and everything,­than she played Silent all these years.
The story before Real Men was really funny she talked about the SLG album, saying something like: "so I did­this little album with songs from men...yumyum...", she followed with pretending that she was smoking a joint and than talked about the fact that the next song was initiated by a dutch guy... she started playing an intro and no one recognized it, she stopped, laughed and said: "you have no f***ing idea what I'm gonna play!!!", continued the intro and went into Real Men.
The rest of the show she didn't give any comments but played and sang very powerful and full of emotion. I was so happy she played little earthquakes, one of my favourites. During Me and a Gun there was an absolute silence...I'm glad that everyone understands the intensity of this song, no one dared to cough, though there was someone wo who couldn't bring up the respect and made a photo with a full blinding flash during the song..... that was the only disturbance.
Actually, we weren't allowed to bring camera's inside, Tori didn't want it because she gets blinded so many times by the flashes, so they were "all" removed from our bags and coats when entering, still I saw dozens of flashes during the whole show... This was my second Tori show and also the best I've seen, and yes, it was a bit short, but will a Tori show ever be too long??

From Dennis Snelders
Added November 29, 2001 - Tori did a fabulous show in Amsterdam. The support act was done by Ben Christofsen(not sure if this is the correct spelling). There was a lot of merchandise available, like 4 different T-shirts, a "satin worship" shirt, a calendar etc.
Tori wasn't very talkative, but she did make a few remarks, one was something like "It's been a long time since I've been to this magical but fucking cold place" and before Real Men, she explained that the song was originally suggested by one of the Dutch members of her crew. She wore a beautiful white dress and she seemed really into it, smiling and waving happily between encores, although that's something she usually does.
I really enjoyed the show, it was a terrific experience and in my opinion it was way better than her last performance here (den haag 1998). I know some people have said it was short and nothing special but I thought it was terrific, just because it's Tori :)

From Spacedog18
Added November 29, 2001 - Tori was great, but hey, it was the first time I saw her and I don't think there could be anything that could disappoint me :-)
I didn't think it was short at all, it lasted 2 hours or so. I thought her remark about her girls-project was really funny. She called the songs men's seed and then said "men's seed, jummy!".
She started playing a really low pianoriddle (that sounded a lot like "raining blood"), then said "you don't have a fuckin' clue what I am going to play, do you?" and then started to play real men.
The other reviewers do have a point though; the songs were beautiful and well chosen but alittle sterile, they just wouldn't really sparkle. Sometimes she even took the automatic pilot. Nonetheless, this is a night I'll never forget (she looked me in the eyes! *grin*).

From Theo van Dijk
Added November 29, 2001 - Well it was another great Tori show again!!! My first show of the StrangeLittleTour started with a huge train delay to Amsterdam, but when we finally got there it was immediately great waiting for the meet and greet! After a couple of hours waiting Tori came and I ended up just in front of the barricades. Tori signed something for me and we got photographed together (unfortunately all my photo's didn't work so if anyone has me with her, please please please contact me at plugged98@hotmail.com) . She was really sweet again and wore a nice little hat.
Then the concert itself.... AMAZING!!!! This was for sure the best show I've seen Tori play as of yet. She played all the songs really powerfull and did a couple of songs that I hadn't heard live before except for on bootlegs.
Real Men was my absolute highlight. This was already my favourite song of StrangeLittleGirls but now it is even more. Wow boy was she great!!!!
Also I liked 1000 Oceans and Bells For Her a lot, because they sounded so different now than they did the last tour.
After three or four songs I screamed " Tori I love you" and she responded with making the sound of a kiss which was realy really really cool.
Anyway, it ws a great night and I can't wait for Oberhausen next week!!!!!

From Ruud van Melick
Added November 29, 2001 - Just for statistics, the Nov28 concert in Amsterdam started at 21:13 and ended at 22:56.
No review from me. I wish I could remember concerts (reading the reviews on your site is great). Although I can't compare it to any other concert this tour, I enjoyed this one better than the the one I visited a few years ago (Choirgirl era).

From the Dutch publication NRC Handelsblad
Added November 29, 2001 - Hihihi aka Rinske sent me her English translation of a review of the Amsterdam concert that appeared in the November 29, 2001 edition of the Dutch publication "NRC Handelsblad". Keep in mind that translations can be wrong at times and sometimes change the meaning of the original. That being said, it is obvious that the review is a negative one. But it did include a nice photo of Tori from her soundcheck that day at Heineken Music Hall, which you can see below. At the time of this posting, you could read the original Dutch version of the review at nrc.nl.
Here is the review translated into English by Hihihi:
The photo is credited to Lex van Rossen.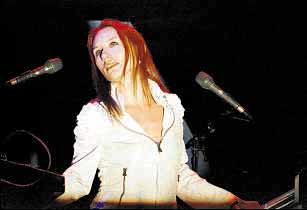 High Priestess Tori Amos has lost her inspiration[/animation]
By Hester Carvalho
Tori Amos is not just a woman; she consists of a variety of women. At least that was the impression she made with her latest album Strange Little Girls. On that album Amos performed twelve songs from ă male- songwriters that represented all different female characters: from the victim in Eminems '97 Bonnie & Clyde to the by selfhatred stimulated main character in Lloyd Coles Rattlesnakes. The varied types [of women ] are represented on the cover with pictures of Amos as vamp, secretary, hippie, and so on.
Even though she tries hard to make us believe that she has a welter[/chaos] of archetypes in her, she doesn't succeed in passing the message. Tori Amos is and a bad actress, and a less expressive musician than expected. It already shows in the photos: whether she wears a Mata Hari-wig or takes on a junkie-look, underneath is always the same spotless face. During her show yesterday in the Heineken Music Hall in Amsterdam, it appeared that the shallowing has also started musically.
Amos played alone again, with her B˝sendorfer and a few electric pianos. In the past this set-up could lead to ghastly concerts, where Amos would switch between seeming to use the grand piano as lover and as sparring partner. That inspiration[/animation] was absent yesterday. The instrument she has often revered was nothing but a lifeless piano to thump on carelessly.
Amos, as ever widespread and with defiant high heels, kept her singing simplistic as well. She is known for vocal capers where every phrase gets a different tone. But last night she kept lingering on the pout-tone: an at some point exhausting sensual cooing.
This way she worked through a few songs from the new record, and some classics from her starting time, like Icicle and Little Earthquakes. Low point was the a capella, with moisty Lolita-voice sung Me and a Gun, the song that first drew attention her way in 1991. Her personal experience with rape apparently must not go by anyone, so explicit and repeatedly did she rub it in.
The audience in the sold-out venue received it joyfully. To many Amos still seems the high priestess from a sort of spiritual feminity. But nobility obliges: Tori Amos may come up with a new wisdom.

From Spits Magazine in Amsterdam
Added December 2, 2001 - Toriphile Awkward Hussy sent me this review of the Amsterdam show, that appeared in the November 30, 2001 edition of Spits Magazine, which is a free magazine in The Netherlands. This review has been translated from Dutch into English, and therefore will likely have some mistakes and altered meanings. Huss added ? whenever there was a question about the translation, and wherever she has separated two words with a / means the dictionary had two definitions and both seemed to apply!
"Tori Amos: Excess and Drama"
Spits, Friday November 30, 2001
Every breath, every sigh, every gasp comes in duplicate(?) at the Heineken Music Hall. On the podium sits Tori Amos, on her own, surrounded by a colossal piano and two smaller organs. Sometimes she plays two of these instruments simultaneously, but the love/attention(?) from her is to the piano, that she fully surrenders her life to (note: I'm not sure if this could also be translated as "that she fully gives life to").
Tori Amos is a peculiar/remarkable and charismatic artist that a large number of loyal, devoted fans can depend on. During the occassion with seats in the hall arranged(?), they listened attentively to her emotional, pretty composed songs. Between the numbers a loud expression of love sincerely sounded "Tori, I love you!". Whoever thinks that she mainly publically addresses them is mistaken; half of the room is certainly full with male fans. On her new album "Strange Little Girls" Tori plays twelve covers of songs written by men about women. Only two songs were played, as well as the beginning of the concert which began with Eminem's "Bonnie and Clyde". The distasteful number about a man who kills his wife and together with their little daughter, becomes an impressive tragedy when Tori sings it. Her version of Joe Jackson's "Real Men" on the other hand received a lot of drama, excessive sighs and emphasis(? ) on significant pauses. There were signs(?) and shows of strength and weaknesses from Amos. She played and sang every number intensely and with full delivery, the continuous returns of her "hiiiieeeuuooee"- ??? drawn out, the tune(?) on the piano and the always profound lyrics beginning after a little while with a little trick/change to appear(?). Using some variation(?) in the songs, after her choice not to have a band(?) helped there also(?).
The dramatic climax was the public's darling (?) acapella song "Me And A Gun". On an extremely low tempo Tori beautifully sang(?), a song about a rape act in the past, every sentence with a deep sigh at the end. It is a signal(?) for the fans, after a long breathless listening, the seat/seating area deserted and the walkway taken over(?) (note: I have no idea what is being said here and I know I have translated it wrong, I'm assuming they mean that the entire room was just taken over by this song).
The first encore she no longer seemed to hold and express the endings (note: I might have this entire sentence the opposite of what it is saying!) the most jubilant standing on their seats. (note: I think the article might be saying that she walked off stage quickly and therefore didn't "hold" the goodbye audience part of the show).
Tricks/changes or not, for the fans Tori remains an absolute idol.

From the Dutch publication 'Volkskrant'
Added December 3, 2001 - Toriphile Marije Pama sent me this review of the Amsterdam show, which appeared in the November 30, 2001 issue of the Dutch publication 'Volkskrant'. This has been translated from Dutch into English by Marije!
Tori shakes
Tori crawls
Tori begs
Tori longs (for)
On MTV she complained about the bad attitude against the female singer/songwriter. If Tori Amos shows het extreem personal side without emberrassment, she is weird, or yet worse, hysterical. But if Leonard Cohen or Tom Waits do that they are deep, experienced and interesting.
It's true, Amos, who more then once thanked the faeries on her albums, is occasionally called vague and strange. And this while men can get away with everything, according to Amos.
To create an opposite coice to the make violence and agression in popmusic, she recorded twelve covers from her male coleagues for her latest album, Strange Little Girls.With most significant example: '97 Bonnie & Clyde by Eminem. About father Eminem goes to the beach with his unknowingly daughter to make an end with the difficult relationship with the mother on an onconvential matter. Let bygones be bygones!
Tori crawls into the skin of the murdered mother, and for a moment the Music Hall was as oppressed as in Eminems cartrunk. But it was a short statement. During the concert Tori played only two more songs of her men project. The rest was Amos pure. Without guiding band, but with her beloved Bosendorfer piano, an electronic piano and an impressive voice which strong as light on own strenght rises, to stay high as delerium. Sometimes fragile, but never breakable.
The a capella Me and a Gun, a penetrative song about revenge after rape, was an example of the ancient power of unplugged concerts. The sirene sang softer and softer till she whispered to an attentive audience. But being bare, Amos' songs loses a lot of their peculiarity and then uniform follows. If only passion dictates the structure of the song, a lot of blown up emotion comes in place.
Tori shakes her head as if riding a frisk pony, Tori crawls into her piano, Tori begs, Tori longs. Personal ecstasy which is just a little too personal to maintain the attention.
So she transformed in Little Earthquakes into the Highpriestes of a mystic women cult. The worship was tangible when many fans left their seats and rushed down the corridors to sguat down in humility and their heads full of devotion to inhale the message. And so Amos became a bit like Jomanda and her recital an audience.
Bit weird.
Pablo Cabenda

From the Dutch newspaper "De Telegraaf"
Added December 5, 2001 - Mark Robinson (a.k.a Little Idiot) sent me the following press review of the Amsterdam concert that appeared in the December 1, 2001 edition of the Dutch newspaper "De Telegraaf". (Actually, it is an article about the Strange Little Girl album that includes comments about the Amsterdam show.) The review included photos of Tori at her soundcheck in Amsterdam that were credited to Rob Verhorst. You can see scans of the photos below that Michel Kempes (aka BIG MIKE) and A.E. den Drijver sent to me. As for the article, Mark Robinson translated this review from Dutch into English. Keep in mind that translating is an error-prone process and that this translation was not done by the author of the review.
12 Faces of Tori Amos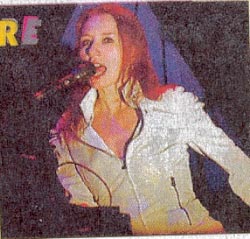 10 years ago, Tori Amos debuted with the thrilling autobiographic story about rape and humiliation called "Me and my Gun" (note: yes, it was misspelled that way). De female singer didn't let go of that topic. On her new cover album "Strange Little Girls" violence against women is yet again the main subject. Nevertheless, Tori's versions are not about name- and faceless victims, she crawled into the body of woman that we probably know very well, but never really heared.
Like the mother in Eminem's " '97 Bonnie & Clyde". The lyrics haven't been changed but Tori lends her voice to the mother in the trunk, just before she gets dumped into Lake Michigan. "Eminem reached his goal" speaks the fragile redhead. "Nobody gave a damn about her, because she had no voice nor a face. I wanted to let that woman speak even after her death. I couldn't really avoid her, she announced herself like a medium. She took me by the hand and told me her story"
That's how Tori got intrigued by twelve women that, like she says, belong to a wide variety of songs from among others: Tom Waits ('Time'), Depeche Mode ('Enjoy the Silence') and Lloyd Cole ('Rattlesnakes')."I didn't pick these songs myself", she tells us. "I discovered that men document their whole life with music. Whereas I keep shoes, pictures and diaries to remember certain parts of my life, men that I knew had a particular song for every special moment in their lives. One for the death of their mother's, one for when their girlfriend left etc. There were certain artists that I came across many times, while searching through their CD collections. They all had something by The Stranglers, Joe Jackson and The Beatles. I made them pick the songs, but when I started listening to them, a woman soon entered my mind. The prostitute that visited Lennon's murderer, Mark David Chapman, shortly before he did his crime, turned out to be the girl behind Lennon's "Happiness is a warm gun". And what do you do know? The only thing he asked her was to be silent. Silent all these years! That's one of those typical women that had to be given a voice.
In the booklet of "Strange Little Girls" we see Tori in twelve different shapes. One for each song. Each one suprising, totally unrecognisable. It makes one curious, cause how will this be transformed into a live setting? Thank goodness Tori restrains herself from a dress up party in the Amsterdam Heineken Music Hall, last Wednesday night. The scenery seems sober (note: the Author obviously hasn't been to any other Tori concert before). Tori Amos only helps herself to a grand piano and a keyboard, the supporting band is nowhere to be found. 'Stilly" is a word that comes to mind, or "serene". For one hour and a half, the hall is filled with soft pink and red light and the fragile voice that belongs to Tori. We only hear a few songs from "Strange Little Girls", but "Me and my Gun"(note: again the same wrong spelling), about her rape by an armed "fan" is being song A Cappella and with a sob in her voice. And then it's clear again why Tori is still very occupied with violence against women.
By Daphne van Rossum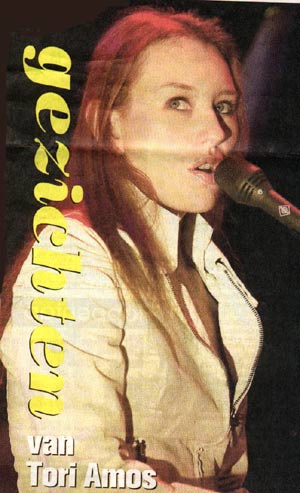 The reviews below were taken from the concert reviews section of The Dent Forum and added here on January 7, 2002

Review by huss

Show started at 9:15pm, finished at 10:55pm

Meet 'n' Greet:

I got there before 12 noon, didn't notice anyone and at 2pm walked around to the other side of the building where a group of about 12 people were waiting, also since about 12 so I must have just missed them. It was a cold nasty day, a bit of rain here and there but we braved it! Then we see Steve walking by looking confused as to how to get in to the building :P He came out again at about 3pm and started setting up the barricades. At 3:15pm he told us how to behave and said "Tori will be out in a minute", well one minute ended up being one hour but hey, it's Tori and we didn't mind being squashed (much).

Eventually Tori came out, she was wearing a white wooly beanie hat with a little pussycat type logo I think, and a parka/jacket. She said hi everyone and signed some autographs, I got some pictures which I'll email off to Mikewhy shortly. I had a bag of goodies to give her and Steve kindly took them for me to give to Tori but she went right by me and I didn't get to talk to her or say hi ((
But a girl I met there (hi Mirella!) got to have her picture taken with Tori (Mirella was over the moon) but sadly security took her cool camera away inside the venue and I don't think she got her pictures in the end ( I also met some other cool people (Jonas from Sweden and Emma from Almere). Emma and I had crappy seats and until the last minute we hung around the front rows and 2 seats in row 5 were free so we took those :P

Enough blabbing, on with the review!

97 Bonnie and Clyde:
Basically what you've read already about this, very creepy indeed and the curtain falling was a great effect.

Tori came on stage here to thunderous applause, she did that cut bow and bent her knees outwards down to the ground, then took her seat at the Bosey.

Icicle:
the intro to it was harder sounding, then punctuated with a lot of high "heeeeeeEEEEeeeee's". The "I could have, I should have" parts were VERY forceful and belted out powerfully, not the high notes. The high notes were made up for with more "heeeEEEeee's" (hell you all know what I mean!). Beautifully done.

Rattlesnakes:
She was playing both the Bosey and the Rhodes(? not the stars n stripes instrument) for this, very impressive. Love this most off SLG. At the "she says oh, it's so hard to love when love was your great disappoint..." and I was thinking to myself wow I'm not crying here, the album version always makes me said at this point, and then the final "...ment" in that sad little voice, well I started getting quite teary after that, also because I couldn't believe I was finally seeing her.

Talk time:
"hey everybody, how's it going?" Then went on to say it's been a while since she's been here but there are plenty of Dutch men where she is (not those exact words) and they bring all this stuff, and then "it's great to be back in this magical fucking freezing place" (lots of applause!)

SATY:
Beautifully done as always. Didn't hit the high notes on the years go by parts. Other than that, the usual good stuff. She crossed her legs hard on the "bleed real soon" part.

Talk time:
"Male seed, yum yum!" Then she said something like "on the new album a Dutch man suggested this next song so I just wanted you all to know that".

Real Men:
she started playing something unrecognisable and one guy shouted out "I love you Tori!" and she made a kissing sound back at him. People were cheering and she stopped and said "you've got no fucking idea what I'm going to play next" and then made gestures like she was smoking a cigarette (I had just missed this part but Emma told me what she did and I caught the last bit of it). Real Men was fantastic! Crossed her legs hard again for a brief while on the "I'll just play along" part.

Merman:
wonderful as always. At the end she was singing a line that went like "past the apple orchard, we can both play", that may be wrong but I haven't heard that before on versions of that song I've got.

IntroSpring Haze:
the intro was kindof hard sounding also. But she was very powerful on some of the "uh-oh let go" bits.

Not The Red Baron:
I never really liked this one much on the album but hearing it live was different. I liked her piano playing a lot tonight on this one.

Flying Dutchman:
Wow. She REALLY went crazy with this, yelling out "flyiiiing dutchman, are you out there", like she was screaming at the top of her lungs. At the end she was saying "they hide in your mind, hide in your head" or similar.

Little Earthquakes:
What can I say? One I was dying to hear and she sang it exactly the way I love. The eeeEEEEeee parts were amazing. Again I got a little boohoo with this one, gets me every time.

Intro/Bells For Her:
She did this on the stars'n'strips thingy (the Whurly?). I didn't recognise the notes then she started saying "can't stop it" and then went in to a beautiful standard version.

MAAG:
When she started this one, a few people cheered but it wasn't disrespectful. She was largely hunched over a lot for this one, then towards the very end she straightened up, almost like the "but I haven't seen Barbados" line was some kind of release, and she was able to come up again. I thought it was very effective. She didn't yell out the "flat on your stomach" part, but the whole song was very soft, and the "flat" part was more forceful but not very much.

1000 Oceans:
Played on both the Rhodes and Bosey. Much like the album version, very touching.

She stood up here and waved goodbye (that cute little wave) and jogged off stage. We were all still yelling and clapping of course, and it seemed like everyone rushed towards the front. And she came back on to...

Tear In Your Hand:
much like standard live performances of this but she was really putting her whole body in to it. The "maybe it's time" bit always gets me choked up and it didn't fail tonight

Hey Jupiter:
played on the Rhodes. Her high notes were perfect.

She runs off stage again half skipping, we're still going crazy knowing a second encore is coming, and back she comes to the screams of us and starts on...

Take To The Sky:
Slapping the poor Bosey here but I'm sure Bosey doesn't complain. People were clapping along at the start but it died down (luckily). Some parts were very powerful.

Cooling:
Sigh. Always so sweet and beautiful (I know I'm using that word a lot but you know it to be a good description). The "oooooo" bits at the end were ummm, beautiful :P

Pandora's Aquarium:
great stuff. Much like the album version. Loved hearing this one live.

Then she waved goodbye, came to the front of the stage waving more, then jumped off like a bunny rabbit. She's so adorable!

Thoughts:

The crowd was very well behaved (at least where I was). We had speakers near us so we couldn't hear that much around us anyway. Some people got up and left during LE, what is wrong with these people, and stayed out for a couple of songs. Blasphemy!

Steve was really nice, I got to exchange a bit of chatter wth him. He and Joel did whisk Tori away very abruptly at the end of the meet n greet so some of us were left feeling "ummm, okaaaaay...", honestly I dropped my eyes for one moment and when I looked up the back of her was in the distance!

For the fashion goers, she wore the white satiny one piece with the jacket-like top, slightly puffed shoulders, and the long split leg. Underneath was a pair of split black satin pants, under those a pair of pale fishnets and her shoes were stillet ankle-boots which also had a fishnet look to them and a zip up the front of the foot *I think*. It was hard to see. She also had diamond earrings on which really caught the light.

Merchandise was various t-shirts, jewellery, poster and the calendar. I thought the Satin Worship long-sleeved T (white top, long black sleeves) was a ripoff at 90 guilders.

I met some cool people (Mirella, Emma and Jonas), and Emma and I got chatting to a guy with a crew badge and turned out he had transported the Bosey to the venue.

My only disappointment was that Tori didn't play anything on my "I'll die if I don't hear this live" wishlist, except LE and Rattlesnakes. She didn't speak to us apart from the times I mentioned.

Can't wait to see her in Brussels on Saturday night

I left out my comment on Ben Christopher, the support act. I thought he was great, never heard of him before but loved what he did. A one-man show, he had this dohickey thing that played beats and distortion noises (I don't know the name of it), then a couple of guitars, and a keyboard. Very high voice, reminded me of Savage Garden singer's voice but with balls to it. I am going to buy his stuff now. He played 6 songs, I did see the setlist but didn't copy anything down

--------------------------------------------------------------------------------------------

Review by Little Idiot

anywayz...IMHO..NOTHING was like the album version...i mean ...yeahthe notes were in the same order, the songtext was the same...but live (this was my first live concert) it's all soooooo much more beautifull.

Pandora's Aquarium, i was so excited when i heared it, i almost thought i'd faint! and Hey Jupiter was sooo fucking stunning.

And her "I bet you have no fucking clue what i'm gonna play" before real men started....well that was just plain brilliant, i wanted to hug her then

The audience was quite annoying actually, halfway through the show alot of people came walking past me to sit on the ground in front of the podium (they weren't leaving the show off course but it was funny cause after she first left the stage, everybody would stand up and rush onto the stage, it was like.....really fanatic. Everybody stood and listened very still as tear in your hand reached their ears..

I just want to compliment on the whole lighting and decorating, it was absolutely great.

Now on to brussels next saturday i can't wait!!!!

--------------------------------------------------------------------------------------------

Review by mindfold

well, now my story of this beautiful tori-day,

we finally arrived at 12:30 in the afternoon at the HMH in Amsterdam, just searching for the backstage-entrance. We finally found it and met up with some other toriphiles.

We thought Tori would be a little bit earlier today but we had to wait 'til 16:30 in the afternoon to finally meet her. Steve and Joel looked a little bit tense but Tori was just tiny & beautiful. I got my LE cd signed, a photo taken with her and i asked if she could play "Cooling" tonight. Well she said: "maybe, she's been a little down lately".

We took off for something to eat and arrived at 18:30 p.m. at the main entrance. The guys from the security took our camera (aarghhhh!!!!!!!!!) but anyway, we bought some t-shirts/girlieshirts/tour-booklets/other stuff i don't even remember. Off to the black box then.

The concert was beautiful, there has been enough said about it in the previous posts! My favorite tracks of the night: Icicle, Rattlesnakes, Real Men, Merman, Not The Red Baron, Little Earthquakes, Me And A Gun & especially my requested Cooling! Yeahh, what a relief!

We got our camera back with all our film on it so, pfewww what an amazing night! cya

--------------------------------------------------------------------------------------------

Review by bastardo

First post here, don't know the MO, so bare with me :|


Last night (being the 28th of November), i went to see Tori in the Heineken Music Hall in Amsterdam. This was my very first Torishow ever! And i must say i am not disappointed. Even thought the HMH is basically a cube with a Stage and a Balcony, Tori managed to create an atmosphere like she was playing in your livingroom.

The Support act wasn't much to write home about in my humble opinion, i already forgot the guy's name, i was bored after eight measures.

As for the setlist, I was ambivalent as to Tori appearing solo. On the one hand, we'd be missing some great sounds from the band, and on the other we'd be exited about what she was going to come up with next.

She opened the set after the first song, by welcoming us, and saying: "It's always nice to be in this freezing fucking cold place,..."

The set look somewhat like this (I"ll probably mix up the order somewhat since i didn't write it down then, so this includes the two encores):

'97 Bonnie & Clyde

Icicle

Rattlesnakes

Real men (dedicated to Marijhuana, with: "So, this song comes from the Dutchman..[playing some chords]..you have no idea what i'm going to play right?! [Making laidback pot-smoking-move])

Merman (with a slight wink to Natashya)

Hey Jupiter

Flying Dutchman

Little Earthquakes

Tear in your Hand

Bells for her

Take to the Sky

Cooling

...and now i have drawn a blank... Oh crap! I have been staring at this list for over fifteen minutes without anything coming back to me and i am still missing about six or seven songs, damn this beer, damn it!

Fellow dutchies, help me out?

My general impression of the entire show was a good one, although i had the idea that some of the techs were playing around too much with the echoes on Bells for her, i hear at least three different echoes in ten seconds. But that just ads to the charm of it all. Tori seemed to enjoy the show, and the crowd was nice (Maximum of applause, minimum of ad-lib screaming).

My rating (0/5 stars): ****
The only thing missing was the band, therefore, no 5 stars. And she could have used the synth more, i'd looove to have seen Suede or Lust.

--------------------------------------------------------------------------------------------

Review by wout77

was it that short?
I was satisfied...
She played three of my four wannahears (no siren, sadly) and flying dutchman was soooooo great!

I sat frontrow, a bit to the right so i could look straight at her. The smile on her face during flying dutchman was unbelievable. She really enjoyed that one...

So maybe some people thought it was a bit standard stuff, i didn't. It had some truly magical moments in it, even if she didn't speak very much. The music matters, and that part was just bloody f#cking d#cking chillin' cryin' smilin' great!!!!!!

--------------------------------------------------------------------------------------------

Review by Eline (LittlePoetess)

It was my first Tori concert and two impressions of it: Tori is so small! The Bosey is so Big!

I loved the sound of the Bosey. The piano and her voice were so powerful, so incredibly powerful. Overwhelming, really.

She didn't play any of my real wishlist, but I must say that I never would have added Merman to that just because I didn't believe she would play that. But it didn't really matter, because there were a lot almost wishlisters and many of the songs that don't really impress me as a studioversion were so great live.

The setlist seemed to consist more of her sweeter songs, not the angry/bitter ones. I must say, I love the angrier ones. I heard that during the soundcheck she played Iieee twice, so I was hoping she wold play that one.

Highlights: I cried two times. When she sang 'love was your great disappointment' because I'm suffering from a heartache and during Merman because it was so beautiful!!! I liked all the starts from the songs when she hit the piano for the first few chords. MaaG was very very intense. During Take to the Sky I couldn't keep from moving. And the beauties like SATY, Little Earthquakes (give me life), Cooling and spring Haze were very impressing as well.

Come to think of it, during the give me life give me pain part from LE she sang other lines as well that were amazing but that I don't remember. Waiting for the MP3...

Irritating: the people who sat behind me and talked all the time. I couldn't believe it. i got really angry when one of them start to sing along on SATY!!! Grrr.... I want to kill this... ah!!! and why some people left all the time to get drinks?!? strange...

Well, I loved meeting so many Toriphiles: you were great!!! Email me anytime... And for the ones that go to Brussel: have fun, I'm jalous.

And Tori; please come back really soon because now I'm finally addicted. Give me more, give me more...

Oh and Bells for her was another highlight: she seemed so emotional!!! When she sang can't stop loving you in the end I thought she was going to burst out into tears.

Well it were all highlights.

--------------------------------------------------------------------------------------------

Review by marijepama

OH MY GOD!
I have my pictures and I have 2 of tori and me!!!! AAAHHHHHHH I met her twice, before and after the show, and she is just adorable! So sweet and soft, and tiny!

Can someone please tell me what she said acactly before Real Men? Because I am almost positive, when she did the 'smoking thing", and about the dutchmen, she referred to the fanbook we gave her before the show! That was a book made by lots of fans, from all over the world, and the cover was a fat fairy, sitting on a piano, with wooden shoes and smoking a big fat joint......the resemblence of tori doing that on stage and the picture was just amazing! Didnt she say something like: "this is from (or for?) the dutchmen? That should be so great! But it is also possible that I am just searching for things that are not there......
PLEASE, SOMEONE HAS THE EXACT LINES AND GESTURES??? (or almost exact...!)
I cant wait for you to see my pics, because i have some great ones!

P.s. people that come to the shows: please stay in your seats and do not go and get some beer, light a sigarete, walk around and take pictures with flash, shut the fuck up, sit down when she comes back for the encores, DO NOT STAND ON YOUR CHAIR!!!!!! because that makes that 50 people behind you cant see a fucking thing anymore! Please be nice to your fellow tori fans, and DONT do the things I described above, because if you do.....I dont like you anymore.......

--------------------------------------------------------------------------------------------

Review by *Theo*

Well it was another great Tori show again!!!

My first show of the StrangeLittleTour started with a huge train delay to Amsterdam, but when we finally got there it was immediately great waiting for the meet and greet!

After a couple of hours waiting Tori came and I ended up just in front of the barricades. Tori signed something for me and we got photographed together (unfortunately all my photo's didn't work so if anyone has me with her, please please please contact me at plugged98@hotmail.com) . She was really sweet again and wore a nice little hat.

Then the concert itself.... AMAZING!!!! This was for sure the best show I've seen Tori play as of yet. She played all the songs really powerfull and did a couple of songs that I hadn't heard live before

Real Men was my absolute highlight. This was already my favourite song of StrangeLittleGirls but now it is even more. Wow boy was she great!!!!

Also I liked 1000 Oceans and Bells For Her a lot, because they sounded so different now than they did the last tour.

After three or four songs I screamed " Tori I love you" and she responded with making the sound of a kiss which was realy really really cool.

Anyway, it ws a great night and I can't wait for Oberhausen next week!!!!!

--------------------------------------------------------------------------------------------

Review by Esther (slipperyfaery)

I have not really much to add. It was my first tori concert too and it was bloody brilliant. I so loved it.

I absolutely loved Merman, Spring haze, Bells for her and Cooling. It was so beautiful, but my absolute favourite was Not the red baron. It just made me so tearful and it send shivers up my spine. I told her later how much I loved it and she was like o yeah, that's nice and then I just said that it was my first concert and she smiled so sweet

The whole meet & greet (or great meat, Marige) after the show was just so much nicer by the way. The one in the afternoon just left me like THIS is Tori! For some reason I was a wee bit disappointed. We had been waiting for so long and she came and went very quickly. I even got to talk to her for a brief moment and she came back so I could have a picture taken with her, well sort off, so I was still one of the lucky ones. The way the barricade had been set up was just really stupid and lots of people didn't get to meet her because of that. I thought that was a bit sad.

Anyway the whole thing was just not the image I had of Tori, not that she sucked of course? The after meet &greet just made more then up for it. I was really lucky and got up front and she seemed so much more into it this time. The atmosphere was so much better. I really got to talk to her and asked her something lot's of people were wondering and.......I will post this somewhere else.

Anyway the concert was more then great, the building sucked and so did the people between us Aline. They just kept talking and getting beer. How annoying! As for the people who rushed to the front and made a whole room stand for half of the concert just so that they could see...uhm how about...Assholes come cheap today! That's all I got to say about that.

So I guess I lied a little when I said I didn't had much to add

--------------------------------------------------------------------------------------------

Review by Faery

I loved it, she's so sweet..signed my cd... am on a pic with her.. and she asked me how to say my name as she wrote it dowm..
Wow, i am so impressed..

--------------------------------------------------------------------------------------------

Review by Bobbie1977

Hi,

I'm new here at this Forum, and I've been to Amsterdam to see Tori, and to see Ben Christophers as a Bonus! I'm a huge fan of his, and I didn't know he was going to perform at this concert.

So for all the Ben Christophers & Tori-fans: here's his playlist.

1. Songbird Scrapes The Sky (from his 2nd album)
2. Give Me Everything (from his 1st album)
3. The Stream (from his 2nd album)
4. Leaving My Sorrow Behind (from his 2nd album)
5. Before The Winter Parade (from his 1st album)
6. Stay (from his 1st album)

I'm not completely sure if the order is correct, but I'm absolutely positive that these are the songs that were played last Wednesday by Ben.

Now you have all the info on the concert!

--------------------------------------------------------------------------------------------