Tori performed in Denver, CO on November 5, 2001 at the Paramount Theatre during the 2001 StrangeLittleTour.

Set List

The set list below comes from Ann (Kai). Thanks so much!

'97 Bonnie & Clyde
Enjoy the Silence
Silent All These Years
"Walking Hand In Hand" improv (Some call it the Tash improv)
Sister Janet
Suede
Leather
Butterfly intro/improv/Caught A Lite Sneeze
Rattlesnakes
Space Dog
I Don't Like Mondays
Pretty Good Year
Bells for Her
Me And A Gun
Merman
1st Encore:
Cooling
Cool On Your Island
2nd Encore:
Doughnut Song
Mary
Winter

Reviews
Latest reviews are added to the bottom of the page.
Be sure to check the Tori Concert Reviews Forum for reviews as well!

From Ann (Kai)
Added November 6, 2001 - This is official. I took notes during the entire show.
- '97 Bonnie and Clyde
- Enjoy the Silence
- Silent All These Years
- improv. "Years go by..."
- improv or song I don't know starts with this: "We took today. Went to play. Sun in my hand." None of us knew what this was.
- Sister Janet
- Suede
- Leather
Started Butterfly, sang first line then went into improv.
- improv. "From a long way back home..."
- Caught a Light Sneeze
- Rattlesnakes
- Space Dog
- I Don't Like Mondays
- Pretty Good Year
- Bells for Her (on the -sorry I'm tired- thing with the stars that she played This Old Man on in London)
- Me And A Gun
- Merman
Left stage
- Cooling
- Cool on Your Island
left stage
- Doughnut Hole
- Mary
- Winter

Here are more notes about the show. I was in front row, seat 10.
Took the stage a couple of minutes before 9 am (MST). Left the stage at 10:50 PM.
Before she started Enjoy the Silence, she spent (what felt like a long time) maybe a minute singing I-I-I-I-I over and over.
She was wearing the I'm not In Love outfit. Fishnet stockings, red heels, black pants split at the thigh over white flared pants that had inch wide pinstripes. It was split around mid-calf. She wore a red camisole with a black mesh shirt over it. The mesh shirt was sequined in a vest pattern. The mesh shirt was long sleeved, poofy at the shoulders and tight about halfway past her upper arm.
During Silent All These Years, she sang the line "Think there's some heavens where some.." and then sang it fully again.
After the improv that started "Years go by..." She stopped to fiddle with one of her shoes. The strap that goes across the ankle was too tight. She said, "Sorry, I'm having a shoe crisis." She asked us multiple times how things were going (while fiddling with her shoe) and said, "Well, Mommy!" and threw up her hands. We all cheered.
She was playing both piano and the other instrument (sorry, again I'm exhausted, it wasn't the thing with the stars, she plays I Don't Like Monday's on it for the album) at the same time for Suede. The words were typed up and placed on the stage for the song. Obviously, she didn't know the words. My friend has that as well, I'll ask him to scan it in.
During Leather, she crossed her legs and swiveled on the piano stool. I thought it was very cute and appropriate.
When I talk about the improv before Space Dog and the words being written down, they were typed up and also put on the stage. Again, I'll try and get it scanned.
Space Dog was double playing.
During Pretty Good Year, she sang "Pretty shoes" twice.
Bells for Her was amazing. Very similar to the album version. I was quite impressed.

From Pandochild
Added November 6, 2001 - hi guys!!!! I made it to denver co for the first time to see Tori! soo here's my review
tori did not seem to be in great moods for the meet and greets but I got some good pics in the day!
after the show I thanked her for playing space dog and she didn't even reply!!!! and people looked at me strange southern accent?????
anyway the show was really diffrent then the one's Ive seen before. the setlist was really strange tonight but good!!!! soo here's the highlights for me!
caught a lite sneeze~ this one is always good to hear!
pretty good year~I really liked the hey whats it on gonna take to make my baby alright part.
Space dog~my fav song on under the pink! it was really great! made me cry! the full version with all the lyrics cool stuff!
I don't like mondays~it was a monday hehe it's good to hear a diffrent song from slg and maybe this explaned her bad mood?
merman~nice
enjoy the silence~first song after 97 and it seemed better at this show then others!
she started butterfly and then started caught a lite sneze instead would have liked to have seen butterfly again oh well!!!!! a few things to add! some people at the meet and greets sucked and at the show too!!!!
...other then that the show was great! and glad space dog came but the whole time I weas like Tori please play honey! one day!

From Kim (Falling Sky)
Added November 7, 2001 - Tori flubbed one of the lines from "Silent All These Years", looked up smiled, thought for a second and started it over. The line, not the song. I can't remember which line it was, I was really tired, sorry. She also doubled some of the lyrics. I'm not sure if this is somethign she's been doing all tour. "when I'm stripped, when I'm stripped.."
This guy Josh that we met at the m&g and had dinner with speculated that Tori might play I don't like mondays due to columbine (being denver and all) and that it was also a monday. Poof, it did appear.
The "Tash" improv was beautiful. SOmething about going to see the butterflies, and that "we'll come back when you're tall". It was long for an improv.
Another thing she did while she was adjusting her shoes was talking about "I don't know how people who are into bondage do this type of thing. OW. " Not word for word, but it was something like that. Before she started thesong after this, she started talking about how some of the guys would make good mothers but they'd have to lay off the vodka. She also said they probably couldn't deal with infected nipples, and she pointed to her chest and smiled.
Bells for Her was absolutely amazing. My favorite of hte whole show. It made me cry. The only song she did on the wurlitzer? is that what that thign was called?
And may I say, Pretty good year was yummy. I heard that she hasn't been "wailing" too much this tour, but she completely rocked the whole place with song. My fiance thought it was kind of strange for her to do this song, since it really hasn't been a great year in the country. But it was his favorite of the show on sheer performance.
The crowd was pretty good, except for the fact that the people in the first 5 rows or so (we were row L) in the center kept walkign in and out. They did this numerous times, and it was quite annoying.
Amazing setlist. Yay.
I wanted to add that the tour merchandise was expensive. And that the tour necklaces and stuff looked really cheaply made. They did have a 2xl shirt available, so that is a plus (it did cost me an extra $5 though). Of course, it's not the shirt I wanted, but I still was able to get one that fit me. This is the first time I've seen the 2XL shirt at tour.

From Nancy
Added November 7, 2001 - I had to write in after reading pandochild's comments about the Denver show and meet and greet. It amazes me how some people assume they know what Tori is thinking or how she feels. My impression from the meet and greet session was Tori is a VERY generous and gracious person. I wish her security might have figured out a better way to handle things but I also understand they are trying to do their job.
The show was fantastic. When Tori plays for an hour and fifty minutes I think we all got to hear some of our favorites. I had never heard "Sister Janet " live. It was excellent. THe Paramount is a good hall for acoustics and Tori's sound team did a great job. As for the crowd, I would say if you put 1900 people together you are bound to end up with a few idiots. Some people yell at the weirdest times. Anyway I must say it was a Pretty good show.

From Pandochild
Added November 8, 2001 - I came all the way from fla to denver to see Tori for the 8th time and all in all really liked the show and Never Ever do I question Tori's loving and kindess to all Toriphiles and people who love her music and even don't! I just felt kind of strange IN denver a lil and thought Tori was in a sad mood cause I also heard an interview she did on denver radio! But I didn't mean in anyway that she was rude and mean etc to the people at the meet and greets soo for nancy and other people who think that sorry=}
I thought some just a few people were both rude at the meet and greets and shows some people were just walking out in the row I was in and had to get up a few times for them to get out! soo I was aggravated at that!

From the Denver Post
Added November 8, 2001 - A review of the Denver concert was printed in the November 7, 2001 edition of the Denver Post. Thanks to Erin N. for telling me about it. You can read the review at DenverPost.com or below. The web site included a nice color photo of Tori from her soundcheck that day. You can see that below as well.
Amos displays range, versatility
By Candace Horgan
Special to The Denver Post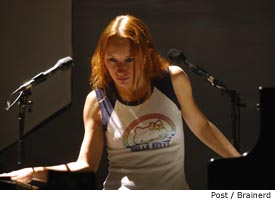 After doing her last two tours with a full backing band, Tori Amos stripped everything back to basics at the Paramount Monday night, playing an intimate solo show in front of an adoring audience.
The show opened with "97 Bonnie and Clyde" from Amos' latest CD, "Strange Little Girls." A black curtain with rips and tears hung at the front of the stage, and the light show played through it with interesting effect, underscoring the dark lyrics from the Eminem song in which the father invites his daughter to help him throw the mother's body into the lake.
As the song from the CD ended, the curtain dropped and Amos walked onto the stage, blew a kiss to the audience and launched into "Enjoy the Silence," another tune from "Strange Little Girls." Amos made excellent use of reverb on the song, adding an ethereal feel.
As Amos started "Silent All These Years" from her first CD, "Little Earthquakes," the audience screamed its approval. In concert, Amos often plays around a bit with her songs. During "Silence," she alternated the tempo of the song, drawing out some words and speeding up others.
Amos has always been a dynamic performer, but she has toned down some on this tour, allowing her musical skills to shine.
During "Sister Janet," she displayed an impressive vocal range. A bit of the older Amos peeked out during "Suede," which Amos sang in a sultry, seductive manner, sitting facing the audience and using her left hand on her beloved Bosendorfer grand piano and her right on a Fender Rhodes electric piano.
Besides her incredible vocal power, which she demonstrated throughout the night on tunes such as "Leather," dropping her voice to a whisper for one line and then letting her voice soar high, Amos is an excellent pianist. During "Caught a Lite Sneeze," her fingers ranged all over the keyboard, starting in the high octaves, then reaching farther down to play a powerful rolling bass line, a great contrast that really grabs the listener's ear.
One discordant part of the show came during "I Don't Like Mondays," a mournful dirge with repetitive lyrics that dragged the energy level down.
Amos quickly rebounded on "Pretty Good Year," singing with great intensity. She then walked over to a Wurlitzer piano for a strong rendition of "Bells for Her," a tune originally recorded on an out-of-tune piano. Here, Amos played in key, yet the song lost none of its eerie resonance.
Though the Paramount holds more than 2,000 people, Amos connected powerfully with the audience on "Me and a Gun," a harrowing a cappella song about her rape. Amos mesmerized the audience as she sang it, and for that moment it seemed she was sitting with a group of friends. As Amos let the last note fade, the spell was broken when a someone in the audience yelled "Thank you Tori," and the audience reacted with deafening applause.
Amos ended her set with a nice "Merman," then returned for two encores. The first featured strong renditions of "Cooling" and "Cool on Your Island."
She came back out to a roar and ended with a three more numbers, including a great "Doughnut Song." She ended with a beautiful rendition of "Winter."
Rufus Wainwright opened the night with a set of quirky originals, including a nice version of "California." He frequently joked with the audience during his set, and at the start of "Poses," the last song, he botched the beginning, laughed out loud and started over.

From Brook Campbell -Janet's Sky
Added November 8, 2001 - I was at the Nov. 5th, Denver show, Row AA almost dead center. I needed to write to say:
Tori was MAGICK! I wish I could see her again on this tour. She seemed to be in a great mood, laughing about her shoe "crises". This is the third time- third tour I've seen with Tori and it is my favorite, although, I always love what she is able to accomplish. I just needed to say, I personally have been sad about people picking at technical situations on this tour. I could not get passed her amazing energy at the Denver show, no matter what beautiful songs she performed, it was all genius!!

From Holly Rae Bemis-Schurtz
Added November 8, 2001 - Seeing this show for me was incredible because it was my two favorite artists. How often does that happen? I was scared lightning would strike me before the show - this opportunity was just too awesome. I was not disappointed.
First of all, Rufus was fantastic - a perfect complimentary opening act for Tori. I don't know what his set lists have been like so far this tour, but he played mostly songs of his latest album, Poses, with the exception of one song, In My Arms, from his original self-titled album. Having remarked that he had a couple of bottles of wine before the show, and then correcting himself and saying, it was actually a couple of glasses, I suppose that I could imagine him and Tori might have enjoyed a bottle of wine together sometime. What a lovely thought.
Anyway, the reviews on the dent's tour page give a really vivid depiction of what the night was like. The shoe comment in the beginning of the show was really cute and warm - as she was adjusting the buckle she asked the audience what was new, and people cheered but did not really offer a reply. She gestured to herself with both hands, arms in the air, kind of and says "Mommy!" like she was introducing herself in a new way - the excited response of applause and cheer from the audience was a clear indication of how proud and happy we all are and have been for her since N.L.'s birth.
I have to say that this new song she sang - 'Walking Hand in Hand' or the Tash improv as you have it listed - is a phenomenally powerful & beautiful song. If this is any indication of her new original stuff as a mom, then we are in for some great surprises. The essence I got from the song was that it was about she and her daughter taking aside a day and being outside and just appreciating life. There was a sense of making this day last forever - or feeling that it would be the best day of their lives or something. Anyway, that is just what I was personally imagining when I heard the song. My husband thought he heard her sing something about 'November Fourth' which would have been Sunday, the day before the show. I didn't catch that but I wonder what everyone else got out of it.
I was surprised to read in one­review that she had the words to Don't Like Mondays printed out to read them. I did not catch on to this although I was in the 12th row or so and thought I could see really well. She pulled it off anyway. I wonder if she memorizes the words to '97 Bonnie & Clyde since she does it off stage and could easily read it. By the way, that song, 97B&C, was amazing - hearing her enunciate the words live into the theatre was really intense.
Other than that, I would like to add that I got a copy of the setlist from who I think was the light board operator - I thought it was interesting the changes she made from it. CALS was not listed.­Just Butterfly - which she started and then changed to CALS. I felt when she started the CALS intro that it was somehow spontaneous and it really came across as appropriate for that particular show. *Insert spine tingle here*
Twinkle was listed in place of Merman, and here again I felt that Merman worked so well in that moment that was surprising for me to see that some other song was planned for that spot - right after MAAG.
She played Cool on Your Island after Cooling, where the set list had Happy Phantom. I have never heard COYI live and I was blown away by it.
The second encore listed Baker, Baker followed by Donut Song and then "L'il" Earthquakes (as it was abbreviated on the list - how cute!). She actually played Donut Song, then Mary, then Winter. Wow. Hearing the beginning of Donut Song was like hearing soft footsteps on your porch when you now a friend is on their way to your front door - delightfully perfect. Mary is another one I've never heard live before and it was very moving. Then . . . Winter. The only way I can describe that moment was connection. Toward the end of the show I started to feel like Tori was running into thoughts from across the room, if I may use that expression from Concertina. Somehow it was just a Winter night - the most personal moment for me in the show was during that song.
The mood was special that evening - but not­upbeat.­Tori's performance­seemed to be saying a lot about where we were that night. I could feel this sense of acknowledgement coming from her, of some of the terrible things that have happened over the past couple of years - Matthew Shepard's murder, the Columbine massacre, and the war we are in.
Thanks for letting me share with you. I really like the dent's collection of set lists and tour reviews because it helps us capture these fleeting evenings.

From the Rocky Mountain News
Added November 8, 2001 - Ann (Kai) and Erin N. alerted me to a Denver concert review that was printed in the November 6, 2001 edition of the Rocky Mountain News. Read it at rockymountainnews.com or below.
Self-assured Tori Amos flexes musical muscles
By Mark Brown, News Popular Music Critic
For years, Tori Amos' detractors have been able to dismiss her as a flake for her often-airy imagery and single-minded feminist bent.
But consistently running through all her work has been a theme of what it means to be a woman and all the contradictions that entails -- both internally and through society's expectations. The fact that Amos has been mocked for using fantasy and metaphor to make some of those points only reinforces the contradictions.
Her latest album, Strange Little Girls, takes a new twist, looking at women through songs written about them by men. In that album and in Monday night's show at the Paramount, Amos shows herself to be one of the finest interpreters of song of her generation.
Her set started with a light show set to a tape of her disturbing interpretation of Eminem's obsessive, insane '97 Bonnie and Clyde.
Amos then took the stage with her cover of Depeche Mode's Enjoy the Silence, pairing it with her own classic, Silent All These Years.
When she was on, she was masterful; Amos has never exactly been a shy little thing onstage in the past, but her self-possessed demeanor, sense of purpose and power on this tour is unprecedented.
Accompanying her splendid voice with just keyboards and no band made for incredibly intimate moments. However, it also made for a bit of midtempo monotony, with songs blending together.
Her fans had no problem with it, though, cheering every note as Amos started new songs, then going silent to take in every nuance. During Amos' a-cappella version of Me and a Gun, the sold-out crowd was so quiet you could hear the ventilation system running.
While her originals were strong as always -- the true-life rape of Me and a Gun is just as disturbing as Eminem's fantasy murder -- the covers were the highlights, with a rich, gorgeous vocal on Rattlesnakes and an overwhelming sorrow woven into her showstopping take on gun violence and powerlessness in I Don't Like Mondays. If the critics don't finally get her point on this tour, they never will.
In an inspired pairing, Rufus Wainwright opened the show with a too-short set of pop songs drawing heavily on his latest album, Poses. His wit and insight were just the right touch, as he deftly reeled off fun versions of Cigarettes and Chocolate Milk and the title cut from Poses. The only complaint is that he played too little from his brilliant, self-titled debut.
Contact Mark Brown at (303) 892-2674 or brownm@RockyMountainNews.com.

From josh olsen
Added November 10, 2001 - i was at the denver show... youve been sent many reviews- so i wont give you mine.
REALLY, but after the show i was lucky enough to get (from marcel) 2 things from toris piano. i got the lyrics she had printed to the song SUEDE (just incase i guess!) and also the lyrics she had printed- to the IMPROV she sang before caught a lite sneeze!!!
so i thought i would send you the lyrics:
so sure those girls now are in the navy
those bombs our friends can't even hurt
you now and hold those tears
cause their still on your side
don't hear the dogs barking
don't say you know weve gone andromeda
stood with those girls before the hair inpairs
it just got nasty
and now those girls are gone


The reviews below were taken from the concert reviews section of The Dent Forum and added here on January 7, 2002

Review by lil`Emily

ok... don't have a set list.... but what a great day... got free ice cream... played uno... talked lots...

met Tori and saw that her wedding ring is a lot like my engagement ring...

and then ate dinner with lots of Denters which was cool (hey look, Alannah, ELEPHANTS)....

My friends got backstage passes for being awesome RAINN funraisers....

We sat by cool people we didn't know...

THe show started with Bonnie and Clyde with just the picture from the "girls" and a torn sheet and eerie lights...

She played Silent All These Years... Bells For Her... Merman... Cooling... Space Dog... Enjoy the Silence... Mary... Sister Janet..... Winter... Caught a Lite Sneeze... and something about walking hand in hand with her little girl on November 4th.... I dunno...

it was magic... and I am sleepy and Chrysta is the best friend and all Tori fans should be more like her because she made the day beautiful for so many people night night

--------------------------------------------------------------------------------------------

Review by Alannah Rose Selene

Poor me, no Siren...and she teased me with Butterfly (I was SO excited) but it was just an intro into something else (I'm horrible at this stuff, memoury-wise)...but it was great!! Great crowd, great seats, great setlist (yea, UTP!)...a little of everything but Choirgirl. So many songs from SLG...4 to be exact!

Just my 2 cents...I think she definitely said pretty shitty year...twice. She kind of emphasized it so it was pretty clear to me, but since she was talking about shoes before, who knows? I did think someone else had said she'd sung shitty year at a different concert during PGY too, though

About the nipples comment, I assumed she was saying that getting infected was a potential problem, and could the boys handle it, not that she had them. Ew, I don't even want to go there!

--------------------------------------------------------------------------------------------

Review by Myra's Girls

Emily and I got to the m&g about 9:40. There were 3 girls there before us. The vibe was really good all day and everyone was cool and calm.

At one point, a Robinson Dairy truck pulled up and the driver gave everyone snickers ice cream bars.

I passed out blow pops and had people sign the card I made for Tori. There were a lot of laminates! Yay!

A photographer from the Rocky Mtn. News saw us standing there and took some pictures of us. I told him what we were doing there and he came back around 2 for the m&g. Check the paper tomorrow!!!!

They set up the barricades around, uh, 2:20ish, I think. People were pretty cool. Unfortunately, 2 of the 3 girls who arrived first didn't get right up front (they were in the 3rd row behind the barricade and didn't get to talk to Tori).

Christine's daughter got up front (she's 8, and such a sweetie). Steve was really yelling at everyone not to push because of the little girl. It was cute! She told Tori she liked Tori even better than the Greatful Dead and Tori played Pretty Good Year for her.

Someone asked Tori if she had listened to a tape or cd yet and she said, no the only thing she had heard lately was "the wheels on the bus". hee hee. It would have been hilarious if she'd played it at the show, but I didn't think of saying anything 'till later.

I made it to the 2nd row of the m&g and Tori took my hand and talked to me briefly. She seemed very touched by the card we all signed for her.

Overall, it was a good vibe and I think most people had fun.

We met for a pre-concert dinner at 5p. It was great to hang with everyone and Cafe Odyssey was a really cool place to have dinner (thanks for suggesting it, Sam ).

Everyone was so cool and I told Erika and the 3 girls who were first at the m&g about Joel giving away better ticketes. (They all had crappy seats.) They all got bumped up!! I'm not sure where the 3 girls ended up- but Erika got FRONT ROW!! I was sooo happy for her.

The concert was great (except for the group of people who felt it necessary to cheer and whistle in the middle of songs- grrrr). Otherwise, things were cool.

The highlights for me were CALS, Space Dog, Merman (I cried), Cool On Your Island and Mary (ahhhhhh...it was beautiful!).

I'm sorry I don't remember everyone's names- in fact, I hardly remember anyone's name (other than people I had met before today) . I met so many awesome people and please know that you all made an impression on me- I was just so excited I couldn't think straight!

Hi to everyone from our party last weekend, from the yahoo group and everyone I met today!

--------------------------------------------------------------------------------------------

Review by DC (Dizzy810)

The concert was amazing. It was my first and lived up to my expectations. I went to dinner with Myra's Girls, Alannah Rose Selene, Kai, lil Emily and many others. After which we headed down to the show. When we got there their was a huge line waiting to go in. Kai, myself and a few others had to wait for will call to give us our backstage passes and tickets. They finally gave them to us a few minuetes before Rufus came on. We got in there got seated about 2 songs into his set. He played well and seemed to enjoy it.

I ended up getting to sit 2nd row and it was great. Tori played an amazing show. Merman was great. I loved the alternate version of Space Dog. Pretty Good Year was just amazing. It is the song that got me started on Tori and it will always hold a special place in my heart. After the show we had to wait 30 min to a hour to go backstage. We each got about 5 min to talk with her and it was so amazing. I got my picture taken with her as did the others. She signed my Tourbook as

"DC
take a trip on a rocket ship...
where the sea is the sky
Tori Amos"

I feel so amazingly special right now. I am floating. But alas I must go to bed.

--------------------------------------------------------------------------------------------

Review by Ann (Kai)

Here are more notes about the show. I was in front row, seat 10.

Took the stage a couple of minutes before 9 am (MST). Left the stage at 10:50 PM.

Before she started Enjoy the Silence, she spent (what felt like a long time) maybe a minute singing I-I-I-I-I over and over.

She was wearing the I'm not In Love outfit. Fishnet stockings, red heels, black pants split at the thigh over white flared pants that had inch wide pinstripes. It was split around mid-calf. She wore a red camisole with a black mesh shirt over it. The mesh shirt was sequined in a vest pattern. The mesh shirt was long sleeved, poofy at the shoulders and tight about halfway past her upper arm.

During Silent All These Years, she sang the line "Think there's some heavens where some.." and then sang it fully again.

After the improv that started "Years go by..." She stopped to fiddle with one of her shoes. The strap that goes across the ankle was too tight. She said, "Sorry, I'm having a shoe crisis." She asked us multiple times how things were going (while fiddling with her shoe) and said, "Well, Mommy!" and threw up her hands. We all cheered.

She was playing both piano and the other instrument (sorry, again I'm exhausted, it wasn't the thing with the stars, she plays I Don't Like Monday's on it for the album) at the same time for Suede. The words were typed up and placed on the stage for the song. Obviously, she didn't know the words. My friend has that as well, I'll ask him to scan it in.

During Leather, she crossed her legs and swiveled on the piano stool. I thought it was very cute and appropriate.

When I talk about the improv before Space Dog and the words being written down, they were typed up and also put on the stage. Again, I'll try and get it scanned.

Space Dog was double playing.

During Pretty Good Year, she sang "Pretty shoes" twice.

Bells for Her was amazing. Very similar to the album version. I was quite impressed.

When she was playing Me and A Gun, I noticed she had writing on her left hand. Likely the stuff she writes on her hand for the m&g.

During her talk about her shoes, she told us how she thinks, "a lot of guys would make good mommies. You just have to lay off the vodka." She mentioned she had infected nipples. Ouch! Poor Tori! That's extremely painful.

The audience was amazing. No cell phones. No standing. No talking at all during Me and a Gun. You could have heard a pin drop. Very little screaming things out. I was impressed.

That's about it for the show. Again, sorry I don't have a photographic memory for song titles. Hell, I couldn't remember the title for Bells for Her and had to ask my friend David.

Okay, here's my Denver show story.

I got there around 3:30 pm. M&g was over, but I wasn't really interested, I just wanted to hang out. We went to a close cafe and hung out for a while.

I won 2 tickets from toriamos.com Street Team on Friday night. I had just won the RAINN auction with my friend, David, and I thought they (street team) would be lousy tickets. I found 2 people to take the tickets and told them to just show up and we'd figure it all out.

We all went to dinner at Cafe Odyssey at 5 pm. There was over 3 large tables full of people. I can't even begin to name everyone. Spedina set next to me, and DC (Dizzy810) on my other. Shadowthorn, MarcGhost (Shawn), Diana from the party (lurker), Myra's Girls, 'lil Emily, and a ton of other people. It was a lot of fun.

We left for the Paramount (across the street) at 6:30 pm. My tickets were on Tori's list, and they didn't have it. They didn't get it until 7:25 pm. We were all freaking out. Without the list, I didn't have any tickets, RAINN auction or other.

They finally got the list and David got the RAINN tickets (they were in his name). I got the toriamos.com tickets (in my name). We were shocked to find that the RAINN tickets were row B and the toriamos.com tickets were front row. Shocked doesn't begin to describe it. All I did was email a ton of people with the link to the online show. I can't believe I won these tickets.

So David and I took the front row, seats 10 and 11 in the center. We gave the 2nd row tickets to DC and Sheila. We all worked on the RAINN parties together, and David and I didn't think twice about it.

We then had 4th row (DC's ticket) and 11 row (Sheila's ticket) to give away. I tried to give them to Chrysta (Myra's Girls), but she wanted to sit with Emily. MarcGhost didn't want it (what a generous person!) So they went to my friend, Tara, from the rape crisis team, and Chrysta's friend. He gave Tara 4th row. It was the show of a lifetime for her. She loves Tori and really wanted to go to the show. I'm so glad she got a really awesome seat.

David had a bus ride leaving at 12:01 am for Salt Lake, so we ran to my car so he could put his bags in my trunk.

Rufus was really quite good. He was very funny tonight, making multiple comments about the altitude affecting him.

The show started, and I've posted all those details above.

After the show, we went toward the stage door on the right and the security guard told us to put our backstage passes on and have a seat. He told us Tori was going out back to sign stuff and it would be 15 to 20 minutes. So I got a chance to go to the restroom (thank God).

Steve took people in groups. I don't know who the first group were, but they were all in their 40's and 50's, well dressed. Second, were people who got passes from Spivack (Tori's manager). Then some girls who got passes from Dr. Amos. Then us. There were 6 total. Me, David, Sheila, DC and the other 2 RAINN auction winners.

Since I was closest to the door, I was first in line. We went into this room and there she was. She's so tiny! She looked exhausted. She was wearing jeans and a t-shirt.

I entered the room and she said hi and asked me my name. I was really in shock. I told her my name, then she went around the room asking everyone else's name. It was me, DC, David, Sheila, and the 2 other RAINN winners.

Joel asked if we would start at my end. Talk about pressure!

Here is what I told her, to the best of my memory.

"Hi Tori. I know you hear this a lot, but I just want to say thank you. I was really touched by your 20/20 show. I've always felt really passionately about that issue. I decided to see what I could do to help. I became a rape crisis counselor in October 1999. Not only am I helping people, but it's the best thing I've ever done with my life. I want to just say thank you."

Tori teared up and reached for my hands. She said, "I'm so glad there are other people doing this work" or something like that.

I told her, "You know, it's like a drop in a pond. You touch people, and they then go out and touch so many other people. People that have never heard your music. You'll never know how many people's lives that you have touched. Thank you."

Tori hugged me. She signed my Pretty Good Year digipack, "Anne with Love and sisterhood, Tori Amos. " I'll scan it in soon.

DC has already posted what she wrote to him. I do have David's momento (I don't know what you would call this. It has 4 of the Strange Little Girl's characters and "In Stores September 18" in the middle). David wanted me to keep it, since he's currently on a bus. She wrote, "For David, with Love Tori Amos".

She and David talked about many things, but the song from the movie Hands of Fate (?) was what I remember. He said he really wanted to hear it. She said, "I'll have to relearn it, do you have a tape?" She started to sing a little to try and remember. If anyone has a copy of this song and can get it to Salt Lake, please email me. She said that Salt Lake would be better than the Oakland show David is also going to. I can call David and arrange for him to get the tape to Tori. It would be really cool if she played it tomorrow night!

She also asked either David or Sheila how far it was to Columbine. Sheila told her about 30 minutes from where we were. Tori asked if the kids were healing. Someone said, "i think so." She said that she could feel a little bit of that when she came here tonight. David mentioned how Colorado has a really bad vibe right now, Columbine, Jon Benet Ramsey, etc. I said, "but there is also so much good." Joel looked at me and said, "there really is."

We got some pictures with Tori. Joel was then asking us to leave. I told him that I really appreciated what he does for Tori. He said, "I don't get that much, most people think I'm an asshole." I said, "Well, you have to be sometimes. You take care of Tori and I really appreciate that. You do a really great job."

We then left. David and I ran to my car. Literately ran. It was 7 minutes before midnight. We got to my car and drove like hell to the bus station. David ran in to tell them he was there and not to leave. I got his things out of the trunk and started over. He came out and told me it was okay, there was a long line of people for that bus. So we walked across the street to the bus station. David made his bus and he's on his way to Salt Lake City.

I surprised myself tonight. I didn't cry. I think I went into "counselor mode" and taking notes helped. I said what I wanted to say to Tori. That meant a lot to me. I know people tell her "thank you" all the time, but I wanted to tell her.

It was a wonderful night. I am so tired and I need to take a shower to get the cigarette smoke out of my hair. I have 3 appointments tomorrow and I'm going to be a zombie.

I just remembered. Sheila looked at the written lyrics that came right before Space Dog. She said they were the alternate lyrics to Space Dog? I don't know what that means, but maybe it rings a bell with someone else.

Here's what I remember about the infected nipples comment. She was talking about guys being mommies. She said, "But I think you would have trouble with the infected nipples." I assumed she was referring to herself. Who knows?

I also remember seeing her cross her arms while playing the piano. I'm not a piano player, but that impressed the hell out of me. It's almost like playing the piano comes as naturally as breathing to Tori.

Another backstage thought. She asked us if we all lived here and mentioned something about how beautiful it is here.

I also want to make a public thank you to Chrysta, aka Myra's Girls. Chrysta knew that David and I were bidding on the RAINN auction and that our cap was $500. When David finally bid, she did not bid against him because she knew why we wanted it. She gave up what would have been 2nd row seats and backstage passes. It's one of the kindest things I have ever seen. Thank you, Chrysta. I had the most magical night of my entire life.

Security was funny. I went through twice, both times with 2 cameras and an extra roll of film. I had such a huge bag and I was just start pulling stuff out, unasked. They seemed to be satisfied with that and never looked in any of the pockets.

After the show, we're all sitting on the right side floor. The same security guard that "searched" me twice was right next to me. I pulled out my camera and started taking pictures of the venue. He looked at me and said, "You know, you aren't supposed to take pictures during the show." I said, "And I didn't. That would have been rude."

I explained how we were allowed to take pictures backstage but no cameras in the door, and what else should we have done? None of us took any pictures during the show.

It really was a joke.

From talking to her backstage, she said there was a "vibe" from Columbine tonight. So I think that I don't like monday's was from that vibe.

Maybe this is just me, but I thought I could detect that vibe in a lot of her songs:

- 97 B&C (but she plays it every show)
- Silent All These Years
- Sister Janet
- I Don't Like Mondays
- Pretty Good Year
- Bells for Her
- MAAG
- Merman
- Mary

She grimaced during one of the lyrics in Silent All These Years. It's the first time I have heard that song and really been hit with the anger from it. Me And A Gun - she was wistful and sad. She didn't scream "FLAT" but, looking at her, she was really affected by the song. The Denver Rocky Mountain News review said, " During Amos' a-cappella version of Me and a Gun, the sold-out crowd was so quiet you could hear the ventilation system running." I'm so glad the crowd was respectful. People talk about other shows where cell phones go off and people talk during the song.

Here are the special lyrics that were typed up and placed on the stage floor during the Denver show:

so sure those girls now are in the navy
those bombs our friends can't even hurt
you now and hold those tears
cause their still on your side
don't hear the dogs barking
don't say you know weve gone andromeda
stood with those girls before the hair inpairs
it just got nasty
and now those girls are gone

My friend called these the "alternative lyrics" to Space Dog. I've never seen these before.

--------------------------------------------------------------------------------------------

Review by Deborah (Stargazer)

Some other notes in addition:

* Yes, she played both the Rhodes and the piano for Suede (with the exception of the "Oh, little sister" bit which was played entirely on piano.

* She started playing Butterfly, sang the first few lines of it, and then when straight into CALS. Interesting stuff.

* During Pretty Good Year, she held the last "ALRIIIGHT?!?!" for the longest time.

* During Mary, when she said "butterflies don't belong in nets", she would slap the piano once for each word as she sang them. I didn't know if this happened often, so I thought I'd mention it.

Oh, and when she was fixing her shoe, she talked about S & M and how she thought it was a 'good concept' but that it would be too painful. It was funny.

--------------------------------------------------------------------------------------------

Review by GimpBoy76

During Pretty Good Year she changed the line a couple of times to say Pretty Shitty Year. She messed up on SATY which was why she repeated the line "I think there's a heaven where some screams have gone" I can't remember the exact messup though.

She didn't say she had infected nipples, just that she didn't think boys could handle it if they were pregnant. She said she was a house on heels. After the show at her bus this couple had a child on their shoulders and the little girl waved to Tori, and Tori talked to her and asked her what her name was, how she was doing, and wasn't it passed her bedtime, it was cute. Great Show!

--------------------------------------------------------------------------------------------

Review by Lostintime

Anyway: Meet and greet was very mellow. I LOVE JOEL!! Got to say whats up to Tori, i asked her to play Thoughts, and she said "ooooh" so i thought she might play it... but never did. We got some good pic's i'm sure they'll be posted soon enough

Meeting everyone was fun, lots of good people in denver

Silent all these years.. i think she got fucked up because
"I think there's a heaven where some screams have gone" she sang this verse twice with a strange little smirk on her face but made a smooth transition so it seem like it could have fit.. and she pounded that verse the second time so i was happy she reapeated it

Suede... What a nice suprise!! Played on both the Rhodes and Bose at the same time, the oh little sister part she played just on the piano, lots of grinding hip action, breathy sounds and angry passion faces on this one

The improv (as always) was very musical. Into Butterfly's.. OH, that was some good shit... Played the piano intro over and over and then finally some lyrics.. but teased us and went into Caught a light sneeze, this had so much feeling..

SPACE DOG... WHOAH!! This song sounded so full!! It was amazing that it was just her playing it.. Very jazzy, playfull, but percise..I got to bang my head a bit to this one!

PGY...she said "pretty shitty year" and when she got to the chorus, and was belting out her last note, everyone screamed so i couldn't hear her amazing bellow!!

BELLS.. this was probably my favorite of the evening.
It seems that she is at peace with this song. Played on the whirley(star piano), which gave it such a nice effect.
Beautiful, this song was played with grace and perfection, not a missing note, very very smooth..

M&AG.. complete silence from the audience, but she didn't sing it with her ususal "Flat on your stomach" intensity, no strong and bone chilling notes, just sang through it..

Cool on your island..
Another beauty.

MARY.. I love this song, but watching her play it told the true tale!!.. When she sang "Butterfly's don't belong in nets" With everything she had she belted it out with anger and frustration and then punched the piano with clenched fists. She was very into this one, but her focus was very personal, she was battleing this struggle within herself and maybe even connecting and singing with Mary. It was nice to have this story shared with us

I left the show feeling very tired and confused!! I wasn't ready for it to be over! But a great evening it was..

--------------------------------------------------------------------------------------------

Review by spedina

maybe it was just me but..........i didn't hear her sing pretty shitty year. i thought she said pretty shoes. it just wouldn't make sense for her to sing pretty shitty year, being that she seems so happy about her baby and all. oh i just read down and kai heard that too. i think we're right

--------------------------------------------------------------------------------------------

Review by Kim (falling sky)

A few things to add about the denver show.

Tori seemed to be in a very bad mood. When she got my gift she didn't even look at it, she just kind of tossed it to the guy who was designated to hold her stuff. When I told her "enjoy your painting" she kind of gave me a dirty look and said ok. She spent most of the m&g time with people who have been following the tour ( I didn't get to talk to her, I just kind of had to yell it over this guy who was in front of me). It was very dissapointing. I would have to say that the people at the m&g kind of sucked. There were people that I was supposed to meet there were not very friendly. There were some cool people that were at the back of the line. Altogether, there probably weren't more than 50 people there, and she only talked to about 10 or so.

Tori flubbed one of the lines from "Silent All These Years", looked up smiled, thought for a second and started it over. The line, not the song. I can't remember which line it was, I was really tired, sorry. She also doubled some of the lyrics. I'm not sure if this is somethign she's been doing all tour. "when I'm stripped, when I'm stripped.."

This guy Josh that we met at the m&g and had dinner with speculated that Tori might play I don't like mondays due to columbine (being denver and all) and that it was also a monday. Poof, it did appear.

The "Tash" improv was beautiful. SOmething about going to see the butterflies, and that "we'll come back when you're tall". It was long for an improv.

Another thing she did while she was adjusting her shoes was talking about "I don't know how people who are into bondage do this type of thing. OW. " Not word for word, but it was something like that. Before she started thesong after this, she started talking about how some of the guys would make good mothers but they'd have to lay off the vodka. She also said they probably couldn't deal with infected nipples, and she pointed to her chest and smiled.

Bells for Her was absolutely amazing. My favorite of hte whole show. It made me cry. The only song she did on the wurlitzer? is that what that thign was called?

And may I say, Pretty good year was yummy. I heard that she hasn't been "wailing" too much this tour, but she completely rocked the whole place with song. My fiance thought it was kind of strange for her to do this song, since it really hasn't been a great year in the country. (if she did say pretty shitty year that would make sense) we were in row L and couldn't tell what she was saying there) But it was his favorite of the show on sheer performance.

The crowd was pretty good, except for the fact that the people in the first 5 rows or so in the center kept walkign in and out, blocking the view. They did this numerous times, and it was quite annoying.

Amazing setlist. Yay.

--------------------------------------------------------------------------------------------

Review by joshua (rainn91180)

hello everyone..
i was lucky enough to go to denvers meet and greet and have a little conversation with tori. i asked her if it was ok if i could tape the conversation and she was happy to do so. we talked about how it would be hard for me to go visit her in cornwall because of security reasons and she told me a little bit about martian engineerings.

--------------------------------------------------------------------------------------------

Review by CoolOnMyIsland

I cried like a babe when I finally saw her on stage. I think I was relieved to see that such beauty really does exist in this world. It makes me happy for, and slightly envious of Natashya. Tori so entrances me...I can't wait to see her again, and maybe next time make it to the bloody meet'n'greet.

Infected nipples??? Our poor Tori!

--------------------------------------------------------------------------------------------