Tori performed in Houston, TX on October 31, 2001 (Halloween!) at the Ariel Theatre during the 2001 StrangeLittleTour. This was the first Halloween to have a full moon (and a blue moon) in a long time! I wonder if it affected Tori's playing? :)

Set List

Thanks to Danica who called me after the show with the set list.

'97 Bonnie & Clyde
Raining Blood
Happy Phantom
Black Dove
Upside Down
I Don't Like Mondays
This Old Man
Putting The Damage On
Concertina
Cloud On My Tongue
Little Earthquakes
Crucify
Rattlesnakes
Me and a Gun
Purple People
1st Encore:
Caught A Lite Sneeze
House Of The Rising Sun

2nd Encore:
Bachelorette
Silent All These Years
1000 Oceans

Reviews
Latest reviews are added to the bottom of the page.
Be sure to check the Tori Concert Reviews Forum for reviews as well!

From Danica
Added November 1, 2001 - Danica called me after the show with the set list and a few comments. This was a Halloween show, and Tori came on stage with a blue suit, the same silver mask she wore the previous night in New Orleans, and some glitter gems. She told the audience that she took someone's advice and decided to be the devil in a blue suit! Tori took the mask off after Happy Phantom. There was a lot of reverb and echo on the Rhodes during I Don't Like Mondays. Tori did some kind of improv on the whirly involving a jack-o'-lantern before Crucify. Tori did not seem overly peppy tonight and did not talk much, but did say it was a magical night (or something like that). During the second encore, Tori came on stage in a black cat face mask, which was removed after Bachelorette.
The official set list was almost identical to what she actually performed. She was suppose to perform Icicle, but did Bachelorette instead. She was supposed to do Sister Janet, but did Silent All These Years instead.
[Note from Mikewhy: "House Of The Rising Sun" is a traditional song that has been around for many years, but was made famous by The Animals. It is interesting that Tori did not perform this the night before when she was in New Orleans, since the song mentions that city. Click here to see the lyrics to the song.]

From ToRiGLosS (Posted to the Precious Things mailing list)
Added November 2, 2001 - I took down the setlist for the Houston show last night on Halloween, and in case anyone was wondering I decided to post it here.. The show was amazing!! If anyone has any questions feel free to email me!
- '97 Bonnie & Clyde (behind the shredded curtain that drops on the chilling
last note- powerful ! )
- Raining Blood
- Happy Phantom
- Black Dove / January
- Upside Down
- I Don't Like Mondays
- This Old Man
- Putting the Damage On
- Concertina
- Cloud Sleeping on my Tongue
- Little Earthquakes
- Crucify
- Rattlesnakes (my personal favourite from the new album)
- Me and a Gun
- Purple People
FIRST ENCORE
- Caught a Lite Sneeze
- A song I couldn't ID.. something familiar though.. Definitely a cover..
lots of stuff about the "Land of the Rising Sun"..
SECOND ENCORE
- Bachelorette
- Silent All These Years
- 1,000 Oceans


From Dove (Posted to the Precious Things mailing list)
Added November 2, 2001 - Wow. This show was unlike any other show experience I have ever had.
The words breath taking, mesmerizing, transcendental, amazing, intense, beautiful, powerful all come to mind. I tranced out and didn't come down until a few hours after the show. I think it was a combination of several things. It was Halloween (Samhain) - A very special holiday to many. The venue was a small one. Everyone in the audience was respectful and attentive.
She started out with '97 Bonnie and Clyde. Eerie. The beautiful lighting showing through the torn curtain reminded me of a sunset and then twilight. I remember thinking that she sounded a lot angrier than on the album.
After the curtain dropped Tori came out in a light blue dress and a veil that had a silver head piece. She did Raining Blood which was absolutely phenomenal. The lighting was appropriately red.
When Raining Blood was over she said "Hi" to everyone and continued by saying "I think it's very magickal that I get to be here with you tonight." She said she took someone's suggestion and decided to be the "Devil in a Blue dress" and that she was wearing the veil since "tonight the veils are at their thinnest." Before she started with the next song a woman wearing all red came out to help her take off the veil.
She did an intro for Crucify I had never heard before it was something like "This is my old friend and she's been around. Like some of us girls who have been around." At first when she said "this is my old friend" I thought she was talking about the Wurlitzer because she said that as she was walking over to it. I also thought that maybe the intro was a cover of a song I didn't recognize, because it did sound familiar.
The last song "1,000 Oceans" couldn't have been more appropriate for the occasion. Since it was Samhain- a day when lost loved ones are honored. I felt the same about Raining Blood, for all the women who have been unjustly executed in Afghanistan-or for any woman anywhere who has suffered and/or died because of misogynistic treatment. Last night they were honored. Their deaths were not in vain.
Awesome show. I didn't get to see all of Rufus' set. I walked in while he was performing his last song. A lot of people were wearing costumes-which was made the atmosphere fun. I just have to say I love the Aerial Theater. It's small, intimate, the set up is great. I think it was the perfect place to see Tori. Unfortunately, my friend had a problem w/ the security because he grabbed her butt (anyone else have this problem?)
Anyhow, I'm still glowing and I will never forget last night. Last night just reaffirmed how I felt about Tori's music. She's amazing. I feel very lucky to have been there for that magickal evening.

From the Houston Chronicle
Added November 3, 2001 - A review of the Halloween show and a cute photo of Tori at her soundcheck appeared in the November 2, 2001 edition of the Houston Chronicle. Thanks to Oliver Dyke, John Chomiak and Hayley Williams for alerting me to it. You can see the photo and the article below, or you can go to chron.com to read it.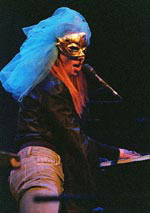 Tori Amos fans get a sinister concert treat
By MICHAEL D. CLARK
Copyright 2001 Houston Chronicle
Photo by D. Fahleson
It wasn't clear who was dressed for Halloween and who wasn't at Tori Amos' Halloween concert at Aerial Theater.
Young adults with fairy wings, goblin horns and neon and pastel wigs dotted the 2,800 seat hall. For another band this might be a costume party, but for Amos' quirky following it could be just another night at a pop piano recital.
Amos, who has cited Halloween as her favorite holiday, took the occasion to play the spook for her minions. Over her two-hour set, she bypassed perky past hits such as Cornflake Girl and lullaby Hey Jupiter for more sinister tunes.
Amos focused on her tragedy-laced 1991 debut album, Little Earthquakes; the hushed To Venus and Back of two years ago; and selections from her new collection of cover songs, Strange Little Girls. The selections, with haunting titles like Rattlesnakes and Raining Blood, appeared purposefully picked for a Hallow's eve under a full moon.
A cut-up and tattered curtain masked the stage as the house lights dimmed and a recorded version of Amos reading Eminem's '97 Bonnie & Clyde played. In Amos' croaked tone, the poem of domestic violence and homicidal intentions crept along like a witch's incantation.
The calm of her voice expressing these psychotic thoughts was much more intimidating than Eminem's flaring temper.
Amos appeared onstage in a gold mask with veil attached. Wrapped in a long sky blue jacket, she called the ensemble her "Devil In a Blue Suit" costume.
With a wave of her fingers over the keys of her ebony B–sendorfer, Amos' dark opening trilogy began with a caressing reworking of Slayer's Raining Blood followed by her own Happy Phantom and Black Dove (January). Straddling her bench to plunk the natural piano strings with her left hand and an electric keyboard with her right, Amos makes moving through multiple chords of music look simple. Her happy carnival gallop on Concertina was cotton-candy light, while Purple People thundered.
Amos' allure is the level of performance she offers -- even without a hand free for animation. The anguished breaths between the lines of Putting the Damage On or the lingering whispers of Crucify create an entire landscape of characters and stories.
She is a master at harnessing her powerful voice. Sometimes the notes she strikes feel like daggers. She reworked Bob Geldof's I Don't Like Mondays into a comfortable warm blanket and let octaves soar on House of the Rising Sun.
The most powerful moment of this concert was her a cappella rendering of Me and a Gun. Her personal recollections on what goes through the mind of a rape victim left the crowded house in stunned silence.
Eminem can rap on misogyny if he pleases. Compared to the emotion Amos possesses to tell the other side, there's no chance he'll win the argument.

From Danielle
Added November 5, 2001 - I just wanted to let you know what Tori performed during the soundcheck in Houston, 10/31. When we walked up she was doing Happy Phantom. She ran over the last first and notes quite a few times because it didn't sound like she could get the ending down. She then did Black-Dove all the way through once. Then she started Ode to the Banana King but only did the first verse twice before scrapping it (didn't sound like she could remember it). Then, and this is huge, she did Sister Named Desire!!!!! She only did the first three or so verses, and it wasn't played at the show, but it was definitely Sister Named Desire. To my knowledge, that is the first time she has ever done that??? Then she did a run through of Bachelorette and House of the Rising Sun. Needless to say, the soundcheck was almost as good as the show!!!!

From Larry Hirsch
Added November 7, 2001 - One of the cool things about a Tori Amos concert is that you never know who you're going to run into, no matter where the show's being played. Toriphiles are such a vast yet close-knit community that odds are you will bump into several Denters and/or people you know personally at the venue. I met several interesting people myself tonight, all associated with the online Toriphile community in some form or fashion, although I will admit I wasn't that impressed with their personalities, or lack thereof. I'm sorry, but in my personal opinion it is wrong to make a profit off Tori at each and every single show by selling things, such as auctioning off setlists or selling glossy concert photographs. Are we there to experience the indescribable force that is Tori, or are we there to make a quick buck by capitalizing off of her genius?
Another cool thing about a Tori concert is wondering what she's going to play next. Every time she is close to ending a song, my heart swells up in anticipation to see if she's then going to perform one of my favorites. And even if she sings something I normally don't like very much, hearing it live always causes me to gain a new appreciation for the song, so that the next time I hear it on the CD it reminds me of being at the show and all the experiences I had.
And then there's the "what will she wear?" curiosity --- and that, with the exception of the lame mask she wore at the Houston show, never disappoints.
And how many performers are so willing to meet their fans both before AND after every show of every tour? My friends and I missed the first Meet and Greet by two seconds (although we did see the top of her shiny red locks walking past the crowd and into the back of the venue), but we managed to go to the after-show Meet and Greet, which I will tell you about in a minute.
The venue is located in downtown Houston in the art district, which I LOVE. But the people working the Aeriel Theatre are RUDE. They are flat-out fucking RUDE, almost rude enough to the point of me not ever wanting to return there. There. I had to get that off my chest.
This show was extra special to me because Rufus Wainwright is my second favorite singer in the world (wedged comfortably in between Tori and Bjork), and the fact that I was getting a two-for-one deal absolutely rocked my world. He was the perfect choice to open a Tori show, and in my opinion, the best opening act she's ever had. As always, he was fantastic. This was my second Rufus Wainwright show; I caught him at Instant Karma in Houston back in '98. I got to meet him then, and I got to meet him on this night --- both nights he was very polite, very cordial, and extremely down to earth. Oh, and did I mention he's HOT???? His love of all things classical, the opera, Greece, and his overwhelming sense of romanticism cause me to swoon. But I felt bad for him because the audience was increasingly inconsiderate during his act. Dressed as a farmer, complete with long greasy looking redneck hair (obviously a wig), he took the stage with ease and confidence, only to confront an audience of immature high school sophomores who would not SHUT UP during his set. My friends and I could barely hear him because everyone was talking or walking or talking or walking or talking. Rufus even surprised everyone by singing a song in French, only to be bombarded with some attention-deprived bitch screaming out over her beer, "It doesn't sound any better in French!" I shudder to think that people like this actually breed.
The show itself was quite good, but it was by far the most MISERABLE concert experience I have ever suffered through. The venue itself was exceedingly small, which I thought would be a great thing at first due to its overwhelming intimacy, but I quickly discovered that I was wrong. We had great seats, but the row that my friend Liz and I sat in was nothing short of nightmarish. Someone walked in front of us literally at least every thirty seconds, briefly blocking my view of Tori and it proved quite distracting. The traffic in and out of that auidience was nauseating. No one sat down for the entire show, the majority of the ausience talked and chattered and would not shut up during the show, and behind us a guy's cell phone rang during "Me and a Gun" --- from which he proceeded to have an actual (loud!) conversation in his seat (!!!), rather than exiting the venue and talking outside. Or better yet, just turn the damn thing off during the show! Cell phones are handy and helpful, but they are the inventions of the devil and I'm to the point where if I see anyone with a cell phone these days I just want to smash their head on the sidewalk repeatedly until their tiny excuse for a brain leaks through their ears. But, as Tori says, "I believe in peace, bitch. I believe in peace."
I was very disappointed with the set list. I don't exactly dislike any of the songs she played, but they aren't exactly my favorites, either. However, I will say that this version of "Crucify" was the most incredible I have ever heard, as well as "Black-Dove (January)." I teared up quite a bit through "Rattlesnakes," and "House of the Rising Sun" was simply PHENOMENOL. Also, I love love love her newer, more intense, more spastic version of "This Old Man."
After the first encore, Liz and I left the venue to attend the Meet and Greet outside, where we came in contact with our friend Bonnie (who had come with us). We all got extremely close, closer than the last Meet and Greet we went to back in '98, but it was Bonnie, the lucky wench, who got the closest this time. Nonetheless, I was three feet away from her, she looked right at me and smiled, and she looked at Liz and chirped, "Hi," as sweet as you please. Liz later said it was like meeting an old friend, rather than a famous person. My friend Willis gave Tori a necklace he made for her, and the look on her face was priceless. Surprised but delighted, she asked, "Are you sure you want me to keep this?" Willis nodded, obviously on cloud nine, and it was apparant that Tori was touched.
I got an autograph, as well, and had an excellent view of the inside of her tour bus from where I was standing. I must say that woman has a fabulous cosmetics counter on that bus!
Afterwards, we all went to IHOP and ate and discussed the show. Overall, Willis and I were disappointed (due in large to the CRAPPY HOUSTON AUDIENCE and not really the show itself), but Liz and Bonnie both agreed that it was fantastic, despite those morons. I wish I had their tolerance level, but I simply have no patience for hecklers and idiots. I was so happy for Bonnie that she got to talk to Tori! Then Liz and Bonnie went home, as did Willis and I, where he was to spend the night at my home and accompany me to the Austin show on November 02nd, which I will include momentarily.
If anyone else was at this show or just wants to chat, feel free to drop me an e-mail! I love talking to folks! :)
faeryboy@yahoo.com

The reviews below were taken from the concert reviews section of The Dent Forum and added here on January 7, 2002

Review by SpacePerson

okay, this show was really really great! like everyone else, i wish she'd have talked to the audience more, but it was still good. here's my review :

'97 Bonnie & Clyde was a lot scarier than on the album. she was definitely doing the vocals live, and she sounded really really pissed off. especially when she sort of snapped out the "don't worry about that little booboo on her throat" line. it was creepy to hear so much anger behind that song when on the album it seems like there's a lot more sadness. She then strutted out in this light blue suit with this awesome silver mask/veil on. It was a devil mask everyone's saying, but with the veil it kind of reminded me of the bride of Frankenstein. hehe.

Raining Blood was a perfect opener. so dark and moody. i think she forgot the "betrayed by many now. ornaments..." part because i don't remember hearing that, but i could be wrong. the song seemed shorter than it usually is.

Happy Phantom >>> this song had a cute little vocal intro thing that i'd never heard her do before. and she sort of sang over the last few notes, i think, to cover the fact that she messed up. hehe. but i kind of expected this song, Halloween and all...it was still nice to hear it!! It was great, on the last "will i pay for who i've been" line, she had her legs crossed and right after she finished saying it, she sort of threw her pant leg off a bit so you could see her thigh and said "hey" it was saucy! haha. At this point, when the song was over, Joel escorted a woman in a long red dress out on stage and she removed tori's mask. Tori then shook out and smoothed down her hair with her back to us, and the crowd went crazy. it was very cool. I believe it was at this point when she said she'd decided to take someone's advice and be a devil in a blue suit.

Black-Dove was a treat. i couldn't believe how much she rocked this song all by herself, one hand on the Rhodes, one hand on the piano.

Upside Down was very emotional. i think everyone in the crowd was hanging on her every word.

I Don't Like Mondays sounded like the album version for the most part, but some parts were slightly slowed down, and it gave it more of a sad feeling. Just the Rhodes for this one.

This Old Man >>>okay, what did i miss? when did this song become a rocker??? seriously, by the end of the "this old man he played ten" verse, she was screaming it out and pounding on the piano. it was unusual that she found so much emotion in such a "silly song" but it was still cool.

Putting The Damage On was sad. pretty standard, but emotional.

Concertina was definitely a highlight for me. i'd never seen any of the venus songs live, so when she had one hand on the Rhodes and one hand on the piano and the opening melody came out, i nearly wet myself. i loved what she did with the song (i'd expected, if i was going to hear this one, it would be done just on the piano)...it was definitely a good moment!

Cloud On My Tongue is always good!! tonight was no different, loved the "circles and circles and circles again" part

Little Earthquakes >>OMFG! my favorite part of the evening i think. this song has grown up so much, it is so complete and full. i don't know how to explain it...it's just a very very strong song. during the bridge (one of em, hehe), she sang "iiiiii can't reach you. No No No, not while you're there. iiiiiii can't reach you, though i can feel your body near" >>>the way she did that (i THINK those were the right words) was fucking awesome!!! i LOVED IT!!!!!!!!!!!!!!!!!!! and her leg was all stomping up and down towards the end and she was totally rocking out. she then got up and walked over to the Wurlitzer

Crucify ...just when i thought she was about to talk to us some more...she started by saying "this is my little friend" and i thought she was going to start talking to us but, instead, she went into a really cool improv about "she's been around like some of us girls have" and it was really cool. then the song, which has a new arrangement, i'm sure everyone knows. but oh my god, i love it i love it i love it!!!!!!!!!!!!! the only part that kinda didn't sit right was when she said "gotta have my suffering so that i can have my cross. don't cross me now" hehe.

Rattlesnakes was SO MUCH BETTER live than on the album. i love it on the album, but live is such a better arrangement. she kept switching from the Rhodes to the piano and that was very very cool.

Me and a Gun >>>Raven says it was the best one she's ever heard, and it was a lot longer than usual. like she sort of held out every line. i noticed she didn't sing the "you can laugh, it's kind of funny, things you think times like these" line, which makes me wonder how long she has been doing this song without this line and why i'd never noticed before.

Purple People was the perfect closer for the main set. the lighting was fantastic (purple of course) and the song is just so great. one of my favorites anyway, and then to hear it live!! then she left the stage and i was sad then she came back and i was happy

Caught A Lite Sneeze >>I never in a million years expected to hear this. it was a treat. i LOVE LOVE LOVE this arrangement, it was like this song was meant to be played alone on the piano...which is a slap in the face to the harpsichord i love so much, but you know. hehe

House Of The Rising Sun i recognized this song immediately and my jaw just dropped. she did such a good job, and this song was darker than i have ever heard it before, by anyone. totally turned it into a fitting song for the night with just the piano. my god. then she left and i was sad then she came back and i was happy

Bachelorette was incredible. i'd been dying to hear this song, but only wish i could have enjoyed it more without the fuckos around me rushing the stage and talking and being stupid.

Silent All These Years >>>i was so glad she played this. for years i've heard it done the same way with the "excuuuuuuuuuuse me but can i be you for awhile. my doooooooooog won't bite if you sit real still" beginning. but this song had a totally new feel to it, and the middle was tinkered around with. i am totally ready to hear this song over and over again!

1000 Oceans i never ever ever ever thought that this song would ever be played any other way than just on the piano. i couldn't believe she pulled such a new strong arrangement out of this song. she played it on the rhodes and piano and it was beautiful. BEAUTIFUL. a perfect closer. then she left and i was sad but when i think about it, i'm happy

the meet and greet was fabulous, i met so many great people!!!! Rachel, Amanda, Will, Maria, Sarah...omg everyone was fabulous!!! thanks for being SO COOL!!!! i have some pictures to scan of the meet n greet, but who knows when i'm going to be able to get around to it. they're not the best either, but they're not bad.

--------------------------------------------------------------------------------------------

Review by lauraa

I just got back from the show, and let me tell you, House of the rising sun was soo gorgeous.

--------------------------------------------------------------------------------------------

Review by Dor

I just got back from the show too.

Well not really back, i'm at Kinkos.

It was okay for a Tori show and blah for a Tori halloween show. She wussed out on the costume thing, I thought.

Bachelorette, Sneeze, and Dove were good as always. Phantom was a nice surprise but it sounded JUST like the CD.... no improvy goodness

The house of the rising sun was definitely the highlight. One of the best new covers she's taken on, methinks.

--------------------------------------------------------------------------------------------

Review by Gawen

Well guys, I got back late last night so I didn't post. But now I'm at work bored out of my mind so I figured I'd post about how my day went yesterday.

When I got to the venue there was hardly anyone there (around 930AM). I sat around and talked to some people, then me and Rachel decided to go around and look at the side. We met a few more people there. So we all just sat around and talked for a few hours.

We got moved like 4 or 5 times by security, but finally they told us where the meet and greet was gonna be so we went over there.

I had had an awesome time up to this point (and beyond it) but this is where I started getting upset with people.

Everyone at the M&G was extremely calm and polite. There wasn't much pushing or screaming or anything, everyone was very good. But a few well-known denters came toodling up about 45 minutes before the M&G and squirmed their way to the front of the barricades while steve was moving us around. Because one of those people managed to squeeze into the front, I got pushed back and some people who had been there since 930AM didn't get to meet Tori. And I think that's shameful.

I know those people are well-known and respected among this community, but all I got was bad impressions from them (as if it matters anyway, just wanted to share).

I did manage to squeeze in between Dustin and Sarah to talk to Tori for a minute and get my SLG cover signed. For that I am extremely grateful.

Everyone (minus those egotistical denters) I met yesterday was AWESOME. I am so happy that I got to meet you guys. I will try to name off some names later, but I'm sure I'll forget some of you.

Anyway, so the concert started and I sat next to Eef, and we watched Rufus. I thought Rufus was pretty entertaining, to be honest. He has an amazing voice and a lot of potential.

Then we found out we were on the wrong side of the row, so we had to move and it ended up being better because we were on the right side of the center section instead of the left (better view of Tori!!). So we waited, and waited, and waited, and finally she came out and the crowd went apeshit.

The concert was pretty good, although I think my favorite is still the 98 concert in Houston (I've only been to three shows :P ) .

So anyways, after its over, one of those denters is outside AUCTIONING the fucking setlist that she got from the guys clearing the stage. I'm sorry but that is just fucking WRONG. That really gave me a BAD impression.

The bit about the veils was tori talking about the Pagan holiday Samhain. She said something like "So on this night when the veil between the worlds is the thinnest, I decided to take someone's advice and be a devil in a blue suit."

--------------------------------------------------------------------------------------------

Review by jennibug

we drove from Austin to Houston to see Tori last night and the setlist (now already discussed) alone was worth the drive. However, did anyone find it weird that she hardly spoke a word the whole show? I think it's the first time I've ever seen Tori (going on 15 or 16 shows now) that she hasn't had a little "chat" with the audience.

I loved House of the Rising Sun, but Little Earthquakes was also stunning. I can't wait for my 5th row tix on Friday night, yeah!

--------------------------------------------------------------------------------------------

Review by BottledErotica

the show was fantabulous.
Raining Blood + Happy Phantom were very pleasant surprise openers (along with B&C, of course )
the masks were awesome. espeically the devil veil one... her whole ensemble fit to a tea.
purple people.. omg.. total tearjerker
upside down, sneeze, damage, bachelorette, rising sun.... my god!!
i must note that lil earthquakes was a very powerful and intense performance.. some very nice improv.. im sure eef will mention it

all in all.. this was a GREAT show. most of the people were verrwonderful... except the stupid whore who stole my god damn tour book.. i swear if i knew who she was i would hunt her down and KILL. heh.
but yeah.. i didnt let that get me down.
im so still on a tori high.

--------------------------------------------------------------------------------------------

Review by venusunfolding

i thought Tori was kinda sedate too. I was expecting a more energized show for halloween. she even said herself it was a magical night. but damn it was still a good show.

i didn't get any of their names, but the people behind us were cool. (we were the ones meowing between rufus and tori) we were in section 206 row d. the seats were decent.

House of the Rising Son was awesome! it's so cool to hear people go "i wanna hear a boot of that" and I was actually there. the other shows i've went to she didn't do anything new like that, so i feel special now *hee hee*

the best part for me though was taking my best friend who wasn't familiar with any of her music except 1000 oceans before i made him a cd a month ago. he's kinda getting into her, but i didn't know he had a special connection with 1000 oceans and when she played it he put his head on shoulder and grabbed my hand and we sat there all cuddled up and listened to her sing it. i'm really glad she played that for him.

i wanted to hear upside down really bad, and rattlesnakes, so that made me happy. i really wanted to hear MAAG too, because i'd never seen it live and it completely blew me away. i cried during Damage! And Caught a Lite Sneeze fucking rocked.

i'm not sure though, if i like Tori with the band or solo better. i was all charged up and happy we were gonna see her and the solo thing is wonderful, i love it, but the band just gives you a chance to dance around a little more, ya know?

--------------------------------------------------------------------------------------------

Review by paintedpainful

hey everyone!

Went to that neato skeeto show last night.....ahhhh, my second and last show on this tour. And yeah, she was kinda sedate. She did this cute little improve about the wurly though...."she's been around like some of you girls have been around" and something about a jackolantern.....swooped right into a very different rendition of Crusify. The mask she came out in was the same one from New Orleans, just with different tulle fabric around it.

Bachlorette(?) was my absolute fav of the night....but Phantom was awesome too....set list was awesome. Glad this New Orleanian could catch House of the Rising Sun too.

We came after the first M&G at about 5 or so. I had my laminate on, and there were a few people still at the baracades. This man came shaking his fist at me, "Those people with the passes just like you, they pushed everyone out of the way and got in front. That's not fare, why do you think you can do that?" I was baffled as I had just stepped out of my car from a six hour drive to the show. That's how I learned about the rude denters from earlier. I had to explain to the man that we aren't all assholes. But I don't think he really believed me.....sigh.
We did go to the M&G after the show though, waited 2 hours for her to come out. Steve and Joel were telling everyone to be really quiet. We assumed it was for Tori. She came out, looking very tired, and signed a few things, but was not very chipper. Who can blame her, after a night like that. Come to find out, we all were being quiet cause Tash was asleep on the Tour Bus, and they didn't want us waking her up. We saw the car seat in the tour bus too....it was cute!

I sat behind and in front of some drunk shits.....ruined some parts for me....but all together a great show.

--------------------------------------------------------------------------------------------

Review by Rrrrrabbit

well, i drove to houston, on a whim basically, from austin to see tori. my friend knew a person who worked there and got us in for free, although my stomach was in knots the entire time, thinking we were going to be booted, but we weren't. we sat in folding chairs on the second level directly behind tori. we could see everything backstage and a "bird's eye view" of tori from behind, except for when she played on the rhodes, then we could see her beautiful face. it was really neat for me to see the "behind the scenes" aspect of the show, you know, like when she would get up and leave for the encores and the guy with the flashlight who guided her off. we could also see the stage people switching out the drapes and stuff. anyway.....

our "hook up" told us that word was going around that tori only got about 2 hours sleep the night before and that she was real cranky. after tori went on, i immediately knew what that person was talking about. tori hardly said two words to the crowd all night and it seemed that she just rushed rushed rushed through the songs. after the final encore, she literally just ran off the stage and the lights went on. i have seen all but one of her tours and this one show was a bit disheartening. i was bummed that she didn't "exchange" more with us. who knows, maybe she doesn't like houston much.

so....the review....

rufus was sweet. i really felt for him, particually when he told us the story about how some jack-ass in N.O. threw a bottle at him (in a club i guess) and he was playing with a sore arm. he reminded me of a combo of james taylor and billy joel.....kinda folky. but i must say that by the end of his set i was ready for the lights to come on and get on to tori.

so, tori opened with B&C. i had heard that it was just a recording. well, if it was, it was different from the album, a little faster and she repeated a line somewhere for emphasis. what a great way to set the tone for such an emotional show, although not as emotional as some of the previous reviews in other towns. but good nonetheless.

RAINING BLOOD: wow! i'm so happy she did this one. my husband is a rabid slayer fan like i am a rabid tori fan. although they are worlds apart, they share a common intensity and passion (tori&slayer). i've seen a couple of slayer shows and their fans are like tori fans, well, except for all of the shoving and pushing and bleeding that goes on. anyway, it was perfect to hear it on halloween night.

HAPPY PHANTOM: ummmm, it was great to see/hear her do it live for the first time since the under the pink tour, but not really over the top. but i agree with a previous review that it sounded like the album.

BLACK DOVE: was totally beautiful and started the faucet dripping which turned into busted flood gates by concertina. not much emphasis on "have to get to TEXAS" like i had imagined.

UPSIDE DOWN: what a wonderful surprise and an all time fav. she played and sang just beautifully.

I DON'T LIKE MONDAYS: was pretty good. but kinda rushed like most of the songs.

THIS OLD MAN: cute and unrecoginzed by most of the people around me.

PUTTING THE DAMAGE ON & CONCERTINA: OHHHHHH!!!!!! i cannot express to you how this double whammy of a back to back combo, made me sob like "a little girl". my hot streaming tears ran nonstop until i had to run to the restroom and pee and wipe my face. it was so achingly beautiful. my friend grabbed my hand and i squeezed the hell out of it while constantly wiping my tears away with my other hand. "what a moment for me...it was just like......[slurp slurp].........wiskers."

CLOUD ON MY TOUNGE: i was in the potty, but it sounded great and i just sang along the whole time i was gone.

LITTLE EARTHQUAKES: this too was very nice and a treat from the past. one of the few songs she cut loose and boogied.

CRUCIFY: very very beautiful, and very different, on that little funky god bless america piano. my friend had never seen her although he has all her albums and has known about her for almost as long as i have. well this slayer, soilent green, death metal freak was also brought to tears.

RATTLESNAKES: OHHHH!!! one of my two most favorites on the new album. it was very nice.

ME&A GUN: chilling as usual! but, it too seemed rushed, and not as effective as i have seen before.

PURPLE PEOPLE: what a treat! lovely but rushed.

CAUGHT A LITE SNEEZE: another tear jerker for my friend, and me of course. kinda disappointed that she didn't have her harpsicord with her.

HOUSE OF THE RISING SUN: to be perfectly honest? i had absolutely NO IDEA what it was til i read the set list later. but it was very beautiful and interesting.

BACHELORETTE: another treat! another old fav. but it sounded very different to me. i guess since we were sitting behind her that we weren't getting the full effect of the sound system.

SILENT: JUST AMAZING. started up the water works again, esp. when she repeated "i hear my voice"....UH! i'm getting viclimped (SP?), talk amogst yourselves.....i'll give you a topic........rhode island......is neither a road nor an island......disguss.....

1000 OCEANS: lovely as always.

and after she took a few bows she darted off the stage and bam, the lights came on and that was it. the tone of the show was kurt....."stop short" if you will. well, i hope she gets plenty of rest and is in a better mood for the austin show. but i know she LOVES austin so i have a feeling she'll be feeling a little spunky!

one more thing. i really think she knew that my friend and i were there since she busted out all of our favs.! a few tricks but lots of treats! pure bliss!! OH! and our hook up also managed to score me a autographed concert poster. WOW! i must thank this person profusely.

......and that's all i have to say about that......

--------------------------------------------------------------------------------------------

Review by Becky (beckarooooooooo)

Hey everyone,

This is my first post after many months of lurking...

Anyway, I feel like a jerk for saying this, but I was mildly disappointed with this show.

I thought Tori would do something kinda special for the holiday, but I kinda felt like she didn't wanna be there. Well, it kind of makes sense, I guess, it would suck to have to work on your favorite holiday.

Putting the Damage On was such a great great surprise...I almost pulled my friend's arm out of the socket when I heard her say "Glue..."

--------------------------------------------------------------------------------------------

Review by molasses

This show was absolutely the best that I have been to, and I have seen her now 7 times. Very intimate and beautiful. At the 3rd encore I got to get right in front of the stage and watched her every move. And after 1000 Oceans she came over to where I was and touched my hand....that did it for me.

I brought a newbie along with me and now she loves Tori. I really wanted her to do Doughnut Song, she usually does that one when she comes here "come in Houston" but instead a beautiful version of House of the Rising Sun. I loved it and have to say it was one of the best.

--------------------------------------------------------------------------------------------

Review by danie (iciclegirl)

i posted this in the main forum as well, but thought i would post it here also. below is what tori performed during soundcheck in houston:

When we walked up she was doing Happy Phantom. She ran over the last first and notes quite a few times because it didn't sound like she could get the ending down. She then did Black-Dove all the way through once. Then she started Ode to the Banana King but only did the first verse twice before scrapping it (didn't sound like she could remember it). Then, and this is huge, she did Sister Named Desire!!!!! She only did the first three or so verses, and it wasn't played at the show, but it was definitely Sister Named Desire. To my knowledge, that is the first time she has ever done that??? Then she did a run through of Bachelorette and House of the Rising Sun. Needless to say, the soundcheck was almost as good as the show!!!!

--------------------------------------------------------------------------------------------

Review by Brijeana

This was going to be my first post. I wrote it the day after the Houston Concert. I'm sure I left some things out but... I don't want to change it.

This is my first post. I was at the Houston Show. It was my first Tori Show ever! (I'm having a lot of firsts. J) It's REALLY LONG so bear with me.

The merchandise was expensive. They had a cute little red shirt for rufus for about $30. They had about 5 Tori shirts. Most of them were 30/35 dollars. There was one for $50. There was a little black one with Tori's name and the tour on one side and strange little girl on the other in red lettering. I got a black one with the Strange Little Girl character and all the tour dates on the back. There was a cuter shirt with four characters and the tour dates, which was sky blue and white. 35$. There was a Satan worship shirt and a black shirt with Tori's eyes across the front. I liked that one two but it didn't have tour dates. The choker was $10 and there was a cap for $20. I expected to be disappointed by the calendar because of everyone's reactions but it was beautiful. It looked cooler than I thought it would. It really is just a calendar with Neil's stories and credits for the tour at the end. I bought one for $20. Probably the most expensive calendar I'll ever own. A lot of people were dressed up. I saw two butterflies and a few fairies. I just wore a mask.

Went in. I had seats in the next to the last row though thankfully in the center. I was very happy about the small size of the theater. With my little binoculars I could see the people on stage very clearly. And nobody's head got in my way.

Waiting, Waiting, then Rufus. He was good. I liked the chocolate milk song and a windmill song that I think was from Moulin Rouge. But I'm not familiar with his music so a lot of the time I couldn't understand him. There was one song he sung with the guitar that just showcased him. It was really good. I couldn't understand what it was though... He was funny. He talked about how he loved Texas accents and how somebody hit him with a bottle when he was performing at a club in New Orleans. When someone in the audience said "We love you" he said, "You do? Go get that guy in New Orleans." Someone tried to give him a cowboy hat but it was too small.

TORI: She looked scary when she came out on stage. Her hair was big and white and her eyes were glowing. With the binoculars I could see that she had on a mask and a veil. The mask was golden. And she had on a gold bra and a powder blue suit with the slits in the legs. And she had on some little tan boots. I've read so many reviews from the Dent that Bonnie and Clyde was expected. But she said it with a lot more venom than on the album version. She played Raining Blood. Oh that song really emphasized the fact that it was Halloween. It was so atmospheric. I liked it better live than on the album. Then she took off the mask and said something like, "since veils are the thinnest I decided to take someone's advice and be a devil in a blue suit."

I was so happy to hear happy phantom. That song is about death but it always cheers me up. I should've expected it.

Black Dove was nice. I knew she played it to pep us up cause it says Texas. We cheered on the first Texas.

Upside Down was beautiful. She sort of arched her back and put her hands beside her hips on the "I loved a black boy" part.

I loved This Old Man; she really put variation between the numbers. I wished she'd done more saucy songs like this one.

Putting the Damage On is one of my favorite songs so I was happy to hear it. She paused at one point and asked how we were. She told us it was "magical to be here."

I liked Concertina. It was the first highlight for me besides phantom. It wasn't as warm as the album version. It sounded cooler chillier. It was nice.

I like little earthquakes but there wasn't much variation from the original and the same for cloud on my tongue.

Crucify was ok. She began singing about the painted whurly, "You've been around like some of us girls have" -Then she went into Crucify, "I don't know about you but it feels sometimes like we're in chainsz"- The beginning of Crucify was nebulous. Almost like an improv. I can see what other reviewers meant when they said it sounded like rattlesnakes. There was a point on the heart is sick of being in chains part where she said something like inside or... I don't know but it really got to me. The best part of the song is where she keeps saying she's never going back again. Wonderful.

Seems like there was a song between crucify and rattlesnakes but... Rattlesnakes was nice live. Me and a Gun brought tears to my eyes. I liked the starkness of the lighting when she sang this one. It really emphasized the song.

Purple People was another highlight. The whole stage turned purple and... I loved it. I just loved it. She left and came back after much cheering.

Caught a Lite Sneeze was great. I loved hearing it all on the piano. This was the first Tori Amos song I'd ever heard. When she was on SNL a long time ago. The audience really came alive at this point. I think we all realized she was gonna have to leave soon. They cheered when she said "Mr. St. John just bring your son." I think Tori really responded well to the audience. She really got into this song.

House of the rising Sun: I was surprised to hear this. Has she ever done it before? It was great. She had us all in a rapt silence. I also heard a little religious connotation in it that I hadn't before, maybe she was improvising, something about what the prophets say. She really got into that part. It was great. Maybe this was the song she couldn't remember to play in New Orleans. Went off stage. Oh the crowd went wild. I held my breath. She came back with a black cat mask on.

Bachelorette: Wonderful change of mood. I wish she'd done more spunky songs. She had fun with that one. The lower notes of the left hand sounded very Halloween-y. Crowd was very attentive. We don't want her to go...

Silent all these Years: Yea! My friend enjoyed this one. It was one of the only tori songs she knew.

1000 oceans I knew this was goodbye.

It was a peaceful set. Mellow. I was thrown off because I'd read in other reviews how much she was looking forward to Halloween, I expected it to be a party. Now that I've read the New Orleans show reviews I'm thinking that was her party for Halloween. But I'm so jealous of their set. I wanted sugar and honey. I expected it to be a little spicier. I wonder what she saw in the mood of Houston that made her more contemplative and calm. Maybe it's the right wing-ness. Or maybe it was the full moon. We had a wonderful hazy full moon last night with this faerie ring around it.

Looking back I really enjoyed it. I'm so happy that I had the chance to go. I just wish I could follow her the rest of the tour. Enjoy yourselves Austin, Dallas, West Coast and Europe!

--------------------------------------------------------------------------------------------