Tori performed in London, U.K. on August 30, 2001 at the Union Chapel during the 2001 StrangeLittleTour.

Set List

Raining Blood
Take To the Sky
Lust
This Old Man / God
Icicle
Merman
Crucify
Beulah Land
Rattlesnakes
Me & a Gun
Time
Encore:
Leather
Cooling
Winter

Photos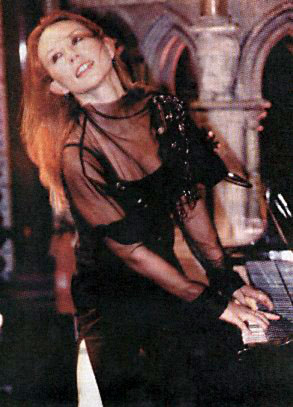 Special thanks to
Kathy Barton
,
Jan Robertson
and
Danny.Weddup
for scanning this photo from the London show that appeared in the Sept 1, 2001
U.K. Guardian
. (Thanks to
Richard Handal
as well.)
Click here to read the Guardian review.


London Ears With Feet Photos
I added new photos to the Dent's Ears With Feet Photo Album from London:

Reviews
Latest reviews are added to the bottom of the page.
Be sure to check the Tori Concert Reviews Forum for reviews as well!

From Beth Boller
August 30, 2001 - I've seen Tori a few times in the States, and I can honestly say that this was the BEST Tori concert I have ever been to in my life. I'd never seen her over here before and it was just great!
I'll put down the complete set list and then comment on the special stuffs!
Raining Blood
Take To the Sky
Lust
This Old Man (Leading to...)
God
Icicle
Merman (Matthew Shepherd Tribute)
Crucify
Beulah Land
Rattlesnake
Me & a Gun
Time
****
Encore:
Leather
Cooling
Winter
First thing, MOBILE PHONES are HORRIBLE. If you go to a show, please be curteous enough to turn them off! Ringers, at least! There were only two instances of phones ringing, but they couldn't have been at the worst time.
The first was when Tori mentioned Matthew Shepherd. She was saying, "Some of you know about this boy, Matthew Shepherd, and what happened to him..." and a phone rings. She says, "Maybe that's him calling now!" she handled it really well. Anyway, she talked about who she wrote Merman for, then said she'd like to do it for Matt "Here, in this place." She played it beautifully and when she was finished, did a little wave towards the sky.
The second ring was right in the middle of ME & A GUN! But, she wasn't bothered and carried right on.
The chapel was gorgeous, Tori was gorgeous, her voice was gorgeous, and her playing was fantastic. On the stage was simply her Bosey, an electric piano, and this THING...I couldn't tell what it was, but it was painted with Stars & Stripes. She went over to it and said, 'Can you guess who's WHURLEY this is?' I was like..ahh! She said something like, 'It's not mine...I wouldn't paint THIS on it!' and giggled. She said she bought it, that it belonged to Country Joe & The Fish & was at Woodstock. She played This Old Man and Crucify on it. Fabulous!
The best quote from the whole night was not long after the show started, she said when she was about five, her grandmother (I'm guessing the 'Victorian' one :)) told her, " 'Myra Ellen, you've got to give your body to your husband, your soul to God, and your love to Jesus.' What's left??!?"
This guy in the audience yells, "MUSIC!"
Tori just gave this great, knowing grin, and chuckled.
That about sums it up! Absolutley FABULOUS!!!

From Paul Cole
August 30, 2001 - What a fantastic evening. Absolutely the best performance I've seen/heard - this was my 6th. A relatively short set - 1hr 20 and she kept us waiting 'till 9pm. Songs not in any particular order - my memory isn't that good!!
Raining Blood
Take to the Sky
Lust
This Old Man/God
Merman
Beulah Land
Rattlesnakes
Icicle
Crucify
Me and A Gun
Time
Encore
Leather
Cooling
Winter
I probably missed a couple and I'm sure someone wrote them down properly. Her voice sounded so beautiful in the old chapel - excellent acoustics. A very mature performance - not without humour - Tori forgot the words to Crucify which was quite sweet. I think the great thing was that this is such an intimate venue and it's kinda wierd to sit on church pews at a concert!! She looked great too - a nice evening number double layer pantsuit with side splits up the legs and very high shoes (McQueen I think?) God had been reworked a little as had Icicle. It was all wonderful really - Shame there was no merchandise/programs though. I'm actually in the States while Tori's touring there and I'm tempted to fly somewhere to catch her again - but I bet the tickets are a bitch to get hold of...
This is probably the most useless review you'll get - but it's quite good to get the excitement off one's chest!! I actually went with a very good friend of mine who, in the past has always been quick to dismiss Tori's work, but she really, really enjoyed herself, so I think that's a good indication of the quality of what we heard.
Paul later added this to his review
I'm racking my brain but I'm sure I've not missed anything. She played mostly the piano. This Old Man/God was a piano/synth mix and Crucify was played on that funny old one she uses on Rattlesnakes and New Age (its painted with Stars and Stripes but she said she didn't do that! (The painting). The told the story that goes with Merman and gave us a little chat about her grandmother telling her something about giving your body to your husband, your soul to God and all your love to Jesus - she was wondering what that left her with. It sounds like a 'down' set, but really it was just beautiful - you'll all see when she comes to your neck of the woods - truly remarkable.

From Linette Voller
August 30, 2001 - Yeah, it was great, what more can I say? The thing I was mainly emailing to mention is that I think the top half of the outfit she was wearing was the one that she wears in the picture for "I'm not in love" It was the same puffy sleeves at the top.
Wow! what a great show, you guys are in for a good tour :)

From Stacy (Posted to the Euro Tori Tour mailing list)
August 30, 2001 - let me start off by saying the show was absolutely f*cking amazing!...of course. i'm gonna break this email down into sections...
BEFORE THE SHOW:
    i arrived a little after 4 pm and tori was outside meeting people.  the crowd was so calm...i have never been to such a chilled out meet and greet.  no one was pushy or trying to get closer.  there was a crowd of people behind a small barricade that was barely guarded and there were also a bunch of people just standing randomly behind tori, including myself and there was no barricade there.  we could have just walked right up to her but no one did because there just seemed to be this sense of respect not to do that.  i'm guessing she was out for about 20 minutes and then she went in to do a sound check.
THE SOUND CHECK:
i stood right outside the front doors to the chapel and could here most of what was going on inside.  there were other people standing around me, and again no security telling people to back away.  i personally heard her play parts of "lust," "take to the sky," and "god."  someone came over after the sound check and said she also played, "merman," and "talula" during sound check.
OPENING ACT:
tori DID have an opening act.  he went on at about 750.  he is english and his name is adam masterson.  it was just him and an acoustic guitar.  i thought he was really good...he had a different kind of style for playing and lyrics.  he played 6 songs.
THE SHOW:
tori came on around 9 and ended around 1030.  not seeing her in a few years really made me appreciate the set list...i am very pleased with it.  there were a few songs i didn't recognize but i wrote down what i *think* they might be called.  feel free to correct me.  so here it is:
1.freedom blood(?)
2. take to the sky
     here she said something like, "my grandmother always used to tell me,
'myra ellen, you have to give your body to a man, your soul to god and all of
your love to jesus' what else is there?"  then someone yelled "your music"
and she smiled and went into:
3. lust
4. this old man
5. god (played on piano and keyboards)
6. icicle
     here she started talking about matthew shepard and dedicated the next
song to him.
7. merman
8. crucify (played on a wurlitzer which she claims was from some band back at
woodstock)  she f*cked up in the middle of the song and did this cheeky
little smirk and made a funny noise and said "you've been waiting all night
for that"  then to the tune of crucify she sang "you've been waiting all
night for that" and finished the song.
9. beulah land
10. rattlesnake(?)
11. me and a gun (i was so surprised and so happy to hear this)
12.time(? sorry this is my best guess at this, but it was beautiful)
13. leather
ENCORE:
14. cooling (so happy to here this!!!)
15. winter

so there it is.  i apologize for not knowing some of the songs.  the acoustics in the chapel were excellent.  it's a really cool place...very small which was good because it's hard to get a bad seat.  i waited around after the show for about 30 minutes.  there were only a few straglers hanging around.  i left so i don't know if she did come out of not.  if anyone knows please write in...i'm just curious!
one more note...she did mention something about coming back to england in december or after december.  i hope everyone enjoys their future shows as much as i enjoyed tonight!

From bethologee
August 30, 2001 - Just wanted to add...the concert wasn't in any way bleak or sad...so maybe it was a little short, but it was so awesome and packed full-o-goodness..those songs, her stories...i didn't really notice, and i don't feel like i was cheated at all. It's quality, not quantity, and by jesus, she delivered. Notice none of us are really complaining!

From Mike Snowden
August 30, 2001 - We did get support - Adam Masterson, vaguely Dylanesc, great acoustic guitar player, Harmonica on last track. 6 numbers, including a really good version of "Moondance". Adam said that he had only been booked the day before.
Tori's set was as follows. (from notes, but I was writing in the dark)
On stage 9:05
* New song (Raining Blood according to other posters). Very heavy bass riff.
* Take to the Sky. Usual right hand tapping on piano front, though the mike wasn't well positioned to pick it up - it sounded weaker than usual.
* Lust.
A tripod-mounted camera had filmed some or all of the first three numbers from the right-side balcony, but then either was moved or more probably was removed. Thinking about the choice of "Raining Blood" as the first number later that evening: If you are going to film a new number for publicity, why put it right at the beginning, especially if you are feeling a little rusty or nervous? Odd choice, unless you really don't feel it fits in but you HAVE to do it, or you feel you need to get it in early. Why was it being filmed at all - maybe for the next single?
We got a little speech about being in a church, then she looked behind at the pulpit and commented about fathers and grandmothers speaking from there, and granny saying what she should give to her husband, God and Jesus - "What's left for me?" - "Music", a guy called, to her amusement. She seemed very impressed to be playing in such a great room. The set list included a lot of the parental or religious songs. How much the location influenced the set choice, I don't know, but she may also have been avoiding the band numbers for the album tour.
* This Old Man/God. TOM was on an old-style electric keyboard, a Fender Rhodes according to another review, "God" on both this and the Bosey. The contrast between the sound of the keyboards when she was playing both at the same time (the melody on the Fender), was really nice.
* Icicle. Another particularly appropriate one for the location.
Brief intro about Merman. She was talking about the song being written for someone other than Matt Shepherd when the first of many phone interruptions came in. She took it with good grace and even joked about it perhaps being him, "I think that's possible now", but.... PLEASE turn off your phones and also your watch beepers.
* Merman.
Switching to the old Wurly, she chatted about the paint job on it (stars and stripes) and how she'd never do it that way. She couldn't change it though as the crew would paint her Bosey - when the Wurly was bought, she was told it was the one that Country Joe and the Fish used at Woodstock, but whether that was just to put the price up, she wasn't sure. It sounded great!
* Crucify (on the Wurly). She lost her way on this, joked to the audience, then came back in a couple of lines earlier and went carefully through the line that caught her first time.
* Beulah Land. A perfect song for a church!
* New song: Rattlesnakes. Straight into
* Me and A Gun. I've heard her say in the past that she had moved on from this song, and there definitely didn't seem as much venom as before. The concept of standing at the front of a church and singing about a rape. Was it a confession? An in-your-face statement of a woman's experiences to the Church? Really to us at all?

* New song: Time.
Off stage at 10:05
Encore:
* Leather.
* Cooling.
* Winter. As a last number for this particular set, this was a beautiful choice. In both "Cooling" and "Winter", I was holding my breath as she came to the high notes, and she nailed them - shivers were going down my spine!
House lights up at 10:20, so she was only on stage for about 75 minutes.
For old numbers, it was a great gig. "Winter", always one of my favourites, was wondrous. I. However, I was a perhaps disquieted. In nearly 10 years of Tori gigs, it was the shortest gig I have ever seen, and only one encore?. Only Ipswich on the first night of the world tour (Dew Drop Inn Tour I think) started as late (about 40 minutes after the end of the support, and it only took 5 minutes to clear the stage, followed by multiple mike checks. 10:15 was the booked finishing time and while she might have run into a curfew, I'm sure I've have seen other bands there going on a little later. Tori was swigging water between every number and there was a mug of something hot placed on stage around 9.
Add to that forgetting the lyrics in one of her oldest and most played songs - with a comment "You've been waiting for that all evening"??? I felt there was a subtext to this, not just simple banter with the audience to make up for a fluff. Maybe it was to the crew? Finally, she was using lots of rhythmless fills to stretch lines, and while I know she has a tendency not to enunciate the last word in a phrase for emphasis, this happened on many more lines than I expected, especially at the beginning. One or two spots felt tightly controlled, rather than letting rip.
My feeling was that she was at best tour-cold, perhaps a little distracted, and that the gig was shortened at the last minute. I didn't come out as exhilarated as usual, which given that it is my favourite venue and the set list included many of my top songs was a little disappointing. AND surprising. A great gig, but IMHO not to peak performance.

From Bert (Posted to the Euro Tori Tour mailing list)
August 30, 2001 - Following on from Stacy's review on 'ToriTour Euro' (see above):
I agree. A truly great show! I've seen Tori seven or so times, but never so intimate and never with such an atmosphere. There was such anticipation for new tracks.
I think the first song was an interpretation of Raining Blood. I didn't recognise it from the album version, but I saw a set list later. Other than that Stacy you were spot on. The other new songs were Rattlesnakes (beautiful - 'She looks like Eva Marie Saint in On The Waterfront') and Time. But wasn't Time the last song of the main set? I seem to think that this is what she left on. I may be wrong.
Cooling was probably the one that came across best to me. It had a really full sound to it, if that makes sense.
Most of her other songs were very definitely interpretations. Winter, M&aG and Cooling were played as the originals, but the rest were all manipulated in that great Tori style. Many were extended beyond their normal length. Crucify was given a whole new edge for me when she played it on two keyboards at once.
I don't think the acoustics of the venue agreed with her keyboard arrangements a lot of the time. Too much reverberation, but great none the less.
I was lucky enough to be Access All Areas and had been promised a meeting with Tori, but apparently this wasn't to be. (However she did sign the back of my China CD single and reminisced about shooting the video, apparently.) She met a few select journalists after the show - to whom she was very warm and gracious - but as far as I know didn't greet the fans. She certainly didn't come to the after show party, which was a ball anyway. Posters were up of the various images, and it was great to see them in full poster size.
Under each image was the Neil Gaiman interpretation of each character. I shan't ruin what they say for you, as they're set to appear in the tour programme. Mind you, knowing the web, they're probably already winging their way around cyberspace.
One aspect of the show that was quite spooky was the fact that you couldn't get away from it being in a church. It was full on rose windows, pews as seats, a pulpit behind the piano etc. It is still a fully functioning church. I'm not religious but I couldn't bring myself to drink lager from a can in a church. I waited until the free sea-breezes backstage.
Tori was obviously relishing it. She said 'Wow this is the real deal, the real thing' or something like that. Then pointing to the pulpit she said something like 'A lot has been said up there, by a lot of men. Some of them not that bad(?). Some of them are our dads. Some of them are our grandmothers'. This came just after (or before?) Take to the Sky with its tripple Priest/Father/Doctor reference, and she then said the grandmother anecdote that Stacy has already mentioned.
I'm a little tipsy, as you can probably tell by my spelling and the way I've been rambling on. But if I remember anything else in the morning, I'll let y'all know.
Oh yeah, and most fans managed to grab double-sided A1(?) size posters outside the venue. My one has the Satin Worship and the Cop on one side, and the Satin Worship and Blonde Curly hair on the other side. I know these descriptions are sacriledge to Toriphiles, but I can't remember the official ones.

From stuart
August 31, 2001 - not a concert review actually, more a post concert review. Tori did come out back after the gig to see us, after making us wait for about an hour and a half in the cold, but it was worth it. she stayed and chatted to us for about five minutes and signed things for some people, made sure everyone was feeling ok and generally said hi. then she told us that she's going to be back touring the UK in december and she would see us all there. she didn't give any other details, but it looks as though us UK toriphiles won;t have to wait long to see her again.

From Paul (Posted to the Dent Forum)
August 31, 2001 - How about we start another thread and this time keep it on topic i.e. reviews from people who were actually in the venue ;)
Yes, it was sadly shorter than the last solo London show and not quite as sparkling but still very beautiful in a beautiful setting. Just looking around the vaulted walls and the beautiful stained glass window illuminated above the slightly raised stage while listening made up for it though.
Opening with Rain In Blood was interesting and very powerful. The rest of the set was pretty traditional (apart from the other two new songs from SLG). Rattlesnakes was not that great live IMO. It lacked the consistent rhythm that the song needs. She also seemed a bit off at times during Take To The Sky and forgot the "empty cage" line in Crucify and had to stop and restart but there were some nice improvs. throughout the set that made for some unique moments.
Overall rating... venue - awesome, performance - 8/10.
Oh, one more thing.... maybe the shorter set was due to the number of assholes taking copious amounts of flash photographs all bloody night after being expressly asked not to by a nice man who came on stage before the show and made an announcement. It sure pissed me off and I wasn't on the stage.
...
Take To The Sky, Icicle and Lust all had extra embelishments. Crucify was very different on the Wurlitzer. In fact I swear it has the same chord sequences as Rattlesnake at the beginning. I thought that was what she was about to play. This Old Man running into God was nice. She used a soothing soft bell like tone on the keyboard to play the strong piano rhythm part on God. Beulah Land sounded odd in places. Not quite like the recorded version.
.... Who knows what she's going to open the other shows with. Raining Blood is certainly likely to be a mainstay for the tour though. It works very well live.

From M. Adrian Brassington
August 31, 2001 - I suppose my girfriend's reaction when the lights came up *well* before she thought the concert would end, said it best: "Oh, no!"
A strange evening. As others have pointed out, it was short. But more than that...La Tori did not seem herself. Ill? Perhaps. Certainly the energy she displayed at the begining of the show...oh, the rapturous applause, the almost 'ecstatic' state the entire room seemed consumed by upon her entrance (and I mean ecstasy in the religious sense, of transformation), the relief on everyone's part that this show really WAS happening...this energy dissipated, slowly, gradually, the final result, I think, being her 'truncated' performance. If I were a musical forensicologist (?), I'd probably say she'd been under the weather. She seemed distracted. A tad lethargic. Hence the less-than-marathon length of show.
Was I disappointed? Well, I've seen Tori a few times; how can you ever be 'disappointed' in seeing her perform? Sometimes you get the eight-course meal, other times, on this occasion, when she's apparently not feeling on top of the world, you get a two-courser with a coffee and a tasty biscuit thrown in. But no matter the 'extent' of the meal, you eat a sumptuous spread. If I can finish off this analogy, here's a dazzling chef, one who's food we all love to feast on, who offered up a delectable repaste, but seemed not able to turn it into a marathon affair, one guaranteed to render each of us immobile, clutching our metaphorical bellies. So what? I know that my gal and I ate very, VERY well last night. Could we have eaten more? Of course. What better over-indulgence than to surfeit oneself on Tori?
It was a splendiferous evening. Not perfect, but then, so what? My guess is that she gave it her all. Something was probably up when an opening act was called in only a day prior to the gig. (And if I had to be harshly inquisitive, my biggest query would have been why so much back-catalogue material was played when this new, covers-only album is imminent. Yes, she did touch on the forthcoming album. But to be honest, I was more interested in hearing *this* material than I was the 'older' stuff. Not that I'd EVER turn down a chance to hear 'Merman' or 'Cooling', of course...) Visually, she was stunning; a perfect example of how motherhood can tap into another element of 'beauty' entirely. There were moments...when she suddenly turned...just...that...little...bit...more...when it seemed she was looking right at us (!), and God, if you could have frozen that moment... This was why all the prats in the audience who insisted on taking photos, did so. The temptation was simply far too great. Vocally...well, she sounded pretty damned fine to me. I'm constantly amazed by her voice, and this is a decade after first hearing 'Little Earthquakes'. Keyboards-wise, ditto. And the venue itself... I mean jeez; she played in a CHAPEL! I'm sure, as a writer, I could wax poetic about how perfect the venue was, but to be honest, others have done a good enough job already of describing it (and there was ample opportunity for piccies to be taken before the show, so I'm sure all those who were not fortunate to have attended the show will get their chance to see what the place was like...WITHOUT Tori on stage) and besides; just think 'Tori in a chapel' and let your imagination handle the rest.
We *always* want more of what we love. So a 'short' Tori show naturally tends to leave us wanting. But I doubt that anyone in the audience last night would have missed it for the world.
Best wishes to Tori; I hope that whatever was ailing her is quickly remedied and that she's able to have a successful tour.

From A.Romanova (Posted to the Dent Forum)
August 30, 2001 - Being someone who went to the show last night... I thought that it was an appropriate length. It is actually quite uncomfortable to sit on wooden pews for hours and hours.
The length of the show did not occur to me at all. I was impressed, on the whole, with the set list, and was pleased to see that songs like Precious Things and Conflake Girl had been dropped in favour of less played stuff.
Older songs seemed to be played with more improvisation, whilst the new songs were not. This was quite a nice effect, as we got to see Tori's voice at its best; she sounded utterly fantastic.
Another point of note, is that I was surprised how well she looked. When she came out o stage, I thought she look very healthy, VERY stylish (Her black outfit seemed to fit the gothic feel to the church) and VERY sexy!
Speaking of sexy people...there was a blonde haired guy sitting two rows behind me in the middle section upstairs (the view was wonderful...). He was wearing a read t-shirt and sitting next to a girl with dark hair. After the concert he was waiting at the bus stop...anyone from here?
A.Romanova posted more later...
Just thought that I would write a bit more about the concert, now that I have woken up a bit!
The opening track, Raining Blood, was absolutely perfect for the venue. Not many people seemed to know what the song was from the audiences reaction, but it has this very macabre feeling to it. I thought that it was quite important to note the effects the surroundings had on the whole gig...
Other highlights for me included God, Rattlesnakes, Time and Leather.
The two new songs were sung without (?) any improvisation, but were sung similarly to the recored tracks... I thought this was great, because I always dislike it when Tori does a song I like, then changes my favourite part...
I thought God was great... one hand playing the Bose, the other playing the keyboard... absolutely amazing!
Leather, a personal favourite, was a pleasant surprise and reminded me of the stunning simplicity of the song. It sounded great live....
Actually, now that I think of it, Take to the Sky was also a great one...
All in all it was a brilliant night. It was a slightly different experience to the other concerts I have been to... the Chapel was a great venue. The crowd seemed relaxed and friendly, and the venue (apart for the pile-inducing pews...) was also relaxed. People were allowed to go to the bar, bring back drinks to their seat... I hope that everyone had a great time. I know that I did!

From Johnnie Winter
August 31, 2001 - Hi - although somewhat mystified at the short set - I wouldn't have missed it. After discussing it with a friend we think the concert and the songs chosen were for Tori - a kick start for her into the US tour. Some real intense intimate moments. I always find Me and a gun a difficult listen but last night was chilling. Beulah Land was just fantastic and Winter touched me having recently lost my father. It's funny been listening to this song for years and then suddenly a different experience altogether. Tori did a meet and greet at about 4pm - I managed to shout out whether she was doing any more gigs this year in the UK - she said in late November/early December. She looked great, really relaxed and so it didn't feel like the same person when the intense side came out for the gig. What a weird and wonderful day.

From Steve_NTL
August 31, 2001 - Support Act
Yes there was one! Apparantly he was pulled in yesterday. A young guy with longish curly hair , acoustic guitar and harmonica on one song. Ugh! Sorry but I hate the harmonica and that is why I couldnt like it. It was like nails on a chalkboard
He said his name was Adam or Alan. But I couldnt catch the surname. He didnt speak loudly into the mike.
However he had a fantastic voice and range , he just didnt really have many strong songs. I cant remember any of them now, and the rhymes were really basic like "Im a DJ, mixing mixing mixing, Im going to play all day" or something like that, and "you and me going to be free" etc. Lots of cliches! But like I said a great voice on him and I think it was just the harmonica that upset me mainly!!
He was also too loud at parts, screaming into the mike as if to cover up the weak parts.
anyway on to tori now.
The crowd were all restless, and as alcohol was being readily served, it was a bit worrying that it was going to be a rowdy night.
After being told no support most people were expecting Tori at about 7.30-8pm. So when the poor guy came on he didnt get the best reception as he wasnt expected.
When he left there was a further 40 min gap as the crew came on and cleaned the bosie and tested the mikes and sound...again and again and again..
It appears that perhaps there had been a few problems. Apparantly(I dont know the source of the info) Tori did about 8 or 9 songs in the soundcheck, which is unusually long, so I dont think things were going quite right.
Tori finally came on at just after 9pm
1. Raining Blood
Absolutely fantastic. The opening chords...everything. Even better that I (and probably lots of others) had never heard this before. Ive never heard Tori open with a totally unfamiliar song. Sometimes its hard to get into new songs, and hard to appreciate them live if you are hearing them for the first time, like me. But this was stunningly powerful and confident. I did not know it was Raining Blood until I picked up on the title at the end - as I didnt know the original so it was completly new to me.
2. Take To The Sky
A bit tired this one. Tori played it with a bit more force than usual, trying to pump something new out of it. I actually dont really like this song anyway, so it didnt really matter what she did to it! Not one I enjoyed , but performed with more confidence than Ive seen before for this song. She did a lot of hand movements, such as waggling her hands behind her back/butt when she said "Have a seat while I". She seemed to enjoy this one a lot.
3.Lust
Again, unfortunately one of the few Tori songs I am not fond of, I just cant relate to. But Ive not heard it often and again it was beautifully played. Very elegant. There was also an improv in this song - I am pretty sure it was in Lust where she just sang "remember me, remember me till the end " or something. I can barely remember(no pun intended). It may have been in Icicle, but it was nice.
4.This Old Man/God
How Bizarre! Quite chilling actually. Tori made the old man sound very dirty, the way she sang "he played ten , he played nick nack on my......long pause...shin. That made it sound a bit gross like there was some horrible story behind this innocent rhyme. Perhaps there is, I dont know!
God was fabulous. I do not like the previous arrangements she has done and am not fond of the UTP version. But this was incredible. She sat in the middle between her bosie and synth and with one hand on both played backing on synth and melody on piano for the verses, while moving to the piano for the rest. So amazing that someone can physically do that! The synth really added to it, especially in the church atmosphere.
5. Icicle
Interesting this ons. Quite standard playing of it , but thats not a problem as I love the song to bits. But when she got to "I could have...I should have", she seemed to be quite angry, and spat the words as if they were poisonous. Normally she is regretful with this line. She was also slapping the bosie a bit at this point(it suffered quite a lot at this event!)
6.Merman
I was welling up at this, I am always close to tears when she sing "who could ever harm you.." its the only line that cracks me totally, but I was composed hehe.
She dedicated this to Matthew Shepherd in exactly the same way as London '99. I cant help feeling this was a bit uneccesary. I dont think Tori knows him personally and it seems a bit odd when lots of these tragedies and others happen to people, and she said she was asked to dedicate it "a couple of years ago".
It just seemed odd, but the song was of course beautiful and remains one of my faves.
7. Crucify
A very old song, done millions of times, yet Tori did it on the wurlitzer and this brought a new freshness to it. She also forget the words, and just started to giggle which was cool.
Spookily I was mouthing the words slightly at that point and looking directly at her and then she seemed to be put off. She was looking directly at me as well, and I had a bit of a shiver. I know she wasnt as shes said herself she cant actually see the crowd most of the time, but it was a bit scary!!
She did an improv then a la Prof.Widow '99 . I cant remember exactly but she sang briefly about how she's done it wrong and then moved on again.
I dont think she was as confident with this song, as she appeared to start it three times, singing the first line again until she seemed happy to continue.
8. Beulah Land
The only surprise song of the night, not heard it live before, Simple and beautiful. Not a lot to say on this as it is quite short and sweet.
9.Rattlesnakes
Like Raining Blood this sounded fantastic on first listen , as I had never heard it before. I am now looking forward to SLG more than ever before. I can remember a lot about this one, as it wasnt exactly catchy. But tori songs are not supposed to be catch so I am grateful for that!
10. Me and a gun
Freaked me out, I have heard it live before in '96 but never really understood the meaning, so this was the first time I have seen her do it live properly. Chilling as always. Tori didnt seem as confident as she did when she opened with it in '99. She sang a bit higher and didnt hold many notes. A lot of the time she puts anger into this song, but tonight it was more of a regret and remorse, sung much more like a sad lament. I guess she has gone beyond the anger now, and been able to seperate from it, but obviously still is sad about that time in her life.
11. Time
The final song before the encore, which is quite fitting, as its about being time to leave I think from what I made out in the lyrics. A shame that only three SLG songs made it to the set list. That seemed quite odd but I guess it is pre-album so she didnt want to alienate us too much with unknown material. As RB and RS, beautiful and sung sadly. Perfect accompanient to follow MAAG.
Encore
This was where I got a bit disappointed and so my initial reaction when I left wasnt as thrilled as it should have been, as the songs that came last were
Leather
Cooling
Winter
This three songs follow my comments on Take to the sky. They sounded tired and Tori did not add anything new to them. They have all been done many times. I am not a fan of Leather really, but Cooling and Winter are two of my faves. I was even hoping she would play Winter despite having heard it so much before, but for some reason it fell a bit flat. I think it was just that these three songs were not as fresh as the others played tonight and the fact they were all clumped together at the end brought it to a flat end, leaving me slighty low at the end.
I would like to have seen band songs stripped down a la Juarez, Bliss etc. Maybe some FTCH stuff like Liquid Diamonds completely taken apart.
The fact that is was such a short show and that Pele and Choirgirl were completely ignored was also a shame but I am not complaining.
It was a great show, I also met some great people , and felt guilty for whinging at the end of the show. Who do I think I am!! But that was because the last 3 songs stuck in my mind. Looking now at the whole picture, Tori was vibrant, and confident and it was excellent.

From Maria Turk
August 31, 2001 - Well this was my first show for Tori. My friends came all the way from Beirut, Lebanon to see her. I think this was the best concert I have ever seen for anyone. I did think it was short but then again I believe if she played for days and days I would still want more. I hung out later to see her but I had friends with me and we had to leave. I know I would have stayed there forever had I been alone. For most of the time I was watching her through binoculars from the third row so I could see her every move. At some point I felt like she was looking straight at me during icicle especially when she repeated "I'll take from mine, I'll take from mine... I think I'll take from mine instead" I felt like she was taking the words from my mouth. It was my own imagination I know but it was an amazing feeling.

From Paul Lancashire
August 31, 2001 - Wonderful, wonderful and thrice wonderful...
Seated on the second row slightly to the left we had a great view. During "Crucify", which she played on the Wurlitzer, she looked right at me for a good 5 seconds during which time i smiled as i sang along and she smiled back as she sang..... *siiiigghh*
It's my fourth Tori concert (1 at Dew Drop Inn and 2 at Plugged) and definately the best by far, an emotional and brilliant line-up of songs, well performed. And though i am back home now, i left my heart in Islington.
The camera crew that were filming from the balcony during the show said they were from a swedish TV channel i think (www.sfdrs.ch) and that what they had filmed would be up on their site before long. You might want to keep an eye out, the only problem is it'll need a translator to spot it. =)

From Danny.Weddup
August 31, 2001 - The Union Chapel concert last night was my first Tori concert, and it was incredible. It totally fulfilled all my expectations and way more, and the whole night was great.
Got to the chapel 2 hours before, missed the meet and greet but I don't really mind, the show was so incredible. There were people with cameras and sound equipment filming and interviewing before, during and after the show, so I don't know if they were local TV, or perhaps Tori is putting together a tour diary or something?
Doors opened at 7:15 or so, and we rushed in to see that the Chapel was beautiful, with big stained glass windows and carved cherubs and things on the pulpit, which was centre stage. After an hour or so the support act came on, a male guitarist, English. He had a good voice and the crowd gave him a good reception.
By the time tori came on at 9 there was a huge anticipation, and when she walked out the crowd just exploded. She looked a lot more glamorous than she has in most recent photos, much more sleek. Opened with Raining Blood which was very atmospheric, quite creepy. It had me rooted to my seat (pew.) Of the new songs, my favourite was Rattlesnakes. It was so beautiful, especially the part where Tori sings, 'she looks like eve marie saint on the waterfront.' Time was nice but didn't stand out so much.
My favourite was Icicle, I have never heard a better version. I so hope somebody got this on tape, I'm sure they did. When Tori sang, 'I could have, I should have etc,' it was so powerful and full of energy. Her whole body was shaking. God was also very good, more chilled out than the album version, with Tori playing piano and keyboards at the same time (how does she do it??) It was a big surprise to hear This Old Man.
In retrospect the show was quite short but there is no way I would ever complain about any aspect of it. There were too many people taking photos, despite the security's best efforts, but other than that the audience was very respectful and it seemed like everyone loved the show.
I'm looking forward to December already!

From Gulliver
August 31, 2001 - Was she nervous ?
Well we all know every word to each of her songs and the very knowledgeable audience were very sympathetic when she lost her way through Crucify. But that was the only hiccup (apart from those rude mobile kids) in the whole night. The voice and spirit of this lady is extraordinary, how can one person combine so many talents. Its quite sickening. Leather (probably because is was the first Tori song I heard) is one of my top 5 Tori songs (together with Clouds on my Tongue, Northern Lad, Take to the Sky and Tear in my Hand) and the version we got last night was as cool as ever.
What was great was to see such an enthusiastic and knowledgeable audience. Last time I saw her was at the Albert Hall I think and the audience was so polite...and so dull.
I thought that the balance of the music was from the first two albums which was a tiny bit of a disappointment for me. Choirgirls and Pele were out, in were B sides, covers, and Earthquakes. But this may be due to the lack of a support band.
This was probably my seventh Tori gig and still as enjoyable as ever. Its terrible that these gigs always have to end.

From Kathy Barton
August 31, 2001 - A little review from me :-
Raining Blood ~ this was stunning, just amazing. Her voice was incredible.
Take To the Sky ~ done as usual, slapping that Bosey
Lust ~ this was the best I have heard her perform this song.
This Old Man / God ~ done on two keyboards, which gave it a fresh new twist. I loved this version, freshening up on an often played song.
Icicle ~ seemed very fitting in the chapel setting. Both this and God.... I thought, well wow..... here we are in a chapel, with the pulpit up behind her. I bet God's getting some pretty strong Tori vibes right now! Hehehe!
Merman ~ haunting. I felt she was going to carry on with her story about how she had originally written it for someone else , "a really good guy, who.." then someone's damn mobile went off which was so damned inconsiderate. She quipped maybe it was Matthew calling in, but then didn't carry on with her sentence from before, and I felt we lost her train of thought thanks to that damned mobile!
Crucify ~ began repeating "every finger in the room is pointing at me" a few times. She got lost with her words about "an empty cage girl", got the giggles and said something about us guys had been waiting for her to do this all night, and then sang those words, then back to the song.
Beulah Land ~ so pretty
Rattlesnakes ~ Amazing. I hadn't heard this before and was blown away. I turned to say Wow as she finished and then was brought to a sudden stop as she began
Me & a Gun ~ she pulled her hair back from her face and sat and sang extremely intensely.
Time ~ beautiful. She seemed to pronounce every word, every syllable almost. It felt like death was sitiing there in the pews with us, but in a good way.
Encore:
Leather ~ lovely. Having read her recent comments about a brothel where they play this, and also her comments about Leather, and who she is hanging with. Seems she wanted to play a little visit.
Cooling ~ beautiful.
Winter ~ a great finish. I watched her hands moving through my binoculars. It was a virtuoso performance.
Other observations:
At about 4ish we got word they were putting barriers up outside the chapel. I missed the M&G, but I was told she was wearing an orangey top, which made her hair look quite orange, and that the whole M&G was very calm. I was quite gutted at missing the M&G as I had something I wanted to give to Tori... I guess it just wasn't my time. But I know people who did see her, were very overcome and emotional about the whole experience.
When she was telling us about the stars and strips whurlitzer and mentioned that it had belonged to Country Joe and The fish, she joked the guys probably only told her that to get her to pay more for it.
The chapel was beautiful, a perfect setting for Tori. So apt and so fitting, and it led to a beautiful atmosphere there. Tori was lit very sensitively, with purple and blue and orange. Security was tighter than the Festival Hall, and they were quite insistent about safety on the stage and the pews ( at one point ensuring some big Tori SLG posters were not propped up against the stage, where Tori could have slipped). They also kept some pews clear for exits. There were signs up asking people not to take flash photos or film, and at one point before the concert began, a guy politely asked that people do NOT take flash photos. But they did . However, many people did wait until the end, when flashes were going off a lot! ( I managed to miss getting a photo as I was too slow ).
There was a touch of feedback in one song ( I can't remember which), and I saw the sound guy at the side frantically twisting knobs ( on the board not of the sound team ). John Witherspoon ( or whoever it was who had been with Tori at the M&G ), kind of glared a little at the sound guy as he did it.
I think there were 2 sound desks, one at the side and one in the middle back. I saw Mark for a while, yawning away before the concert ( and I thought, Ooh, has a certain young lady been keeping them up ), saw his wedding ring glinting. He looked great!
Tori herself looked gorgeous, really classy and very happy and smiley. Quite excited. She also looked very tanned, although that could have been the lighting. Her hair was long and straight, and more orangey then red. Gorgeous outfit, and shoes to die for. She looks one happy, fit, contented lady. I was watching through binoculars ( I wanted to see the sweat! ), and at times she seemed to look directly at me through them, and it was really soul piercing.
My high points were the new songs, none of which I had heard before. She's a great mommy to those new songs, and I'm sure they're really happy to be looked after so assuredly and so well when they come to stay with Tori. It's like justice was done to them in a whole new way.
Amazing.
And yes, word is that she will be doing more UK before Xmas!

From Paddy Kempshall
August 31, 2001 - First of all I'd like to say a big thanks to you for running such a great site. If it wasn't for you and your network of contacts and information, I'd never have known about the gig until it was too late...and I'd have been kicking myself something chronic if I'd missed this.
You already have set lists, so I won't bother - not that I kept any notes or anything anyway.
It was a truly magnificent experience, if a little short, but people have already been into the reasons for that. The Union Chapel had acoustics to die for and it made for a very intimate and enveloping concert.
It was great that Tori played some earlier songs, as I never had the opportunity to see any tours for Earthquakes or Under the Pink. Crucify was fantastic, and it made for a more immediate experience that the venue was so small, and that she forgot the words :) Nice recovery tho', as she commented that we'd been waiting for her to do that all evening.
The interruption of mobile phones was so frustrating. Tori had the place spellbound with 'Me and a Gun' only to have some damn phone go off and spoil it. Bloody inconsiderate.
Personally, the most enduring thing that I'll take away is an image of Tori bathed in golden light, singing 'Cooling'. About the best song she's written, as far as I'm concerned, and her voice just lifted me. I'm still flying just thinking about it.
Can't wait for her return, and I hope she sticks with the smaller venues. I know it makes it harder for everyone to get to see her, but it makes for a much more powerful experience.
Not that anyone will need telling, but whatever you do, get tickets to see her if you can.

From James
August 31, 2001 - Yes, the show was too short and yes, Tori seemed curiously distracted at points, but what a wonderful place to see her, nevertheless.
And what a treat to have five b-sides in a night! Highlights for me were Merman, Rattlesnakes and Time, which sounded particularly lovely live.
One thought of mine that no-one else seems to have mentioned - the whole set definitely had the theme of religion running through it, and I think that was because of the setting. For those that weren't there, she sang right underneath the Victorian gothic pulpit made from onyx and marble!
It seemed Tori had selected songs with a religious theme - and gave special emphasis to lyrics within them that had particular relevance to the place. Right from 'Take to the Sky' - 'my priest said, you ain't saving no souls', followed by the defiance of the chorus, this was evident.
'This Old Man', to my mind at least, was intended as an irreverent address to the 'old man' upstairs - of course it ran straight into 'God', which of all her songs most overtly challenges religious orthodoxy.
'Icicle' was the most powerful rendition of this song I've heard - Tori lingered over the 'good book missing some pages' - and sang 'I could have, I should have' over and over with frightening intensity.
Other highlights - Tori revealed that her new Whirly keyboard (the one with all the reverb that she uses on New Age and I Don't Like Mondays) used to belong to Country Joe and the Fish (they of Woodstock and I Feel Like I'm Fixin' To Die fame). It's decorated with psychedelic red stars against a blue background.
She said: 'So the story goes that ... whose Whirly do you think this is? 'Do you think I would have this thing painted like this? Come on! The crew said they would do something really mean like paint my Bosey if I tried to change it. 'This was Country Joe and the Fish's Whirly at Woodstock. That's what they told me anyway. They're probably lying to get more money out of me. But I bought it.'
Also, after dedicating Merman to Matthew Shepherd, Tori explained: 'Merman was actually written for somebody that I know - a gentleman. '
When a mobile phone rang she said: 'Maybe that's him calling! I hear that's possible these days.
'And so, I want to do this for him here, in this place.'
One other thought -- right before 'Take to the Sky', Tori was definitely going to play 'Real Men', but then changed her mind. She even gave a little verbal intro to it, talking about all the different kinds of men that must have spoken from the pulpit that was above her. I can't recall exactly what she said, but it was something like 'there've been good men, and bad men and indifferent men...', then she played the first few bars of 'Real Men', before changing to TTTS. Maybe she was nervous about playing too much stuff from Strange Little Girls when most of the audience hadn't heard anything from it.

From Doron Vidavski
August 31, 2001 - An amazing, albeint short, show. To have been there in that old church and listened to that wonderful music was obviously a privilege but still - something was up. Tori was being interrupted by mobile phones and people leaving the small space to go to the loo whilst she was performing and I think it was putting her off. She forgot the lyrics at one small point during ICICLE ("I'll take mine" instead of "I think I'll take from mine instead" but she covered it VERY well, bless her) and CRUCIFY which was great coz she deals with these things so charmigly. But also - and this is the important point - in an article published this week in ATTITUDE she says that when a show doesn't go very well she plays LEATHER to change the mood or something like that and lo and behold the first encore song was LEATHER. And that's the other thing- she didn't come back a second time (second encore) which she normally does, so...
But she looked beautiful, she played beautifully and it was a religious experience but... London 99 is still my favourite.
Best points in the concert: Lust, Icicle, Merman (with her gorgeous tribute to Matthew) and Rattlesnake (GORGEOUS rendition).

From Andy Campbell
August 31, 2001 - By the time I arrived at the venue all the best seats had gone so I ended up sitting to the left hand side of the stage and had a perfect view of the back of Tori's head for most of this, my 4th Tori concert.
The venue was a perfect setting for Tori's music but the acoustics did make it a bit difficult to make out what she was saying in between songs. This also made the everything that the support act said and sang incomprehensible and it was a relief when he left the stage after 6 songs.
Tori opened with a song I'd not heard before followed by a couple of older songs all of which were OK. Then she turned round, facing my seat, to play the synth on This Old Man and God. This for me was the moment the concert really got going and like everyone else I try and kid myself that she was staring at me while she was singing. The arrangement of God was totally different to the album version and I didn't recognise it until the chorus.
The highlight of the evening for me was Icicle, a song I previously wasn't very keen on. The piano intro seemed to me to be longer and more energetic than on the album and the way the sound reverberated round the chapel during the song really seemed to add something special.
I noticed that during most songs there was a steady flow of people to the toilets or bar. As soon as Tori sang the first line of Me And a Gun the place seemed to freeze. She put so much emotion into making it the most moving performance I'm ever likely to hear at a concert. And then not 1, but 2 mobile phones went off totally shattering the atmosphere.
Of the other songs performed Merman, Cooling and Winter standout, and the mistake during Crucify was quite charming and seemed to add to the intimacy of the gig.
I really enjoyed the concert and thought that Tori was in fine voice throughout, her voice is so powerful live that it seemed to fill the chapel. I would have liked her to have played a few more songs but as pews can get pretty uncomfortable after you've been sat on one for 3 hours I suppose she was doing us a favour by finishing early.

From Damian Brierley
August 31, 2001 - I have written my own opinions on the show ­ being the first I¹ve been to ­ so bare with me if it repeats some of what¹s already been said. I believe it puts a little bit of a different (good) viewpoint accross :)
If you¹re one of the few lucky people who have managed to catch Tori in a UK gig you probably remember it fondly. I know I won¹t forget this for some time to come! I couldn¹t believe my luck when I managed to get my hands on a ticket for Tori¹s only advertised UK gig. I¹d been waiting 6 years for an opportunity to see her, missing out on previous tours for various reasons.
The tickets were general admission so I decided to turn up nice and early to get as close to the front as possible. The wait paid off - Tori came out for a "meet and greet", talking to various people at the front of the queue (although I missed out on the opportunity by a really small margin!) When asked if she would return for another UK she replied she would ­ at the end of November ore beginning of December.
Outside the main door were people standing around with "ticket wanted" signs, willing to pay anything between 100 and 200 pounds for a ticket! It didn¹t take much to resist the temptation of selling mine. A sudden mad rush for promotional posters off the back of a truck kept those of us who refused to move away from our secured places amused. There was a price to pay for being at the front of the queue however ­ pigeons very helpfully "marking their territory"
The setting inside the chapel was idyllic for the concert ­ an intimate surrounding of only 1000 people, stained glass windows and an acoustic set-up that meant sound would resonate beautifully through the room. On stage was her favourite piano and two organs, one that she had recently bought (which her roadies claim was used at Woodstock by Hootie and the Blowfish (I think)). She sounded as if she didn¹t really like the color scheme, but couldn¹t change it or her roadies would paint her favourite grand piano the same!
An unexpected warm up act ­ Alan Masterson ­ came on just before 20:00, claiming to have landed the gig the day before. He didn¹t do too bad a job of warming the crowd up either ­ playing solo guitar and keeping the crowd appeased for a while as they waited patiently for Tori to come on.
Then she did ­ the crowd went wild giving her a standing ovation (before she¹d even played!) ­ and as soon as she started playing they became silent. If you¹ve seen any of Tori¹s Amos¹ concerts, either live or on video, you¹ll know how mesmerised the audience gets when she plays. Absolute silence. All attention focused on her, amazement showing on people¹s faces. A thunder storm raging outside only served to add a chill to the atmosphere when lightning lit up the stained glass ­ especially during "me and a gun", which I was only too pleased to hear and had me shaking throughout.
Unfortunately she did not play my favourite song ­ Cornflake Girl ­ but she did play my second favourite (Crucify), which made me happy enough. When she left I was shaking ­ I felt as if I was in a dream, not wanting to be woken. On my way out I was accosted by Swedish television reporters asking me and tow fellow Toriphilles I¹d met at the concert (hello if you are reading this!) how it was ­ I told them I was speechless ­ words could not describe how amazed I was.
They say no one forgets their first time ­ I know I won¹tŠ
Ps ­ if anyone knows or gets a copy of the Swedish report I would appreciate a viewing! ;)

From the London Evening Standard newspaper
August 31, 2001 - This press review was sent to the Dent by Kathy Bartonand appeared in the August 31, 2001 edition of the London Evening Standard:
A SHOOTING STAR
TORI AMOS ** ( 2 stars = very good)
Union Chapel
Pierre Perrone
Not enough people cover Lloyd Cole songs. Towards the end of a solo concert which sold out in less than an hour in this most appropriate of venues for a preachers daughter, Tori Amos does her own compelling version of Cole's seminal Rattlesnakes. Her fingers ripple majestically across the keyboard as she repeats the haunting line: "A girl needs a gun these days on account of all the rattlesnakes".
This mini ~ movie of the mind slowly dovetails into the nightmarish Me And A Gun, the autobiographical tale of the rape to which the American singer was subjected in her early days. "Does it mean I should spread?" she questions before musing "but I haven't seen Barbados", the light at the end of her dark tunnel. I feel the shame and guilt of the whole male gender.
Ten years after she burst onto the scene with that harrowing song, Tori has undoubtedly exorcised the ghosts of her past. However, she's still determined to confront men over their shortcomings. And performing an eerie take on Raining Blood, originally recorded by the very macho and metal Slayer, is as good a way as any to open her set.
Flicking back her long red hair, striding across a stool between a grand and a Fender Rhodes, Amos cuts a striking figure and gets a rapturous welcome, especially when playing the apposite God and Crucify with a knowing smile. A physical, visceral pianist, a sensuous, simmering vocalist, Tori still evokes comparisons with Kate Bush, though she's much more of a loose cannon. In fact, rather than further promote strange Little Girls, her upcoming collection of songs penned by male artists, Amos ~ who covered Nirvana's Smells Like Teen Spirit nine years before Kelis ~ encores with her own Leather, Cooling and Winter.
Singers too often release albums of covers to fulfil contractual obligations Tori Amos has used the opportunity to refocus her career ~ and give extra potency to her own material. The next chapter should be enthralling.
From the Evening Standard London on Friday 31 August 2001

From Jupiter (Michel N.)
August 31, 2001 - Tori's Union Chapel Concert as if u were there-by A First Timer
My first Tori Amos concert.How could it be any better? Tori.Solo.Chapel.Intimate. To be one of the lucky few to attend her first intimate concert since the MTV unplugged (only 1200 people and 20 feet from the first bench to the last) was more than a dream come true.
Got there at 12 a.m.,got off at the station,looked up and there it was unmistakably Union Chapel standing tall, old (200 yrs)and proud.And how can it be less than proud with the kind of sounds it produces as I had heard from many that when it comes to accoustics this was the best venue in London.Now I can hardly imagine there are better.
We waited til 4 o'clock when suddenly my sister shouted and there she was Tori coming out of the chapel to say Hi. I could barely discern a "carrot head" amidst the sea of heads and then there she was right in front of me,looking STUNNING,just GORGEOUS,a million times more beautiful in person.Her hair was straightened and had a color I could only descibe as "orange fire".She looked so cute and petite and simple that I was dying to put my arms around her and hug her. That I did along with a kiss, a photo and an autograph.I was the last one she met with before John pulled her back inside for the sound check.
We could hear her rehearsing in there for about 2 hours as she played Lust among others. At 7 o'clock the doors opened and there I was in the 3rd row so close that I felt I coud reach out and touch the Bosendorfer which was set there next to an organ and her chair in between.
After an unannounced opening act that proved that the accoustics in the church produced a studio-like effect,Tori appeared, sat down immediately and started ~Raining Blood~ which sounded dogmatic and like a desperate cry in the chapel.Not a second to breathe, she went on with the uplifting ~Take to the Sky~ which took us by surprise as we all went crazy.
As soon as she finished she looked at us and said : "So this is the real thing" then she looked at the altar "A lot of things said in there" [laughs] "but u know I think some of them [priests] are nice men..........Some of them are our dads [hysterical laughs]....some of the are our Grandmothers....I think the weirdest thing is what my grandmother said to me when I was five.U need to give ur body to ur husband,ur soul to god and all ur love to Jesus....... WELL whats left?". Someone screamed "ur music" and she had this expression on her face like "mmmmm I donno!". Well one thing she did is talk about giving her body to her husband as she broke into no other but ~Lust~,followed by ~This Old Man~ :)))))) which served so wonderfully to introduce ~God~ as she chanted so playfully "God sometimes u just dont come and then I see u, God sometimes u just dont come at all".
After that she played 5 notes and we started screaming as we recognized "Icicle" (please do keep in mind that we were sitting on church benches looking at the altar and feeling as if Tori was the Goddess of the Temple, the High Priestess doing mass.)
Then came maybe the most emotional part of the evening.She said: "U probably all know a guy called Matthew Shepard (for the few who dont know him he's the guy who was beaten to death just for being gay) On the American Tour 2 years ago the girls wanted to sing this one for him...So Merman was written for somebody that I know and for what those men did to Matthew [ A cell phone rings ] Maybe that's him calling us... I hear that's possible these days....So I wanted to do this for him in this place." and then she played Merman and I couldn't hold back the tears,,,,,,,,I did try!!!!and hard!!!!!!! "Go to bed. The priests are dead.No one can call you back.Finally ur on peppermint Land.He's a Merman he doesnt need ur voice he's a Merman.Go to bed.Dream instead..." Sounded like a lullaby.like a prayer.
Then she moved to a small piano or organ which was painted sparkly blue with red stars and she said :"Anyways this is smthg I bought...It wasn't mine..come on would u think I'd paint this stuff on it....but I couldnt paint smthg else over it or the guys would've (took their revenge and painted smthg on the bosendorfer)....Anyways I was told this was from Woodstock ...but they probably told me that so they'd take more money from me :) " And she broke into smthg that was for the first 10 seconds unrecognizale until "every finger in the room is pointing at me" found its way out of it and was repeated 3 times.Midway through Crucify- which was soooo beautiful especially the chaiiins part which sounded exactly like the album- when she reached "I know a cat named Easter he says will u never learn.........kkkkkkkkkkkkkkhhhhhht as she lost it and started laughing over forgetting the next line. She looked at us and she said "U've been waiting for this all night " and then instead of repeating the lyric she sang "u've been waitnig for this all night" instead and got on with the song as she put her hands on her neck to simulate strangling herself as she said "if u kill the bird". At the end of the song she started chanting hysterically: "Never going back. No I'm never Going back."
Back to the piano and the beautiful "Beulah Land" which coincidentally was the last song I heard before the concert(as if like in the book this was meant to be a pilgrimage for me).Then came "RattleSnakes" (Tori's personal favorite off the new album) which was so different from the original. After that she took the mic and sat facing us and started singing "Me and a Gun". All 4 of us were dead paralyzed.Then she ended up with "Time" which was too gorgeous and not so different from the original which is just fine.
For her Encore, someone shouted "I dont like Mondays" and I wanted her to play it so badly as Tori's version is my favorite off SLG. She didnt but no regrets it was all the same as she wrapped up the night with LEATHER,COOLING and WINTER that were just as good as anything else.
I guess i was lucky to be there and even more lucky to hear so much off her first two albums which she rarely ever plays so densely.
I felt reborn after last night.and probably I was.

From Mark, Richard, Jo and Lisa (Guildford, UK)
August 31, 2001 - Reflections of an evening with Tori in the Chapel. What hasn't been said? Not a lot, well here goes: We all found it a breath taking experience. We think maybe the set was specially put together for this intimate venue as there were so many 'b' sides/rarities performed aswell as eagerly awaited tracks from SLG. Covering unfamiliar songs such as Slayer's Raining Blood enthralled us all - proving Tori's abilities as the consumate artist. Tom Waits' TIME was spine tingling as well as MERMAN. The fact that we were amongst those who climbed lamp posts to get soaking wet posters only proves that we just can't get enough of our Tori. We can't wait for the European leg of her tour. She's made us 'whole again'.

From Elizabeth Briedis
August 31, 2001 - Ok - so there are already quite a few reviews on here, and obviously you all know the set list!
Firstly - I'll just get this off my chest before I go into how wonderful and perfect the day was!! ... what was with all the people getting up and walking around??? right in the middle of songs there were at least 20 or more people walking to and from their seats and opening doors, letting light fall on the stage - I could see in toris face that she was struggling not to tell everyone to 'sit the f*** down!' I was really confused at why people would go to the trouble of going if all they wanted to do was mill around in the wings! bizaar! ... and not to mention the mobile phones...
Anyhoo... The meet and greet, as has already been stated, was absolutely wonderful, basically what it came down to was if you wanted to meet her and give her a hug and a kiss and a bunch of flowers - you could if you wanted to! Everyone moved aside once they had greeted her and she talked individually to each and every person that made and effort to be noticed - she was gracious and interested and genuinely seemed as though she cared for each EWF... she called alot of us by name and it was very sweet and emotional. We all had photos taken with her - this was my first meet and greet where i actually met her...! so i was very elated! (Leigh got her photo updated ! YEAHYYY!)
Oh and there was a crazy anarchic rush when someone discovered a truck of tori posters - all mounted to cardboard! They were different shots of all the new tori characters! Great - i risked my life just to get two! scary stuff!
The concert was just amazing - i kept looking up at the roof and couldnt belive the old curch spire... it really was breath taking! The main thing about the set list was that it seemed that it was every song tori has been aching to play in a church for ever! God, icicle, crucify, take to the sky... they were all there - like hymns! It was just so tori! - i guess playing Father Lucifer would just have been too much - but I would have loved to hear Muhammud my friend - that would have capped it off !
All in all - it was probably the best tori concert i have been to (my sixth) - and sitting in the second row was great! Thanks to all the EWFs that just looked after eachother - !xxoxo elizabeth (HI SPELLY!)

From Casby
August 31, 2001 - I was at the Tori gig yesterday and though I think it was absolutely fantastic I really wish I could just apologise for the really mean people there who kept taking pictures and left their phones on during the perfomance. It seemed largely that the show was a nice warm up for the tour and given the setting a hilarious excuse for Tori to poke fun by going through most of the God songs, but though she was in good spirits to begin with her early exit, her choice of songs and the way she patted her 'bosey' on the way out as she left the stage after only an hour and twenty minutes gave me a definite feeling that she wasn't very happy with the proceedings of the night.
Of course, she was still terrific and even came outside before the show to say hello (yay) but I cringed every time a photo was taken or the side door (leading on to a bright light) was opened for people to visit the bar while she was in the middle of her performance.
So lots of thanks and sorries to Tori, especially for the people sitting next to me who decided to sing along, take pictures and laugh during Me and A Gun (!!!)

From smallmoonlitdream
August 31, 2001 - Just to let ya'll know, After tori's indescribably beautiful union chapel concert, about 30 of us waited around out back, out at the back exit from the church, (barricaded up for safety, of course), and, after a bit of time (close to 12:00am i think), tori did come out, graciously greeted us and signed some memorabilia, taking some time as she did so to talk with a few folks up front about their reactions to the show. Just before she wisked off, a huge smile lit up her face- beautiful. Just thought I'd send this off in case any of ya'll would be interested.

From Alpha (Posted to the Dent Forum)
August 31, 2001 - A beautiful venue and a beautiful concert. Tori looked great (if a little skinny) and her voice was particularly strong.
I've not seen anyone else comment on this, but it seemed like the set list was comprised of her top God/religion numbers! From God, Icicle and Crucify, to Cooling to Beulah Land ('give me religion and a lobotomy'), it looks like Tori saw the chance to perform on hallowed ground as too good an opportunity to miss!
Personally, I felt it was a little heavy on tried and tested LE songs, rather than the hoped for 'acoustic' versions of Choirgirl or Venus material. These were generally stretched out with repeated lines or extra 'breathy bits' (if thats the official technical term!), and I felt these to be weaker performances. I mean she's done them so often, and I've seen them so many times that at least one of us is getting bored with them (probably me!)! Certainly, Merman, Beulah Land and Cooling had more verve and energy and less 'filler'. For me, these were the definite highlights (especially Cooling which was her shiver inducing best).
Time and Rattlesnakes were great and have reignited my enthusiasm for SLG after the disappointment of listening to HOG and IDLM. When she told the country Joe and Fish story, I half expected to be joining in a Woodstock 'FISH CHEER' ("Gimme an 'F'!"), but sadly it was not to be. The intro to 'This Old Man' actually sounded like the intro to 'Woodstock', which would have been another nice touch.
Sure the concert was short and I did hear complaints from the crowd over the length (the ungrateful so and sos!). It would have been nice to have heard more of a mix of material, and a few extra songs could have gone some way to addressing that I suppose, but I really can't complain - especially if she's back in December! Certainly my main 'quibble' ( if I can really call it that) was the concentration on LE material rather than the actual length
So overall, not as breath taking as the '99 gig (what in Creation is!), but certainly very, very strong and a good sign for the new album and the foreseeable future

From Sam Free
August 31, 2001 - Here's a detailed review of the London show with quotes from the stage for those who could not be there....
Firstly, .....WOW what a venue! ...and as for the show? It was...
(a) excellent
(b) not at all what I expected
(c) far too short!
The venue was just fantastic. It really is a huge church with vaulted high ceilings, arches, pillars, a pulpet, stained glass windows, the works. It looks like it is still used as a church too & they were collecting to repair the roof before & after the show! The crowd are all seated in pews & unreserved seating so the fans that arrived early got great seats (although rows 2-4 were reserved by ticket colour). The stage is up front. It looked pretty makeshift, raised about 3ft off the ground, with a large pulpet behind and a large circular stained glass window about 20ft above which was lit from behind from about the 3rd song. Tori's Bosey was centre stage, with her facing stage left (does she ever face the other way?), behind (on Tori's right) was I think a hammond organ (not a synth I think, unless she only used one setting, it sounded like the clavichord setting on my casio keyboard, so maybe thats what it was? Same sound is used on many tracks on the new album.) Stage right at the front was a Wurlitzer organ painted with the stars & stripes in a kind of hippy-Lynnyrd Skynnyrd design.
The pews were about 15 people wide & 20 rows deep either side of a central aisel, flanked by more pews at an angle to the stage, maybe 15 wide & 10 deep. There was also a balcony with a central block about 20x20 and 15x10 at either side. Large for a church but not large for a concert hall! The show was completely sold out, not a spare seat with people spilling into the aisles (I think a few more than capacity had talked their way in). I was about mid way back on the centre balcony & had a fantastic view.
So Tori was due on stage at 8:45....but she kept us waiting! ...At around 9:05 the lights dimmed to thunderous applause....and onto the stage strolls Tori. She is looking very glamorous wearing this long black glitzy pant suit outfit made of floaty black satin split up the sides to the waist with cream satiny floaty trousers underneath split up the side to the knee. The top shimmers and she has great earrings (diamonds?) that will twinkle in the lights occasionally through the set. She has on a killer pair of black & cream strappy pointy stilettos. Her hair is dead straight and long, halfway down her back. She waves to the crowd, sits at the piano, lit golden from within, with a spot on Tori at the piano stool & also lit from behind by lights glowing from the carved wood of the pulpet. Tori starts to play....
RAINING BLOOD
What an opening! Very dark and moody with a menacing bass riff on the piano that resonates around & blew the cobwebs out of the rafters.
TAKE TO THE SKY
Much lighter. This got a huge cheer. She slaps the front of the piano as percussion.
The tori turns to the audiece and says:
"Hi everybody, how are you" [Plays a string of notes on the piano in the background while she talks] Looks around. "Oh wow, we're really in the real thing, huh, the real thing...and, ah (looks up at the pulpet) alot of stuffs been said in there, eh? [crowd laughs] by some very,... I think some of them are nice men...[laughter]....some of them are our Dads....[more laughter]...and some of them are our Grandmothers....I think the weirdest thing is when my grandmother said to me when I was 5, 'You know Myra Ellen, you need to give your body to your husband, your soul to God and all your love to Jesus'...well, whats left?.... [guy in audience; YOUR MUSIC]....Tori smirks nodding and starts playing...
LUST
Halfway through the giant circular stained glass window 20ft above the stage lights up...aaaahh!
After Lust she turns towards the organ for...
THIS OLD MAN
????? Played on the organ ????? What can I say, I certainly wasn't expecting this one. Sounded really eerie, angelic top end (right hand) but with evil underlying bass drone. Great! Runs straght into...
GOD
Straddling her piano stool with left hand bass on piano & right hand still sounding angelic on the organ. Played the 'God' verses with this setup swapping to just piano for the other parts.
ICICLE
With really long adlibbed intro, back on just piano now. Looks like we're in a church & into the religious song sequence! She went absolutely wild during the "I could have" section, pounding the piano keys with venom & hair flying. Don't particularly like this song, but that one section was just fantastic, really powerful.
She then turns to the audience and talks, all the time playing cascading strings of note sequences on the piano...
"So some of you are aware of what happened to a guy called Matthew Shepherd. and on the American tour a year ago the girls wanted to sing this one for him. Merman was not actually written for, ah...somebody that I know, a gentleman, and the sadness is that what these men did [~~~someones mobile goes off~~~]...maybe thats him caling, I hear thats possible these days...um...and so I'm gonna do this for him here in this place.
MERMAN
What a beatiful song, but so sad. At the end she did a little two hand wave to heaven.
Tori now crosses the stage to the wurlitzer.
"So the story goes that um...whose Wurly do you think this is? It certainly isn't mine! Do you think I would paint this thing on this thing? (it is covered in a garish stars & stripes motif.) Come on! Anyway, but I can't paint it something else because my crew would probably do something mean like paint my Bosey if I painted this. And so, ah, this was Country Joe and the Fish's Wurly at woodstock. What they're telling me, anyway. They're probably lying to me to get more money from me. But I bought it hook, line & sinker so I'm gonna play this thing. So here it is.
CRUCIFY
Unrecognisable! This sounded so strange, really serious & moody & slow, but the organ sounded really 70s, Just the Way You Are-ish. very odd. Sounded very ponderous, maybe it is very hard to play? and then Tori got to "I know a cat named easter, he said will you ever learn..." then she just burst into giggles, and says "you've been waiting for that all night" (maybe she screwed up the playing, I couldn't tell, it was so different, but it wasn't the lyrics)...she then took a deep breath & composed herself & carried on singing to the tune of Crucify ...
"you've been waiting all night...mmmmm...
I know a cat names easter..."
when she got to the bird bit again she made a funny face.
She then goes back to the piano for...

BEULAH LAND
Sorry, but the attraction of this song escapse me. A dirge.
RATTLESNAKES
This is lovely. I could listen to this one over & over.
ME & A GUN
She was lit by a blue light from the pulpet for this, sitting on the edge of the piano stool, very defensive, with her arms crossed and her legs crossed at the ankle.
TIME
Nice, but a bit slow, this set is all a bit downbeat
+++++++++++++++++++++++++
Then she waves goodbye and goes offstage to a huge ovation, but she's only been playing an hour....audience go wild stomping in the church & eventually she comes back on for...
LEATHER
COOLING
Beautiful.
WINTER
Pretty standard rendition....and then she is gone....and the audience stand & cheer, but then the house lights come up...and thats it....
This was a great show, really interesting choice of tracks, if a little slow, but I did really miss that second encore...and at 1:15 this is by far the shortest Tori show I have ever seen, including back in the days when she just had the one album to promote...I was stunned when she didn't come back on. So many times that has been a great part of the show where she has bantered with the audiece & done a request, and I would say without that she didn't seem to connect with the audiemce as much as at previous gigs. Still.....bring on December! I can't wait to see how the show has evolved by then!

From the U.K. Guardian Newspaper
Added Sept 1, 2001 - Kathy Barton, Jan Robertson , Danny.Weddup and Jonathan. (Merman1) were kind enough to send me a review of the London show that appeared in the September 1, 2001 edition of the U.K. Guardian newspaper. It includes the beautiful photo of Tori that you see below from the London performance. Thanks to Kathy, Jan and Danny for the scan! (Thanks to Richard Handal as well.)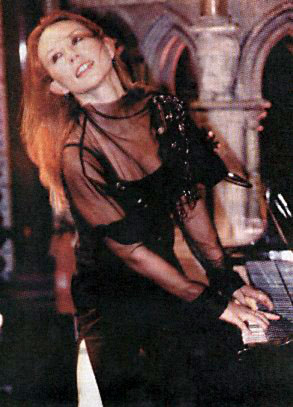 "My grandmother said you need to give your body to your husband and your soul to Jesus," Tori Amos tells us, her eyes wide with innocence, her lips fighting back a smirk. 'Well, what's left?" Its a fitting question. In this hushed and holy environment, Amos appears with only her piano, revealing her heart through her songs.
Ostensibly a warm-up gig before a US tour, the evening is more like a prayer meeting for Amos and a few hundred of her closest friends, so reverential is the atmosphere. The lady herself is an iconic but fragile figure, looking bashful as the standing ovation that greets her refuses to die. Her appearance is as contradictory as her music: wearing a strappy black dress that falls to her feet, her shoulders covered by a diaphanous material adorned with glimmering sequins, she could almost look stylishly prim if it weren't for the shock of bright auburn hair. As she sings tales of miscarriage, rape and sexuality, her lyrical honesty is made more brutal by the lovingly crafted, haunting melodies beneath.
Amos's new album. Strange Little Girls, stays true to her quest to understand femininity in all its forms. Here she takes songs written by men and reshapes them to locate the point of view of the female characters involved. She tackles Slayer - never the most girly of bands - on Raining Blood, taking the overblown original apart until only a hymn-like melody, dripping with warmth, not gore, remains.
The high notes that Amos employs can be a little too much, her impressive vocal range giving rise to theatrics, but at least the venue's acoustics allow the notes to fly. She harmonises with herself on Rattlesnakes, her hands hitting the piano keys hard until she grabs for something invisable hanging in the air, lost in the song.
Amos is an intense performer and a completely captivating one. When she abandons her instrument and stares into the crowd, softly singing Me and a Gun, it's a chilling sight, her eyes frozen as though she is reliving the source of her lyrics - her experience of rape - as she sings them. Her voice is distant and disconnected, words curtly delivered through clenched teeth against which she clicks her tongue, defying anyone not to feel her pain.
There is unexpected laughter, however, during Crucify, Amos throwing back her head with a childlike giggle as she reflects on her lyrics. And, although the songs are loaded with drama, eerie confusion and lots of big breaths, the acoustic treatment gives them - and that voice - an ethereal loveliness.
Betty Clarke

From RTA (Sent to the Precious Things mailing list)
Added Sept 1, 2001 - To review the gig would be a waste of time now. So many people have said so much and most of it echoes the sentiments I would have put forward. All I can add is :-
1. The place is an "interesting" venue for an engineer. Too loud and you get slapback, too soft and you begin to lose things in the natural reverberation of the dome. It's like the Albert Hall in minature. There will be "sweet spots" and the opposite depending on where you are in the room. That's why you are getting reviews that say "amazing sound" and also those that say "muddy sound" from the same night at the same venue. To me, where I was, it was a great job and any "iffyness" was fixed by halfway through "Raining Blood". Top job !
2. The low hum appeared during "Rattlesnakes" and was killed during the beginning of "MAAG".
3. Why do people worry about what songs she does / doesn't play & for how long ? It's her ride and we choose whether or not to participate. Whatever you wish to play is fine by me, Tori :-) I'm happy to go wherever she wishes to fly to. You've witnessed something special and enjoy it for that. I'd rather ONE good song played with feeling than twenty "going through the motions" specials.
4. Lust - a surprise and a very pleasant one - just blew me away in that context.
5. Rattlesnakes - This should be single material, Mrs Hawley :-)
6. Time - A beautiful song by Tom Waits, done beautifully. I loved this.
7. Mobile phones are the instruments of the devil and should be removed at the door unless they are off. Only two people failed, but that was two too many.
8. Flash photography ... Hmmm ... I can understand the need and why people want to take pictures, but when one starts, they all start. It did get quite crazy at times and I feel for somebody putting their all into a performance (as she did) then getting periodically blinded ... A little more thought, people ? Please ?
9. Special thanks to friends and very special thanks to Tori for a night that I will remember forever.
That's about all really... Chop, change, paraphrase as you wish but what can I say ? It was beautiful.

From Christoff
Added Sept 1, 2001 -
Not a review as such. Well maybe.
This concert touched me like no other ever before. Tori or otherwise. A church for God's sake! Pews! Stained glass windows! Pulpits! It was so perfect. It was so...Tori.
To hear her voice again live after a couple of years, made me realise how wonderful her voice really is.
She made me cry on Thursday night. All she did was sing a song. The song was "Cooling". As soon as the opening notes tinkled off the Bose, I welled up inside and my hair stood on end. Then I had footballs in my throat (I'm filling up now, just thinking about it!) and as she started to sing, the tears came.
When "Cooling" finished and Tori started "Winter", then that was it. I lost it. I cried when I got the tickets. I cried when I saw the show. I'm misty eyed now. "Cooling" into "Winter" has to be my finest Tori moment in all these years of loving her to bits! A wonderful moment and it just sent me to pieces.
Had Tori told me she was going to play on my piano in my bedroom, I could not have been happier than at that moment.
No other music touches me like Tori's and to be so close to her in such an intimate setting was out of this world. The acoustics were superb. The roof and the walls were vibrating when Tori played the lower notes, especially on "Take to the Sky" and I could feel every note on my pew!
I was so moved by this performance. Tori was 15 feet away. She was singing her little heart out for us. Apart from a few people who insisted on getting up and going to the toilets every 5 minutes, the night was perfect. A wonderful venue and a wonderful performance. The acoustics were brilliant and so what if it was shorter than usual.The fact is, Tori was there. She was singing and playing her Bose. Her voice sounds more beautiful and angelic than ever before.
I love you Tori! xxx

From The Observer newspaper in the U.K.
Added Sept 3, 2001 - Jan Robertson and Lucy Townsend sent me this review of the London show that was printed in the September 2, 2001 edition of The Observer newspaper in the U.K. The review was written by Burhan Wazir and was a joint review of Tori's Union Chapel gig and a recent Bjork gig in London. I include only the Tori part below:
"From Iceland and Carolina come pop's most distinct voices. Treasure them."
'Tori Amos gave a performance of almost religious intensity. Unlike Bjork, she has never sought to prettify her pains'
...
For the most part, the critics have been kind to Bjork. By contrast, the six albums recorded to date by Tori Amos -from 1992's Little Earthquakes through to the forthcoming album of cover versions, Strange Little Girls -have all been picked apart feverishly by feminist-minded critics, both male and female. Here is a singer, much like Kate Bush a decade before her, they seem to have concluded, who in her examination of the female psyche and its role in the traditionally male rock'n'roll format celebrated herself as both victim and conqueror. At the Union Chapel on Thursday night, Amos sounded alternately as bright I and hard as mica. Previewing material from the new album - a record that has her interpreting songs by male song - writers like Neil Young ('Heart of Gold'), Eminem ('97 Bonnie & Clyde') and American thrash metallers Slayer ('Raining Blood '), Amos gave I a performance of near-religious intensity.
Dressed in a sparkling chiffon shirt and satin Evil Knievel flares, Amos covered Tom Waits's 'Time' from his 1985 benchmark album Rain Dogs with an almost faultless evocation of blood-stained shipyards: And they all pretend they're orphans / And they're memory's like a train / You can see it getting smaller as it pulls away / And the things I you can't remember tell the things you can't forget / That history puts a saint in every dream.'
Unlike Bjork, Tori Amos has never sought to prettify her obvious pains: 'Crucify' remains as damaging to listen to today - adorned only by piano - as it did on release. And while Amos is in some ways true to the Carole King mould - a fey, almost child-like creature, sitting forlornly at a piano - the legacy of her upbringing as a Southern preacher's daughter has her come across more like a female version of Elmer Gantry.
'This was once owned by Country Joe McDonald & The Fish,' she laughed, pointing to a piano resplendent in the American stars 'n ' stripes. 'Of course, I never' woulda painted it myself like this.' I immediately thought of Bruce Springsteen and his employment of the US flag during much of the Eighties - why are men in rock so clumsy?
In the end, none of the commercial motifs (and some of them are highly sexist) that critics have tried to apply to both Bjork and Amos over the years - Bjork 'kooky' and Amos 'man hating monster' -are applicable. Both of them remain inaccessible to a generation of pop critics raised on a stodgy diet of bloke-bands: both introduce a wit, nastiness, their own peculiar pain and isolation. For those enlightened souls who enjoy their music, Bjork and Amos, in their wildly differing offerings of the popular song, still sound a clarion call to artistic ingenuity.

From The Times U.K.
Added Sept 4, 2001 - The September 4, 2001 edition of The Times U.K. newspaper included a less than favorable review of Tori's London show. It also includes a nice black and white photo from the performance which you can see below. Thanks to the many people who told me about the article, especially Jan Robertson, Emma Taylor & Andy Tebbutt, Lucy Bennett, and Mike Snowden. Special thanks to Jan Robertson for scanning the photo! You can also read this review at www.thetimes.co.uk.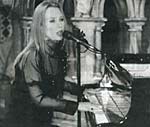 Click to see larger.
The photo has the caption, "Tori Amos playing to a packed Union Chapel: she looked good, told some endearing stories, but then the music let things down"
"Torrid but aimless"
"Tori Amos has made a fine album, so why was her solo show such a dud, asks Lisa Verrico.
It was one of those nights you wished you had stayed at home. Tori Amos hasn't been heard of for over two years and her return to the stage for an intimate gig at the Union Chapel in Islington, North London, should have been a rare treat for fans. A fortnight before the release her sixth album, Strange Little Girls -an eclectic collection of daring covers -and a month ahead of the start of a world tour, the North Carolina-born singer- songwriter was playing a 70-minute solo show to a packed audience. Amos's very late arrival on stage didn't bode well for the rest of the evening, particularly for those crammed behind pillars at the back.
Despite the eccentric singer's recent absence from the charts, it took only an hour for the show to sellout. Somehow, it took even longer for Amos to make it from her dressing room to the stage. When she did appear, she said nothing, sat down at her piano and began to play. The piano itself was a vast grand, stretching right across the stage and all but biding the pulpit. Apparently, it was so heavy the organisers were worried it would fall through the floor - it has in other venues.
Sadly, the songs were not as impressive. The 38-year-old Amos became an overnight star almost a decade ago with the double platinum-selling Little Earthquakes, a debut album which saw her dubbed the new Kate Bush. Since then, she has won several Grammys and sold millions of records. Of late, however, her popularity has waned, thanks to a couple of unfocused albums on which her wailing took precedence over actual songs.
Strange Little Girls should set Amos back on track and, had she built her set around the new album, the show would have been much more entertaining. Instead, Amos spent the first half hour writhing about at the piano - legs spread in her usual overtly sexual pose - playing meandering songs no one in the audience seemed to know.
At least Amos looked good. She still has has [sic] her long, fiery red locks and was wearing a tight black dress, almost see-through at the top and split to her thigh. She looked great when she attacked the piano during her second song, Take to the Sky, and got the audience on side by recalling stories from her childhood. It was only during the second half of the show, when she sang some of the new covers - notably Lloyd Cole and the Commotions' Rattlesnakes and Tom Waits's Time -and old favourites such as Me a Gun, Crucify and Icicle that the gig began to get going. Then it was over. "

From heather
Added Oct 14, 2001 - [Tori came out after the show] she looked fabulous and was sweet as always... but since people were wondering if she had greeted fans afterwards, i thought i would send this and say yes. she even signed a bottle of evian she was drinking during the show that a guy picked up. she laughed and said yes, i've signed a few of those before.
she also said she was planning to come back in december, and she told a polish girl next to me that they were looking into getting a performance there. she seemed interested in the prospect of doing a show there.
we told her we liked her pink lights and she smiled... she also said of the church: "we haven't had the chance to play in one of these places for a long time, so it was very special for us." can't help thinking she means she and her bosey when she says "we"...
also a cute quote from the show: when she went to play the whirlygig she said "do you think i would paint this thing in these colours -- come on!" but she said that when she mentioned repainting it, the guys in her crew told her that if she did, they would do something mean to her bosey. so she had to leave it and play it as it is.

From Emma Taylor (+ Andy Tebbutt)
Added Oct 19, 2001 - I made pages of notes straight after the concert, so that's where i'm getting my facts and info from for this review! (My boyfriend Andy deserves a mention for this, but i did all the writing and typing for this review !).
I could write pages about our nightmare journey down to London, but i won't! Let's just say that we arrived at the Union Chapel much later than we had hoped for - 12.30pm, but luckily it was still early enough to be in with a chance of a good seat ! There were already about 10 to 15 people sat around on the steps, so we found a little space and joined them. Andy had to leave to go and find where we were staying overnight to drop a big bag off, so i stayed put, extremely nervous about the upcoming events! Staff came out and put a sign up above the door saying "Ticket holders entrance" - phew, we were in the right place! As more people arrived the queue started to form down the length of the street. There was another door on the other side of the main doors with a queue forming too. Familiar faces were here, Peter, Lucy, Nic, and Lise, but time moved so slowly ! (And it really hurt your bum to be sat on the step for so many hours !)
You could hear a piano playing, and we all assumed it was Tori (having arrived via the back way in), and Andy stillhadn't got back yet... but that turned out to be just the piano tuner playing very well! Andy finally got back here at 2pm, allowing me to nip across the road to use the toilets! (interesting review so far don't you think?!) Mark stood having a smoke by the main doors, looking as gorgeous as ever (yes, i'm blushing!), John Witherspoon was there too. John W said Tori may not do a meet and greet this afternoon as it's unfair on the fans to make us move from our queue where we have our own places, but there would be one tonight. But about 5 minutes later he says there WILL be a meet, but it'll be right here at the front, and barriers will be put out by the doors but it won't be for another hour yet.
Those last 6 words are important - "it won't be for another hour"... I decided now was the best time to nipand use the loo again over the road, a journey that takes no more than 4 minutes there and back.
Well, as i turned the corner into the Chapel coming back, my face must've been a picture - because the barriers were set up allalong the queue..!!! Nooooo!
I got round to where we had been queuing, and suprisingly Andy wasn't stood against the barrier - he and another guy (a nice American called Mark) decided to wait by the doors to properly keep their places to go in. But he pointed me to these 3 girls, who hadtold him there's room for him but he explained about me when i was gone, so these 3 girls let me in by them! I am so so greatful to them - Leigh (i think that was your name, you like purple!) and your friends - if you're reading this *thankyou*! And i have learnt my lesson - never go to the loo!
The barriers stretched down the road along the queue on this side.
At 4.15pm Tori stepped out of the main doors of the Chapel!
She looked amazing, straight red hair, orange long sleeved top, and big dark blue jeans. Beautiful. People shouted to her that she looked great and how did she get her figure back so quickly, and she said something like "running round after a little bundle of energy"! Leigh had said she would take a pic of me with Tori, which i was so happy about. But the camera (with no warning!) wasn't right - the batteries were almost gone, and it took about 20 seconds to focus each time i tried to take one.. So me being the shy person i am and not wanting to take Tori's time up with a dodgy camera, i decided before she got near me that i wouldn't ask... (i do regret this now!). But it was amazing, the time she spent was amazing, i was so nervous, but happy. John Witherspoon and Arthur Spivak were with her, and a security woman from the Chapel. But it was a very laid back affair. No pushing, or shouting, it was wonderful! And it wasn't raining!
I made lots of notes at the time, so after much umming and ahhing i've decided to write the full account of what she said to me, so here goes.. ( i'm lucky enough to have met her before, but it still always amazes me that she remembers mine and Andy's names each time!) Tori sees me and goes "hi" and leans right in for a hug, then says "are you ok?", and i mumble out my usual 'yes thankyou' in nerves! She said "where's Andy?", so i leant to one side and pointed back to him, 'he's back there'! So she put her hand up pointing/waving "hi Andy, how you doing?!" That was so great! She signed my pic, a photo from '99, her assistant Natalie Caplan is on the edge of the photo - John was joking to Tori about getting Nat a copy, which was funny! I had a letter written to give to Tori, because i'm so shy i never usually say much more than yes + thankyou etc, so she saw my letter and took it from me saying "for me, yes?". So i said 'you know i never say anything in person', and she waved my letter in her hand and said "but you do say a lot in these" smiling broadly! I just shrugged and smiled! Argh - she remembers my letter from last time!! So, she signed for someone else, and i was so happy stood there, as she passed me again she had that sincere look on her face and said "i will read this". It was so special. I kept changing between really nervous, to actually saying more to her than i'd ever done. She looked very relaxed and happy, very thin though in my opinion, but still great. She carried on down the line, but not all the way, and then walked back along the line to the main doors, where she chatted to a press person (i think?) for a minute, then waved and went in at 4.25pm.
Everyone happily went back to their places in the queue, with still another 2 and a half hours til the doors open.
Andy went back to our accommodation at 5pm, while i stayed on the step, talking about Tori with Leigh and her friends. It started to rain, heavily. Andy got back at 6pm, they kept the barriers along the queue, but the ones right against the wall at the start of the queue by the doors had been moved,so people who had only just arrived started queue jumping and pushing in there, some people really have nomanners or niceness do they....
A foreign film crewwas interviewing fans right by us. Everyone had stood up by then ready to be a proper kind of line - almost 6 hours sat on that step, ouch! Worth it though, Tori is always worth it. A van pulled up at 6.45pm, with double sided boards with"SLG" posters pasted on them - it was like a free for all! We didn't want to lose our place in the queue, so leftit.
This was the tense time, the run up to doors opening, it had gotten so squashed, with people trying to push in from the left.I was stuck with one foot on the step above me for 15 minutes, feeling like my legs were going to give way.we were both so nervous, i think everyone was... being there allday, just wanting themto open the doors NOW! And not to get trapped in a stampede. Unreserved standing is better than unreserved seating, i think everyone agreed on that. It didn't help that the damn pigeons perched above the doors kept doing their business on us! Seriously, they splatted on purpose! everyone kept screaming and leaning out of the way - difficult in such a cramped space!
Doors were due to open at 7pm... At 7.08 they opened the door.
Argh!
When i get to the door i'm faced with the slowest ticket collecting guys you've ever known. Im basically stood still at the doorpleading 'take the ticket, take the ticket!' (sounds funny when you look back.. wasn't at the time!). Then you run through closed doors, and down the aisle at the side, run across a row of side pews, and to my great delight only the right half of the front 2 rows was taken, no one had gone to the left yet, so i collapsed in a stressed heap ontheleft side of front row middle. then i realised Andy wasn't with me! About a minute later he followed! Leigh and her boyfriend had the end, then me and Andy, then Peter. It was a great view, i couldn't believe how after all my nerves and stress and worry, it had all worked out! I counted that there were about 14 people on the front row when full.
There were 2 security men there permanantly, one either side of the front of the stage, and they said no one will be allowed to take photo's during Tori's set (if they do they will have the film ripped out), but people can take one's now of the stage if they want to.
At 8pm the support act came on - Adam Masterson. He played acoustic guitar, and a mouth organ on one. His speaking manner is very much like Ray Davies,and one of the things he said was that he only got this gig last night. So they must've only decided on a support act at the last minute. He played 5 songs, and left at 8.25. He was ok, but The Devlins were still the best Tori support group i've seen though.
I was getting nervous again now!
Marcel came on stage and tinkered with the mics and things (wearing a t-shirt with the slogan "KILL ALL ARTISTS" and a gun on it - nice hmm!?), then the Andy Gray "look-a-like" sat down and wiped/polished every individual piano key! He used a little pot of powder which he dabs his finger on and then puts on each key (to stop it being sticky i presume!).A hand written set list is taped to the stage. Mark is over by the side mixing desk with John W, yawning! Then he left and went to his desk near the backof the Chapel.
People in the crowd were still coming and going all the time, earlier we'd heard that only 400 seats were for fans, the rest were press... well, whoever they were, they seemed obsessed with the bar and the fact you could bring your drinks back to your seats!
The girls on the other end of front row had one of the Tori boards that were given out earlier, and one of them stood up facing the crowd thrusting it up in the air, to great cheers each time! The good thing about this is it brought a lot of people back from the bar, maybe thinking Tori had come on stage to great cheers!
At 9.03pm the lights went down and a huge cheer went up! Tori walked on stage!!! She sat at the piano looking gorgeous in the "im not in love top", and black trousers with a split up to the top of the outside leg, with white trousers underneath that split up to the knee on the outside leg (which had 1 inch apart dark pin stripes down them). Her shoes were white stilletoes - at least a 3 inch ultra thin heel, with a tiny white ankle starp, with thin black lines on them. (Dont ever say i dont pay full attention!!!)
She started with RAINING BLOOD, the first time i'd heard it. Throughout the whole show instead of just staring at her face i found myself watching her hands on the keys a lot, and her feet on the pedals, it was amazing!
In TAKE TO THE SKY she slapped the piano as usual, with a lot of hand movements including for "i died my hair red today" her right hand delved flat on her crotch!
Then she spoke, she said "Hi everybody, how are you? well, god, we're really in the real thing ha, it's the real thing. And um, some very, i think some of them are nice men. Some of them are our dads! And um, some of them are our grandmothers. I think the um weirdest thing is when my grandmother said to me when i was 5, you know, Myra Ellen you need to give your body to your husband and um your soul to God and all your love to Jesus. Well, what's left?!" Someone shouts "your music", and she shrugged and started playing LUST. I almost cried here, don't know quite what triggered it, just the "oh my god we're here, and front row, and it all worked out, and there she is, oh god she is wonderful" kind of thoughts..!
Next she turned and played the keyboard facing the other side, and played THIS OLD MAN, anyone who grew up in this country watching 'Playschool' will probably have a dislike for this song like i do! But this was the most beautiful haunting wonderful version i've ever heard, far better than the one Tori recorded, and a million times better than the childhood sing-songs on kids TV! It was wonderful, and half way through she started a riff... oh god - it's GOD! It sounded so amazing on the keyboard, and she played piano at the same time, it was brilliant.
ICICLE followed, the lines "i could have i should have" etc were belted out with such anger and hatred, never have i seen her sing with such venom, the veins were out in her face and neck, shaking her head as she spat out the words. Very scary, but very very good. Powerful. Then she spoke again "so some of you um are aware of what happened to a guy Matthew Shephard, and um on the American tour a couple of years ago, the er girls wanted to sing this one for him. Merman was um actually written for um somebody that i know, a gentleman. And the sadness is that um what these men did to Mathew..." (someones mobile phone in the crowd rings...) "..maybe that's him calling now. I hear that's possible these days. Um, and so i wanna do this for him here in this place" and played a beautiful rendition of MERMAN.
The whole show was beautifully lit, after 4 ish songs it looked darker, but that could've been my eyes! For some songs, the pulpit behind her and back wall were lit in purple and green - which really made you get into the whole church surroundings even more.
After that Tori got up and sat at the whirly on the left of the stage, painted but faded and scuffed in stars and stripes. "So, the story goes that um, whose whirly do you think this is? Certainly not mine! Do you think i would paint this thing on this thing?! Come on! anyway, but i can't um paint it something else because my crew said they would um do something really mean like paint my bosey if i painted this and so um this was 'Country Joe and the Fish's' whirly at Woodstock, that's what they're telling me anyway - they probably lied to me to get more money out of me but i bought it hook line and sinker so i'm noy painting this thing, so here it is". And played CRUCIFY. Half way through the line "A cat named easter he said will you ever learn, he said......." she forgets the words and lets out a huge "shkeeeeeesshh" kind of laugh and says "you've been waiting for that all night!" Then sings to the Crucify tune "you've been waiting all night, you've, i know it, a cat named easter..." and carries on correctly but with a big grin on her face til the end of the song!
Then she tottered back to the piano (seriously, with the stage being carpeted, the wires taped down all over the place, and very high heels, im surprised she didn't trip up!) Back at the piano she played BEULAH LAND, followed by RATTLESNAKES - the first time i've heard it.
After that she sat on the edge of her piano stool, leant forward and picked up a microphone from the floor, and started ME AND A GUN. Her hair was pushed flat behind her ears, which made her look even more childlike for the song... It's always intense when she sings this live, but this time was more so - you could see it in her eyes. Her eyes always well up in this, but it was clear in this performance that she lookedlike crying. Her black eye make up around her right eye is now bigger than the left... the emotion of singing this in a church must've been huge.. From this song to the end of the show she seemed sad, in her eyes and mannerisms. We know now from comments afterwards that Tori was very happy with the show - like we all were, it was amazing - but to me anyway at the time, she seemed sad...
During the entire concert she looked up at the roof and the stained glass windows a lot, playing in a 200 year old working church, with Jesus images all over the place in windows must've been a great thing for her to do - it was a very religious based set, more than usual i think anyway, most of the songs had Jesus or God or priests mentioned in them.
After ME AND A GUN she played TIME, again the first time i'd heard it, it was beautiful, towards the end though there was feedback on one of her words, a high pitched noise, she rightly didn't look happy about it and gave a stare to the side desk she was facing (of Marcel, and John W). It was a very bassy sound for the whole show, you could clearly hear the keys being pressed down (the 'clunk' sound) before they hit the note.
At the end of the song she came to the front and did her wave and bow thing and left the stage.
We want more!
She came back on to wild cheers, and played LEATHER. Another thing i want to comment on is that between the songs all night people were constantly coming and going to the bar / toilets (the Press people? or carefree fans?) - this meant the side door being opened and bright light coming in - and for one song they still hadn't closed it as she started playing (straight in her eyeline over the piano, very off putting) So she waved with her hand for it to beshut, which it did, but she still didn't look happy about it -and rightly so. What is so important about going to the bar and buying a drink when Tori's on stage?!?! I dont understand some people!
After leather came COOLING, and then WINTER. Andy looked very sad during this, as it's the Tori song that affects him the most, so we held hands, and both felt sad... Tori looked sad too - everyone probably did!
Then she came to the front of the stage as before, waved, and left to a standing ovation of cheers and applause. Everyone expected a 2nd encore. But the house lights came up. And at 10.20 pm, after 1 hour 17 minutes on stage, it was over.
Shorter than hoped for yes, but still an absolutely amazing performance!
Marcel and the crew were on stage and had the whole lot packed away in seemingly record time! As we left i stole a quick glance at Mark, who was looking lovely in a pale blue t-shirt, and shorts, with his lovely legs bending as he packed his stuff away, chatting to some people he knew!
We decided to go round the back at 11pm, to see what was happening, and only about 20 of us were there in the end. They put out 3 barriers, and said it'd be a while as she's doing "press", but as we had nowhere to go except a grotty B&B we thought we may as wellstay. At 11.55pm her driver came out, followed by Arthur Spivak, and Tori, with John. She signed for the people right by the door, but then John says that they have to go (we had nothing to sign anyway!), then she spotted Peter and shouted "see you in December!", thenfantastically, she saw me and says "hi, i'll see you, you take care of yourself", then spotted Andy's head peaking round (the barriers were curved) and said "you take care of each other" with that sincere look again. She backs away and gets in the car waving bye. she looked great, cream coloured trousers, and a red top under a black jacket - i think. she seemed very happy, and i know we were!
So, that's my very long review! I hope it gave a feeling of the day for those of you who weren't there, and brought back memories to those who were there!

From Fabien Desse
Added February 12, 2002 - I was so excited to go and see Tori. Had been waiting for that since the first and last show I had seen. It was the Plugged Tour, in Utah, back in '98. Had never seen Tori solo, and had never met her...
I managed to get tickets for the LONDON show. I saw it advertised on your site and a friend called me from France to tell me to call. So, on D Day, I called Ticketmasters, at 9:00 a.m precisely and got a ticket... I was in heaven! I had sometimes thought that Tori would be excellent playing in a Church. I know some people were not comfortable with the idea of Tori in a Church. Well, I am religious, even if not in the traditional way, and I thought it was a perfect place for her to perform. There have been a lot of reviews about the songs and everything, so I will just give impressions... I arrived in London in the afternoon, after a five-hour train ride, and got to the venue just after Tori got back inside after meeting and greeting a few people gathered outside the Church. Then we could hear her voice from inside, as she was rehearsing but we could not make out what songs she was playing. I befriended with two students from Oxford and we got into the Church together. It was an old beautiful Church. The Bose was on the altar, so close tot he pulpit, below the rose window. The pews were not that comfortable but who cared! Much much later, Tori arrived. I took a strong hold on Kath's hand, one of my new friends from Oxford... We were on the eighth row. Tori played... Her voice was reverberating --maybe too much-- but it was so good!! Tori was looking at these crosses as she sang these songs dealing with her religious upbringing... I won't forget the way her voice got so loud when she got to the part: "I should have, I could have, I did not..." in Icicle. She was shaking, and so was I... God was intense... I will never forget Crucify, this beautiful version she played on this tour is simply magical, to me! And when she forgot the words, we all smiled. The concert was a bit short, but I guess we were expecting so much from that show that it could have never been perfect... Yet I consider myself as very fortunate. I feel blessed for this wonderful occasion I had to see Tori there and then! It was a one-off, not part of the tour, and no merchandising, nothing of the kind, and it made it so exceptional in all kinds of ways... After the show, Gareth, Kath and I went to wait for Tori behind the Church. Not many people stayed. After an hour we were just a handful of worshippers. It started to get a bit cold and it started to rain. We waited on. The door opened, again and again. Then it was a red-head... Here she came! Kath and Gareth managed to get some CD sleeves signed. I caught her eye and said "hi" and she said "hi" back. I did not have anything for her to sign... I know, how couldn't I... Anyway... I took as many pictures as I could. A few of them are real nice and sweet... Tori promised she would be back in December and left us there... I felt high for the next few days...