There is a Tori book with interview CD that is available for sale called the Tori Amos: Star Profile and is a limited edition interview picture disk CD with a 100 page picture book in a full color slipcase. (The book is pictured here.)
The photos you see below are from the picture book and come courtesy of Toriphile Danica Knox.
The ISBN # on the book is 1-84069-004-6. The number on the CD cover is 714151 8210 2 4 and the number on the small box that holds the two is different also and thats 714151 8089 2 6.
The item came out sometime around early 1998. This package WAS updated in 1999. Eric and Lauren Peterson tell me that the Star Profile CD has come out with an updated insert which includes photos and information from the 1998 choirgirl era, the 1999 5 1/2 weeks tour, and a little info about 'to venus and back'. This item is available through many online vendors. There is an entry at Amazon.com for this item, but it appears that it not readily in stock. I would also be careful because you might order it and get the old version and not the new version...
Comments On The New 1999 Version
Here are more details about the new version. First from Diana:
Hi Mike, You wanted some information on the new star profile and I got a few weeks ago. It has the same number as the first one, and the only thing different that is the Cd booklet. The Cd is exactly the same and the book is too.
More details from Lauryn Peterson:
The update is an little insert booklet which is also used as the cover to the jewel case containing the actual CD. It contains eleven photos, but some were featured in the original booklet as well, and many have been seen before. Photo on the insert cover is that beautiful Plugged shot of Tori in the greenish lights when she is playing the keyboard with her eyes closed (grey shirt and olive cargo pants). The other photos are:

two different sizes of a shot similar to the CD photo and the cover of the entire package (you can see her shirt in this one, and she has a more serious expression), the concert vixen from Little Eartquakes era in song at the mic (jeans, brown tight tank top type thing, and a sultry smirk, a close-up in a black turtleneck I think (haven't seen this one), on stage Plugged with crazy colorful lights playing the Bosey again in cargo pants, leaning against her CD stash (for that "my fav CDs" article yet not holding up the CDs), plain shot with sexy dark eye make-up (new to me) &the little diamond cross necklace and black shirt, red-tinted howling into mic shot, red-tinted concert shot from the "unruly hair parted on the left" era wearing black and white tank top thing, and a mid-song concert shot playing both Bosey and keyboard. If you want any of those scanned, I'll hook you up, babe.

It is eleven pages long (very nice green background pattern, I might add) and mentions the following: the down time of Pele and its not so hot reviews (crazy, crazy, crazy. Pele's my favorite by far.); her pregnancy and miscarriage and marriage to Mark, some of her emotional thoughts on the loss, Choirgirl recurrent themes and styles and reactions to it, the touring process in 98, her B-side plans morphing into Venus, Alanis' thoughts on Tori and Tori's on the tour, and a mention of Merman on No Boundaries.

I don't know how many people would want to buy a new one just for the update, but I did and ended up cutting to smithereens my other booklet so I could add obsessively to my gigantic Tori collage. It's definately worth it if you have use for another set, and everyone should buy the new one if they don't have one already. A teeny tiny obsessive detail is that the original has a white title TORI AMOS, and the new one has yellow if you really want to know.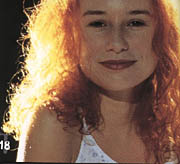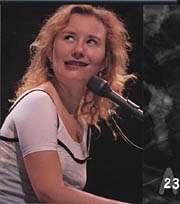 Comments On The Original Version
From Jason Bilsky
The Disc is wonderful looking, with the same color picture from the front of the box. Shamefully, there is no front cover to the CD. Why is it that so many discs are now doing this or creating special jewel boxes in lieu of having an insert?
At first, I was frightened to hear some guy speaking, fearing I'd just gotten ripped off and gotten someone narrating "The Tori Amos Story". Luckily, I was wrong. One odd thing about the speaker: even though the disc claims to be pressed and imported from the UK, at one point the narrator makes reference to the YKTR album, and says "copies of it are selling for as much as 400 dollars" In other words, he didn't say "250 pounds" which makes me think that this CD was produced with the US market in mind, and may have actually been produced here.
While the interviews may be good, the quality usually isn't. Some sound like 4th or 5th generation tapes, and are barely listenable, others are passable. The CD takes liberally from "Live at the House of Blues" from KROQ. There's also a interview with a DJ from some other LA station (more to my produced-in-the-US theory) which sounds like she's reading off of cue cards- no emotion in her voice at all.
There's also an interview with some "net biographer" of hers, who I've never heard of (nor can I remember his name) who rambles on about Tori and freely admits that he only got into her after "Cornflake Girl". Could they have not gotten anyone better than that?
In addition, there was another interview with a "club DJ" who makes What I believe are a bunch of factual errors. He claimed that Tori started gaining club respectability when "Cornflake girl" was released, because (his words) "there were a few dance mixes that really got the floor moving and you could now play her alongside bands like Sneaker Pimps..." Now, I don't remember *any* dance mixes of CfG existing, and I'm pretty sure that Sneaker Pimps didn't even exist when CfG was released. (as always, I'll be glad to admit I'm wrong if someone else can prove these facts..)
I think the one thing that may mess up the sales of this book is the fact that it looks too similar to the Mick St. Michaels book, which many people wound up buying twice. I almost didn't buy it because I feared getting the book for a third time.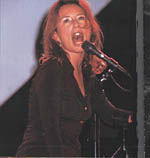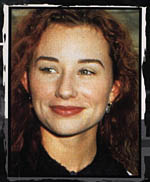 From Bert
It is beautiful. well done. Though most of the pictures (roughly 70%) in the book we have seen, there is some that I`ve never seen, the picture disc is beautiful though. The CD is abour 40 minutes long. I just got done listening to the Tori doucumentary CD. the narator is very brittish, it is exactly what it says, its a documentary, with various clips of interviews with Tori. The Book is just like a condensed version of All these years. The Tori interviews on the CD are very good. I counted about 10 Tori pics in the book that I`ve never seen & I surf the net alot & have just about all her books. It is packaged beautifully. A really nice product.