Rolling Stone Magazine
October 14, 1999

Added September 29, 1999

The October 14, 1999 issue of Rolling Stone (#823 with Trent Reznor on the cover) contains several Tori items. There is a small article on Tori in the Random Notes Section with a very nice photo of her with Alanis Morissette, a 4 star review of "to venus and back" with a very nice photo, and an ad for the new album. (It is one of those vertical 1/5 page ads with the photo of Tori in the bathroom from the Bliss single photo session.) Look below to see read and see all this (except for the TVAB ad). Thanks to Danica Knox and Laura who sent scans and to Laura who sent me the small article. Thanks also go out to Patrick who posted the album review to my online forum.

Random Notes Section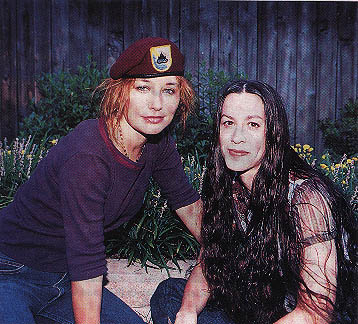 The photo above of Tori and Alanis appeared with the caption, "She wore a raspberry beret: Amos and Morrisette in their backstage garden."
The little article says:
"No divas in this camp, pal. Alanis Morrisette and Tori Amos are touring North America and enjoying the comforts of co-headlining. "I had never done this before," says Morisette, "and it's the best experience. I love it. It's amazing to be with a woman on tour. A lot of times, I'm surrounded by men, so to have Tori's energy out here is so refreshing and comforting." The two singers have a few more weeks together before each goes off to do her own dates. "It's been about holding space for each other," Amos says."
4 Star Album Review Of "to venus and back"
The review is below. You can also find it at the Rolling Stone web site. The photo you see below was printed next to the review.
Tori Amos
To Venus and Back
Atlantic, 1999
* * * * (4 out of 5)
Complicated is a word for Tori Amos; she might even use it to describe herself. Her sixth recording, the double disc To Venus and Back, testifies to just how wide and deep her river runs. The two CDs -- Venus Orbiting, an unplanned studio effort that Amos recorded suddenly this summer, and Venus Live, Still Orbiting, a set of thirteen live songs from her recent world tour -- are not exactly opposites, but they are far from twins. Venus Orbiting is Amos at her most surreal, dreaming of her past, her pain and her desires in supersaturated musical and lyrical color. The CD's first words, trademark Amos phantasma -- "Father, I killed my monkey/I let it out to taste the sweet of spring" -- function as its mission statement: Autobiographical as ever, Amos aims to simultaneously uncover her inner history and cloak it in the wildest symbols she can find. Venus' music is equally ornate, flush with technology: mystery-ridden keyboardscapes and sample-and-loop witchery. Amos' stock in trade, her voice and piano, are often mere bit players on Venus. But just when it seems Amos has given herself over to the seductions of electronics, she pulls out a heart stopper: "Josephine," a stunning, regret-strewn Cowboy Junkies-sounding quickie that's just Amos, a drum, a bass and her ivories.
Perhaps for balance, or simply for the sake of completeness, Venus Live, Still Orbiting spotlights Amos' more acoustic material, most of it performed with her crackerjack touring band. It's Amos' first live recording, long overdue, and it works equally well as a greatest-hits collection. Crowd faves like "Cornflake Girl," "Waitress" and "Cooling" -- which has never before surfaced on an album -- make showstopping appearances. With To Venus and Back, Amos pays herself the ultimate compliment: She's good and complicated.


Please give me feedback, comments, or suggestions about my site. Email me (Michael Whitehead) at mikewhy@iglou.com