On December 16, 2001, Tori visited Poland for the first time while she was touring Europe for the 2001 Strange Little Tour. Tori did not perform a full concert in Poland, but she did a live performance for Polish Radio 3 and a small, intimate audience. Below you can find various accounts of this performance that were sent to the Dent. I found these reviews and comments below to be really enjoyable to read. It is nice to listen to people who do not normally get to see Tori talk about their experience seeing her for the first time. They offer a fresh, and I think important, perspective that we can all learn from. Sometimes people who see Tori often forget how magical a single performance can be, even if Tori does not do your favorite song. These reviews reminded me of that simple fact.
In early January 2002, ToriAmos.com posted to their web site some nice photos from this event, as well as the the 118 most beloved Tori songs as voted by the listeners of MiniMax Polskie Radio III. Below, you can see one of the photos. Go to ToriAmos.com to see the rest! The top 5 Tori songs chosen were:
Hey Jupiter
Caught A Little Sneeze
Me And A Gun
Purple People
Icicle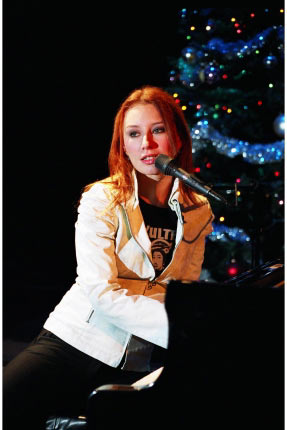 From Wojtek:
Today (Sun, 16.XII.2001) Tori gave a little private concert at Polish Radio 3, for several VIP's and a group of 15 fans who were randomly picked from a group that sent in their 20 favourite Tori songs. A 'top 20' list was made, and Tori performed several of them. The concert lasted around...7 songs, I don't know how long that was, here's the setlist (more or less)
Purple People
Upside Down
Cloud on my Tongue
Take to the Sky
Rattlesnakes
Lust
Cooling
Winter

The concert was absolutely amazing, and the road manager commented that out of the shows tori did during the tour, this one was absolutely magical, probably the best. Tori spoke a little between songs, but not too much. She said something about going to the desert prior to "Take to the Sky", that she went there to write sometimes, and even though she was in the desert, she always thought of cold, icy places like Eastern Europe. And that everyone thought she was on mushrooms or something when she wrote there, but it was just 'her and her Avion', and that "Take to the Sky" was one of the songs that came to her while she was 'out there with the snakes'.
Absolutely thrilling. Oh, celebrating the fact that Tori finally came to Poland, Peter Kaczkowski (the man during whose program the concert was re-aired) played 20 of her songs, as picked by the people who voted, basically back to back =).

From Marcin Janocha:
I'm here only for a second, beacuse I want to tell you that I was today (or maybe yesterday, because it's in here after midnight ;)) on the Tori Amos' Radio Show in Polish Radio 3...
it was so beautifull that there aren't words that are worth of that!!!
maybe, few days after I would e-mail you with my bigger review...
"Our" playlist was:
1. Leather
2. Purple People
3. Rattlesnakes
4. Take To The Sky
5. Lust
6. Upside Down
7. Clouds On My Tounge
8. Cooling

and "encore"
9. Winter

it was longer than at the begining...
It was Tori first ever trip to Poland!!!

From Polek:
This is first time I'm writing to you, but I see no sign on dent pages concerning miracles in Warsaw, so I must share this with you. Forgive my poor english.
As you've may already known Tori visited Poland last weekend. She flew from Vienna on Saturday. Actually no one had known the time of her arivall, Warner in Poland kept this in seceret. One of my friend, Koper, met her at airport only guessing which flight it could be. He had luck. Then Tori spent some time in Old Town in Warsaw. Unreconized. We had no clue if she was in Poland in saturday afternoon, and had our meeting set on 6pm. By we I mean polish fans gathered in our own Tori Forum. At that very time Tori arrived at polish radio 3 and spoke live with Piotr Kaczkowski. So we took couple of cabs and very quicky got there, just in time. We had chance to see her, for the first time (for those of us who have never been on any concert - the closest was in Berlin). It was wonderful. She spoke with everybody, and signed her records. Then we took only two pictures, and she went to hotel.
The next day was the concert day (again at polish radio 3). Only few people was invited - no tickets - closed one, but then another miracle occured. Tori insisted that all of us should listen to her, and we got there. About 20 people waiting just to see her in a glimpse just before event. It was worth to came there. I cannot find words in my own language, much harder is to write about it in English. It was amazing. Dreamlike.
Tori sung nine songs.
Here is the setlist:
Leather
Purple People
Rattlesnakes
Take to the Sky
Lust
Upside down
Cloud on my Tongue
Cooling
Encore:
Winter

The she had to get to the airport as quicky as possible, because of flight to Milan. She had almost missed that flight. We followed her and had our last minutes with her, hugs and kisses. Than she waved us goodbye and dissapered.
I think I gonna remeber this weekend for a long long time. It was such unreal. I still don't believe. Everything we wanted to happend just happend.
We are closer to heaven than we had ever been before.
Polek
PS. Tori BB - Polish Tori Forum : http://home.elka.pw.edu.pl/~pwitan/cgi-bin/Ultimate.cgi

From Gabriela Kulka:
By an astounding twist of fate I have been one of the very small group of people who witnessed Tori's concert Sunday December 16th, after two p.m. in the Agnieszka Osiecka Studio of Polish Radio Program 3. All thanks to the wonderful Piotr Kaczkowski. Tori was in Warsaw already the day before, she dropped by during Kaczkowski's afternoon broadcast for a couple minutes of a lovely interview and a cup of ginger tea with honey. She spoke of wandering in the Warsaw Old Town, buying gifts (she mentioned little wooden angels for Tash, because they fit right inside her palm), feeling the land, the spirit of it. She said: "Tomorrow's gonna be magic." And oh it was, it was. Allegedly Tori's tour manager claimed it was one of her best performances this tour. (or ever, bless me I'm not sure).
Two and a half minutes before the show, our tiny group of fourteen (picked out of the voters for Tori top-twenty in Program 3) was posed for a photo with her, she just breezed through the hall, though, looking wonderful, smiling sweetly. Moments later the concert started. It was longer than the planned, short promotional show. Tori was in GREAT shape and the songs she chose to perform were amazingly beautiful....
As for now - only the setlist.
1. Leather
2. Purple People
3. Rattlesnakes
4. Take to the Sky
5. Lust
6. Upside Down
7. Cloud On My Tongue
8. Cooling
Encore:
9.Winter

I will shortly post a review, right now I am still too overwhelmed to gather my thoughts. (and more than a little tired). The concert was broadcast the same day at midnight in Program 3's "Minimax".
One word: MAGIC. Magic no money can buy.
Gabriela emailed me back with more comments later...
'tis I, again. :-) I thought I'd try to sum up the Sunday concert in a few words, it was absolutely unique, and I only wish I could have a basis of comparison, but this was the first Tori performance I saw live. I can only trust the people who had seen her before and claim it was the best show she ever played, although it was only 9 songs long.
Everyone was extremely excited, the organisers were magnificently stressed out - it's been repeated ten times over that should anyone take as much as ONE photo, the concert's ***over***. Tori did a wonderful thing, though, as she found out there were people down in the Radio building's hall (over a dozen of them), uninvited to the show, but still present - she asked to "add some chairs" and invite them too. (I can imagine what an experience this was to them, I lived through that the day before!).
Piotr Kaczkowski did a short introduction both in Polish and in English and Tori came in. She played on the studio's piano, I believe, and of course there was no 'whurly'. The room went dark with only the lit up Christmas tree in the background. Tori looked absolutely gorgeous, in a cream-white blouse and black stretch trousers, high heels. She started with 'Leather'.
The ovation she received clearly startled her - she seemed very surprised how passionately we applauded. She said: "I know where I am right now in the world" and everyone laughed, because as Program 3 listeners we knew exactly she was quoting a little 'jingle' she had recorded for Piotr Kaczkowski months ago, for his 'Minimax' broadcast - since early autumn, we've been hearing her each Sunday night, saying "It's one-o-five and I don't know where I am now, physically, in the world, but my songs are here with you, and maybe in a way I am too."
Then she continued, quietly "...And we're taking back some fire with us. Ooh, you people have fire, huh? Keeping that a secret from the rest of the world. But I might have to just go and tell them all".
She kept playing in the background and the moment she started singing, the chords shaped into something that sounded like "Not The Red Baron". It's amazing - this song seemed to want to come this evening, but it never did. Again you almost could hear it in another intro later. She started singing softly:
"Here. Here, up here, where it's cold, up here you're hiding this thing and, hiding this thing and, hiding this thing..."
and then
"hey do you do judo..." and a beautiful rendidtion of "Purple People". We knew how this song found its way here. The day before when she was in the studio, Piotr Kaczkowski showed her the list of songs Listeners voted (in the traditional Top Twenty). There were over a hundred songs voted for altogether and the moment she glanced at top 10 she expressed her surprise that "Purple People" was as high as number four, surrounded by the classics such as Precious Things or Me and A Gun. "Purple People" was for us.
Then she played "Rattlesnakes" again, amazingly. She sang the chorus much stronger than on the record or the live versions I'd heard, it was powerful and moving.
"So, um, funnily enough this next song... I spend a lot of time in the desert, in my life, I love the desert. And... I'm always writing about the cold when I'm in the desert. and the ice and Eastern Europe and I don't know what... And I'm not doing any magic mushrooms, or anything, people think I'm out of it most of the time, but I just got my Evian, hanging out in the desert. And this is one of the ones that came when I was... with the snakes."
(thank God the concert was broadcast at midnight that day, so I can quote everything accurately. And remember every detail.)
She started playing the riff to "Take To The Sky", slamming her right hand on the front of the piano. I guess people who had seen her perform before wouldn't be this impressed, but my God can she MOVE! She hardly touched the bech during that song. The mic on the stand's arm kept sliding away and she would pull it back. Stomping her high heel on the floor, we could feel the vibrations through the soles of our shoes. No video-taped concert could ever give you that. It was pure passion.
It's funny she mentioned the winter and ice and snow. There seemed to be a lot of this in all the songs she played that evening. Be it "Purple People" or the girls freezing cold or "Cooling" or the "Winter" encore. Warsaw was covered in snow that Sunday and the day before. She wonderfully took this atmosphere in. I can't help the sense of incredible interaction between her and the audience, all without any words. Now I finally understand what she means by the 'energy' exchange during the concert. She gave everyone a sense of being seen and heard, every moment of the show.
She played "Lust", in the middle part chanting "Remember, remember, remember, she said to me, remember, remember, remember, these things, this medicine, remember, remember, remember, remember she said, these things, remember, remember, remember the weave, the Weave.".
Then came "Upside Down" the most beautiful I've ever heard. Once again I was completely speechless to hear what an amazing range of voice and expression she has.
After a long applause "Cloud on My Tongue" finnishing with "He and you and he and..." a huge smie, throwing her head back. We applauded passionately and she said.
"Dziekuje, dziekuje bardzo" (Thankyou, thank you very much) and again quietly...
"We carry you with us as we go and... don't forget that passion, my God, this is realy something you got." She was playing, yet again, with the ghost of Red Baron somewhere in the background. But she started "Cooling", gorgeously...
When she was done and left the room, we clapped till we couldn't feel our palms anymore. She came back!
Someone shouted "Tori don't go! Let this winter dream last!" and very softly she whispered "I don't wanna go."
and played "Winter".
I don't think there was adry eye in the house. Again, her voice sounded amazing when she took the high notes in "Hair is grey and the fires are burning..." The way she breaks your heart whispering the lyrics! "You say that things change, my dear". Smiling right at Piotr Kaczkowski throughout the end of the song. She finnished came off the stage and gave him a big hug.
And that's all we've seen of her.
The concert which was recorded (Program 3's concert studio, name in honour of Agnieszka Osiecka), was aired at midnight. From eleven p.m. to 3 a.m. all that was played were Tori's songs and the interview.
I don't think i will forget this performance till the day I die. And that's still an understatement.

From Kasia:
On December 16 Tori gave a show in Poland. I wasn't there, but I heard it on radio. It was so great! Here's the setlist: Leather | Purple People | Rattlesnakes | Take To The Sky | Lust | Upside Down | Cloud On My Tongue | Cooling | (encore) Winter.
It was concert for about 20-30 people. Sweet.
I'm sure that other Toriphiles from Poland will mail you to tell you about that show.
Thanks for keeping this amazing site going.