Reviews
The most recently added reviews are first.

From The Digital Collegian
December 14, 1998 - A review of this show appeared in the November 23, 1998 edition of The Digital Collegian, which is published independently by students at Penn State. Marisa DeMeglio told me about it. It also included the photo you see below by Dan Saelinger with the caption, "Tori Amos playing piano at the Bryce Jordan Center last Saturday." This review was posted online.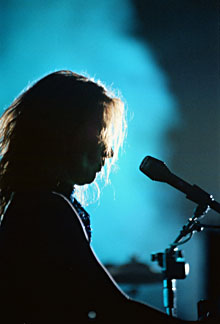 Amos intimate despite large venue
Reviewed by CHRIS WITKOWSKY
Collegian Staff Writer
The Bryce Jordan Center was cut in half to create an intimate, cozy atmosphere for Tori Amos and her band.
"We compressed the stage to face the side -- we've made it a venue for 5,000 people," said Bernie Punt, director of public relations for the center.
"It gives the center an intimate, theater atmosphere."
A huge curtain separated the floor where about 4,000 fans stood or sat and watched as Amos wailed her way through an emotionally charged set.
Going from deep, melancholy ballads to reggae-like groves, Amos' voice seduced the audience one minute and broke everyone's heart the next, moving the crowd with issues affecting everyone.
Amos' ability to relate to a female crowd is one reason Amos remains a popular female artist. Addressing issues of rape, lesbianism and child abuse -- or simply growing up -- Amos is an expert on the hardships females in today's society.
"Tori Amos reaches out to her female audiences; her music is inspirational and it helps girls bring out their individuality," Heather Szymanski (junior-advertising) said. "She's more of a real person than just a singer. You feel like you can get to know her. Her songs are a direct result of her life."
Talking was secondary, though, to her powerful music. With songs like "Little Earthquakes" and "Past the Mission," Amos' voice took over the venue, leaving the crowd standing rigid and hypnotized on the ground floor.
Like a mood-stabilizing drug, Amos' music kept bringing the emotions way up with hope and then way down to the bottom with sorrow and pain.
After about 45 minutes of blistering, heart-wrenching singing, Amos' band left the stage for a while and left her alone to sit and be intimate with her fans.
Two songs played with just piano and her voice brought tears to some eyes and left others staring in wonder at the magic she weaved on the stage. Amos, vulnerable to the voice cracks that can plague every solo singer, shone through alone, hitting every note and breaking every heart.
It was a night of sympathy, comfort and love, where pain was shared by all and emotional healing took center stage. Amos' show was a forum where girls and women of all ages, colors or creeds could come and feel good about themselves, if only for a moment.
The very last song was just Amos singing without any accompaniment, her voice tired from wailing all night; she sat on her piano stool and took a moment to give her fans one last song.

From Jim Mathers (posted to the RDTDN mailing list)
November 27, 1998 - Paradise Revisited
A few weeks ago I posted an article on Tori's concert in Pittsburgh in which I concluded with "Paradise Lost". Last Saturday Tori was at State College and I went back again to give it another try. This time I did my homework. I first visited our Safety Coordinator where I work and said "What do you have in hearing protection?". I received a pair of earplugs. Next, I got a real seat and took a pair of binoculars. And finally took my heavy winter coat to keep warm. My goals in going to the concert were pretty much the same: visit the Tori fans, get an autograph for my friend Katja, and experience another concert. If successful in seeing Tori, the fans at a later concert may be hearing Tori singing "Winter " in Finish thanks to Katja.
This time I got the number 91 on my hand and discovered that Tori was not coming out for Meet and Greet so 91 had no meaning to me since I had a real seat. Again, as in Pittsburgh, there were enough characters outside waiting to make a good Dickens novel. There was the leader of the pack (more on her later) assisted by Becky Wall organizing the group, the girl from Nanty Glo, several fans from Williamsport, PA, a Father and his two highly excited Daughters from Danbury, CT who won the auction for choice tickets and meeting Tori (RAINN), and several other cold fans. One mother from Williamsport, PA was there with her two young daughters. These two girls were probably 16 years old and looked like contestants from a beauty contest. They stood there in an ecstatic state each with long stem roses wrapped in gold ribbon and kept on saying to me "We are going to meet Tori!". The one girl also had a gift wrapped present for Tori. Their enthusiasm and sure innocence were unforgettable.
Later I meet the girls from the sponsoring radio station and Nick was there from Atlantic records. My sense of humor can be strange and not meant for the mass market. I had come up with a satire on recording artists that I gave to Nick. As I told Nick, as I am telling you, I am going to burn it never to be seen again. Sorry about that.
I went in the ticket office to get warm. Met more fans from the Pittsburgh concert but kept hearing this beautiful music and finally realized it was Tori's sound check. Once inside the arena, I meet an administrative point of contact (you can tell I work for a high tech firm) from where I work and finally a couple in their fifties. The couple was given a pair of tickets by a bank and decided to use them. They had never heard of Tori and said they had no idea what to expect. I told them the concert would be entertaining but be careful you can get lost in some of the music and never return. However, be sure to bring your earplugs. This may well be the epithet for the Plugged Tour.
Well, it worked. The earplugs and the real seat made the concert enjoyable. Tori and the band were entertaining but I felt no great passion. Half way through, the band left and Tori said she was playing some requests. Then it started, during "Baker, Baker" I felt all the old intense feelings coming back and was suddenly losing emotional control. She started on "Here in my Head" and all of a sudden I was crying uncontrollably. Folks, I have not cried in public since I was a child. I did not cry even at my Mother's burial. It was obvious that I have been changed, am still lost in an intensely beautiful sound and suddenly realized how intense it can be. "Don't you know what that is doing to me." The band came back and I was able to pull myself back together. The roses from the innocent girls were on the stage and at the end of the first set the band met at the roses and almost stepped on them. A few minutes later the present for Tori popped on the stage and was still there when the concert ended. I hope this was not the end of innocence.
Tori ended with "For Eric" and I was out the door to be in place to get an autograph for Katja. Alas, late again. I was again about five people back. Next to me was the leader of the pack, Phyllis (I think.) and Becky Wall. I immediately asked them if "Here in my Head" had them in tears. I then realized the effects Tori was having on her audience. I sometimes wonder if Tori is getting the feedback on the full impact she has on an audience. I can see why there are people following her all over the county. As it turns out Phyllis, who is from Virginia, has one more concert to go (Akron).
Tori came out and worked her way toward my end of the line. With my blackberry picking reach I was able to get a paper within 3 feet of her. I could see the face of the lady who had me in tears, hear her talking to a fan but off she went, and after two concerts my paper was still blank. Little did Tori know she may have saved me later that night.
On the way home I was on a freeway heading home with not a car in sight. All of a sudden there were the flashing red lights in my mirror. The officer said I was clocked at 77 in a 55-mile speed zone. He then asked me if I was drinking and where I was. I told him I do not drink and I was at a Tori Amos concert. His response was "who" but he related this information to the other officer in his car. Who knows but maybe the police computer had a psychological profile on Tori Amos fans saying they are incapable of sin or something like that. But it worked and the policeman said they letting me off the hook and off I went. Thank you Tori. I actually drove the speed limit for the first time in 20 years and was almost home when I rounded a bend. Another policeman flagged my down. It turned out the road ahead was closed with a traffic accident. It turned out a young man overturned his truck and flew 150 feet through the air before landing. I realized then that the two years between Tori concerts can turn into an infinity and was happy I went.

From Gruagach7@aol.com
November 25, 1998 - It's about four hours before I leave for the Allentown show so I decided to write this to get my energy going. Just thinking of the State College show is enough to do that... My best friend Joei (Josephine) and I were driving from Philly, which is a good three hour drive, and we arrived at State College around 7:30. We walked into the Jordan Center and settled into our seats (Section 101...Row M...seats 4 and 5). So we waited and then the Unbelievable Truth came on...Well, sorry to say this folks but the Unbelievable Truth is that they suck. I hope that this music thing of theirs is just a phase cause that is sure what it sounds like. Anyway, we fell asleep during their performance and woke up a little before they went off the stage (the guy behind us was great...Joei asked him what time it was after we woke up and he said, "It's about time these guys get off the stage!"). So they finally left and we all cheered.
Then we waited some more...Then Tori came on and the whole night began...
Naturally, she began with Precious Things...Hmmm...anything I can say that hasn't all ready been said? It certainly woke the two of us up that's for sure!!
God was next. It's funny cause I had written out my own "Dream Set List" and God was after Precious Things so this made me extra happy. I loved it. This was my second concert ever (my first was when she was in Philly in July) so I had never heard the "Jesus, dropped a bomb on me" line performed. I had forgotten about it until she sang it and I just went wild...it was definitely something to remember...:-)
She introduces the band now and calls Matt a creature...I was laughing...I know she does this sometimes but to be there watching her say it is a totally different experience compared to hearing about it.
Hotel popped up afterwards and out of all the songs she sang at this concert this was my least favorite. I downloaded a live version of this song from Danica's amazing Mp3 site (Thanks Danica!) and decided after I heard it I didn't want to hear it at one of my concerts...well, I did...but I'm definitely NOT complaining. It was better than I had thought but hearing this live only once is enough for me. I dunno...it loses some of it's strength live.
Past The Mission flew up next...this was also on my "Dream Set List" so so far things were going great for me. It was really great to see how it actually seemed to be more layered...eek! I don't think that's the word I'm looking for but it's the only thing I can think of. I really like the way she turns her keyboard into the vox organ.
She began talking and I missed the first couple of sentences because Joei was being loud and I couldn't hear but I broke it down to her talking about how she is really close to some of her girl friends but she would never sleep with them...only with guys, she said, unless their gay...and then she said, "And, hey, if your gay I totally dig that," or something along those lines, then the guy who gave us the time earlier goes crazy, and starts screaming "YEAH!!" and clapping...I felt his energy and starting clapping with him and for him. Then she went into how when girls argue there's nothing more vicious. She asked us if we had ever been in a girls locker room when a fight was going on and a couple people clapped and she replied back, "You need a plastic helmet don't ya?" She stopped talking and I thought Cornflake Girl would appear but instead I was surprised to see that Bells for Her was next...only because she had already played two UtP songs and I didn't expect anymore of them to show up so soon but I was real excited to finally hear this song with the band. I know she has a band with her now (O my God...stupidest statement of the year) but I don't think that the version with the band is that far away from the CD version...it's chilling. I wish I could explain it better but I can't. I found it mesmerizing and then when she started singing the last line ("I see it coming and it's on it's way") I was crying out for more Bells.
The band started playing the next song and I couldn't recognize it at first and I'm pretty sure this is the song where Tori did a little dance before she played her magic on the piano. She started singing and I cheered...Joei wanted me to give her a back rub at this point so I agreed and I was sitting there, being a happy little masseuse, mouthing the words and out of nowhere I hear "FUCK YOU!!" and I realized it was Tori and I was like "Whoa!" then she starts doing a little improv saying, "You're full of shit!! You're just so full of shit little girl!!" at least that is what it sounded like to me...I could be wrong so don't hold me to it. I loved it though and gave the crowd so much energy...If only they had used it...
~*SECRET TIME*~
Well...the boys go away and earlier when she was introducing the band she gave the coffee bars in town a special thank you and after the boys left she said something like, "I'm taking a few requests from these girls I met at the coffee bars." She then starts playing a little on the piano and I didn't know what she was playing. Then she voiced out, "Baker, Baker..." and I'm telling you...I just died...This was also on my "Dream Set List". I had prayed and prayed and prayed for her to play this and I guess God sometimes does come through...even if it isn't that often. I was so happy...so euphoric...I started getting all choked up and a few brave tears found their way down my face (I haven't cried in almost two years...I'm all dried up). This song has such meaning for me cause my one true wish is to be whole...and I know some people find this annoying...but during the middle of the song I couldn't help but to sing along (the girl to my left kept giving me dirty looks...if you're reading this I'm truly sorry...). Anyhow, during the last verse of the song in this low, quiet, almost whisper-like voice she sang, "...and make me whole again..." and somehow I kept right along with her and it filled me up...as long as I live this moment will never erase from my mind...it was to perfect. The lights were also beautiful...purple and white shining right on her.
Before I could even get over Baker, Baker she started Here. In My Head...I only have this on download on my computer but it has meaning for me because of this situation my close friend, Anthony (Danica, if you're reading this...this is the Anthony that is temporally helping out your site!) is going through so I had him in mind during this song hoping he was okay. Needless to say, this was just as incredible as Baker, Baker...
~*BOYS COME BACK*~
So the boys come back and Tori begins Northern Lad and, guess what (?!), also on my "Dream Set List". This is something that is special to me for private reasons. I was happy she played it and she put it in the perfect place...right after secret time.
So the next song comes on and I knew it was going to be a bangin' song and I was right...iieee. I didn't expect the programmed parts in the beginning but it certainly didn't take away from the song...in fact, it added to it. I was disappointed that during the "sac-sac-sacrifice" parts I couldn't see the emotional stomach grabs...I was to far back and the lights were to shiny but the song itself was great. It's not one of my favorites but I find it ten times better in concert. During this song was one of the brief periods of the concert when the band over-powered Tori during the "arsonist" parts. There was also this neat (I know, I know...could've used a better word), long piano improv near the end.
So when Little Earthquakes popped up next it seemed perfect...This is sort of like a theme song with me when it comes to friendships that I have had so I was getting all full again during this song...It just seemed so right that she should play this. Not because I was there but just because...I dunno...it was a feeling I had, ya know? The whole song was awesome and the red lights kicked ass...
So I knew the Waitress was coming next because song #12 was coming up...The beginning was just great and "I believe in peace...BITCH!!" parts were very energetic but Tori got drowned out. My favorite part of the song is the "Hang Ten, Honey" part (that is what she is saying...isn't it?). But after that she got totally drowned out and I couldn't hear a word she was saying. There were a few stray "I believe she's a devil BITCH!" lines I heard but that's about it. Don't get me wrong through...the song added so much energy to the crowd (which some people did use) and it definitely got me hyped for the encores.
*~Encore #1~*
Cornflake Girl was the first song of the encores. The lights during this were fun and I loved the way they added to the song. She did a little dance with Caton when she was walking over to the piano which was cute...and Caton was doing his own little dance throughout the song. You could tell they were all very into the moment!!
I knew what was coming next. I looked over at Joei and asked, "Are you ready for this?" Joei isn't the biggest Tori fan so she had no idea what I was talking about. Anyway, Raspberry Swirl began with a bang. I only saw a few people getting up to dance. I wanted to but I felt singled out cause I would have been the only one in my section so I just danced (if that's what you what to call it) in my chair. The out-put of energy was just amazing.
*~Encore #2~*
Tear In Your Hand was the first song of this encore and I saw some people dancing to this too...and I thought that was great but I just couldn't dance to this song. Even through the beat is nice the meaning to me and the way I associate this to my own life doesn't really wanna make me dance. The lights again were great and so nice when, during the "Maybe it's time..." part, they were an icy blue shining on Tori.
So, at this point, I was silently rooting in my head for Tori to do another song...Why? Cause when she was in Philly she wasn't feeling well and only did one song for her second encore then I had found the Dent and read about all the other second encores and how she normally does two songs and I know this is stupid but I really wanted to experience this. Well, my wish was granted when she started playing a piano intro which eventually became Pandora's Aquarium. It's funny cause during the piano intro I thought she wasn't really sure what she wanted to play so Joei screamed out, "PRETTY GOOD YEAR!!" (that's like our "friendship song") but I don't think Tori heard her cause I honestly think she would've played it if she had.
So at this point I was completely and utterly satisfied with my concert and I was so happy I could've burst. Then, to make it even better, she sends the boys away and, with the disco spinning sending their sparkles around and around the arena, she begins Song For Eric. I literally felt blessed. I have never really heard this song before (only little bits and pieces of it live) so it was a real treat for me. And it was just so beautiful with the disco balls and the lights complimenting Tori's vocals. I think this and Baker, Baker were my highlights of this concert.
So, there you have it! All in all a great concert...There where a two things that bothered me though...I know I'm going to pay for this remark but I think the crowd was seriously lacking enthusiasm. There were a few people screaming and dancing but that's about it... just a few. I just thought that it wasn't as energy-driven as much as the Philly concert I was at. That is just my observation of course and I'm not trying to offend anybody that was there and I'm sorry if I have. The other thing was the girl to Joei's right but I won't get into that. Anyway, now it's only three hours to Allentown!! Luckily, I'm going with my friend, Wynia, this time who knows and loves Tori as much as I do and my sister is also going who listens to Tori through me :-) So I'll be with more energetic peoples tonight!! I am hoping she plays Girl either tonight or tomorrow at Newark, DE...I've been extremely lucky thus far so maybe God will come through again...
Well, if you made it this far you're a camper! Thanks for reading and I'll have a review for Allentown soon!!

November 24, 1998 - Like a few others here, this was my first Tori show as well. Actually it was my first concert ever. I had waited 6 years to this woman live and finally, last night my dream came true!
So yes, the set lists are accurate, i had 5th row center seats and was directly across from where Tori sat at the piano. It was a great show, i was completely floored, because most of the songs were from Under the Pink, which is my favorite album. So maybe Tori and i had a psychic link that night!
She came out at 9:25pm (i checked my watch so many times!) and we were so glad to see her after a 45 minute set change. The band started with a generic bunch of beats, but i could tell she was going into Precious Things. I sang along. Much to the dismay of the people around me! That was great, i love the lights. She looked so pretty in that purply dress thingy she wore over jeans and a rust colored shirt. can't forget the crotch grab!
Then she did God, which was really nice too, the lights all lit her up when she did the "why you go when the wind blows?" cute, very cute.
Hotel was amazing. She did the whole "I have to learn to let you crash down" part on the piano which sounded neat. Caton was so cute, he kept dancing around and stuff. he had on a hat and sunglasses and looked like he was going to rob a store or something. Very cute.
Past the Mission was such an awesome song to pick out to play that night. We were so happy that she played that one and wow, everything just sounded soo nice!
bells for her is one that i wanted to hear really badly. she gave a really nice story about the song in the beginning. let's see if i can't remember it. She was talking about how she has many close female friends and that she is married to all of them in some way. She talked about how she loves them all and that she wasn't into 'hair pie' if i understood it right. (that she wasn't gay) and said something like .. i won't even talk to a man who doesn't do it ... but that she had nothing against gay people. then she said something about how she wrote this song for a friend of hers who was very close to her, and that women fights are nasty, and like 'if you are ever in a women's locker room and there's a fight,' she was like - 'ahh you better get out the plastic.' anyways i think that was the gist of it. it was cute. (she also threw a couple f words in there too) anyways i thought it was great. other than thanking all of the cafes in the area for supplying them with coffee!
she kept with the f word theme as well cause next she did caught a lite sneeze (my fav!) and it was incredible! She got to the middle and did a little improv, which i don't think was hurt - she said f##k! and then goes 'you're full of shit, you're so stupid, you're full of shit ... ' over and over and it was so intense. I thought she might lose her head! I couldn't help but move to the music. I had the habit of feeling the piano (cause i play too :) ) while she was pounding away at it! (So my neighbors thought i was on drugs ... who doesn't?)
Then she told the band to leave so she would get to play solo. And she did "as the girls from the coffee shop had requests so here they are:" and she played baker baker. i cried. that song is so beautiful and means alot to me.
then here. in my head. i almost broke my friends' arm. I love that one. She's the one i always play first whenever i sit down to play piano. so i got to see Tori do it. (Shes much better than me by the way!) :)
The band came back and they did northern lad. the F-ing part was done loudly! :) then she went into a trance dance and did ieee and felt her abdomen when she said "gotta be a sacrifice." that hurt.
little earthquakes was a surprise to hear! :) sounded really nice.
she did the waitress and the 'i believe in peace' part was so cool - a must see. i thought i could get a nice tan from those lights!
then she left and came back for cornflake girl. i think she was so cute as she bounced on that bench! :) although i was hoping she'd do her little jig.
she danced during raspberry swirl! the lights are so great at that part! :) "and she swirls swirls and swirls and swirls and swirls." the pitches she got with that .. wow!
she left and came back again. tear in your hand. wow. we were so impressed at the different songs! :) then pandora's aquarium... i called this one. i KNEW she was going to play it! :)
then she looked at us and sang 'song for eric' i didn't think she's do that one anymore.
well sorry for the length. i am and was completely floored from that show. if you haven't seen her yet, go see her!
6 years waiting was well worth it! :)

From ilya
November 24, 1998 - after a beautiful drive up from d.c. past the farms and through the mountains, i got to bryce jordan right before 1. as soon as i got to the doors, all the excellent people from the indiana show - phyllis rocks :), becky wall, zak (sp) and jessica - invited me to go to lunch with them. i knew then that it was going to be a cool pre-show wait. also, i got to meet some other great ewf: april, josh, chris..... it was very cold and windy. "layers is the key, sweetie"....
so after lunch and checking out some tori posters in a local store, it was back to the line. phyllis and becky were doing their best to keep the numbering system going, and for a while it worked. however, all four gates to the center were scheduled to be opened, so there was no way to keep order once time was close and many more people showed up. the center staff kept the crowds very organized inside the venue with wristbands. however, they did not open all the portals at the same time, so some people had the opportunity to get onto the floor first. also, floor access meant you had to run down a long flight of stairs, which was dangerous for a lot of people. it makes you wonder about the whole GA idea....
the stage was set up in BJC's "side stage" setting, which means that the stage faced the wide side of the stadium, thus making the floor very wide and short. as a result, a lot of people tried to crowd toward the front of the stage, and there was a lot of crowding once tori went on. although i was lucky enough to be up on the barrier, i saw several people who were really having a hard time, due to all the pushing. also, it was definitely a "scream along with tori" night for much of the up-front crowd....
on to the show. becky & phyllis already dropped all the juicy details, so here are just some impressions i got:
god - whenever jon evans switches to his old, beat up fender precision bass, you know it's either god, cocaine, or LE. i love his tone and his groove on this song.
hotel - tori was playing the kurzweil for much of this song, and she was giving all of us on the left side of the stage intense stares. i could stare at tori playing "hotel" all day :). at the end of the the 2nd verse, right before the bridge, when she switched from the kurz to the bose, her sustain pedal got stuck and the kurz kept playing while she played piano. she gave her keyboard the funniest look at that point... gotta love that delay on her voice "to (to) let (let) you (you) crashhhhhhhh."
past the mission - this song is nothing without jon evans. well, almost nothing. more on jon later...
bells for her - her story about this was that even though she didn't eat hairpie, the song was about her intense emotional relationship with women. the plugged intro to this song is very brooding and very cool. it's hardly suggestive of the actual song at all, but it blends really well with the band version.
i've been lucky enough to be right in front of jon evans several times, including once during the sneak preview tour. being a bassist, i appreciate what he does for tori's music. i've watched him, and the rest of the band progress thru the tour. in these later shows, he really does a lot of excellent, understated playing, and some cool fills. however, i think i've gained the most respect for him from watching him play acoustic upright on this song at this show. his upright chops are solid and his intonation is excellent. the acoustic makes this song just nice and slow and grounded, but still emotionally powerful.
CALS/hurt - very energetic at the end. "you're full of SHIT!" yeah...
baker baker - it was GREAT to hear this. a request from some people tori met at a coffee shop. very captivating. her facial expressions during this were amazing. just watching her completely overpowered the regiment of sing-alongers to my right.
here. in my head - this song is too beautiful for me to say anything about it.
waitress came too soon. only 12 songs in the main set... as powerful as ever, but it seemed shorter than in norfolk.
encore 1:
cornflake girl - no improv intro this time. it started with caton doing the mandolin guitar and the band. then, after a bit, tori came out.
swirl - this was funny. the drum sequence started, matt started going crazy on the percussion, but tori wasn't ready. she was trying to figure out which patch to select on the keyboard, or something. jon evans came over and they both started trying to figure out what was going on with the kurz. meanwhile, the drums and the lights are going. it was crazy. finally, tori walked off briefly, while jon got to play a little cameo keyboard! she came back with some water bottles for the crowd. people around me were actually dancing in time to the beat. a fun song.
encore 2:
tiyh - this is when the singalongers were at their loudest. but the song was still great.
pandora - with yet another very pretty and interesting chorded introduction. this song has some great progressions. i love it as a closer, and i thought it was, but.....
song for eric - a beautiful closing song. a little "thank you" from tori at the end.
the meet&greet after the show was, as becky pointed out, somewhat large but very well behaved. tori stayed out for a while, maybe 15-20 minutes. someone in the crowd had made an incredible charcoal or pencil portrait of tori.
the night ended with a group afterdinner at 1am at the eat'n'park. a great end to a great day.

From Chris Kramme, a.k.a. Dream
November 24, 1998 - I was only home for 1/2 hour after getting back from the show when my friends called & got me to make a mall run, where I got many, many puffkins...more on that in a couple days. Anyway, so here I am, & here's my review. I'm gonna try to keep this relatively short.
I got to the Bryce Jordan Center at 1:00 & was numbered 25, but of course the #s meant very little in the end. So I froze in the bitter cold for 6 1/2 hours. Sometime after 5 people were playing a board game & later they played Twister. :) And a small group had a Tori sing-along going.
When we finally got in, of course everyone rushed to get a good spot, and I got a good one center stage about 5 heads back. Thank you to the girls who helped pass my letter up to Steve, so he could give it to Tori. :) Unbelievable Truth took the stage at 8:00. I don't care what anyone says, I like this band. I especially liked Landslide, Say What You Want (that's not what it's called, but it's what Andy says over & over.), and the one after say what you want.
Tori went on at about 9:25. Of course they started with Precious Things, which was great as always. God was next, and Tori introduced the guys. A girl asked Tori to marry her and Tori responded: "Who said that, that girl who asked me to marry her? No, but Caton will marry you!" :) Hotel, Past The Mission, a story which led into Bells For Her, Caught A Lite Sneeze were all very good. Next was secret time. Baker Baker was one I really wanted to hear, but then came...HERE. IN MY HEAD!!!!! My favorite Tori song!
*wink* Thank you Tori! *wink* =) Immedialely following Head, the guys came back & they went straight into Northern Lad, which I had never heard live before, but I really liked it. iieee was next, followed by Little Earthquakes, another song I wanted to hear. Of course, The Waitress, which just kicks ass, closed out the main set. Tori was eating something from a coffee mug during Waitress.
Cornflake Girl kicked off the first encore, followed by an interesting version of Raspberry Swirl. :) Tori gave out water to the crowd to share, while Jon Evans tried to fix whatever was wrong with her keyboard. Everyone was dancing like crazy. This song seemed to go on forever, and at one point I saw someone BODYSURFING????!!!! He/she made it all the way over the barricade, then someone behind me & to the left tried to surf, but they didn't make it very far. Anyway, Swirl was fun, and everyone was into it that night. The second encore was Tear In Your Hand. Before Tori came back out she stopped, turned around & said something to a crew member, which was probably that she was going to sing Song For Eric, which was the last song after Pandora. Tear is one of my favorites, and we waved during the "Mabye it's time to wave goodbye now." I wanted to hear Pandora, and S.F.Eric was beautiful. After SFE, she quietly said "Thank you." & walked offstage. I saw the setlist, which was followed exactly except for SFE, which was not listed.
Overall, a great show. If any of you girls who were behind me & read the tour dates on my shirt are reading this, hi. :) If you or anyone else wants to talk, email me dream_822@hotmail.com Bethlehem's next!
Oh yeah, Anyone whose last show is Newark Delaware on Tuesday, I have a good-bye card for Tori that I would like you to sign. But only if Tuesday is your last show. Look for the guy with the leather jacket (that narrows it down). I'll be there early, so mabye something can be worked out. ilya knows me, so if you see him, he can point me out. See you there! It's almost time...to wave goodbye...

From Katrin Starke
November 24, 1998 - Tori in the house! Tori was the best thing to hit State College in a long time, after a series of country-western crooners and rock has-beens... but she would be the best thing in most places anyway. But we were disappointed because she played Bryce Jordan - the basketball arena - which has SHITTY acoustics! Eisenhower Auditorium would have been a much better choice, esp. since BJ didn't come near to selling out (we are in hick country! it didn't really feel like the usual crowd of 'philes).
Let's cut to the set list. We were really looking forward to Precious Things, which was blew us away at the preview tour at the Electric Factory (Phila.). However the S.C. version was kind of a letdown! The instruments drowned out her voice and the pitch of the band wasn't quite together. It was great nevertheless, Tori can't do wrong, we admit it. And hey, the grrrrrrrrrrrrl was energetic and looooooooong, yeah :)
God - it took us a second or two to recognize this one! This happened for a couple of songs because of changes with the band. Again, the acoustics could have been better. She had a cool vocal loop on her keyboard for some of the harmony :)
Wow! Hotel is a cool song and it translated very well from the album.
Past The Mission was pretty close to the original. Love that song.
Bells for Her was amazing. She changed the piano part completely, and the band had extra melody lines. I thought this was better than the original and I *hope* it'll show up on her live album.
Caught A Lite Sneeze isn't the same without the Harpsichord. Hmm. Fantastic song... we may be biased... but somehow this seemed off. And whoah! Tori seemed *really* pissed. She shouted some obscenities like "Fuck you - you're full of shit" - I wouldn't mess with her!
Baker Baker (solo) - this kicked ass! Like the original, but with SO much feeling that you can only get at a live Tori show. This reminded of why the debate over band vs. solo Tori is still raging on. Almost cried.
Here. In My Head (solo) - sweet :)
Northern Lad was really faithful to the album. The band came back too soon we thought, cuz we wanted to hear Purple People!!!
iieee - One of our favorites on the new album. She changed it a little bit and it was a lot longer - good because it feels too short on the new album. Also had background vocals on keyboard. Happy she played it, but btw, where was Cruel?
Little Earthquakes - what a nice surprise. But somehow it was less intense than on the album and in Madison Square Garden when we heard it before without the band.
Since we heard The Waitress on the preview tour it's really evolved. She's got drama - she starts with her head down on the piano and she extended it to a big crescendo. Intense. Too bad about those damn acoustics that got in between.
Then she left! We thought it was *way* too soon, might have been some State College vibe that chased her off the stage. But not for long... she and the band came back for Cornflake Girl. Like with God, she was a little bit drowned out here. A classic with some signature Tori dancing and free water :)
Raspberry Swirl started amazing, mesmerizing, put your best adjective here. Then what happened? The energy diffused out into Bryce Jordan not long after the beginning and it became fuzzy. If you didn't know the song already you'd never know how great it is. We grooved nonetheless - see any girls with horns? ;)
Gone, and back again for Tear In Your Hand. Was good!
Pandora's Aquarium was never our favorite on the new album, but this was SO much better. This has happened before at Tori concerts - she'll bring you into a song you could never quite connect with before.
And then the band left. Tori was alone with us for Song For Eric (solo). Beautiful. She said "thank you" and left.
As a follow-up to what one other person posted about this concert: the meet and greet was NOT fantastic if you weren't at the front! People were really inconsiderate. NO ONE MOVED away from the front. They hogged Tori - like one poor girl said, no one shared the Tori love! Yeah, it was quiet and peaceful, but we thought we'd be rewarded for our patience with at least a glimpse. Nada. We were so close, but so far, and couldn't see a thing. Maybe she should wear stilts to these or take Ginger Spice's old platforms?!
p.s. Anyone who wants horns... write to vschlegel@yahoo.com >:)

From Elizabeth
November 24, 1998 - I got to the Bryce Jordan Center early to wait (and wait, and wait...) in the cold because I had general admission and was somewhat nervous about it. There were 4 gates and a bunch of people at one of them, so we found another which was warmer and the closest to the portal we had to enter. And we saw Tori's lovely blue bus pull in and we saw what we believe were Tori's feet under the bus (really cool heeled boots, so we assumed). Later on they decided they weren't going to open the gate where we were waiting so we moved to another and waited some more. We were searched outside and ended up being the first in line, and went inside and waited. The woman outside who searched us said that they were told to expect severe injuries, fights, and casualties. We told her it was a Tori show and we were a fabulous bunch. I wonder where they heard that. A guard inside asked us why Tori hates men! Where do they come up with this stuff?! When they gave us the go ahead to head to the floor we had to run down flights of stairs (I think I flew) and we got fabulous spots right in front of the barricades (and we were allowed to put all of our winter junk on the other side of it). And we waited for the Unbelievable Truth unable to believe our fortune. A lot of people talked during their set and screamed things like "get off the stage." Can't we all be polite? In my opinion, they looked rather upset walking off stage. Let's show some respect for them. Just think how hard it is to open for Tori. And then we waited for Tori. Whenever Tori walks onto the stage I am just overwhelmed with emotion. And when I realized I was directly in front of her (I mean, RIGHT THERE) I could have died. Besides being somewhat squished, the crowd on the floor wasn't too bad. One girl behind me kept singing, really loud, through the entire show! During iieee, she even started before Tori! One girl screamed "Tori will you marry me?" And Tori wanted to know where this girl was and told her she couldn't but maybe Caton would. : ) Tori also told a story before Bells for Her. About how it was a love song for her girlfriends, but she doesn't do hair pie. (And she says she won't talk to any guy who won't). And even though she loves them they get in terrible fights. I wish I could remember exact quotes! Hopefully they will come to me later. I am quite sore and tired from yesterday. Steve passed out bottles of water early on, but none came my way. Later on Tori passed bottles down to Steve pass out. And a little while after that she sent down her own bottle. During the second encore everyone pressed forward and I was completely squished against the barricade. I was afraid I was going to break a rib or something but it was all okay. It was a fabulous show, I had a marvelous time, and I can't wait until Bethlehem! The highlights for me were God; Hotel; Here. In My Head; Pandora's Aquarium (I now feel I need several disco balls to listen to this song properly); and Song for Eric which was simply gorgeous and a great way to end the show.

November 22, 1998 - Before I post my review: I feel rude doing this, but I was wondering if you knew anyone who might have taped this show. This show meant a great deal to me. I have been a Tori fan for years, and this is the first time I have gotten to see her. It is a huge deal to me. And the most important part, to me, was the person I went with - my father. He is responsible for introducing me to Tori. He is incredible. Music is one thing we connect with together. So, I would love to have a copy of this show for my father, and myself. We had an incredible time. Thank you for reading my desperate plea :) Now on with the review :
oh my god...my first tori show ever, agter being a fan for years...amazing isn't even close to describing it....ok, before I post a review, I beg, that if anyone has a copy of this show, please let me know, I would be so grateful..it was my first tori show, and I went with my father, who also loves tori.
ok. She came out. I thought I would pass out or something. She had on this long, sparkly dress with jeans on underneath :) She opened with precious things, amazing!!!!! I love the band. Love them. She did the whole crotch grab and everything. Then came God. yes :)
then came hotel : somehow I had never been into this song very much...until tonight. ok, I'm not very good with reviews, because I just feel that no words could come close to describing the emotion, the energy, the beauty. But I think I was born again last night. I've been really down lately, and I feel like last night's show kinda gave me something to work with. If that makes any sense. ok.
Past the mission: beautiful. one of my all time favorite ever Tori songs. Her voice is so beautiful, I can't describe it. It's incredible, hearing it live, watching her :)
Bells for her: Beautiful, again. I was mesmerized the entire concert.
caught a lite sneeze: i was very happy to hear this one :) it sounded incredible :)
baker,baker(solo): another one of my favorite tori songs. i was thrilled to hear this one. such an amazing song.
here. in my head(solo) : my first time ever hearing this song, and I died. it is so beautiful. I gotta find a copy of this eventually :)
northern lad: one of my all time favorites again. done beautifully. I absolutely love her band :)
iieee: very cool. i really enjoyed this one
little earthquakes: I adore this song so much. beautiful (i say that a lot regarding tori). I was surprised to hear it, but wow, it was incredible.
the waitress: rock out. it was so freakin great. the lights, the energy, the band!! did I mention that I love her band? ;)
1st encore
cornflake girl: amazing. i was so in awe during this entire performance.
Raspberry swirl: ohmygod!!!!! I loved this!!! it was so fun!!!!! loved the lights everything was going off, i was freakin out.
2nd encore
tear in your hand: beautiful. that's all I can say. pandora..I loved it. her voice....something about hearing her voice live just gets to me. wow...
song for eric ( solo ) : i had never heard this one before either, but I was amazed, yet again.just her, no piano, no band, no anything. great way to end an incredible evening.
this show blew my mind. It's something I will always remember, and be incredibly thankful that I got to attend :)

From Phyllis and Becky Wall (the little raisongal of Tori-gum fame)
November 22, 1998 - Well, Phyllis and I had a wonderful time at the PSU show! It was simply fabulous! The day started at 5am for us...sigh...so very very early. Phylis and I got up, struggled on out of my dorm and trecked on down to the Bryce Jordan Center. We walked around, saw no one else, so numbered ourselves 1 and 2 =) Then we sat to wait....
There were 2 best parts of this first waiting period. As Phyliss and I sat there huddled against each other for warmth, it began to snow...well it was actually flurrying...but it was very very pretty...and cold!!!! Then, we began to look at the big billboard in front of the center that was announcing the concert. It was one of those signs that is neon and changes...well it told the time also. We looked up at one point and realized that it said 6:55...and we got all excited because we thought maybe it would say 6:58...so we waited to see...but then we started talking and forgot (the cold kind of numbs your brain). Next thing we know, we both look up to see 6:58 flash away. Now instead of getting our cameras out in case it appeared again, we proceded to whine about the fact that we missed it. As we whined, it flashed by again. UGH...so this time I got my camera out...I waited and then...CLICK!!!! I have a picture of.....6:59. Damn.
SO we waited some more...and more and more. Then they let us inside for a bit...that was so nice!!!!! Yeah!! But then they made us go outside...Boo. We got to raost marshmellows though! A lovely little lady named Nora brought sticks, fire and marshmellows (note from Phyliss, the queen of quotes: There comes a time when you want to roast marshmellows over your own fire....") Throughout the day we attempted to do the numbering system for the gen admin seats....which worked well for awhile. The problems arose when it began time to line up for the show....ugh. At that point it was kind of a free for all. But Phyliss and I were at the front of the line. We were bound and determined to get up front if it killed us (and it almost did several times....)
So then we waited some MORE for them to open the doors...BLA BLA BLA more waiting.....FINALLY!!!!! We make it on to the floor. After some pushing, we both were at the very front center and a tad bit (like a foot) left. We were right against the barricades. We couldn't have asked for anything more really (except to be on stage....yikes!)
(More waiting).
Unbelievable Truth came out. They were actually kind of animated this evening. No talking of course (and I quote, "We are the Unbelievable Truth...our album is on sale now....") but the drum player did make a neat South Park reference (starting out by saying "Hidey-ho!"). So they played until 8:35 exactly (giver or take a minute or to)...then Tori came out around 9:05. OH BABY!
She actually had a different oufit on than usual. She had jeans on (bellbottoms), neat-o black shoes with really thick heals, and a long blue lacey/sparkley dress like creation, but it wasn't the normal apron. The shirt underneath was very very skin colored...so it looked as if she just had the dress on. It actually looked like she had a prom gown or something on. very very beautiful.
She started with precious things as usual...Awsome as always. Phyliss and I were quite happy to see just how close we were to Tori!!! Yeah!!!! Some moments that stick in our minds were the "hairpie" story Tori told before playing a moving rendition of Bells for Her. (Side note: Becky figured this was going to be a story to open raspberry swirl...but was foiled....) Another cute moment was when Tori thanked the coffe establishments in PSU. Next, she explained that she had gotten some requests from some fellow coffee drinkers in the cafes she attended....AND THEN SHE PLAYED BAKER BAKER (note from Becky: Oh my goodness!!! This was the song I wanted). Both of us were simply stunned. It was beautiful.. Breathtaking. We thought that nothing could follow such a great performance...but boy we were wrong. We hadn't even started breathing again after Baker Baker when Tori launched right into Hear in My Head...OH MY GOODNESS GRACIOUS!!! We were happy as little plums. Ok, this is an understatement. We were estatic. Phyliss had been wanting to hear this song for awhile, so she was really a happy camper (once again an extreme understatment). After secret time Tori played Northern Lad (a favorite of ours from Choirgirl)...and then...LITTLE EARTHQUAKES (side note: Becky had stopped breathing at this point.....). Wow. Wow. Wow. This was amazing...
During Caught a Lite Sneeze, Tori seemed to go crazy!! Towards the end of the song she started adding many many profanities in(added line: "You don't give a shit about me or You didn't give a shit about me.." something like that). It was quite wild. We enjoyed it throughly=)
Before the first encore, Tori seemed to be having some keyboard difficulties...aparently it was programed differently this evening and Tori was having some difficulties figuring it out! She had to have John Evens help her out...after some tinkering Raspberry Swirl was already to appear! Before she played though, she brought a whole bunch of water bottles to the front of the stage and handed them to Steve to pass out (She was too far away to reach the audience). We were all quite thankful! Before she began singing she said, "now everybody share" in reference to the water...Raspberry Swirl was great. We were having a grand old time dancing...although (as Phyliss just reminded me...bear with me its 2:40 and we're working on 2 hours sleep)...RS seemed to be lacking technically this evening. It seemed as if Tori's voice was drowned out by the music...it wasn't as powerful as in the past...or so we though...but who are we to judge anywho?
Tear in Your Hand was also great (note: another favorite of Becky's!!!! CPR had to be used at this point in time on her...). Also, Tori closed the show with Song for Eric. This was beautiful. Just Tori singing her heart out...and boy were we all satisfied. At the end of the song she quietly said "thank you" and left the stage alone...something we hadn''t seen before...it was a nice ending.
Although Phyliss and I rushed our way to the door, (not pushing of course...we're nice), ran up a flight of 400 million stairs (while singing the Rocky theme), running back down a HUGE (side note:HUGE HUGE HUGE) hill, THAN realizing we were on the wrong side of the building...and sprinting to the right side...we were way to far back. But Phyliss did manage to get a note to tori (and hopefully a certain song will show up in Ackron for this lovely EWF...) so she was happy. I just want to mention that this meet and greet was simply amazing because THERE WAS ABSOLUTELY NO PUSHING. None at all. There were about 50 people at the barracades, and when Tori came out, no one pushed foward or tried to move up. They just stood still. Because of this, Tori did stay for quite a while (even though it was VERY VERY cold). It was amazing just how cooperative everyone was. no screaming, no yelling...it was just nice. Tori had a cute little winter hat on too...
Afterwards we enjoyed a lovely meal at Eat and Park with the wonderful April, Krista, Josh, Ilya, and then Phyliss and I retired to my humble abode in Bigler Hall....wow. What a wonderful (and draining) day.
Also...at about 12 this afternoon Becky decided that she was going to go to Bethlahem (we both know it was a girl...back in....) so she is quite happy (she doesn't have a ticket...hint hint hint...so any help would be nice) and she will also get to go to Newark NJ. The lovely Phyliss will also be seen in Akron Ohio with a carful of purple people (where as we noted earlier, hopefully a certain song will appear). SO that was our day...now it is sleepy time....
Becky added more details to her review later...
The next day:
Well last night we wrote a quick review of the songs, but I just wanted to say a little bit more about Baker, Baker, because this was the highlight of the evening.Ý To begin with, everyone was totally silent during this...or if they were talking I managed to block it out.Ý Thankfully, I was close enough to see the expressions on Tori's face.Ý As she played this song, the emotions that she displayed on her face were enough to make you cry.Ý When she sang, "Maybe we can change his mind..."Ý she kind of looked at the audience and gave a little shrug and a sad smile as if to say, "Maybe we can..."Ý She was so expressive, that if the music had been removed, the emotions that her face told would have been enough.Ý As the words, "Maybe it was his turn this time" were sung, she looked out in the distance and paused....it was just so amazing.Ý She kept looking at the audience and giving these sad little smiles and shrugs....I wish I had a video of this song.Ý When I listen to it now, I wish I was watching her sing it so I can see all the emotions again.Ý It was the most powerful thing I have ever seen.
Tear in My Hand and Little Earthquakes were also extremely memorable.ÝÝÝ When she sang, "maybe its time to say goodbye now..." my heart almost broke.ÝÝ I loved the piano solo in Little Earthquakes...wonderful.Ý There are no words to describe this....Both of these brough tears to my eyes.Ý I was frozen...I couldn't even move...
Everything was worth it, even the 12 hour wait in the freezing flurrying cold...no question about it.Ý If anyone has the chance to see a show, please do.Ý With so few left, just do everything you can to get to atleast one more.Ý If you have general admission, it is worth every single second that you wait.Ý Seeing these shows are chances of a lifetime..so don't miss out on them...

From Richard Handal
November 22, 1998 - Richard told me that Tori's show started at 9:20 and ended at 11:04. The Waitress finished at 10:33. The only thing that varied from the official/written set list was Song For Eric, which was not listed on the written list. During Raspberry Swirl, Tori had Jon help her get her keyboard started. At one point Tori also had 2 or 3 bottles of water in her hand. She was shaking them and dancing to the edge of stage to pass out water bottles to the people in front who needed it.

From Markie (posted to the rec.music.tori-amos newsgroup)
November 22, 1998 - WOW
i just got home from it, it was my first Tori concert, and i am hooked in a new way to Tori, that being the Tori live "magic carpet ride" (quote from tour program).
I got there originally at 8 am, there was no one in line, so i did some shopping, but only found the Bee-Sides music book, still a good find :o)
Well after almost having a heart attack when i thought i found a original Y Kan't Tori Read, it was on the computer but could not be found in the store, the guy was great and looked with me for almost 45 minutes between customers. I don't remember the store, but it was old and had alot of neat stuff. He said it must be a computer mistake, he took my address and phone number just incase. *fingers crossed*
I finally became person 24 in line at 1pm and froze till 6:30 it was even snowing on and off alittle, and the wind didn't help any.
I wound up meeting some nice people :o) i dont think we exchanged names, but we hung out from line till leaving time, and i put your coat in my bookbag, if you read this email me at ( trent18@ptd.net ). WEll i wound up fourth-fifth row directly in front of Tori. She looked great and sounded the same.
Well i do not have the full setlist, nor do i have them in correct order, but this is what i remember:
Precious Things
God
Past The Mission
from here on out NOT in correct order
Caught a Light Sneeze- with Hurt in the
middle, and alittle improv using the word "Shit" alot
Tear In My Hand
??a bee-side i think, not one ive heard??
Cornflake Girl
Rapsberry Swilr
Pandora's Aquarium
Waitress
Baker Baker (solo)
Little Earthquakes (solo)
Hotel
?? editine(sp?) ??
She did an AMAZING set then a two song encore, handed out bottles of water to people in the front.
Then a three song encore, the last song being what i think is ??editine(sp?)?? it was her and the mic from the piano in her hand, short but amazing.
I love RS live, a MUST dance to the lighting is as said before nothing short of spectacular.
She had a meet and greet after the show at around midnight, but the area was kinda small and only like 1/4 of the 50 or so people got a signature, but kudos to Tori for risking the cold weather.
Sorry this got so long, but i am soooo excited :O) Monday will not come soon enough see you all there.