Reviews
The most recently added reviews are first.
From Ursula Kirkland
December 23, 1998 - 1. We saw the Roseanne show. It was better than a concert. No pushing or shoving and no musical chairs and the most beautiful people were there. It was the most wondrous Tori experience I've had. 2. It was so fun to pee to God. God likes it when you pee in his name. God likes it when you pee to his song. 3. Angela would have liked to hear Playboy Mommy, but she went to the wrong show for that. 4. Some girl was clapping to the music in her head. She didn't need to be there. 5. Not many in the audience understood or felt the magic in the trees. Not many understand magic. 6. Hotel is always fun.

From Anne Tegtmeier
November 17, 1998 - The concert review would be kind of redundant now - I checked out all the other reviews (Sep. 23 at the Greek Theater in LA) - I just love that I get to relive the experience that way. At this very belated date, I really have nothing new to contribute as far as the details of the show are concerned, but it was everything I hoped and so much more. SATY and Cooling were just sublime, and Tear in Your Hand was actually a little TOO timely! It was just fantastic, and I thought that she and the band were in perfect balance. (I love the way her left arm shot up each time she was ready to bring the song to a close!)


From Entertainment Today
October 11, 1998 - A review of this concert appeared in the October 2-8, 1998 issue of Entertainment Today, a local newspaper in the L.A. area. Kim H. kindly sent it to me. A small black and white photo of Tori from that night's show (shown to the right) was next to the review.
Sound Checks:
Tori Amos Greek Theater September 23
by Michael Tunison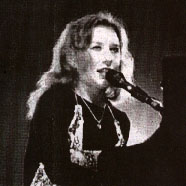 It was probably the faeries that put things over the top.
Yes, a pair of actual faeries--complete with gossamer wings and glowing antennae--right up there in the front row. Also a couple of standard black-clad witches, plus who knows how many sprites, elves, leprechauns and other forest creatures that may not have been visible to the naked eye.
Presiding over this supernatural assembly and the more mundane humans packing the Greek, pop music's own Queen Mab, Tori Amos, tore through a passionate set with the abandon of one accustomed to communing with things magical. Seated at her piano, dressed in what appeared to be a sequin cooking apron--she looked like Elton John's housekeeper--the singer-songwriter displayed a mastery over her excited fans that sometimes more closely resembled mass mind-control.
At the center of the energy was Amos' brand-new toy: a three-piece backing band. Not surprisingly, touring for the first time with a traditional guitar-bass-drums unit behind her has opened up her show significantly, further accentuating the theatrical changes of tone and tempo she favors in her songs. The question was whether the new dynamic would undermine the special intimacy Amos so successfully established between piano, singer and audience in past solo shows. Well, the Tori-heads had nothing to worry about. The rock band arrangements energized the older material and gave the tunes from her terrific new _Tales from the Choirgirl Hotel_ collection even more urgency than they display on CD.
Jumping back and forth more or less evenly between the four albums she's recorded to date, Amos seemed driven to push her sound as far as it could go in every conceivable direction. She set the tone of the evening by reimagining _Precious Things_ as a guitar-laden rocker, complete with a psychedelic intro as the audience waited for the star to arrive. The quirky, techno-edged _Hotel_ from the new album became a full-blown electronica dance club number. _The Waitress_ was almost unrecognizable, blasting off into an art-metal guitar finale that featured three, count 'em, three disco balls whirling away. Otherwise the set list tended to dig deeply into the albums' quirkiest tunes while ignoring the mega-hit _Cornflake Girl_ as well as _Choirgirl Hotel's_ two singles to date, _Spark_ and the new _Jackie's Strength_.
The singer's absolute confidence in her art was clear throughout, from the playful manner in which she treated the jammed house as a collection of old friends to how her emotive voice found its way to the top of any arrangement, no matter how full of sound. She had the audience in the palm of her hand through most of the show, but her grasp was never surer than in a solo piano-girl portion of the set. Here she played with the rhythm of her beautiful signature ballad _Silent All These Years_, stopping unexpectedly in the middle of a musical phrase, then lurching the song forward again after a half-beat's silence. The rendition was the self-indulgent work of a performer who knew she could get away with just about anything she wanted on that particular night. And she did.

From Kim Stone (Posted to the RDTRN mailing list)
September 29, 1998 - ok, so i ended up at both SJ and LA, 9/23. yippie! ok, just a few notes on these two shows. I bought tix for LA ages and ages ago, and had average seats -- toward the front of the middle section (as in, front, middle back ... not side to side). But the SJ show was a fluke -- I ended up there visiting my bf on the day of the show, so we decided to try and get tickets. I was so happy with them! They were in line with the third row, and off to the left side; there was no obstruction of vision though, so they were great.
I though the set list was wonderful, but Tori's voice sounded a bit harsher then it was before. It sounded fine in LA though, so perhaps the sound difference was because we were only about 10 feet from the speakers. I've never had the pleasure of sitting that close, so is much sound difference usual? I tried for a while to pay attention, and keep up with the songs in my head like i usually do, and look around at all the musicians as well as tori, but about half way through I had to accept that the music was just going to wash over me like a big wave. It was a different feeling from any prior concerts; maybe it came from being so close to the stage and speakers. There wasn't really any separation between her voice and the rest of the music -- needless to say, I suppose it was good to know lyrics, this time! It was just a really amazing experience; more like being a part of this swirl of sound, and not just observing it. And then came the cheetah costume! Amazing :-). Oh, and Matt is just enthralling to watch as well. I've never seen a drummer work so hard!
And my tori-liking-but-not-crazy bf liked the show a lot too. so i bought him the black shirt. and then we went to denny's. redstamen, you went there too, right? what do you look like? anyone else?
LA (9/23) was great as well. The seats weren't nearly as good, but the sound was crisper. I could understand her since there was a bit more space between me and the speakers, and (consequently, maybe?) her voice sounded richer. She also sang tear in your hand, yay yay yay! it just got me thinking, how far i've come from 3 years -- has it only been 3?! -- that i discovered tori. and, i took an musically openminded but not a fan friend, and he came out really respecting tori, and liking the show. and then he went and bought the winter single. ah, spreading the word. mebbe i was an evangelist in a former life. ha!

From Lisa Crumley
September 27, 1998 - I attended the concert which was very very awsome. She looked georgous in her shinny apron. My favorite was when she played Playboy Mommy and Cooling it was wonderful. Also I waited outside for her after ward and it was like a dream to see her up close she has suck a kind warm spirit about her. It was truley worth going from Utah to L.A. just to catch a glims of the Goddess. Id also like to say hello to my fairy friends I met there and the pyramid girl with no flash. Thanks.

From Clare Van De Mark
September 24, 1998 - What an amazing show Tori put on last night! Unable to pay for tickets, we hiked up behind the Greek to listen to her and she blew us away! So, I'm sorry, I don't know what she was wearing, what great shoes she had on or what expressions her cute face made. This was definitely the show that I've been waiting for. The band was great, the set list could not have been better, I could not stop the tears throughout the show (happy and sad one's) and, of course, Tori rocked. Thank you, Tori, for an incredible show.

From Charles Klapow
September 24, 1998 - WOW - Thats all I have to say - WOW!!!

From CharliGirl
September 24, 1998 - This show was incredible. Thanks to my incredibly bless'd friend, (FriendsWithTime) I saw the thing from the front row. I was shaking the whole time, I honestly could not believe it was happening. The sound there was, of course, much better than it had been at the Pond, and being able to see not only Tori but Jon and Caton (couldn't see Matt, Tori's head was in the way :) really added to the show, especially since they interacted with the people they were close enough to...and I've just got to say that Jon Evans has the sweetest smile I've ever seen.... The set was beautiful, all I could have asked for...I think the highlight for me was Crucify, and I'm surprised to say it, but it was so smooth sounding- it was about this time that I broke into the ear-to-ear grin that would pretty much last me through the rest of the show...Tori looked magical in that apron that Beth described. Besides Jon's smile, the other really awesome thing about being so close was that I got to see her actually *playing* the piano, pushing the keys, all 88, and to hear the sound and see the motion at the same time was mystifying. I have this glowy feeling in my stomach- I'm not flustered, just perfectly content. I would have to say that this was definitely the best concert experience I've ever had. Thanks to Tori and her wonderful brothers...oh, and I'd like to say hi to Matt Page, who I met tonight and who's a real sweetie, thanks for almost taking a picture for me :) I hope you got to see LA at her wildest :)

From Erin M. Curtis
September 24, 1998 - I've been a Tori fan for a good 2 years or so now, but this was my first time seeing her live, and it was beyond amazing. After reading the reviews of the first night, I wish I could have gone to both shows (I would have loved to hear Horses, Me and A Gun, and a few others from the first night). I was wondering how I would react to some of Tori's stuff being rearranged with the band, but it worked *really* well. I won't go through each song and exactly what happened, but I will mention my personal highlights. Let's see . . . actually hearing Precious Things live. Wow. My two favorites from the new album were there: Black Dove (January) and She's Your Cocaine. I was so excited when she played Cooling, as well . . . I just love that song. By far though, I'd have to say the highlight of my evening was Hotel. I never particularly liked that song as much as some others on from the choirgirl hotel, but it just had so much power, both in the music and in Tori's singing. It blew me (and my boyfriend who was with me, but isn't really a Tori fan) away. What would I have changed? I would have loved to hear one or two more solo songs, and more off of Boys For Pele (Caught a Lite Sneeze was the only one tonight). And I would give my right arm to hear Space Dog or Cloud On My Tongue live! Oh, and she didn't make too much conversation with the audience, which I found extremely disappointing. But, overall, it was a fantastic first time experience for me.

From Beth Winegarner
September 24, 1998 - Tonight was nice... I got to go to the taping of the Roseanne show in the afternoon, and even though our seats were pretty far back, I didn't mind. After 3 shows of being on the floor, it was kind of nice to be up above the stage, seeing the whole show and the lights and everything from a distance. So in the afternoon we got the intimacy and in the evening we got the rock show.
For the fashion watch, Tori was wearing a long-sleeved black shirt, black pants, black heeled boots and a long silver sparkly *elegant* apron dress. And Caton was wearing a black fedora and his sunglasses, looking every bit the rock star. :)
Before she played SATY (which I had a feeling she'd play, since she did MAAG on 9/22 and had a girl in the audience who had talked during Roseanne about RAINN day and the importance of SATY in her life), Tori told this story about when she was in LA trying to make a living. She said she wrote a song for Cher, but they didn't want it. Then she wrote a song for Whitney Houston, but they didn't want it. And she said she had to make some money on the side because working at the Howard Johnson's wasn't cutting it. So she wrote a song for Al Stewart, and she said he was very sweet because he told her she shouldn't give it away.
Before Cooling, she told another story about how it was supposed to be on Pele, but wasn't, and then it was supposed to be on Choirgirl, but wasn't, and she said that was really kind of ironic because it was her favorite (I guess Honey isn't her favorite anymore?).
Also, during her greeting with the audience, she said this was their last night at the Greek, and they really liked playing there because there was magic in the trees. (It's an outdoor venue surrounded by huge trees). It was really cute. :)
There were some girls right in front of the audience, to the left side of the stage, wearing the glowing deely boppers.... at the end of the show Matt came down and hugged them, which was neat, seeing the glowing deely boppers all kind of converge in one place...
Having the two encores back was really great, too. And hearing Cooling -- yum. It's really one of my favorites too, so hearing it (for the first time) was great. And Hotel on its third performance... it's getting better already!

From Matt H. aka mattrix
September 24, 1998 - Well the magic carpet ride was back. Unlike the show yesterday no bad mojo here at the Greek tonight.
Tori was much more candid and acted like Tori. Much more full of emotion and feeling. Whatever was bad last night had now gone away. The timing and intonation of the performance was right on.
Here is what went on:
Opening.
Precious Things
(Improv. Open) God
Black Dove
Then a brief explanation of this being the last night and that, "there was magic in the trees."
Caught a lite sneeze
Ieeee (no not the bad browser)
Playboy Mommy -- which my friend Greg liked the most of the new stuff.
This then went into the Secret Session of Tori alone.
Tori then went into the story of how she was trying to write songs for other people. She then said "I tried to write songs for Cher but they did not want them, I tried to write songs for Whitney Houston, but they did not want them. Finally I had written a song for Al Stewart, but then they told me I should just keep this one."
Silent All These Years
Soemone in the audience then yelled to Tori. "What's in the cup?"
She then replied, Ginger and honey. "Getting old, helps my bones."
Cooling
Northern Lad
Crucify (My personal favorite of the night)
Hotel
Waitress (Extended Chorus)
1st Encore:
She's Your Cocaine (Nice change from keyboard/piano and funky guitar change Tori did a funky little dance.)
Rasbery Swirl
2nd Encore:
Tear In Your Hand
Pandora's Aquarium
Then that was it. The end of the show. I wished she played Siren, but the show was great. It revived me instead of drained me. I had wished I had had as good of tickets tonight for this show instead of yesterday.
Well that's my review and set list.
Take it easy...
Matt H. aka mattrix

From Mar
September 24, 1998 - setlist-
precious things
god
black dove
caught a light sneeze
iieee
playboy mommy
(secrect time :)
silent all these years
cooling (!!)
(band back)
Northern Lad
Crucify
Hotel
Waitress
encore 1
shes your cocaine
Raspberry swirl
encore 2-
tear in your hand (my request! i bawled)
pandora
mmmm it was awesome