More Details
Mara Lukaschek sent the Dent a concert review of Tori's January 21, 2003 show in Oberhausen, Germany that appeared in the January 22, 2003 edition of the German newspaper Rheinische Post. Mara has kindly translated it from German to English for us, and you can read it below. It also included the photo you see below, which was also sent to me by Mara.


Article Text and Photo
Sometimes the good fairy, Sometimes all-knowing as a witch
TORI AMOS had her only NRW-concert in the arena oberhausen with 4000 fans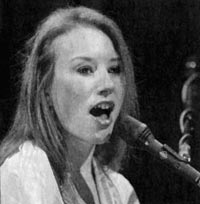 For humans constant breath taking is a plain necessity, an automatism. because of that, the idea of making this process an distinctive mark is rather absurd. differently tori amos. she is one of the singers, that one recognises even before the first air draft passes her vocal chords.
Her audible way to take breath is an overture, a promis ; in her sighs is more emotion than most others are able to put into whole songs. it is a vibrating mixture of yearning, experience of distress, and last but not least eroticism. on her "On Scarlet's Walk Tour" the 39 year old American, accompanied by Jon Evans (bass) and Matt Chamberlain (drums), had her only NRW concert. but in the arena oberhausen only just 4000 fans cheered.
Luckily the presenter downsized the venue, so that atmosphere was able to arise. but nostalgic sighs tori amos soon left out. "a sorta fairytale" from the new album "scarlet's walk" she sings and plays with a lot of exertion. in the amos-typical rider-seat on the piano chair, right foot on the piano pedal, left leg stretched far behind, she puts so much engery into each songs, that one asks himself already, how another increase will be possible.
In an airy, deep cut summer dress she plays with exuberant temperament and evokes with her stirring way comparison to the image of Eugne Delacroix "the freedom on the barricades". Amos seems at home in those pantasy- and real-worlds. so she sings tenderly and sensitively as a good fairy, appointedly and all-knowingly as a witch and has the analytic intellect and the ability to assert herself like the so-called "power women". bass and drums give her tender pianoplay the adequate hard setting, whereas chamberlain - a brilliant technician - apparently tries to compete with relentlessness of a metronome. thereby much rigidness defines his play.
But "Scarlet's walk" that has nothing to do with the "gone by the wind" beauty from tara, but - "scarlet" meaning scarlet-red - more an alter ego of the red-haired musician, deals with the musical journey from the American westcoast to the eastcoast. in doing so the adopted-englishwoman glances at her old homeland - but not only with anger. "Wednesday" with it's amos-untypical swing rhythm spreads a gleeful hilarity. whereas purists applaud in particular the solo-acts. especially the cover version of joni mitchells song "river" is welcomed enthusiasticly. although amos pure intonation resembles mitchells one, she presents a very personal interpretation.
With "playboy mummy" and the classic "cornflake girl" she has her audience definetly on her side. it is ravished, in the interior of the audience rushes applauding to the stage, and on the stands there are standing ovations. finally there are several encores. tori amos is undeniable a musician with a distinctive note, not only because of her goose skin making way of taking breath.